Ragi is a supergrain packed with nutrients and low in calories. We tell you some amazing health benefits of ragi, its uses and side effects. Find out how ragi is also beneficial for skin, weight loss and diabetes
Have you ever consulted a nutritionist for weight loss or to manage your diabetes? In which case, chances are you have been advised to include 'ragi' in your diet. A ragi diet is also advised when you have side effects from consuming gluten, a family of proteins present in wheat, rye, barley, and a few other grains. Read on to understand why the traditional grain is making a comeback as a much sought-after super grain.
What is ragi?
Ragi or finger millet (Eleusine coracana) is a variety of small millet packed with nutrients and low in calories. It is cultivated extensively in the southern states of India. It is also known as nachni in the northern parts of the country. Karnataka is the primary producer of ragi.
Ragi flour nutrition facts
Ragi flour is known for its high nutritional value and multiple health benefits in skincare, diabetes management, obesity, pregnancy, and skeletal health.
It is rich in calcium and easily digestible, because of which it is used as a weaning food for babies aged six months and older. Regardless of the nutritional value of finger millet and its many health benefits, it is not consumed often because of its bland taste. However, it tastes good after roasting or mixing with other ingredients.
Uses of ragi
Ragi nutritional value (per 100g)
Energy  320kcal
Dietary fiber  11.18g
Total carbohydrate  66.82g
Total fat  1.92g
Protein  7.16g
Total folates  34.66mcg
Vitamin B1 (thiamin)  0.37mg
Vitamin B2 (riboflavin)  0.17mg
Vitamin B3 (niacin)  1.34mg
Vitamin B6 (pyridoxine)  0.05mg
Vitamin K  0.9mcg
Calcium  364mg
Iron  4.62mg
Magnesium  146mg
Phosphorus   210mg
Potassium   443mg
Manganese   3.19mg
Zinc  2.53mg

Data based on IFCT (Indian Food Composition Tables) - National Institute of Nutrition (2017)
Ragi nutrition facts and health benefits
Improves skin health
Ragi is rich in nutrients and minerals which are essential for maintaining the vitality of the skin, preventing wrinkle formation and sagging, and minimizing acne and scarring. Ragi's benefits for the skin are due to its antioxidant and anti-inflammatory properties which prevent hyperpigmentation and skin aging. Methionine and lysine amino acids help in collagen formation which keeps the skin supple and firm. Having a ragi-rich diet can prove beneficial in healing diabetic wounds faster.
According to a study titled, 'The effect of finger millet feeding on the early responses during the process of wound healing in diabetic rats', by Rajasekaran et al (2004) published in the Biochimica et Biophysica Acta, feeding finger millet to diabetic rats hastened the wound healing process. This was attributed to improved antioxidant status, increased production of nerve growth factor (NGF), and faster rate of wound contraction.
Prevents obesity
Ragi is a mineral-rich whole grain that has a very low natural fat content and nutritionists usually suggest ragi for weight loss. Tryptophan, an amino acid present in ragi, helps to check weight gain by lowering the appetite. Since the digestion rate is slow, it keeps you from ingesting more calories. Also, the high fiber content in ragi, present in the bran, gives you a sensation of fullness thereby preventing you from eating more and gaining body weight.
Aids healthy pregnancy
Eating ragi during pregnancy aids in milk production prevents gestational diabetes, relieves anxiety and stress, and prevents insomnia.
Improves bone and teeth health
Ragi is loaded with calcium which is essential for healthy bones and dentition in growing children. For the elderly, consuming ragi is beneficial in countering the weakness in bones due to osteoporosis.
Controls diabetes
Eating foods prepared with ragi or nachni flour can help manage blood sugar levels. Fiber present in the bran of finger millet reduces the rate of digestion and the absorption of carbohydrates and causes slower gastric emptying. This helps to prevent a spike in blood sugar levels.
A study titled, 'Composition and enzyme inhibitory properties of finger millet (Eleusine coracana L.) seed coat phenolics: Mode of inhibition of ?-glucosidase and pancreatic amylase', by Shobana et al, published in Food Chemistry, in 2009, demonstrates that phenolic compounds present in the finger millet seed coat have a therapeutic effect in managing hyperglycemia.
Reduces cholesterol
Ragi husk is rich in fiber and studies have shown that dietary fiber has cholesterol-lowering properties. Finger millet also contains the amino acids lecithin and methionine which remove excess fat from the liver and stabilize cholesterol levels in the blood. This reduces the risk of stroke and hypertension by preventing plaque formation or clogging of arteries.
Natural remedy for anemia
Finger millet is an important source of natural iron and vitamin B1 (thiamine). Studies show finger millet to have a positive effect on hemoglobin levels as well as in preventing iron deficiency anemia in adolescents. This is due to the high protein content in ragi and its high mineral content as well as anti-microbial properties.
Helps digestion
Whole grains like barley, amaranth, and ragi are rich in dietary fiber and aid greatly in improving digestion and preventing constipation. Dietary fiber retains water in the intestines making your stool softer, larger, and easier to pass. It also increases stool frequency in constipated individuals.
The Academy of Nutrition and Dietetics (formerly the American Dietetic Association) recommends a daily intake of dietary fiber of about 38 grams for men and 25 grams for women each day.
Prevents malnutrition
Ragi flour has high protein content and is a good source of protein for vegetarians who lack methionine in their staple diet. The essential amino acids present in the finger millet are valine, methionine, isoleucine, threonine, and tryptophan.
Alternative for people with a gluten allergy
Ragi flour is free of gluten and a good replacement diet for people with intolerance to gluten (a protein found in wheat, barley, and rye).
Millets are a great source of nutrients for your whole family. Shop these millets for the health and wellbeing of your family.



Ragi flour




Wholegrain millets




Millet cookies
Benefits of ragi for babies
Ragi is the healthy first food for babies and can be introduced as early as six months of age. It has amazing health benefits for infants and toddlers because of its rich calcium, iron, and fiber content. In kids with lactose intolerance, there is a high risk for calcium deficiency. A diet rich in ragi can compensate as a non-dairy source of calcium in such cases. Methionine, an amino acid present in ragi, promotes skin and hair growth.
Disadvantages of ragi
Having ragi in excess can result in side effects, hence it is important to ensure moderate eating. Here are some side effects of ragi consumption:
A study titled, '

Impact of flavonoids on thyroid function

', by Goncalves et al published in the Food and Chemical Toxicology journal (2011) has demonstrated that flavonoids can cause goitrogenic activity and impair iodine metabolism. Since flavonoids are present in millets, people with thyroid problems should seek advice from a dietician prior to starting a ragi diet.
Ragi is rich in calcium and its excessive consumption can increase the risk of kidney stone formation.
Allergic reactions to ragi flour can result in digestive problems, weight gain or loss, constipation, and diarrhea.
Interesting ragi facts
Ragi is a crop widely grown in Africa and Asia with its origin in Ethiopia.
Ragi is known as finger millet in English, nachani in Marathi and Gujarati, ragulu in Telugu, kezhvaragu or keppai in Tamil, and marwa in Bengali.
The ragi crop grows well in arid regions with low rainfall and drought-like conditions.
The amino acid, methionine, in ragi is a key protein component that is a cost-effective supplement for the world's poor who survive predominantly on a starchy diet.

Research

 

shows that the iron content in ragi went up significantly during germination and popping.
Ragi flour recipes for healthy living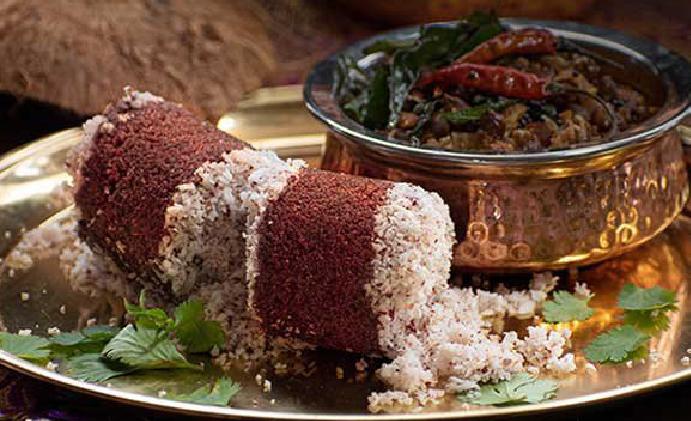 1. Ragi breakfast recipe ideas
Sprouted ragi dosa (nachni dosa)
Ragi idli
Ragi pancakes
Ragi roti (nachni roti)
Ragi mudde (ragi balls)
Ragi rava upma
Ragi puttu
Ragi aloo paratha
Ragi wheat phulka
Ragi vermicelli/semiya
Ragi khichdi

2. Ragi snack recipe ideas
Ragi murukku
Ragi flakes (finger millet noodles)
Ragi ladoo
Ragi halwa
Ragi burfi
Ragi pakoda
Ragi cookies
Ragi dark chocolate cake
Ragi, wheat, and oat waffles
Vegetable ragi momo
Nachni soya puri

3. Ragi health drinks
Ragi malt (salt and sweet)
Ragi porridge for babies (ragi kanji)
Ragi oatmeal kanji
Ragi badam soup
Ragi juice or ragi milkshake
With increased nutritional awareness among people, more and more families are using ragi-based food products to manage diabetes and obesity, and as a healthy food substitute in general.