Take the 14-day challenge: Day 12 - Emotional Connect
Team ParentCircle
0.1 Mins
Take our 14-day challenge and discover fun ways to connect with your family. Today is 'Emotional Connect' Day. A day to share your feelings without any inhibitions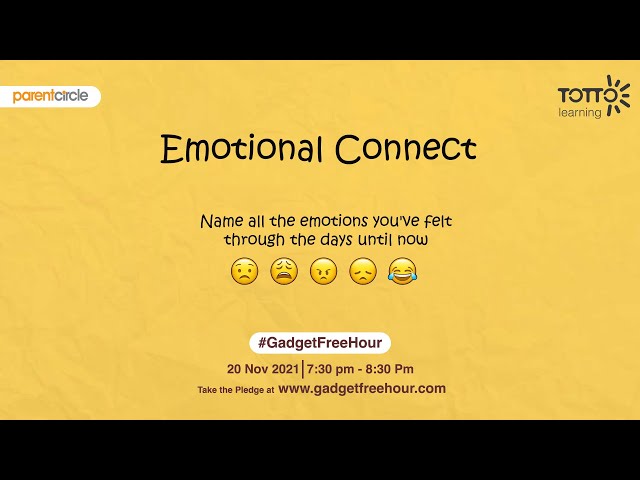 Remember the times when as a child you felt so many feelings inside you but thought that no one really cared? Well, we show you how to get in touch with your inner self. So, let's get started. And even if you feel a bit reluctant, give it a try anyway. You have nothing to lose and everything to gain!
What to do
Have everyone sit in a circle
Share with each other how you felt during the 5-minute activities you have been doing together as a family, in the last 11 days
Now take turns to share with your family:

One thing that makes you HAPPY
One thing that makes you SAD
One thing that makes you ANGRY
One thing that makes you AFRAID

Next, take turns to name all the emotions you have felt through the day up until now. If you are up for it, you can also explain why you felt those emotions
Listen carefully to what each member shares
Try to be open-minded and accepting of everyone's emotions. This sharing is all about becoming comfortable with everyone's emotions, as well as building emotional bonds
End the activity with a BIGGG FAMILY HUGG!
A reminder
At the end of the activity, click an EMOTIONAL family picture and share it here.
Day 1: Go Fish, I Wish
Day 2: Love Is In The Air
Day 3: Incredi-BOWL
Day 4: Fun Family Facts
Day 5: Family Harmony
Day 6: KOPY KAT
Day 7: Move With Groove
Day 8: Let's be SENSE-ible
Day 9: Science Smart
Day 10: Spill the Beans
Day 11: Sherlock-in-Home