Celebrate Republic Day with these 5 Stunning Tiranga Recipes That Are Easy to Make
Maathangi Iyer
5 Mins Read
Maathangi Iyer
Follow
Written by Maathangi Iyer and published on 26 January 2022.
How about a family meal on Republic Day that celebrates the tricolor? Here are some interesting recipes based on the colors of the Indian flag that will make the day memorable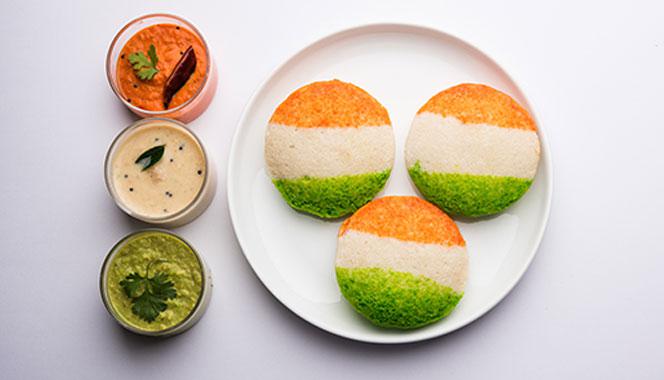 No occasion in India can be complete without a lavish spread of delicacies. So what better way to mark the day India became a Republic, than to bring out the vibrant colors of freedom onto your dining table? These five tricolor-themed recipes aptly represent the spirit of festivity in the country and you will enjoy making them.
Sandwich Dhokla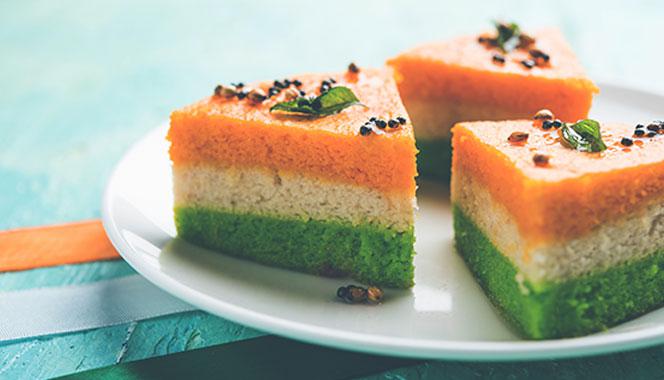 Ingredients
1 cup of rice
¼ cup split black gram (skinless)
½ cup sour yoghurt
½ inch grated ginger
1 chopped green chilli
½ tsp oil
1 tsp salt
2 to 3 tbsp warm water
½ tsp red chilli powder
½ tsp black pepper powder
A few roasted white sesame seeds
1-2 tbsp red chilli paste
1-2 tbsp spinach paste
For Tempering
1 tsp mustard seeds
Coriander leaves
1 tbsp oil
Method
Rinse the rice and dal and soak them in water for 3-4 hours.
Drain and grind with ginger and chilli. It should be the consistency of idli batter.
Transfer batter to a vessel and add salt and sour yogurt to it. Then divide the batter into three proportions.
To one bowl, add red chilli paste and mix for an orange tinge.
In another bowl, mix spinach paste to get the green color.
Leave the white batter as it is.
Grease three flat plates with a little oil and pour the three different batters. Steam separately for 15 minutes.
Heat oil for tempering. Add mustard seeds and green chilly. Pour the tempering over the steamed dhokla. Garnish with coriander leaves. Cut into little squares and assemble them in the shape of the Indian tiranga (flag).
Serve with chutney.
Tricolor pasta salad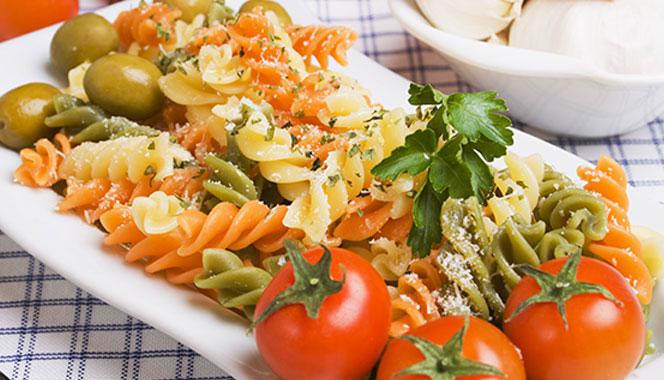 Ingredients
100 g each of green, orange and regular pasta (penne or spiral)
100 g broccoli florets
100 g mushrooms
20 g toasted walnuts
A bunch of fresh parsley
3 tbsp olive oil
2 tbsp lemon juice
2 tbsp mixed herbs
1 tsp chilli flakes
1 tsp pepper
A pinch of salt
Method
Cook all the three different pasta.
In a bowl, mix the olive oil, lemon juice, mixed herbs, chilli flakes, pepper and salt to make the dressing. Keep aside.
In a pan, lightly saute the mushroom and the broccoli.
Now take a salad bowl and in it toss the pasta, vegetables and the dressing.
Top with chopped parsley and walnuts. Drizzle with some more extra virgin olive oil. Serve immediately.
Patriotic Trifle Pudding
Ingredients
4 tbsp whipped cream
1 pack of vanilla custard powder
3 sliced kiwis
3 oranges
4 tall glasses
Method 
For cream filling
Prepare vanilla custard as per instructions on the packet.
Mix in the whipped cream.
For assembling
Layer the bottom of the tall glass with slices of kiwi.
Next, put 2 tbsp of the cream filling.
Top it with orange slices.
Indian Flag Cake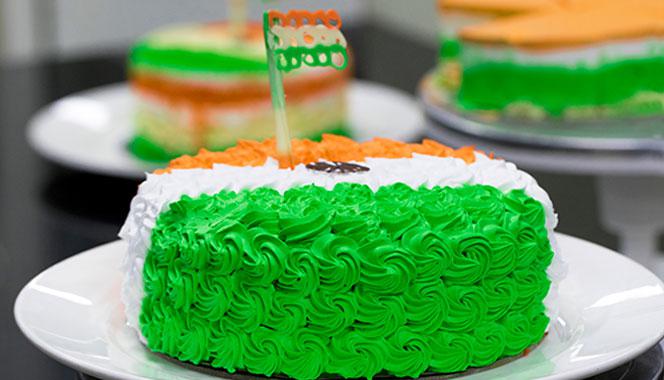 Ingredients 
4 cups maida
1½ tbsp baking powder
¾ tsp salt
2¼ cups sugar
¾ cup softened butter
9 egg whites
1 tsp vanilla
1½ cups of milk
½ tsp green food color
¼ tsp orange food color
For butter cream frosting
8 cups of castor sugar
2 cups softened butter
5 tsp of vanilla
4 tbsp of milk
Method
Heat oven to 180 degrees. Grease and flour three 9-inch, round cake pans and set them aside.
Combine flour, baking powder and salt in a bowl. Set aside.
Place sugar and butter in another bowl; beat at medium speed, scraping the bowl occasionally, until creamy. Add 1 egg white at a time, beating well after each addition. Add vanilla and mix well. Add the flour mixture alternately with the milk, beating at low speed after each addition just until mixed.
Divide batter into three equal portions. Mix green color into one, red into the other, and leave the last one white
Pour each batter into the respective pans. Bake separately for 30 minutes each. Let cool for 10 minutes.
For frosting
Mix powdered sugar, butter, and vanilla.
Add 1 tbsp of milk and beat until fluffy.
Cut the top from each of the cake to create a flat cake top.
Assemble the green, the white and the orange cake on top of each other, adding frosting in between. Spread a thin layer of frosting over the cake.
Refrigerate until set. When you cut a slice, you will see the colors of the flag.
Tiranga Halwa
By Avantika of Yumilicious Bakes
Ingredients
1 cup milk
2 cups of water
3 drops each of orange and green food color
1 cup suji or semolina
2/3 cup ghee (clarified butter)
¼ cup raisins or cashews (optional)
1 1/3 cups sugar
Method
Spread ghee evenly on the inside of an 8-inch square cake pan and set it aside.
Mix the milk with water and divide the mixture into three portions. Add the orange color to the first portion and green to the second. Don't add any color to the third portion.
Dry roast the suji in a kadai (wok-shaped pan) over medium heat for about 5 minutes to bring out the flavor. Keep stirring to roast it evenly.
Heat the remaining ghee in another pan and fry the raisins and cashews until they turn brown.
Add the raisins and cashews to the suji and roast for a minute.
Add sugar to the suji and mix well. Now divide it into three portions.
Pour the orange mixture of milk and water into a kadai. Add one portion of the suji to the mixture and cook until it thickens to a halwa-like consistency and leaves the sides of the kadai.
Empty the halwa in the cake pan while still hot and spread to form a layer of uniform thickness; it is easier to spread the halwa while it is hot.
Cook the remaining two portions of suji, one with the green mixture of milk and water and the other with the plain mixture which does not have any color added to it.
Spread the plain halwa on top of the orange/saffron layer and the green halwa on top of that. Pack the halwa well in the cake pan to prevent it from crumbling while taking it out of the pan. Now invert the pan and flip the halwa onto a plate. The halwa has enough ghee; so it will pop out easily.
You can also refrigerate it, but make sure to consume it within a week.