How To Throw A Superhero Party For Your Child
Team ParentCircle
2 Mins Read
Team ParentCircle
Follow
Written by Team ParentCircle and published on 23 April 2021.
Children love everything about superheroes, their superpowers and costumes. Here are some fun ideas to throw the perfect superhero-themed party for your little one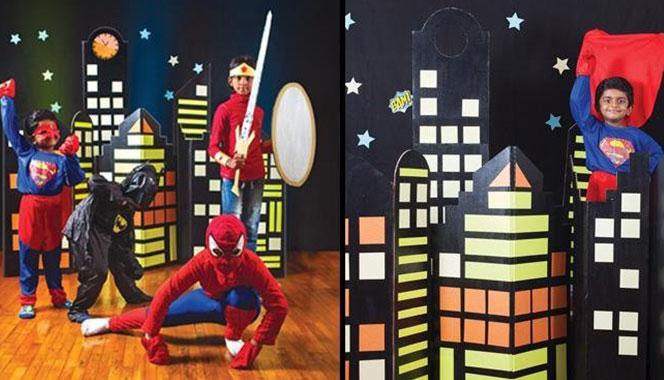 If your child is a fan of Batman, Superman, Spiderman, Wonder Woman or any other superhero, surprise him by hosting a fun superhero-themed birthday party.
We leave the food, decorations and invites to your imagination. We're only going to give you tips to turn your home into the powerful world of superheroes. Create your own photo booth and props and capture those moments as your child and his friends save the world together.
You'll need
Thick cardboard
Black paint
Paintbrush
Sharp cutter knife (with parental supervision)
Neon-coloured paper or post-it notes (in colours of your choice but preferably yellow and orange)
Glue
How to
Draw an outline of the skyscrapers and buildings on the cardboard to represent a city skyline. The roof of each building can be sloped, curved or shaped like a staircase.
Using a sharp knife, cut out the cardboard along the outline. Keep your child at a distance whenever you use the knife.
Once you are done, let your child paint the city skyline black. Leave it to dry.
Once the black paint has dried, cut squares and rectangles from yellow and orange-coloured neon papers to represent windows. Let your child apply glue on it and stick it on the buildings.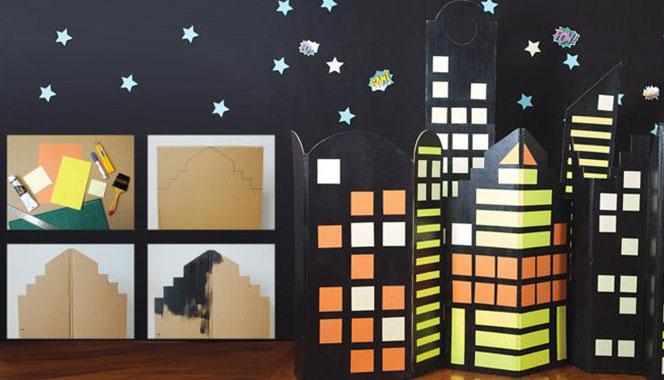 There you have it. A larger-than-life city skyline, perfect for the background of a superhero photo booth.
Optional: You can cut out stars and superhero comic book call-outs and stick them on a black cloth and hang it behind the skyline.
Fun and easy DIY props for a super photo session
Let the children bring out the superhero in them using wrist bands, swords and shields. These props are not only perfect for birthday parties but also for pretend games.
Wonder Woman wrist bands
You'll need
2 Cardboard tubes (toilet paper rolls)
Gold paint
Red color paper
Scissors
How to
Paint the cardboard tube with gold colour paint. Let it dry.
Cut a slit all the way down vertically on one side of both the cardboard tubes.
Cut two stars, one for each cuff, from the red colour paper and stick them on the cuffs.
Your Wonder Woman cuff is ready. You can make similar ones for other superheroes as well.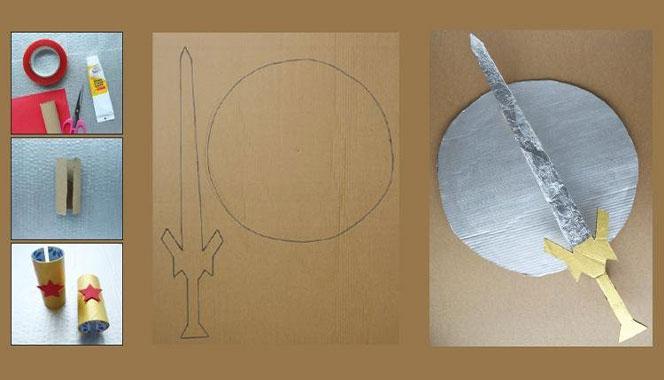 Superhero sword and shield
You'll need
Cardboard
Aluminium foil
Scissors
Paintbrush
Gold paint
How to
Draw and cut out a sword and shield from thick cardboard.
Stick the foil sheet on the sword and shield to give it a metallic finish. Paint the handle of the sword with gold colour.
We're back with the 2021 edition of the #GadgetFreeHour! So, take the pledge to switch off all gadgets and spend time with family on Nov 20, 2021 between 7:30 PM to 8:30 PM Pledge Now