Worried about your child contracting an illness during the monsoon? We bring you a list of foods and nutrient-rich recipes that you must include in her diet to keep her healthy.
Monsoon is a season of mixed emotions. While you welcome the rains post a scorching summer, you're equally worried about the impact of bacteria and viruses that thrive during this season. Apart from common cold and cough, children are mostly affected by water-borne diseases like diarrhoea, dysentery, typhoid, cholera and jaundice during this season. So what should you do to prevent infection?
Prevent infections with nutrients
Hippocrates said, "Let food be thy medicine." Remember that food, if chosen wisely, is the only natural medicine that your child will ever need. Ensure that you fill her plate with nutrients that boost the immune system and help in smooth functioning of the gut.
Monsoon foods for your toddler
Fresh, clean fruits
Fruits like papaya, oranges, sweet lime, guava and lemon are good sources of vitamin C and fibre, which improve your child's immunity.
Vegetables
Vegetables are generally rich in vitamin A, magnesium and folate. Folate, especially, plays an important role in warding off infections and keeping the stomach, respiratory tract and skin healthy. Soups are always a good choice during this season. Include ginger and garlic in your cooking every day as they have good immune-enhancing and healing properties.
Sprouts, pulses and legumes
These are good sources of protein, vitamin C and iron, which are essential for proper functioning of the body's defence system.
Eggs
They are an excellent source of protein that helps fight different disease-causing organisms.
Safety tip: Boil eggs very well to kill harmful bacteria.
Nuts
Nuts like almonds, walnuts, pistachios are good sources of vitamin E, which neutralises the free radicals in the body and boosts the immune system
Curd
Include curd in your child's diet to promote the growth of good bacteria in her tummy and build a healthy digestive system.
Spices and condiments
Use spices like cumin seeds, clove, nutmeg, fenugreek seeds and turmeric powder regularly. They have very good anti-microbial and antioxidant properties that help in tackling disease-causing organisms in the body. Add an adequate amount of spices to your dishes to keep your child healthy.
Give your child a concoction of spices boiled in water once a week to ward off cold.
Now that you have the list of foods to keep your toddler healthy during the rainy season, we show you how to incorporate them into recipes your child will love.

1. Fruity raita

Ingredients
cup pomegranate seeds
cup pineapple, chopped into bite-sized pieces
2 cups curd, whisked
cup boiled milk, chilled
Salt to taste
teaspoon sugar (powdered)
teaspoon mint powder
teaspoon black pepper powder
For garnishing
teaspoon cumin powder
1 tablespoon coriander leaves chopped
Method
Whisk the curd and mix chilled milk, salt to taste, sugar, mint powder and black pepper powder

Add chopped pineapple and pomegranate seeds. Mix well

Serve chilled, garnished with cumin powder and chopped coriander leaves

2. Spinach soup
Ingredients
400 gm spinach chopped, washed
teaspoon sugar
1 teaspoon butter
1 cup milk
Salt and black pepper powder to taste
teaspoon nutmeg powder
Cream for garnishing
Method
Melt 1 teaspoon butter in a pan, add blended spinach, milk, salt and black pepper powder to taste.
Add nutmeg powder and the sugar

Bring the mixture to boil, simmer for 2 minutes and remove from heat

Serve hot garnished with cream
Apart from eating healthy, it is essential to follow a few safety tips to ensure your child is healthy this monsoon.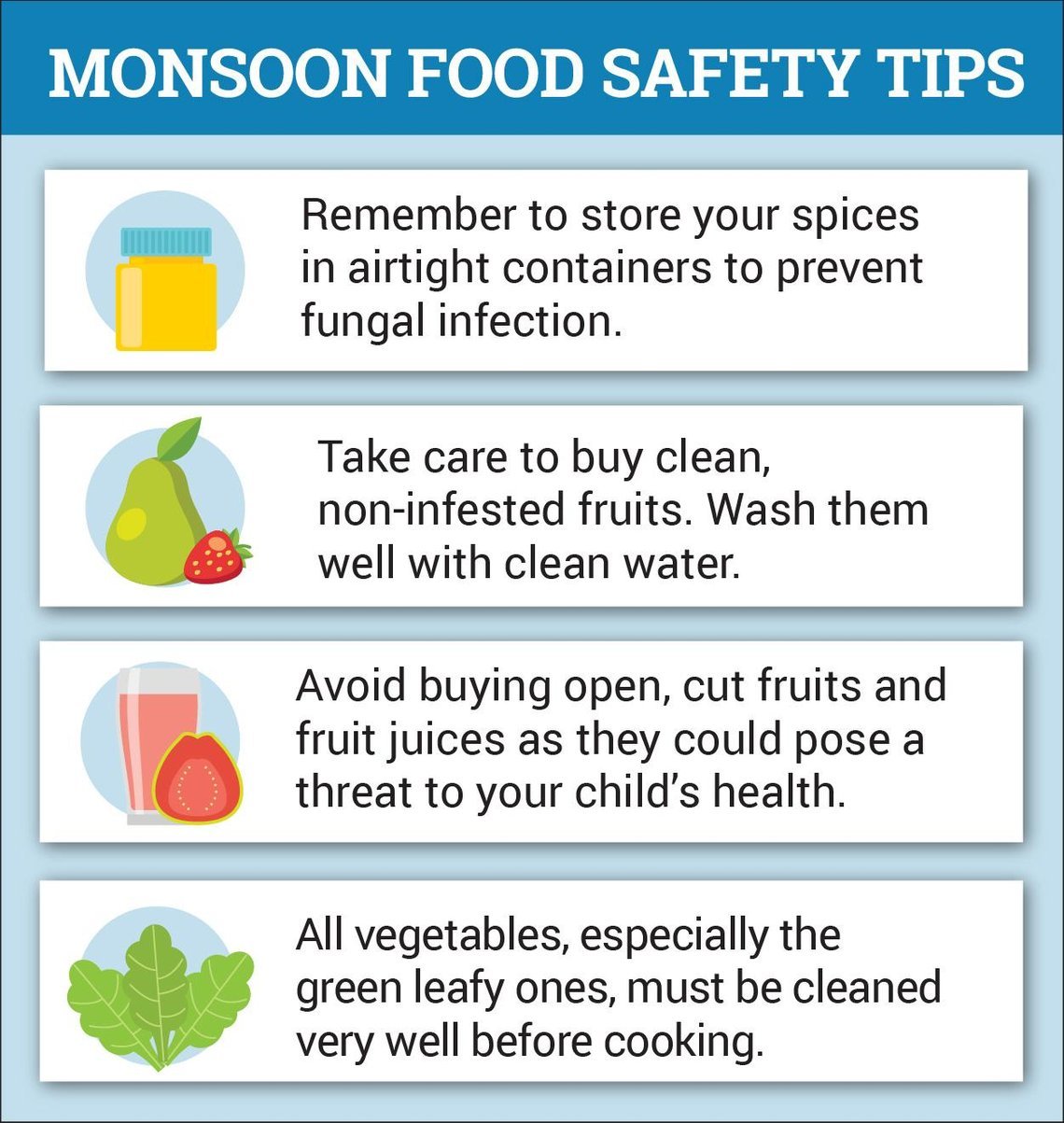 About the author:
Written by Hima Ann Isaac on 24 June 2017.
The author is a nutritionist based in Chennai.

Join our Circles to share, discuss and learn from fellow parents and experts!
Looking for expert tips and interesting articles on parenting? Subscribe now to our magazine. Connect with us on Facebook | Twitter | Instagram | YouTube