The first BASI-certified Pilates instructor in India, Yasmin helps Alia Bhatt, Katrina Kaif, Deepika Padukone and Kareena Kapoor tone their bodies. And fitness, she says, is a gift you give yourself.
Yasmin Karachiwala, a celebrity fitness expert, is a name to reckon with. Her clientele comprises big names from Bollywood and other industries. The first Body Arts and Science International (BASI)-certified Pilates instructor in India, Yasmin is also the brainchild behind the first Pilates studio in Mumbai and the owner of her very own fitness studio, Body Image.

Further, in over two decades, Yasmin has re-defined fitness with her simple yet effective methods of staying fit. She started her career in 1991 after earning a certification as a group fitness trainer from the American Council on Exercise (ACE) teaching step classes. In 2006, she went to the US to complete her Pilates training and in 2014, she became India's first Pilates master trainer. Adding to her already impressive resume, is her foray into the world of writing. She has harnessed her extensive knowledge of Pilates in a book titled 'Sculpt and Shape: The Pilates Way'.
Her incredible journey from an economics graduate at Mumbai's St. Xavier college to being one of the most in-demand fitness trainers for popular celebs, is truly remarkable. Not surprising then that in 2013, she was awarded the 'Best Fitness Instructor' award at the Vogue Fashion Awards.
So, how does she do it all? In a candid chat with ParentCircle, Yasmin Karachiwala talks about her passion for fitness, journey into Bollywood and working with celeb clients including Alia Bhatt and Kareena Kapoor Khan (her first celebrity client!). She also shares with us her take on gender equality and why a supportive family is paramount.
What does Women's Day mean to you? Who do you look up to and why?
For me, it is a day when women are recognised for all their efforts in both their work and home life. As women, we play different roles - a nurturing mother, loving daughter, loyal wife and a caring daughter-in-law. My mother is the one I look up to. For, she taught me how to love unconditionally and how to take care of my self and my family.
Does gender equality matter in every field?
Well, rather than looking at the whole thing from the perspective of gender equality, I think it's about believing in yourself and making things happen. As women, sometimes we need to balance our home and work lives. I was very lucky to have a supportive family and equally supportive in-laws backing my every decision.

Tell us more about your interest in Pilates.
I have been working in fitness for the past 25 years. Around 15 years ago, I discovered Pilates and trained as a certified Body Arts and Science International (BASI) instructor, in the US. As a mother myself, I understood how important post-natal fitness is for women. I wanted to help women get rid of that post-pregnancy abdominal fat and knew pilates was the answer.
The moment I started my training in Pilates, I fell in love with it as it not only made me strong from the inside, it also helped me perform better in everything else I chose to do.
Is Pilates more effective than other exercise techniques or methods?
Pilates is strength and flexibility with control. It is an overall health system and not just an exercise. Pilates classes can be done according to your requirement. It can be slow-paced in the beginning. As you get stronger and gain experience, the exercises can be made tougher and fast-paced.
Pilates is for everybody. Regardless of what you do, sit at a desk all day, play golf, attend the gym, rugby, pre or post-surgery, Pilates is suitable for you. It teaches you how to move and where to move your body from. It strengthens and stabilises your core or your foundation, so that you can move efficiently, while improving your posture, flexibility and mobility.
How long is a normal Pilates workout?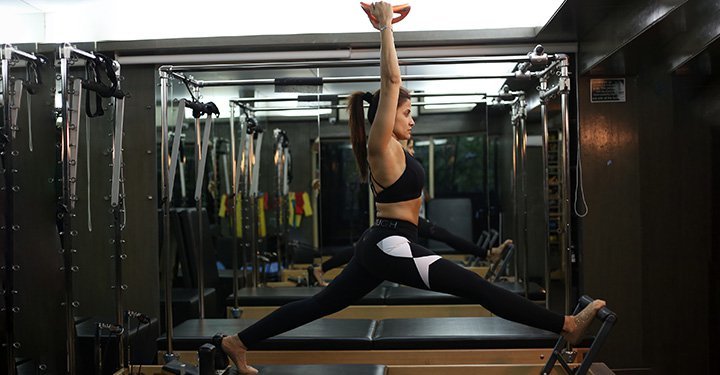 A typical workout is 45 minutes to an hour long. Contrast this with a traditional weight training regimen, where you repeats each exercise for two to three sets, often increasing the weight and diminishing the number of reps. Quite often, a weight training routine stresses 'maxing out' each muscle group. Therefore you may not be able to train the entire body on a given day.
In contrast, Pilates works at a sub-maximal effort, but always works the entire body. Muscle balance, symmetry and core stability are challenged with every workout. On the other hand, a workout with weights may leave you feeling exhausted and shaky.
Of course, you will need to spend some time stretching out those muscles that have done heavy weight training or it will lead to soreness the following day. In contrast, Pilates is energising and invigorating. Since you have worked at both strengthening and stretching, you don't need more time to stretch again. Many of the exercises even feel like a massage for the body! There is certainly nothing like weight training to strengthen the body but Pilates can provide an interesting fitness alternative for those who don't like gym workouts. It is also a viable cross-training regimen for those who need to balance things out.
What is your biggest achievement so far?
My biggest achievement is that I have made fitness accessible to everybody. My goal is to reach as many people as I can to make a difference in their lives.
Is diet as important as working out? And do you believe in 'cheat' days?
I don't like the word diet. I believe in eating smart and staying fit. A good food plan along with exercise is equally important to be fit. And I absolutely believe in 'cheat' days! On Sundays, I indulge in my guilty pleasures, biryani and cheese cake!
What was the role your family played in road to success?
My children are 18 and 20 years old respectively and in college now. But when they were little, my husband, in-laws and parents were my support when I went for three months to America to get certified. My family's help enabled me to start my own studio. Without them, it wouldn't have been possible to be where I am today. They play a huge role in supporting me even today.
Can you share a challenging moment in your life and how you overcame it?
I lost my father to cancer a few years ago. It was the hardest time of my life. But today, I remember that he always dealt with life positively, he was always laughing and joking. With the right attitude and a positive mindset, you can achieve anything.
If you could change something in your life, what would that be?
I wouldn't change a thing. I have worked hard and I believe that everything happens for a reason. It's made me who I am today.
What is your success mantra? And what keeps you going?
Be fit because you deserve it. There is no shortcut to becoming fit or staying fit. Yes, the road will be filled with challenges but you owe it to yourself to lead a healthy, happy life. My favourite inspirational quote that gets me up and going is 'fit hai toh hit hai'!
Hall of fame
First Body Arts and Science International (BASI)-certified Pilates instructor in India.
Author of the book 'Sculpt and Shape: The Pilates Way'.
Awarded the 'Best Fitness Instructor' award at the Vogue Fashion Awards in 2013.
Founder of the popular Body Image personal training studio, the first Pilates studio in Mumbai.
Fitness trainer to celebrities such as Kareena Kapoor Khan, Katrina Kaif, Alia Bhatt, Deepika Padukone, Preity Zinta and Malaika Arora Khan.
Yasmin's passion for fitness, her self-belief and dedication to her chosen career, is truly inspiring. That she also manages to balance work and home, is admirable. She advocates a healthy lifestyle and believes that all it takes is careful planning and the determination to follow through. So, get going, get fit!

Looking for expert tips and interesting articles on parenting? Subscribe now to our magazine. Connect with us on Facebook | Twitter | Instagram | YouTube