Introduce your little one to the goodness of nutrition with these 6 healthy and easy millet recipes for babies
Lakshmi Krishnamoorthy
4 Mins Read
Millets are nutritious grains packed in vitamins and minerals. They reduce the risk of diseases and are easy to digest. Start your child on these grain with these easy recipes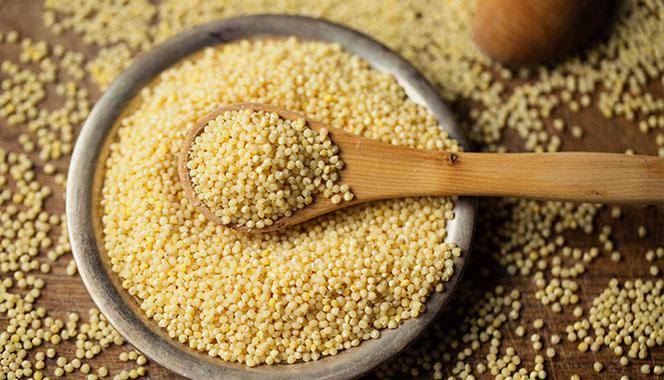 Millets (bajra in Hindi) are hardy grains known to be among the earliest foods consumed by man. They are packed with nutrition. They can replace grains like rice and wheat to make regular Indian dishes healthier.
Also, millets are easy to digest and hence good for babies and toddlers. Millet can be introduced into your baby's diet at 6 to 8 months of age.
Easy homemade millet recipes for babies
We look at some easy-to-make millet recipes that your child will love.
Pearl millet porridge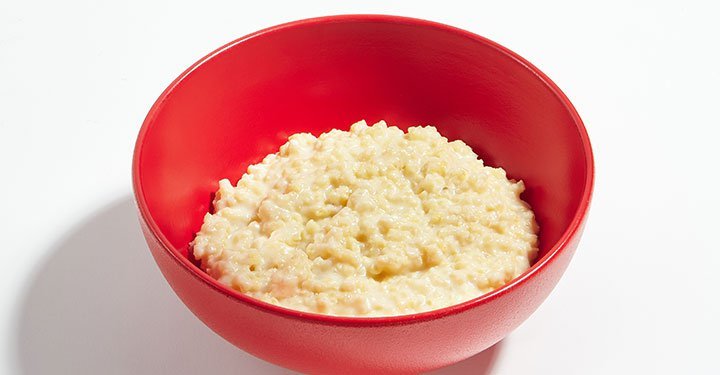 Ingredients
Pearl millet - 1 cup (200 g)
Salt to taste
Method
Clean the millet to remove stones. Soak it in water for 30 minutes. Drain and dry in shade.
Powder in a mixer till it breaks into coarse particles.
Sieve to remove the coarse particles.
Powder a little more in a blender.
Boil 1 litre of water.
Add the millet powder to the water, stirring continuously to avoid lumps.
Add salt. Simmer till it is cooked.
Cool and serve with buttermilk.
Corn dosa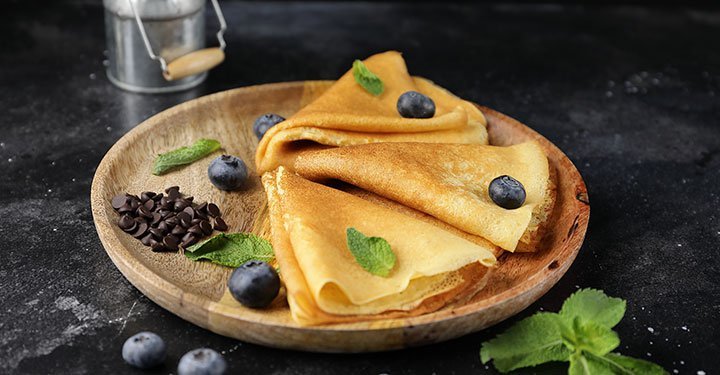 Ingredients
1 cup Corn
cup barnyard millet
cup black gram dal
Salt to taste
1 tbsp fenugreek seeds
Method
Soak corn and barnyard millet separately. Soak fenugreek seeds and urad dal separately.
Grind all of these ingredients together with salt to dosa batter consistency.
Allow it to ferment for 6 hours.
Makes soft dosas.
Little millet biryani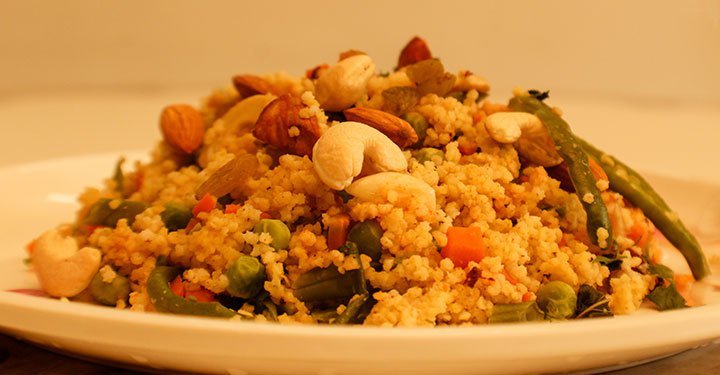 Ingredients
1 cup little millet, cleaned
2 tbsp ghee
1 tsp ginger-garlic paste
tsp mint leaves, chopped
3 cardamom
1/4 tsp cinnamon, powdered
1/4 tsp fennel seeds, powdered
1 pinch of turmeric powder
1 tsp chilli powder
1 cup chopped carrot, beans, drumstick, green peas
1/4 cup onion, chopped fine
cup thick curd
Salt to taste
Method
Heat ghee in a pan. Roast cardamom, cinnamon, and fennel powder for 2 minutes.
Add ginger-garlic paste, mint, onion, and tomato and fry for 3 minutes.
Add the chopped vegetables and curd and mix well.
Cook for 5 minutes; check to see if vegetables are done.
Add the little millet. Add 2 cups water and cook covered till it is done.
Serve hot with papad.
Spicy millet adai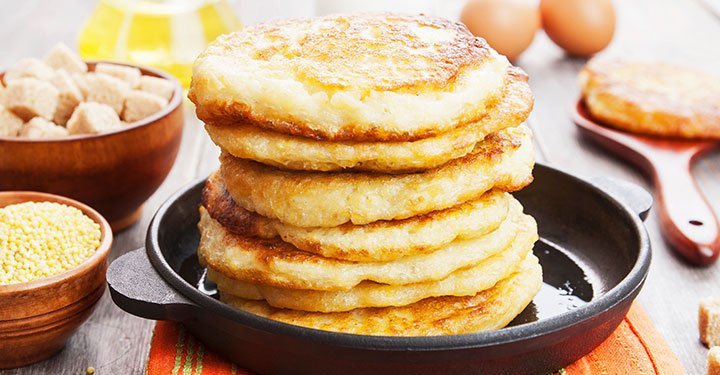 Ingredients
150 g foxtail millet
150 g kodo millet
150 g barnyard millet
150 g black gram dal
2 tsp cumin
2 red chillies
tsp peppercorns
inch ginger
2 tsp curry leaves, chopped
2 pinches asafoetida
Salt to taste
Method
Dry roast the millets, black gram, cumin, pepper, and chillies.
Grind together with ginger and a little water to make a thick batter.
Add salt, curry leaves, and asafoetida and mix well.
Heat a thick tawa and smear it with oil.
Pour a ladleful of the batter and spread it out so it is slightly thicker than a dosa.
Cook on medium flame.
Flip over, drizzle a little oil around it and cook till it is done.
Serve hot with chutney or a piece of jaggery.
Spicy foxtail millet paniyaram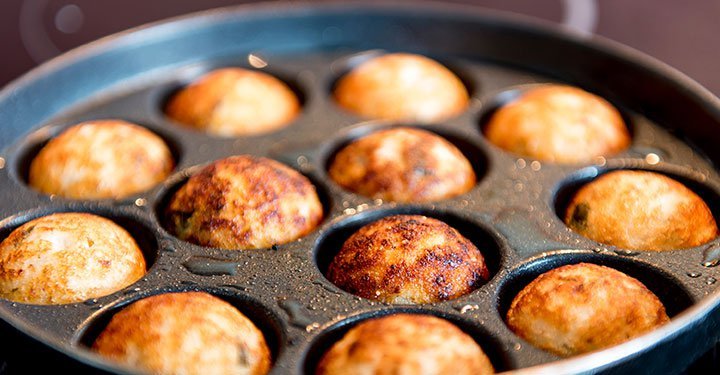 Ingredients
1 cup Foxtail millet
cup boiled (idli) rice
cup Black gram dal
1 tsp Fenugreek seeds
1 onion, chopped fine
1 green chilli, chopped fine
tsp mustard seeds
tsp cumin
tsp Bengal gram dal
tsp coriander, chopped
tsp curry leaves, chopped
Ghee for frying
Method
Clean the millet, rice, fenugreek seeds, and black gram in water. Soak all of them together for 3 hours.
Grind in mixer/grinder till you get a dosa batter consistency.
Add salt and allow it to ferment for 8 hours.
Add the rest of the ingredients and mix well.
Heat paniyaram mould with tsp oil in each mould.
Pour tsp of the batter into each mould and allow it to cook.
Flip over carefully and let it cook again till brown spots appear.
Remove onto a plate.
Serve with coconut chutney.
Foxtail millet sweet pongal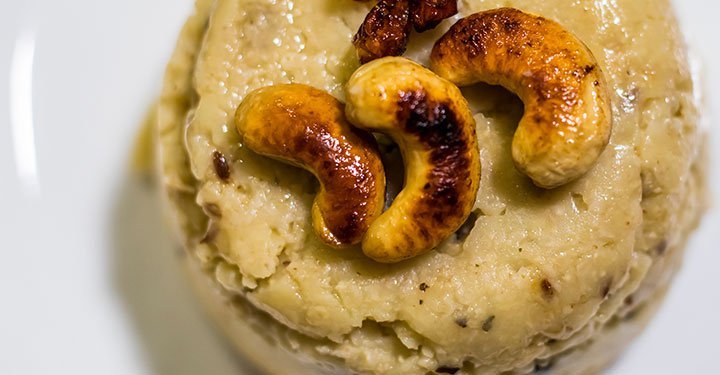 Ingredients
200 g foxtail millet
250 g jaggery
50 g ghee
5 cashew nuts, broken
15 raisins
tsp cardamom powder
Method
Roast the millet in a pan with a little ghee till it is nice and golden.
Roast cashews and raisins in a little ghee and keep aside.
Heat jaggery in 4 teaspoons of water till it dissolves.
Strain to remove dirt.
Put the jaggery back on the stove and heat till it thickens to form a syrup.
Heat 400 ml of water and add the roasted millet.
Allow it to boil.
Add ghee little by little.
When it is half done, add the jaggery syrup.
When it is cooked, the mixture will come off the sides of the pan.
Now, add the cashews, raisins, and cardamom powder and mix well.
Your millet sweet pongal is ready.
Make these dishes for your child so she grows up to be healthy and learns the value of these traditional grains.