Good hygiene will help your child ward off infections and stay healthy. Here are some practical tips to help instil hygiene habits in her at an early age.
Your child must be clean and germ-free to be healthy. A leading parenting websie advises you to begin coaching your child about personal hygiene by teaching him the importance of clean hands. Next, move on to bathing and gradually familiarise him with other kinds of personal hygiene.
The first step towards keeping your child healthy is to keep him clean. Hygiene is important not only for the sake of a clean appearance but also to safeguard against a host of diseases and infections. Your toddler is too young to understand the importance of hygiene, and so the responsibility of keeping him clean lies with you. So, how do you go about ensuring this?
This article deals with tips you must follow to ensure your toddler is clean. It also shows you how personal hygiene is closely linked to good health.
Oral/Dental hygiene
Your toddler's oral hygiene is vital as it lays the foundation for his overall hygiene. Ensure he brushes his teeth twice a day and teaches him to floss. Take him to the dentist regularly. By developing these habits early in life, he can avoid several health issues, including bad breath, cavities and heart disease.
Practical tip: When your child asks for an additional toffee, tell him about how chocolates stick to teeth and can cause cavities.

Food hygiene
If your toddler eats with his hands, again, it poses the danger of infection due to many reasons - He may not wash his hands before the meal or may pick up bits of food off the floor. Also, tell him how important it is to eat food that is fresh and hygienically prepared. Teach your kid to wash his hands thoroughly before eating. Teach him to wipe spill overs and keep the dining table clean. He may not seem to comprehend what you say but these lessons will stand him in good stead.
Practical tip: Show him how you boil drinking water and teach him the importance of drinking clean water.
Storing food
Hygiene also involves proper storage of food. It is important to teach your child that cooked food, fruit and vegetables must be refrigerated or stored in clean, dry places so that they do not spoil. Explain how certain foods, like the remains of his popsicle, should not be stored. Teach him about foods that can be stored and those that can't.
Practical tip: Start by teaching your child to put his cookies away in an airtight box when he has finished eating.
Hand hygiene
Washing hands is the most important part of your child's personal hygiene routine. She must know how essential it is for her to wash her hands before and after eating. She also needs to wash her hands with soap after playing in the dirt, playing with pets, being in contact with someone who is ill, using the toilet and cleaning his nose. There is no better way to eliminate germs.
Practical tip: Hand sanitisers are not as effective as soap and water. Do not encourage your child to use them.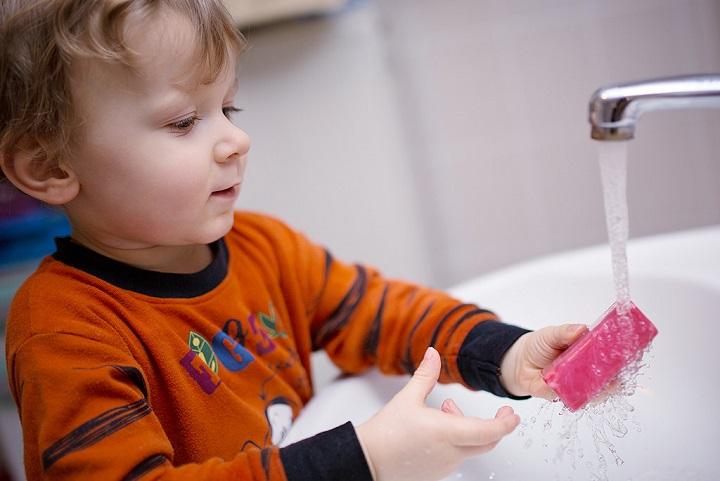 Practical tip: Demonstrate to your child how to wash his hands properly - wet his hands with clean water, apply soap and rub his hands together, clean in between fingers and wash away the soap.
Nails
Your toddler's fingernails are a breeding ground for bacteria. These germs can easily make their way to his eyes, nose and mouth. Cut and trim his nails regularly. Use a good nail brush to remove any stubborn dirt.
Practical tip: Use a flat toothpick to clean under your child's nails.
Body hygiene
Teaching your child to follow a head-to-toe nails hygiene routine helps her pick up the habit young. Get her to change her clothes frequently. Ensure she changes her underwear and other clothing that is in direct contact with her skin daily.
Bathing
One of the simplest ways to keep your child's skin healthy is by giving her a bath every day. Be as thorough as possible while you give him his bath. Pay attention to her ears, nose, hands, armpits, legs, feet, knees and every place where her skin folds.
Practical tip: Make bath time fun by allowing her to splash around in a shallow tub of water as you clean her. Always start from the face.
Feet

Dry your child's feet well after a shower. Encourage him to wear cotton socks and use a different pair of shoes on alternate days.
Practical tip: Teach him to air his footwear well. The fun way to do it would be to get him to take out the laces and lift the tongue up. Tell him the shoe is 'making faces.' Place the shoes in a sunny spot.
Hair hygiene
Wash your child's hair twice a week to keep it dirt-free. If your child has dry or curly hair, apply conditioner after every wash and rinse well. Teach her never to share combs, pillows and hats with others.
Practical tip: Wash the scalp rather than the hair to ensure she has clean, healthy-looking hair.
Simply telling your child how to maintain good personal hygiene will not get the job done. The secret is to practise these habits yourself and to ensure you set a routine for your child so that he follows them for life.
Hope you liked this article. To get expert tips and read interesting articles on a wide variety of parenting topics, Subscribe Now to our magazine.