Take the 14-day challenge: Day 13 - Family Keepsake
Team ParentCircle
0.1 Mins
Team ParentCircle
Follow
ParentCircle empowers parents to raise successful children through holistic parenting.
Take our 14-day challenge and discover fun ways to connect with your family. Today is 'Family Keepsake' Day. Create a work of art to celebrate family togetherness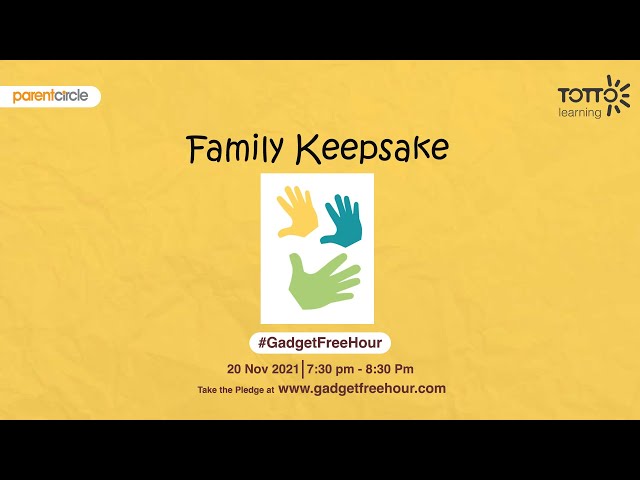 Did you hoard little objects under your pillow and in the corners of your cupboard as a child? How thrilled you must have been to own precious knickknacks like stickers, seashells or marbles that held happy memories! Well, today is your chance to create some more precious memories. The messy part will make it even more memorable!
What you will need
A few sheets of colored paper
A sheet of chart paper
A pair of scissors
Glue
Paint (optional)
Lots of imagination
What to do
On the colored papers, draw the outlines of the palms of all family members, with all the fingers spread out distinctly
Make cutouts of all the palm outlines
Paste the cutouts on the chart paper creatively. [It could be in the form of a family tree or flowers in a pot, a collage, etc.]
To give it a twist, you may also dip your palms in paint and create a palm painting
A reminder
At the end of the activity, click a Keepsake family picture and share it here.
Day 1: Go Fish, I Wish
Day 2: Love Is In The Air
Day 3: Incredi-BOWL
Day 4: Fun Family Facts
Day 5: Family Harmony
Day 6: KOPY KAT
Day 7: Move With Groove
Day 8: Let's be SENSE-ible
Day 9: Science Smart
Day 10: Spill the Beans
Day 11: Sherlock-in-Home
Day 12: Emotional Connect