What is Christmas without the heavenly aroma of home-baked treats? Get together as a family and whip up sweet and savory delights that are unbelievably easy to make and utterly divine to munch on!
'It's that time of year! The wondrous spirit of Christmas is upon us. You can sense it in the air " the joyful, festive mood filled with the warmth of giving and caring. And of course, the enticing aroma of delicious baked Christmas treats and savories wafting through the neighborhood.
So, why not bring out your inner chef and better still, get your family to chip in too. Then, surprise your friends and whip up some seasonal goodies that taste absolutely wonderful. Why, you can also celebrate the season by handcrafting some Christmas tree decorations at home.
1. Santa hat cupcakes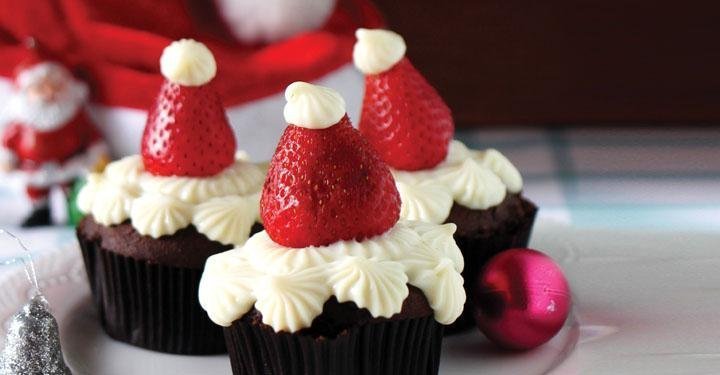 Santa's red hat is the quintessential Christmas icon, and here we've turned it into a cute cupcake topping, just like its name! A one-bowl chocolate cupcake recipe with creamy white chocolate icing and ruby-red fresh strawberries makes this an eye-catching, winning dessert.
Ingredients (makes 12)
For the cupcakes
1 cup all-purpose flour (maida)
cup + 2 tbsp sugar (powdered)
tsp baking powder
tsp baking soda
cup cocoa powder
60g soft unsalted butter
1 egg
1 tsp vanilla extract
100ml curd
For the decoration
200g white chocolate (chopped)
100g fresh cream
12 strawberries (hulled)
Method
Preheat the oven to 180C.
Line a cupcake tray with 12 paper liners. Set aside.
Place all the cupcake ingredients in a bowl and beat with an electric beater for two minutes.
Fill the liners two-thirds of the way with the batter.
Bake for about 20 minutes or, until a toothpick inserted into the cupcake center comes out clean.
Transfer the cupcakes onto a wire rack to cool completely.
Now, prepare the icing. Heat the fresh cream in a medium-sized bowl in the microwave until almost boiling.
Add the chopped white chocolate to the hot cream. Stir, then wait for a minute, and then stir again until smooth. Cool and then refrigerate for about an hour to allow it to set.
Transfer the icing to a piping bag fitted with a star tip.
Pipe a ring of stars around each cupcake and then decorate the center with a large star. Place a strawberry on each cupcake with the pointed side up, resembling Santa's hat.
Finish the Santa hats with a star piped on top of each strawberry. Enjoy!
2. Chili cheese straws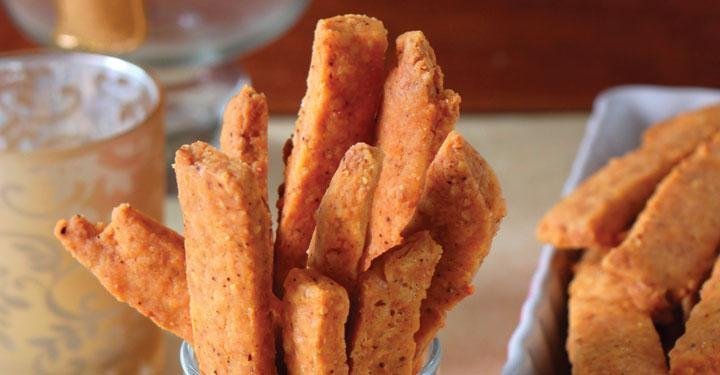 These savory cheese straws are so addictive, that you will find it tough to keep enough aside for your guests. So, heed our warning and make a double batch!
Ingredients (makes 30)
150g salted butter, cold
200g all-purpose flour (maida)
100g cheddar or processed cheese, finely grated
1 1/2  tsp paprika or, to taste
tsp red chili powder, or to taste
Method
Preheat the oven to 200C.
Line two baking sheets with parchment paper. Set aside.
Cut a cold slab of butter into small pieces.
Place the butter and flour in a food processor* and pulse until the mixture resembles crumbs.
Add the grated cheese, paprika and chilli powder. Pulse briefly to mix. Add a tablespoon of cold water and pulse until the dough starts coming together.
Transfer the dough to a bowl and knead it together gently.
With a rolling pin, flatten the dough to about -inch thickness. Using a sharp knife, cut each portion into -inch wide strips along the length and cut across in the middle.
Transfer the straws to a baking sheet and bake for about 18 minutes. Cool and then serve.
You can store the straws in an airtight container for a day or two.
 Note: To make the dough without a food processor, put the butter and flour in a shallow bowl and rub the butter into the flour with your fingers to make the mixture crumbly. Add the remaining ingredients and bring the dough together using your hands.
3. Lemon snowballs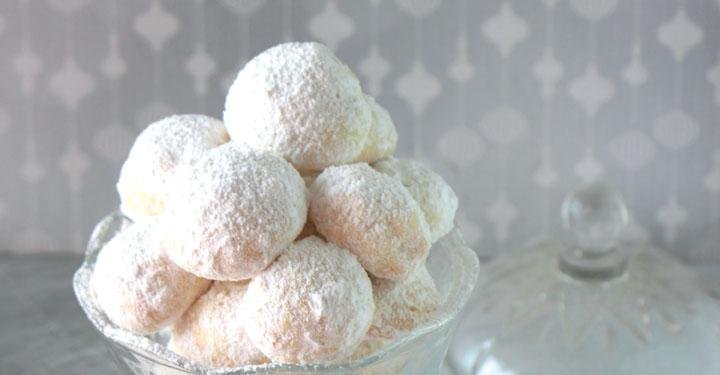 These crumbly, buttery lemon snowballs will bring the spirit of the holidays straight to your table, from Santa's icy home at the North Pole. Get your child to join you to make this super simple recipe, and you'll see his smiles beam as sweet as the snowballs.
Ingredients (makes 30)
 For the cookies
100g unsalted butter
1/3 cup icing sugar (sifted)
1/4 tsp salt
1 cup all-purpose flour (maida)
For the coating
1 cup icing sugar, sifted
Zest (a food ingredient prepared by cutting or scraping the outer skin of unwaxed citrus fruits) of 1 lemon
Method
Preheat the oven to 180C.
Line a large baking tray with parchment paper. Set aside.
Beat the butter, 1/3 cup icing sugar and salt, until light and fluffy.
Stir in the flour, add the lemon zest and mix well to make a soft dough. Cover and refrigerate for 30 minutes.
Roll the chilled dough into 1-inch balls and place on the prepared sheet, about an inch apart.
Bake the cookies for about 10 minutes, or until pale brown in colour.
Remove from oven and let the cookies cool for a minute.
Meanwhile, put the remaining cup of icing sugar in a bowl and stir in the lemon zest. Roll the hot cookies in the icing sugar and set aside to cool.
Once cooled, roll the cookies in the remaining sugar again, to cover them completely so that they resemble mini snowballs.
Store these cookies in an airtight container for up to a week.
4. Christmas tree pull-apart herbed garlic rolls
Warm soft bread right out of the oven is a delectable treat, and these rolls are shaped specially to look like a Christmas tree. The savory topping of fresh herbs and garlic butter makes these oh-so-utterly irresistible!
Ingredients (makes 12)
For the rolls
2 tsp active dry yeast
1 tsp sugar
1 cup lukewarm water
3 cup flour (maida)
2 tbsp olive oil
1 tsp salt
For the topping
30g melted garlic butter*
1 cup fresh herbs like basil or thyme, finely minced
Method
Stir the yeast and sugar into the lukewarm water. Cover and set aside to froth.
Mix the flour, olive oil and salt in a large bowl and pour in the yeast-water mixture. Combine and knead well for about 10 minutes to form a smooth and supple dough.
Remove the dough from the bowl and oil the bowl.
Roll the dough into a ball and roll it around the sides of the bowl to lightly coat it with oil. Cover with a napkin and let it rise for about 30 minutes or until doubled in size.
Gently deflate the dough. Take small portions and roll into 1-inch balls. Place the balls on a parchment-lined baking sheet to form a triangle with a trunk, resembling the shape of a Christmas tree. Place them close together, but not quite touching each other.
Cover the rolls with a napkin for about 30 minutes, or puffed up in size.
Meanwhile, preheat the oven to 180C.
Bake the rolls for about 15"18 minutes or till lightly browned. Transfer carefully onto a wire rack.
Stir the herbs into the hot, melted butter. Brush the hot rolls with the herbed butter and serve warm with soups, stews or sauces of your own choice.
Note: To make the melted garlic butter: Melt 30g of salted butter in a small saucepan and grate one large clove of garlic into it. Cook for a minute on very low heat so that the garlic lightly roasts, but does not brown.