The festive season cannot be complete without some favourite sweet treats. Here are five easy Christmas dessert recipe ideas that you can make at home with your loved ones.
Children love the festive spirit of Christmas ? the singing of carols, the mystery of opening the presents from Santa Claus and the lovely treats that the adults in the family take much pains to prepare. As they soak in the festivities, it is a good idea to involve the little ones in some of the 'Christmassy' activities such as cleaning up the house, decorating the tree, putting up buntings and streamers around the home and of course, helping to make some of the baked goodies.
So, here's our list of five super-easy Christmas dessert recipes for kids. We assure you that it will be a happy riot in the kitchen!
Eggless Christmas pudding
While we enjoy gorging on plum and fruit cakes during Christmas, the steamed pudding has its own charm. Served with some custard, this eggless and non-alcoholic version is wonderful after a hearty Christmas lunch.
Ingredients
? cup all purpose flour

cup bread crumbs

? cup muscovado /dark brown sugar

2 tbsp curd

? cup unsalted butter

1 tsp baking powder

cup grape Juice

cup black raisins

cup chopped dates

cup chopped dried prunes

cup tutti-frutti

2 pinches cinnamon powder

A pinch of clove powder

grated apple

Zest of 1 orange

Zest of 1 lemon

Juice of 1 lemon

1 tsp honey

A pinch of salt

How to make
Soak the raisins, dates and prunes in grape juice for 24 hours in the refrigerator.

Grease and line a pudding mould or a deep bowl with parchment paper.

Powder the muscovado/dark brown sugar in the blender.

Beat the butter and sugar till creamy. Add the curd and mix well.

Now incorporate the steeped dried fruits with the grape juice, tutti-frutti, cinnamon powder, clove powder, grated apple, honey, sugar, lemon juice, orange and lemon zest into the mix. Stir in bread crumbs.

Sift in the flour, baking powder and salt into the wet mixture. Mix well.

Press it into the mould and steam it for three hours on low-medium heat.

If you decide to make ahead, steam again for an hour on Christmas day. De-mould and serve it with some custard.

Holiday Biscotti
Biscottis are perfect make-ahead Christmas treats. Make a large batch for a festive tea or coffee-time accompaniment over the holiday season.

Ingredients
2 cups all purpose flour

1 cup sugar

2 eggs

6 tbsp unsalted butter-

1 cup dried cranberries

1 cup chopped pistachios

1 cup tutti-frutti

1 tbsp fennel seeds

1 tbsp vanilla extract

Zest of 1 orange

1 tsp baking powder

A pinch of salt

How to make

Preheat oven to 180 C. Grease and line a large baking tray.

Beat butter and sugar till creamy. Add one egg at a time and beat again.

Mix in orange zest, vanilla, and fennel seeds.

Sift in flour, baking powder and salt.

Throw in the cranberries, pistachio and tutti-frutti and mix well.

Transfer the sticky dough to a well-floured work surface.

Gather it together and form two logs. Place them on the tray next to each other keeping enough space to let them flatten out while baking

Bake for 30 minutes. Let them cool for around 8-10 minutes.

Now take a sharp knife and cut diagonally into inch slices and bake them again for 15 minutes.

Place the biscottis on a cooling rack. Store in airtight containers.

Assorted chocolate kulkuls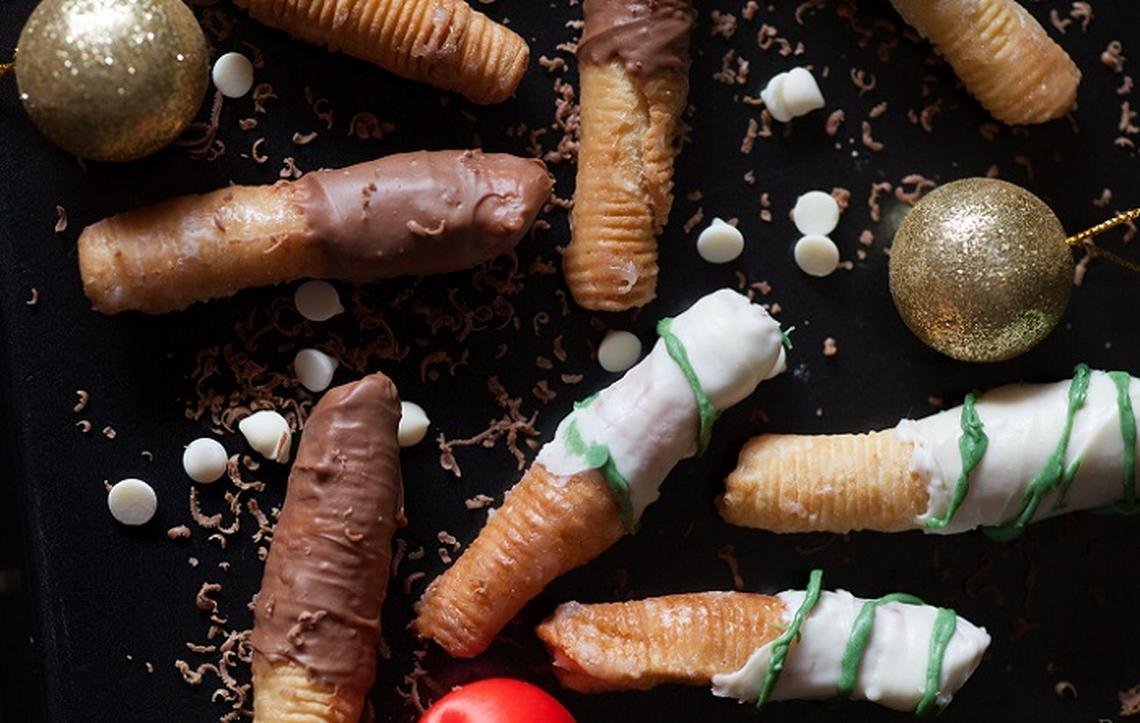 Kulkuls are part of the traditional Indian Christmas platter that is distributed to family and friends. We give it a twist by dunking in luscious melted chocolate
Ingredients
1 cup all purpose flour

cup powdered sugar

2 tbsp melted butter

A pinch of salt

Oil to deep fry

For the sugar glaze:

1 cup sugar

? cup water

For the chocolate cover:

cup white chocolate

cup milk chocolate

How to make

Sift the flour, salt and powdered sugar into a bowl. Melt the butter and it to the flour. Rub the butter and flour between your fingers to form a crumbly mix.

Add very little water and knead the mix into a firm dough. Let it rest for 30 minutes.

Take a small cherry-sized ball of the dough and flatten it out on the spikes of an unused comb or fork. And roll it into curls pressing the edges.

Deep fry in batches till golden brown

Make a glaze by boiling sugar and water till one-string consistency.

Throw in the fried kulkuls and glaze well. Cool completely. At this point traditional kulkuls are ready.

To make chocolate kulkuls, line a tray with parchment paper.

Melt white chocolate on top of a double boiler. Dip one end of the kulkul into the melted chocolate and shake off excess. Place on the parchment paper.

Repeat with milk chocolate. Decorate to make it more festive.

Santa hat cupcakes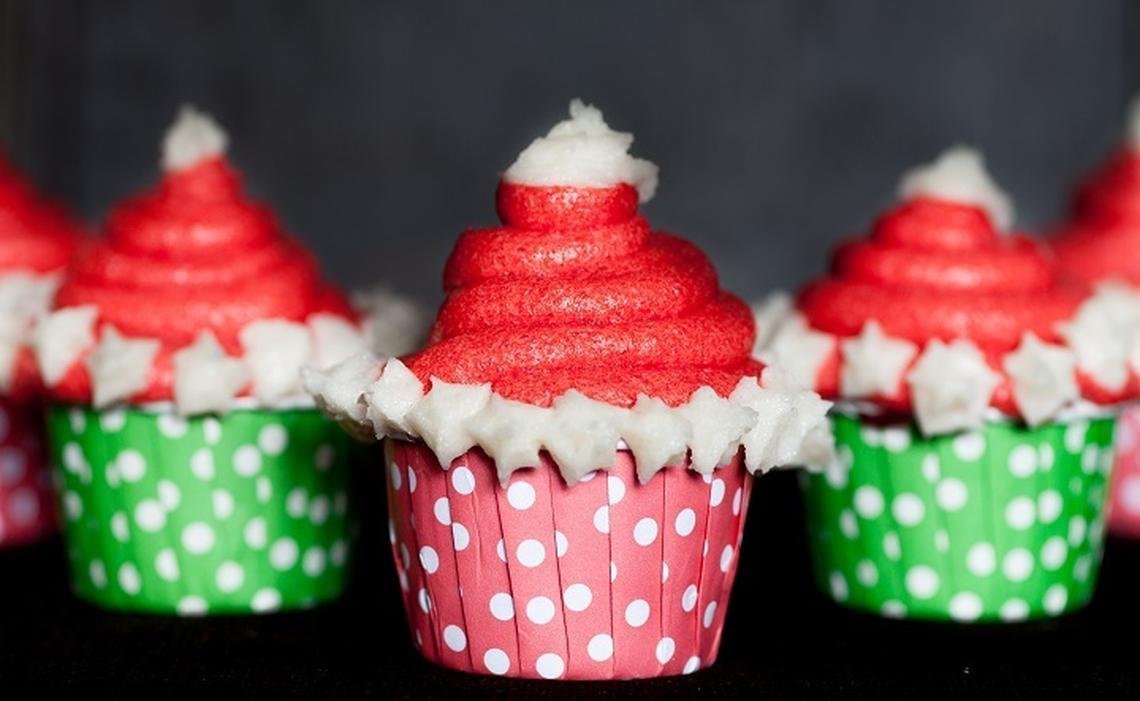 Santa Hat cupcakes has one of the easiest Christmas-themed cupcake frostings. Use good quality gel-based food colour and it will look and taste luscious.
Ingredients
For the eggless red velvet cupcake:
2 cups all purpose flour

1 cup buttermilk

? cup vegetable oil

1 cup powdered sugar

1 tbsp cocoa powder

1 tbsp vinegar

1 tsp vanilla essence

4 drops red gel-based food colour

tsp baking soda

A pinch of salt

For the red buttercream frosting:
3 cups powdered sugar

? cup unsalted butter

1 tsp vanilla

2 tbsp milk

4-5 drops gel-based red food colour

How to make

Preheat oven to 180C. Line a muffin tray with cupcake moulds/liners of your choice

Whisk the buttermilk, vinegar, oil, vanilla and food colour. Sift in the flour, sugar, cocoa, baking soda and salt. Mix well.

Scoop the batter into the cupcake moulds. Bake for 20-25 minutes depending on the size of the moulds.

While the cupcakes cool down, prepare the frosting by whisking together the butter and powdered sugar till creamy. Add in the vanilla and milk. Whisk again.

Take th of the icing and put it in a piping bag with a star tip, or a tip of your choice.This will be used for the white parts of the hat.

Add the red food colour to the remaining of the frosting and put it all into a large piping bag. You do not need a decorative tip for this.

Let the red frosting sit in the refrigerator for a while for the red colour to deepen.

Snip the end of the red piping bag and swirl around the cooled cupcakes to form a hat

Take the white frosting and add a blob on the tip of the cupcake and the edges.

Let them set in the refrigerator for a bit before serving.

Puffed rice reindeer treats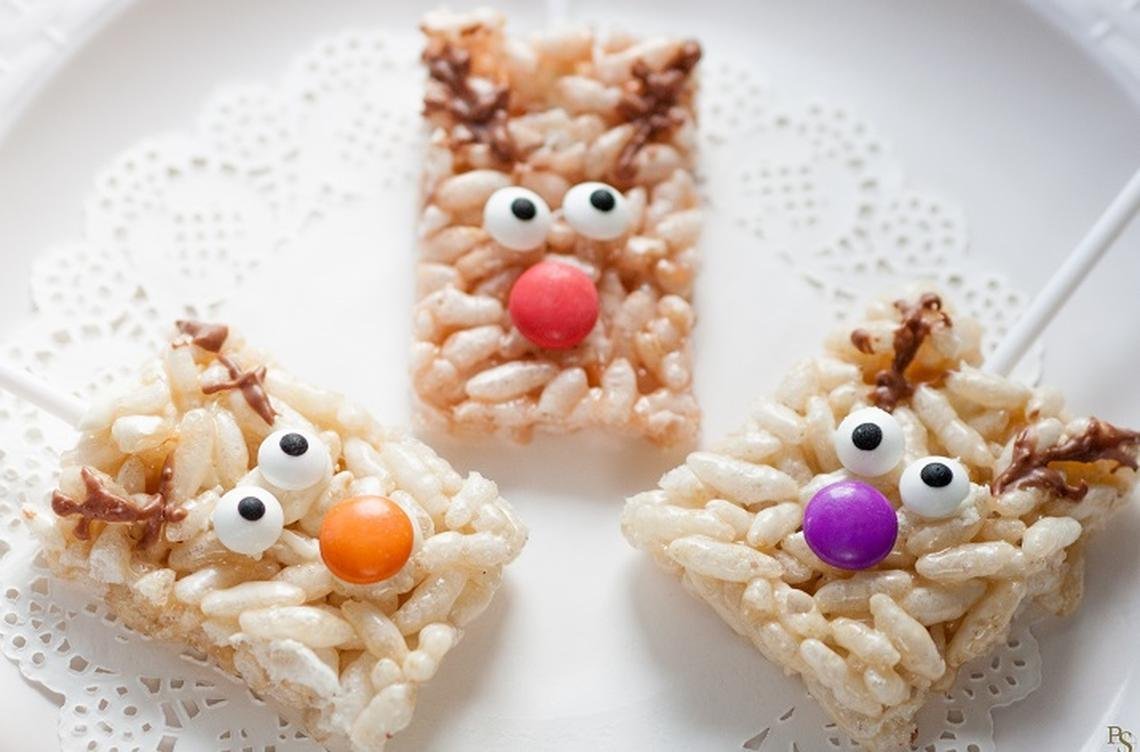 Involve your kids while making these cute treats. Adding marshmallows keeps the treats chewable, yet crunchy.
Ingredients
2 cups puffed rice or rice crispies

2 cups marshmallows

2 tbsp unsalted butter

1 tsp vanilla essence

6-8 candy eyes

A few chocolate gem candies

cup milk chocolate

A small piece of white chocolate

A few lollipop sticks

How to make

Grease a square-shaped baking tray or dish.

Melt the butter on low flame. Add marshmallows and let them melt completely.

Turn off the flame and add puffed rice or rice crispies cereal into it and mix well

Immediately transfer the mixture to the square tray and press well using a greased spoon.

Use a sharp knife and cut into squares.

Melt milk chocolate carefully in the microwave or double boiler and put into a small plastic piping bag. Follow the same process with the white chocolate. Snip a small hole at the end of both the bags.

Put a little white chocolate on the end of the lollipop stick. Carefully push it into a puffed rice square while still a little warm. Similarly prepare the other squares.

Using the white chocolate as glue, stick on the candy eyes and gems making sure you have a few red nosed ones to indicate they are Rudolph - Santa's favourite reindeer.

Pipe the antlers using melted milk chocolate.

Let the chocolate harden completely before packing it away in airtight containers.
About the author:
Written by Parinita Salian on 19 December 2017; updated on 12 December 2019
Parinita Salian is a lifestyle photographer and baker who blogs at spicednut.wordpress.com
Looking for expert tips and interesting articles on parenting? Subscribe now to our magazine. Connect with us on Facebook | Twitter | Instagram | YouTube
Join our Circles to share, discuss and learn from fellow parents and experts!