Celebrating with the family is what makes festivals special. And decorating our home forms a major part of the festivities. We bring you ideas to decorate and make your home brighter and more beautiful. Happy Diwali!
What is your family most excited about this festive season? Sweets, fireworks, diyas, lights, candles and new clothes will be sure to top the list. So, why not get them involved in doing up your home too? This Diwali, let us clean and decorate our houses in order to welcome abundance, prosperity, positive energy and wealth. We have some simple but oh-so-super home decor ideas to get you started.
Before you begin
A clutter-free environment at home and areas like the living room is essential to allow positive energy to flow into your house.
De-clutter before you begin any repairs.
Ensure that the house is well-ventilated and dust-free.
Next, visualise the effect you want to achieve. The easiest way to do that is to choose an appropriate colour palette.
Having a colour scheme in mind will help you focus and maintain aesthetics. For instance, you can create a welcoming ambience in any room with warm tones like yellows, orange, peach and red.
Don't be afraid to go bold by throwing colours like purple and gold too!
Indulge in some tasteful flower decoration as well.
Now, let's get started. Here is a list of decor ideas to make your home truly festive this season!
1. Decorating the entrance and main door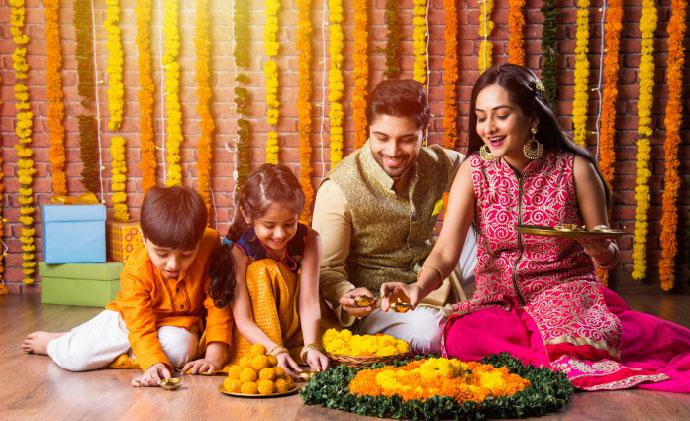 There are simple and effective ways to decorate the entrance and main door. A grand assortment of rangoli, flower decorations and lamp arrangements along with colourful garlands and torans on the door, create a visually pleasing effect. These are also auspicious symbols for welcoming Goddess Lakshmi into your home to fill you with love and prosperity.
2. A memory wall with lights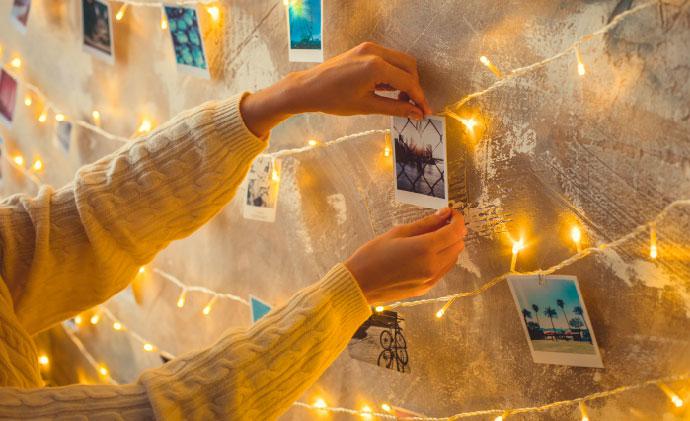 What can be better than putting up photos of your cherished memories? This is a beautiful way to transform empty or unused wall spaces. Fairy lights are easily available in the market and also, quite affordable. String up rows of fairy lights, ensure there is ample space between the rows. Then, print out some beloved pictures of your family and friends. Stick or clip on the pictures in between the lights and watch your memories aglow! You can do this in any room, especially the living room. Or make it a focal point of interest in the dining room.
3. Creative rangoli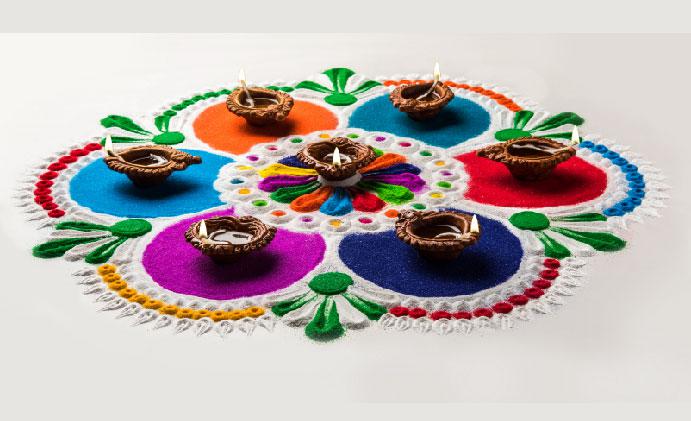 Add a creative twist to your rangoli with vibrant colours and patterns using play dough. Also, arrange diyas alongside interesting patterns to add a quaint touch to your rooms. You can also use paper cutouts and poster paints to make stencil rangoli patterns on the floor.
4. Paper cup lamps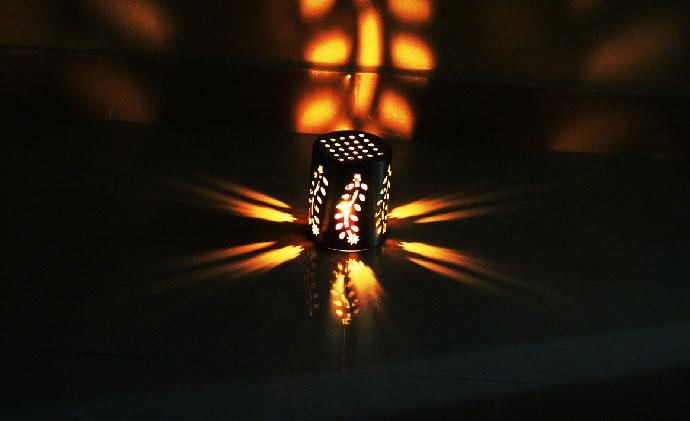 Good decor does not need to be expensive. A few things found at home and a little bit of creativity can make anything festival-ready! These cute paper cup lanterns are proof. Punch small holes in paper cups and paint them in exotic colors. Place tea lights inside each paper cup lantern the effect is spectacular. Of course, do be careful as paper can easily catch fire. Make sure you supervise if your child is doing this.
5. Floating lamps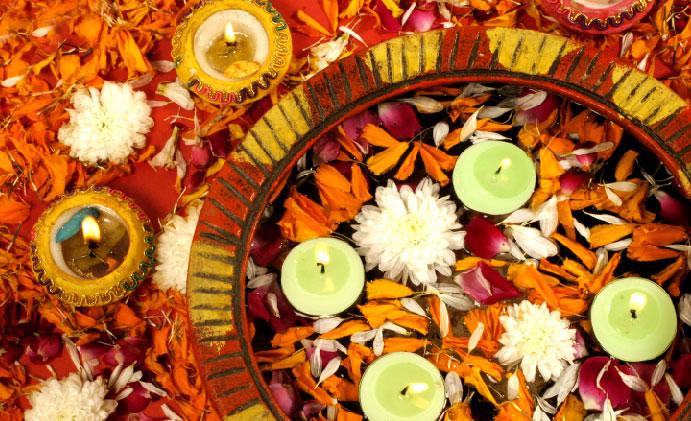 Are you wondering what to do with the unused corners of the rooms? It's time to take out one of your heavy and little-used kitchen utensils. Paint one in a dark shade so it reflects light well. Fill it up with water, place some floating tea light candles inside. In case you are worried that your mischievous youngster may play with the water or make a mess, place flower petals around the vessel and arrange more tea lights around.
6. Potpourri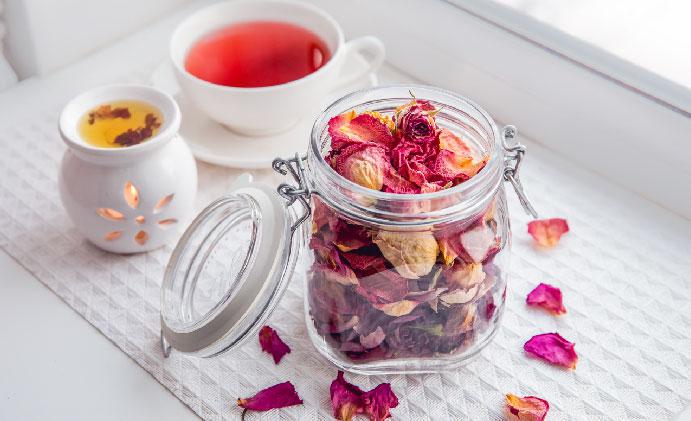 Get your home smelling zesty with an amazing potpourri combo. Take a handful of dried flowers, petals and herbs, place it in a decorative bowl or a cane basket. To make the arrangement aromatic, mix your favorite combination of spices, woody scents and essential oils to the bowl.
7. Mason jar magic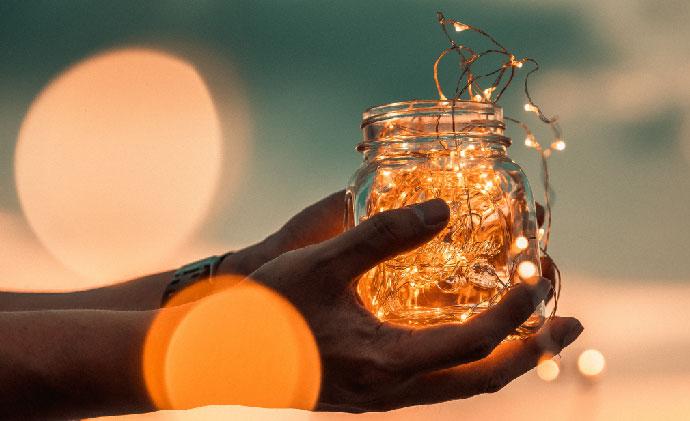 This is a very popular DIY decor idea. Fill up a mason jar with fairy lights and place it in your room or any dark space. The effect is beautiful and looks like fireflies fluttering about inside the jar.
8. Fruit candles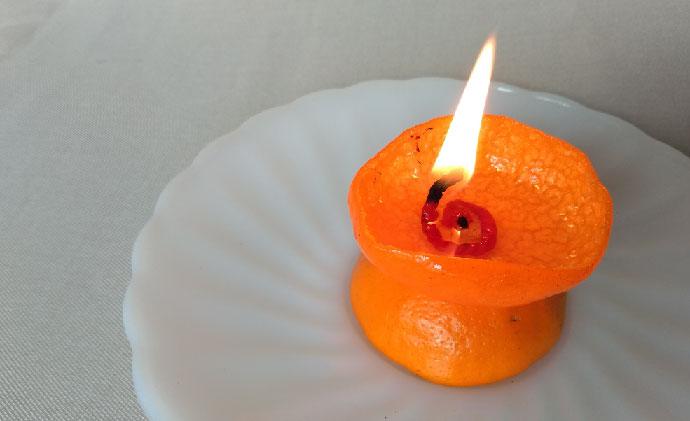 What an inexpensive nature-inspired way to make your house smell pleasing! Reusing orange peels as candles is another ingenious DIY decor that even your child can try. Eat up your fruit and punch some holes in the orange peel. Then, place a tea light candle inside and watch your own scented glow. Wasn't that easy?
9. Earthen lamps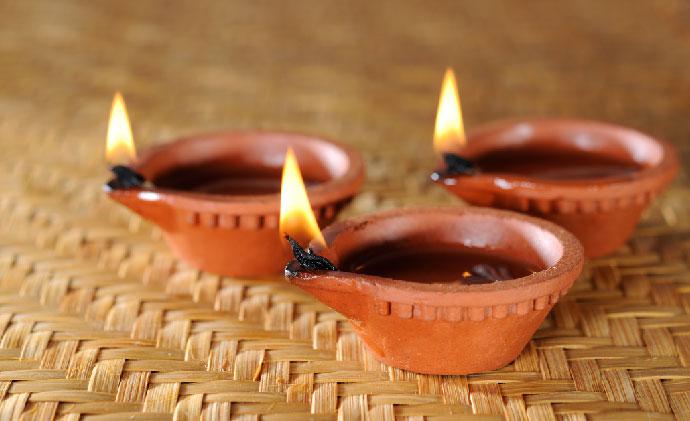 Earthen lamps are traditional decor pieces. These come in many innovative styles today. You can light these lamps and place them around the house. In fact, an earthen lamp in a closed design is even safe for use in your child's room.
10. Akaash kandil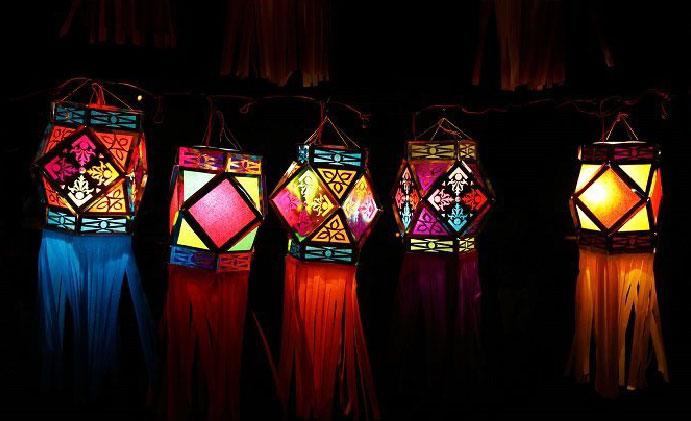 Akaash kandil or paper lanterns add effortless beauty to your house when lit up. This oriental decor item comes in attractive colours and patterns. These are not too expensive and look gorgeous at night. You can even make your own lanterns with your child.
Time to get creative and work on that decor. Pick a decor idea you like and make your home sparkle with love and light this Diwali.