Navratri special: 9 Wholesome fasting recipes with a healthy twist for your family
Priyanka G Mehta
7 Mins Read
While Navratri is a time of fasting, it is also an occasion for special festival delicacies. These refreshing recipes are a departure from the usual and will add a dazzle to your celebrations.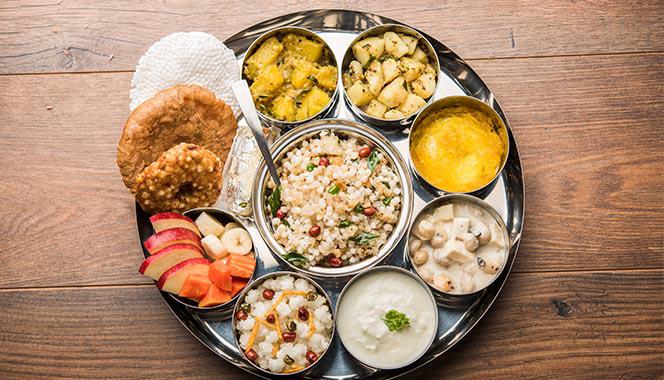 It is that time of the year when shop fronts are lit up with sparkling lights and preparations are afoot in homes for the festive season. There is enthusiasm to celebrate, worship, dance, indulge in music and of course, food is an important part of the festivities. Like all the festivals many special dishes are prepared during Navratri and offered to God every day as prasad. In some regions, people fast and eat wholesome food. Our Navratri recipes are unique and add a twist to regular festival recipes. Give it a try and you will ask for more.
Buckwheat and radish paratha
Mealtimes during Navratri are special and therefore call for some bread, like this wholesome paratha.
Ingredients
2 cups buckwheat flour

¾ cup fresh grated radish
¼ cup radish greens finely chopped

2 potatoes boiled and mashed

Rock salt to taste
Water for dough
Ghee for frying
Method
Take the flour, mashed potatoes, radish and radish greens in a bowl and mix well.
Add salt and very little water to form a dough. Make small balls with the dough.
Don't rest the dough. Heat a griddle and simultaneously start rolling the parathas.
Cook the parathas on the hot griddle, apply ghee on both sides to make them nice and crispy
Raw banana and cottage cheese fritters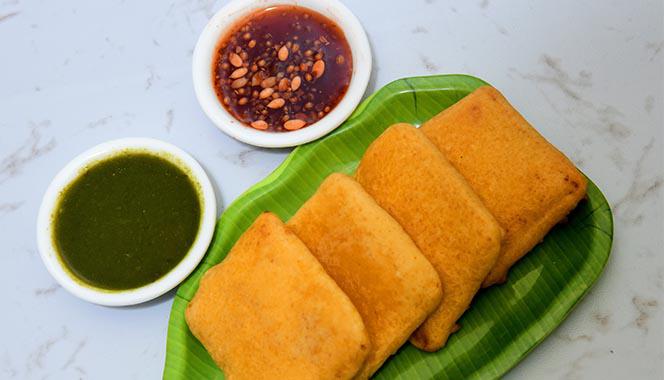 Pair your tea on a fasting day with these simple yet delicious fritters.
Ingredients
2 large raw bananas
1 cup grated cottage cheese
½ cup amaranth flour
1 green chilli finely chopped
2 tbsp fresh coriander finely chopped
½ tsp ginger paste
Rock salt to taste
Black pepper to taste
Ghee for frying

Method
Microwave the bananas with their skin on for two minutes.
Peel and grate them. In a bowl, mix the raw bananas with the rest of the ingredients.
Add some water to make a thick mixture.
Heat a pan and add ghee.
Make small roundels of the mixture and fry till crispy on both sides.
Serve hot with green chutney.
Baked sweet potato fries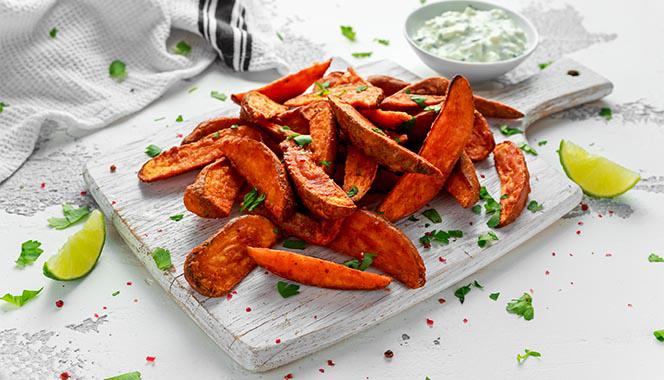 Sweet potato fries are the healthier twist to the regular fries this Navratri.
Ingredients
3-4 sweet potatoes, washed, peeled and cut into strips

1 tbsp olive oil
Rock salt to taste
Black pepper to taste
Method
Preheat the oven to 200°C.
Spread the sweet potatoes strips on the baking tray, sprinkle salt and pepper and mix with your hands.
Drizzle oil over them and bake for 12 minutes.
Take out the tray, turn the fries and bake for 12-15 minutes more.
Buckwheat tarts with pumpkin halwa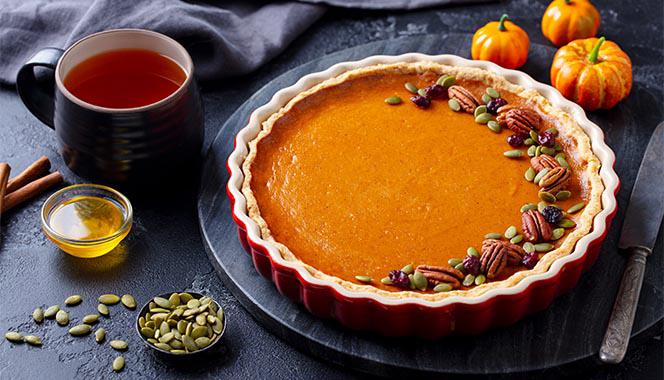 These gluten-free tarts are both crisp and melt-in-the-mouth.
Ingredients
1 cup of buckwheat flour
¼ cup powdered almonds

¼ cup cold butter cubes

½ tsp rock salt
1 tbsp powdered sugar
1-2 tbsp milk
1 kg peeled and chopped red pumpkin
1 cup sugar

1 cup water
1 large cinnamon stick
2 tbsp clarified butter
2 tbsp roasted melon seeds
Method
Take the buckwheat flour, almond powder, salt and 1 tbsp powdered sugar in a bowl and mix well.
Add butter cubes to the flour and rub with your fingertips. Once mixed, it will resemble bread crumbs.
Add a tbsp of milk or two to make a hard dough and rest it in the fridge for half an hour.
Pressure cook the pumpkin with a cinnamon stick and a little water for 1 whistle. Then drain excess water and mash the pumpkin.
In a pan, add ghee and the pumpkin mash, cook till it is reduced and no water is seen.
Add sugar to it and cook well till the halwa is ready and is glossy.
Meanwhile, for the tarts, make small balls of the buckwheat dough and set them in the shape of tarts in moulds. Prick with a fork to avoid puffing.
After the tarts are cooled, fill halwa into them and garnish with the roasted melon seeds.
Moong Dal Payasam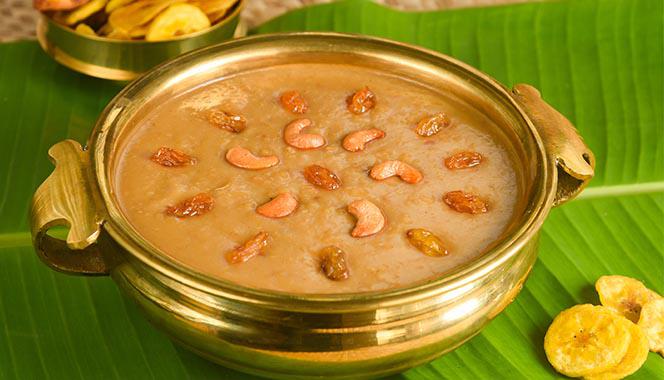 Payasam is the favourite Navratri prasad in South India. This one is quick and flavourful.
Ingredients
1 cup moong dal (split green gram)
2 cups of water
1 cup coconut milk/regular milk
¼ cup of mixed nuts

¾ cup of sugar
2 tbsp ghee
Method
Wash properly and cook the dal in a pressure cooker with two cups of water for two whistles.
Heat 1 tbsp ghee and fry the nuts, keep aside.
Mash the cooked dal with a ladle.
Add the remaining 1 tbsp of ghee to a pan and add moong dal and sugar. Mix well.
Finally, add the milk, cook till it's a thick mix and then remove from heat.
Garnish with the nuts and serve hot.
Green Peas Sundal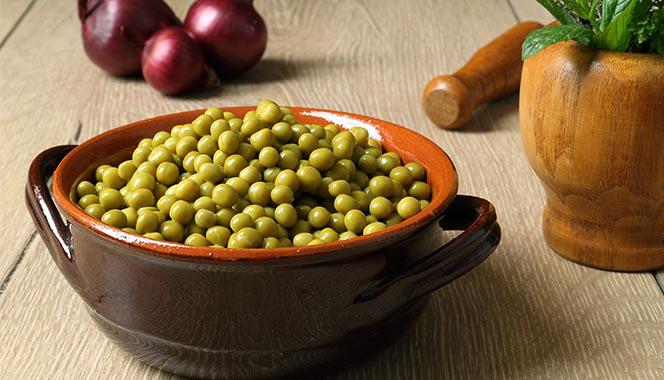 Of the many types of sundal prepared during Golu, the green peas sundal has a fresh taste and is easy to make.
Ingredients
2 cups of fresh green peas
1 tsp mustard seeds
½ tsp split urad dal
½ tsp asafoetida (hing) powder
1 dry red chilli

¼ cup fresh grated coconut
½ inch grated ginger
1 green chilli finely chopped
7-8 curry leaves
1 tsp olive oil
Salt to taste

Method
Blanch the green peas, drain and keep aside.
In a pan, heat olive oil and add mustard seeds, dry red chilli, urad dal and curry leaves, and let them splutter.
Add hing powder, ginger and green chilli and mix well.
Then add the blanched green peas and saute.
Mix in the salt and grated coconut.
Chocolate and Bottle Gourd Fudge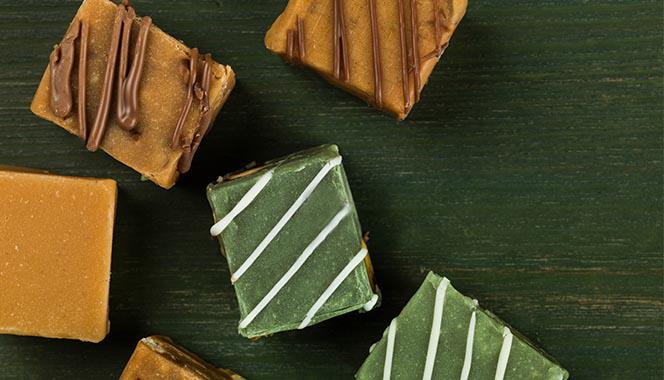 This is an amazing combination of bottle gourd halwa and chocolate fudge and will make a lasting impression.
Ingredients
100 g fresh cream
200 g chopped dark chocolate
1 kg bottle gourd (peeled and grated)
¾ cup sugar
½ tsp cardamom powder
¼ cup almonds slivers

1 tbsp ghee

Method
Heat the ghee in a pan and add grated bottle gourd, saute till it starts releasing water.
Add sugar and mix well. Cook till all the water from the bottle gourd is absorbed and has a glossy texture.
Add cardamom powder and mix well.
Remove from heat and let it cool down.
In another pan, heat the cream till it bubbles, then remove from heat and add the finely chopped dark chocolate.
Mix till the chocolate melts and the mixture is smooth.
Prepare a square fudge tin and grease it with ghee.
Pour the chocolate mixture into the tin and pop it in the fridge for 15 minutes
Once done, spread the bottle gourd halwa evenly over it.
Using a sharp knife mark an even square and on each square add an almond sliver. Again pop it in the fridge to chill. Cut into squares once set.
Amaranth almond cookies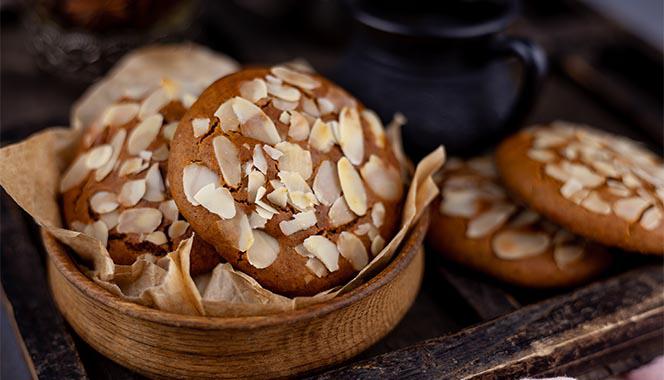 How about some cookies during fasting? Sounds interesting, doesn't it? These are ready in a jiffy.
Ingredients
¾ cup amaranth flour

¼ cup almond meal
Few halved almonds for decoration
¼ cup softened butter
¼ cup sugar

¼ tsp baking soda
A pinch of rock salt
1 tbsp milk
Method
Cream together butter and sugar with a hand or electronic whisk, till the butter is pale and fluffy.
Add in amaranth flour, almond meal, salt and baking soda and mix well.
Add milk and form the dough. Scoop out the cookies on a parchment-lined baking tray and fix one halved almond on each of them.
Bake in a preheated oven at 160°C for 10-12 minutes till their sides are golden.
Lobia vada pops
Everyone loves vadas and we have given it a nice twist for Navratri. Here is a suitable recipe that can be adapted during Golu.
Ingredients
1 cup black-eyed beans (lobia)
Rock salt to taste

1 tsp Cumin seeds

2 tbsp chopped coriander leaves

5-6 chopped curry leaves
1 chopped green chilli

Water to soak lobia
Oil to deep fry
Few toothpicks

Method
Soak the black-eyed beans for 3-4 hours, drain and grind coarsely.
To this, mix in the green chillies, coriander and curry leaves.
Add rock salt and crushed black pepper.
Now shape the mixture into small round balls and fix a toothpick in each ball. Fry them in hot oil till they become nice and golden
Serve hot with green chutney.