Healthy Navratri Delights: Try Out These Treats That Are Not Only Delicious But Nutritious Too
Ruchira Ramanujam
5 Mins Read
This Navratri, why not create new traditions by handing out these deliciously healthy treats to family and friends? They're easy to make, are nutritious and can be stored, too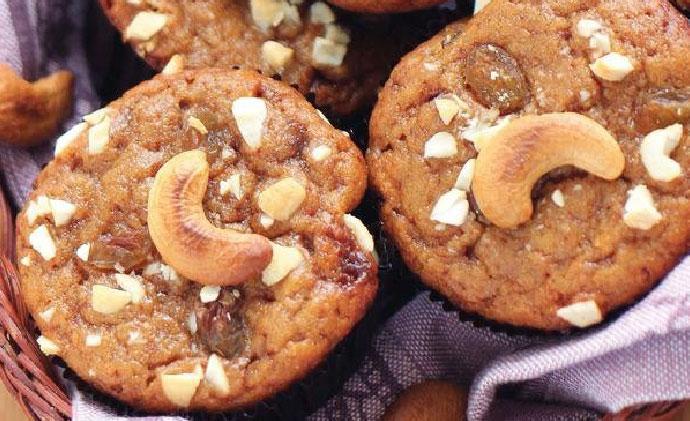 Kaju-kishmish muffins
The classic Indian flavors of Kaju-Kishmish (cashews and raisins), and the sweetness of jaggery add a traditional touch to these wholegrain muffins.
Pro tip: Bake the muffins in paper cups so that they are easy to hand out to friends and family on festive days.
Ingredients (makes 10)
1 cup raisins
1 cup whole wheat flour (atta)
1/2 cup sifted jaggery powder
1 tsp cinnamon powder
1 tsp baking soda
1/2 tsp salt
1/2 cup chopped roasted cashew nuts
1 cup (240ml) thin curd
1 cup (60ml) vegetable oil
1/2 tsp pure vanilla extract
Method
Preheat the oven to 180°C
Put the raisins in a small cup of water and set aside to soak
Put 10 paper liners in the cups of a muffin pan. Set aside
Place the flour, jaggery, cinnamon, baking soda, and salt in a mixing bowl. Mix well with a whisk
Set aside some of the cashew nuts to use as topping. Stir in the remaining nuts into the flour mixture
Drain the raisins and set aside a few for topping the muffins. Mix the remaining raisins into the flour mixture
Add the curd, oil and vanilla into the mixing bowl. Whisk briefly until smooth
Spoon the batter into the prepared muffin cups, filling each one two-thirds full
Top the muffins with the reserved nuts and raisins
Bake it for half-an hour and enjoy it once it cools down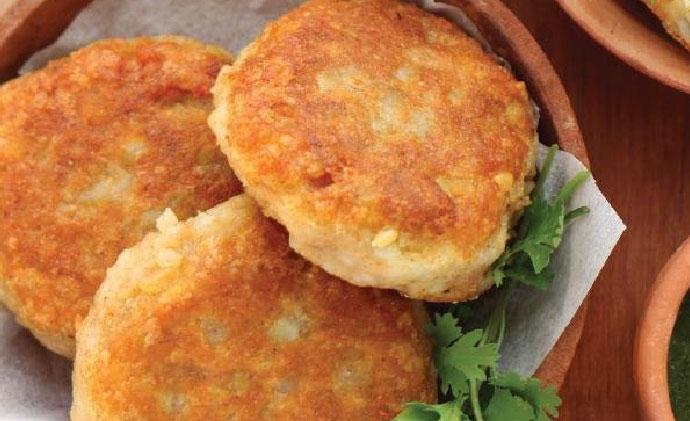 Moong dal stuffed aloo tikkis
These golden crunchy snacks give our regular aloo tikki a perfect makeover. The spicy stuffing with its tender moong dal adds to the taste. With well-loved flavors borrowed from the chaatwalas, these crispy, crusty tikkis are easy to make, easier to pack and give away!
Ingredients (makes 6)
For the stuffing
1 cup moong dal
1 tsp grated ginger
cup chopped coriander leaves
1 green chili, minced
Pinch of sugar
Pinch of asafetida
Salt to taste
For the tikki
5 potatoes, boiled
Black salt/kaala namak to taste
1 tsp roasted cumin powder
1 tsp chaat masala
1 tsp red chili powder
Oil for shallow frying
Method
Boil moong dal in 2 cups of freshwater for about 10 minutes or until slightly tender and not mushy. Drain well and then mix with the remaining ingredients for the filling. Set aside.
Peel and mash the potatoes until no lumps remain. Add the salt, cumin powder, chaat masala and red chilli powder. Mix well.
Divide the potato mixture into 6 parts. Roll each part into a ball and make an indentation to stuff in about a tablespoon of the moong dal filling. Gently close the gap and smoothen the surface. Flatten the ball into a tikki shape. Set aside on a greased plate.
Once all the tikkis are made, cover and chill them in the fridge for an hour.
Shallow fry the tikkis on both sides until golden and serve hot.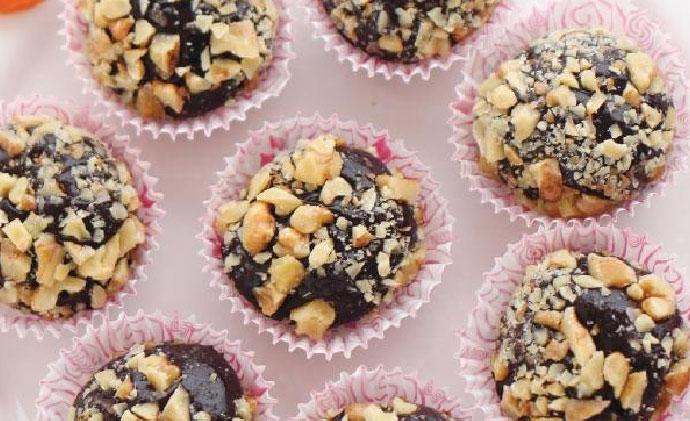 Chewy chocolate bites
These chewy, fudgy morsels are sure to become a family tradition. Inspired by the Brazilian candy called Brigadeiros which is usually rolled in chocolate sprinkles, this is a healthier version that includes all the nutrition of Turkish apricots and walnuts.
Ingredients (makes 10)
5 tbsp cocoa powder
1 tbsp butter
400g can sweetened condensed milk
1 tbsp vanilla extract
1/2 cup finely chopped dried Turkish apricots
1 cup roasted walnuts, finely chopped
Method
Place the cocoa powder, butter, and condensed milk in a heavy bottomed saucepan and cook for about 10-12 minutes, stirring constantly. Once the mixture thickens and starts to come away from the bottom of the pan, take it off the heat. Mix in the vanilla extract and the chopped apricots and set aside to cool.
Place the walnuts in a shallow tray
Once the chocolate mixture is cool enough to handle, use greased hands to roll it into small balls. Then place each ball in the chopped walnuts and cover it well.
Place in a small paper cup to serve.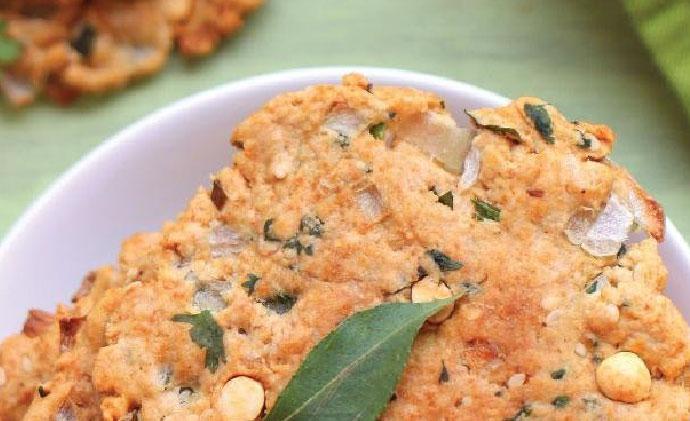 Baked nippattu
These spicy, usually deep-fried, savory crackers are a popular snack in Karnataka. A baked version can also be found at most local Iyengar bakeries. This delicacy is sure to be enjoyed by young and old alike.
Ingredients (makes 18-20)
1 cup maida
cup atta
1 tbsp cornflour
1 tsp baking soda
1 tsp salt
1/2 tsp chili powder
1 tsp turmeric powder
1 big onion, chopped
3 green chilies, minced
1 cup coriander leaves, chopped
10-12 curry leaves, thinly sliced
2 tbsp roasted chana dal
1 tsp sesame seeds
1 tbsp honey
75g unsalted butter, softened
Method
Line a baking tray with parchment paper. Alternatively, you can use aluminum foil greased with oil.
Mix the flours in a large bowl along with baking soda, salt, chili powder, and turmeric powder.
Add the onion, green chilies, coriander, curry leaves, roasted chana dal and sesame seeds. Mix well.
Now add the honey and the softened butter to the bowl. Mix and knead well to form a firm dough, adding water by the tablespoon as required.
Cover and let the dough rest for 15 minutes.
Meanwhile, preheat the oven to 180.
Take tablespoon-sized pieces of the dough, place them between 2 plastic sheets, and roll them out into thin circles 2.5 inches in diameter. Place this nippattu on the prepared sheet.
Bake for 15 minutes, then turn the nippattu over and bake for about 8 minutes or until deep brown.
Cool on a cooling rack before serving or packing as giveaways.