The word 'father' signifies love, respect, honour and power. Well, with great power comes great responsibility. And, how well a father shoulders that! Here's celebrating the superhero!
My Father - My Hero
As a little child, I used to jump straight into my Appa's arms, no matter how far away he stood from me. I had a simple trust in him. As I grew older, this trust led to falling in line with any decision Appa made for me, with no second thoughts. I accepted his choices about school and after-school activities. I took his every suggestion on books, films, music, food and life. And then, gradually, he started to do what must be the hardest thing for a parent to do - he stepped away. He moved from standing in front of me and prompting me to jump, to standing next to me and teaching me how to jump right. Now, he pushes me to have the strength to do everything myself. As a child, I did not have to face the giants that I face now as a 22-year-old. My Appa is not the kind of hero who fights my giants for me; but, the one who teaches me how to fight those giants.
- Anukripa Elango, student of IIT, Chennai

Hero - is there a better word to describe one of the most important people in your life? Well, if you ask us, 'father' says it all. The role of the father has evolved significantly over the years. Once, it primarily meant little more than providing financial support and enforcing morals and principles. Today, it has changed to include being the confidant and occasional entertainer. V V S Laxman, cricketer, says, "A father's responsibility is as big as a mother's, if not more. I can definitely say, by my own experience, dads are indeed super heroes. In a world where managing things is a time-induced challenge, dads have to play a major role in a child's upbringing, and like I said, it begins from day one." Changing economic and social trends have removed the role of gender from several parental activities; so much so that today, stay-at-home dads are becoming more common. This phenomenon has largely influenced the level of impact fathers have on their children. Fathers are increasingly playing a role that has a direct bearing on the emotional quotient of a child. A father has a major influence over his child's self-esteem and sense of self-worth.
Father's involvement and child's self-esteem
Self-esteem lays the foundation for a child's happiness, success and over-all development. It also helps cultivate a proper sense of identity and individuality in the child. That a father has an important role in nurturing the child's self-esteem is evident from several studies.
A 2015 research by Naama Atzaba-Poria of Ben-Gurion University of the Negev, Israel, and Alison Pike of the University of Sussex, UK, examines the correlation between parental negativity and its effects on self-esteem in Indian and English families. It shows that maternal negativity results in lower levels of self-esteem in English children. On the other hand, paternal negativity undermines the self-esteem of Indian children. The research goes on to suggest that culture, which plays a significant role in how we run families and assign responsibilities, should be an important factor in studying parental influence.
Interestingly, there have been many studies in the past too, which have looked into the element of self-esteem and a father's influence. Back in 2012, a study by Chun Bun Lam, Susan M McHale and Ann C Crouter of Pennsylvania State University (Parent-Child Shared Time From Middle Childhood to Late Adolescence: Developmental Course and Adjustment Correlates, published in Child Development) reveals that adolescents who spent more quality time with their fathers, on an average, had better self-esteem.
"A healthy relationship between a father and a child plays a key role in the development of the child's self-esteem," says Vasuki Mathivanan, President, Chennai Counselors' Foundation. She goes on to explain that the foundation for it begins in the formative years (2-4 years) of children; a time when they are eager to explore, meet new people and enjoy things they like. When parents, especially fathers, don't spend enough time with them, don't appreciate or encourage them, restrict or pamper them too much, the child's curiosity is blocked. That's when self-doubt creeps in and children begin to question their every move. Self-doubt, says Vasuki, slowly leads to poor self-esteem.
"Children learn a lot from their fathers, especially respect," claims Vasuki. "Fathers set the healthy pattern for their children - to respect themselves and others around them. This attitude continues for life. And self-respect leads to good self-esteem," she adds.
Fathers also play a role in providing a sense of security for their children. Says Vasuki, "When children know that they have someone who teaches them new things and supports them in everything, they get the confidence to explore, and the courage to experiment. Approval from the father largely influences self-confidence, thereby improving self-esteem."
So, now do you understand the impact that a father has on his child's life? Such an impact surely demands and warrants your respect and love for him, doesn't it?
The Italian novelist and philosopher, Umberto Eco once said, "I believe that what we become depends on what our fathers teach us at odd moments, when they aren't trying to teach us. We are formed by little scraps of wisdom." This Father's Day, if the 'little scraps' have you wanting to make the day special for your 'hero', it's a sign of a job well done!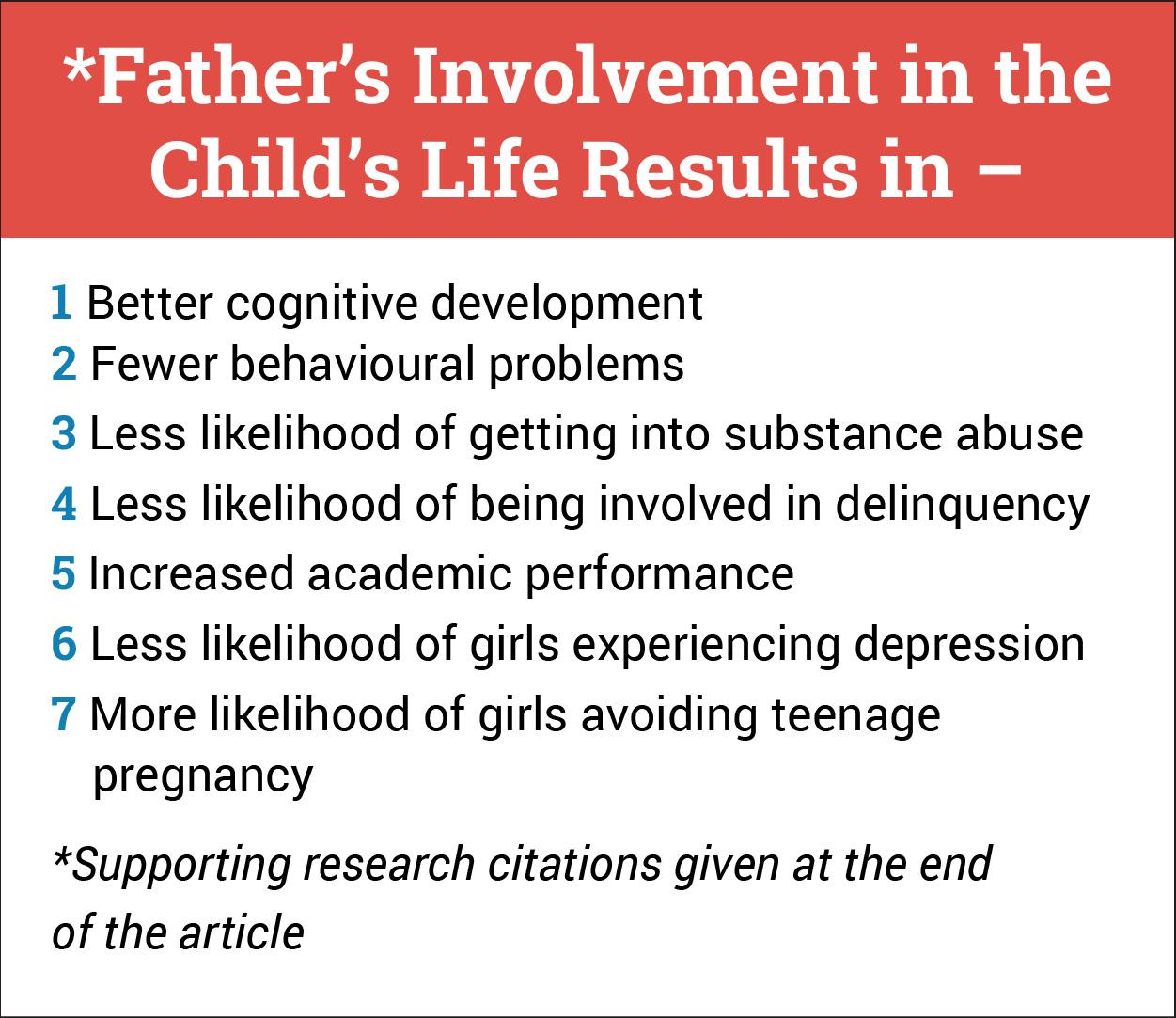 Father's Day special: Tips
It's that time of the year when the whole family is gathered around the father, gushing praises and showering attention. You'd love to do something special to mark the day. Well, here are some suggestions!
Make it a day of adventure! It's a good way to spend some quality father-child time and have loads of fun too. Together, you can try your hand at fishing, paintball, parasailing, kart racing or rifle shooting.

Set out on a hike. Find the nearest single-day trail, make arrangements well in advance and go trekking.

Create trivia/quiz games for both you and your child. It will not only let you test your knowledge of each other, but also allow you to recap long-forgotten moments.

Do it yourself - be it food, a project, or a work of art. Mark the day with the fruit of your labour.

A treasure-hunt is never without fun! Fill the house with gifts or even better - memorabilia from over the years.

Arrange for a fathers' day out with children. Get fellow dad-buddies together and set off on a fun day's trip.

Volunteer with your child, for a day, at a charity of your choice. Service is as good a way to celebrate as any.

Enjoy a day of fun at the amusement park. Trust me, you never get old.

Invite people over for a proper celebration - cake, party hats - all the works. The number of years you've been a father can go on the cake to mark your fatherhood years.

Exclusive for fathers: Treat yourself to a day at the spa - massage, oil therapy, reflexology and what not! It's your turn to be pampered. Get your child to suggest the therapies.

Happy Father's Day to you!
* References:
Sandra L Hofferth, Residential Father Family Type and Child Well-Being: Investment Versus Selection, Demography, 2006

Christina Falci, Family Structure, Closeness to Residential and Nonresidential Parents, and Psychological Distress in Early and Middle Adolescence, The Sociological Quarterly, 2006

Jacinta Bronte-Tinkew and Kristin A Moore, The Father-Child Relationship, Parenting Styles, and Adolescent Risk Behaviors in Intact Families, Journal of Family Issues, 2006

Marcia J Carlson, Family Structure, Father Involvement, and Adolescent Behavioral Outcomes, Journal of Marriage and Family, 2006

Eirini Flouri, Early Father's and Mother's Involvement and Child's Later Educational Outcomes, British Journal of Educational Psychology, 2004

Tami M Videon, The Effects of Parent-Adolescent Relationships and Parental Separation on Adolescent Well-Being, Journal of Marriage and Family, 2002

Does Father Absence Place Daughters at Special Risk for Early Sexual Activity and Teenage Pregnancy? Child Development, 2003