With the festive season underway, we take a look at innovative ways in which you can make your home festive-ready this year. What are you waiting for?
Navratri means 'nine nights' in Sanskrit - nav meaning nine and ratri meaning nights. Navaratri is a festival that spans a duration of nine days in honor of Goddess Durga. While the festivities differ in different parts of India, it is a much-awaited festival that brings family and friends together. Be it setting up the golu display or practicing dandiya moves, Navaratri is a festival that brings a lot of joy and cheer to our lives.
While the pandemic has cast a long shadow over our festival celebrations this year, there is no reason why we shouldn't still have some fun. Why not stay safe indoors and create some fun decorations with your child using simple materials available at home? This is a great way to spend time with your family and recreate the magic of the festive season.
Here are some fun ideas which don't require much time, are easy to execute, and give your home a great look at the end of it.
1. Paper cup lights
This is probably the simplest craft you can try with your child. All you need are paper cups and a string of fairy lights and you will have a stunning garland of lights to adorn your home!
Materials required:
Paper cups
Fairy light
Scissor or knife or pencil (to make a hole)
Glue
Sketch pens or paints (optional)
Shiny wrapping paper or craft paper (optional)
Method:
Count the number of bulbs on your fairy lights and get the same number of paper cups ready.
Start decorating them. There are two options you can try here. If you have old wrapping paper of craft paper at home, spread glue on your cup and stick the paper to the cup. Repeat this method for all the cups.
The second style you could try is creating your own fun patterns with everyone in the family creating their own unique design on the cup.
Use a sharp object to pierce a hole at the base of the cup.
Thread your string lights through the cups.
String up your creation in the living room, plug it in, and voila you have an inexpensive but gorgeous item lighting up your room.
Tip: If you are using wrapping paper try and mix and match patterns to create a vibrant look.
2. Candle in a jar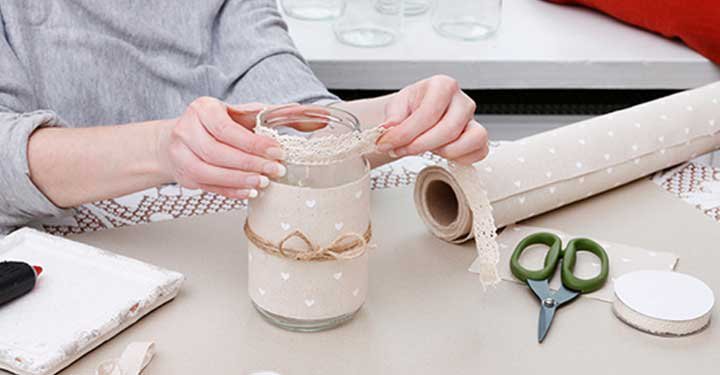 Create your own little candle in a jar and place them strategically around your home to give it a grand look.
Materials required:
Mason jar or old glass jar
Tea light candle or regular candle
Old fabric (festive looking) or festive paper
Ribbon, yarn, tassels (optional)
Scissors
Glue
Method:
Clean your bottle thoroughly and wipe it dry.
Choose the fabric or paper you would like to use.
Cut the fabric or decorative paper to size.
Carefully glue the fabric or paper around your bottle.
Now, add embellishments such as ribbons and yarns around the bottle. You can use the ribbon to tie a nice bow as well.
Repeat for as many bottles as you would like.
Tip: You can either spread them around the house or group them together to create a great festive look.
3. Hand painted pots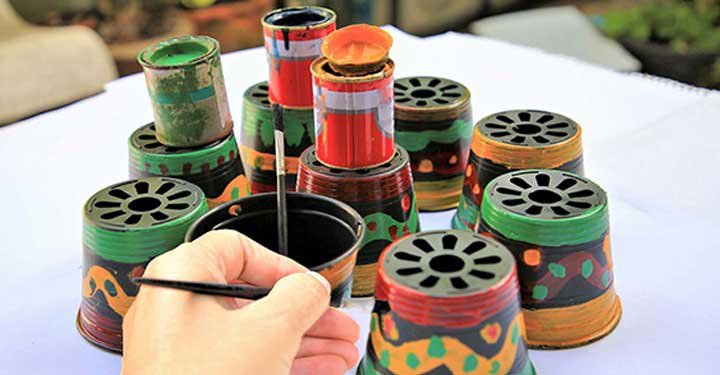 Upcycle old ceramic pots in this fun activity where you can give free rein to your creativity. Look for fun items you can use to brighten up your pots like old bangles, tassels, stones, or mirrors.
Materials required:
Ceramic pots
Acrylic paints
Paintbrush
Glue
Optional decorative items - stones, tassels, old bangles, mirror pieces
Method:
Choose a base color and paint your pot that color.
Create your own colorful pattern on the pot.
As a final step, choose your additional bling decorations and stick the pieces to create your final masterpiece.
Tip: You can use it as a planter or a candle holder in your home
4. Paper bag lampshade
There is true beauty in simplicity as is the case with this next craft. Apart from being super easy to make, it is also a great way to use up all those paper bags lying around the house.
Materials required:
Paper bag
Paper punch, if you have one with shapes, you can use that too
Scissors
Pencil
LED light or battery-operated string light
Method:
Cut and remove the base of your paper bag.
Using your punch, create holes all across your paper bag. You can either create a pattern or make a random design.
Place your lights on the table and then place your paper bag lampshade over it.
5. DIY Decorative Dandiyas
While most of us might not be attending large garbas this year, there is no Navratri without dandiya. So, create your own dandiya sticks and use them to have a dance program at home. They are also great for festive decor.
Materials required:
Old Newspaper
Pompoms
Glue
Lace
Thread
Ribbons (different colors of your choice)
Scissors
Fevicol
Method:
Twist your newspaper sideways to create a paper roll. Glue it together at the end. Keep repeating this step till you have the required thickness. Even out the edges.
Glue ribbon all around your stick to cover the paper. Mix and match colors to make it look colorful.
Add your shimmery lace or ribbon to the top of the stick and at the joints if you have used ribbons of different colors.
Add tassels, beads, or bells at the end of your stick.
Repeat the same process for a second stick. Your stick is ready to use!
Tip: Have a fun dandiya night at home using your very own handcrafted dandiya sticks.
6. Balloon twine lights
Balloons, lights, and some yarn - a fun activity for the whole family to try out this festive season.
Materials needed:
Yarn
String lights
Fevicol or any other glue
Balloons
Bowl
Water
Scissors
Paintbrush
Method:
Mix Fevicol or any other glue and water in a ratio of 3:1. Use an old stick to mix it thoroughly.
Blow the balloons. Make sure the size is small.
Place your yarn in the glue mixture. Make sure it is coated well, then squeeze out excess glue.
Once the yarn is coated thoroughly with the glue, wrap it tightly around a balloon. Secure the edge properly with glue, use a paintbrush for this.
Leave to dry for a minimum of 24 hours.
Take a sharp object and prick the balloons.
Remove the broken balloon carefully. You will be left with hollow yarn balls.
String your lights in the yarn balls and your new lights are ready to use!
Tip: Do this activity ahead of time as the drying time is a little long.
Celebrate this Navratri by coming together and creating something new. The beautiful decorations as well the time you spend together are sure to make the festival memorable for your children.
Free Download: Dussehra (Navaratri) Special Activities for Kids