One of the much-awaited festivals in India, Navratri is celebrated for nine days. Before you gear up to welcome it, here are nine unique facts that kids should know about this Hindu festival of 9 days
It is the season of fun and festivities, not to forget sweets, gifts, and feasts. Navratri, the Hindu festival that spans nine nights, is arriving soon with Dussehra and Diwali in tow. Despite the current situation caused by the pandemic that has put a dampener on the spirits of many, the festive season is officially here!
While adults are busy charting out plans to celebrate each festival with pujas (the act of worship) and paying reverence to different Gods and Goddesses, kids are excited about the fun parts of the festivals such as gorging on sweet treats and wearing new clothes.
Navratri: The festival of 9 days
The second half of the year is choc-a-bloc with festivals where one festival ends only to be followed by another one. Prominent among the festivals is Navratri that is celebrated by Hindus for a period of nine days.
Navratri is celebrated with much gusto by different states in their own 'unique' ways. For instance, the western part of the country celebrates Navratri with dandiya or Garba while in the southern region, Navratri is celebrated with Golu or Bommai Kolu, which involves the festive display of dolls. North India observes Navratri by fasting for nine days while in West Bengal, Navratri is associated with pandals (marquees) and humongous, expertly crafted idols of Goddess Durga.
Note: Garba is a form of dance where women dance in circles around a pot that contains a lamp. It comes from the word 'Garbha' which means womb. The lamp is used to represent life within the womb.
Why kids should know about Navratri
During the nine days of Navratri, special pujas, rituals, and fasting are held across many parts of the country. It is essential for children to understand the significance of this festival - why is it celebrated, the history behind the festival, the meaning of the festival's name. This enables them to delve into the finer aspects of the festival and appreciate it better.
How Navratri is celebrated across the country
In South India, Navratri is when friends and relatives visit each other's homes to look at the Golu, which is a collection of various dolls and figurines in different shapes, colors, and sizes. In Kannada, this exhibition is called Bombe Hadda, Bommai Kolu in Tamil, Bomma Gullu in Malayalam, and Bommalu Koluvu in Telugu. Interesting, is it not, kids?
In North India, people give gifts to each other during Navratri ranging from sweets to clothes to household items.
Ramalakshmi Nagarajan, who is based in Delhi, says, "My fond memories of Navratri included being invited by neighbours and treated to sweets and even given some money, especially on the eighth and ninth day."
Dandiya, an integral part of Navratri celebrations in Gujarat, is a dance where men and women participate with small, bamboo sticks called dandiyas. A highlight of the dance involves both men and women striking each other's dandiyas.
Priya Dave, a journalist based in Bengaluru but whose hometown is Gujarat misses playing dandiya. "More than the pujas, I look forward to playing dandiya. We would begin preparations in advance and visit shops looking for colourful dandiyas. This year, due to the pandemic, I am not going home and will miss the festivities associated with Navratri."
Navratri and Ayudhya Puja
Ayudhya Puja is an important feature of Navratri and is observed in many parts of South India on the ninth day with much fanfare. All kinds of tools, books, musical instruments, machinery, and automobiles are worshipped along with the worship of Goddess Saraswati. The tenth day is celebrated all over as 'Vijaya Dashami'.
Keeping this important aspect in mind, we bring you nine facts that kids should know about the festival of Navratri. From the meaning of the festival in Sanskrit to how different states celebrate it to the different forms of Shakti worshipped during the festival - kids and even adults will be surprised and amazed by these different and unique facts.
9 surprising facts that kids should know about Navratri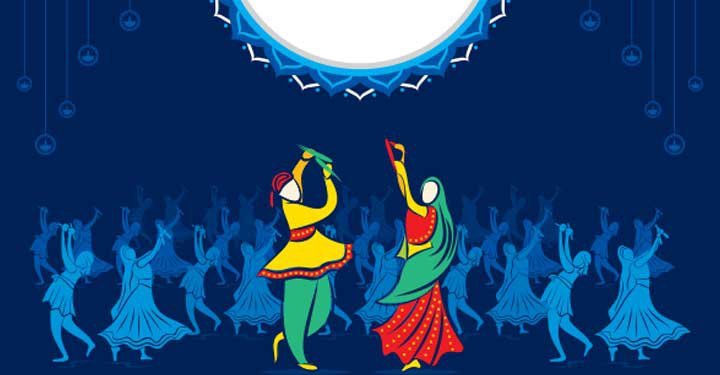 The word Navratri is a combination of two Sanskrit words - Nav, which means the number 9, and Ratra, which means night. Since this festival is celebrated over a period of nine nights across the country, it is called Navratri - the festival of 9 nights.
Goddess Durga and her many incarnations are worshipped during the nine days of Navratri. It is widely believed that each of these nine Goddesses has immense power and when combined, they all form Goddess Durga. The nine Goddesses include - Shailaputri, Brahmacharini, Chandraghanta, Kushmanda, Skanda Mata, Katyayani, Kalaratri, Mahagauri, and Siddhidatri.
Navratri occurs five times a year. Yes... The name of the months when Navratri can be held are March/April, June/July, September/October, December/January, and January/February. However, the Navratri called Sharad Navratri that is held during the months of September and October is the most popular and widely followed one.
Many believe that Navratri is celebrated to remember the victory of Goddess Durga over the demon Mahishasura. Goddess Durga was created by the Gods to end the terrible atrocities of the demons. Mahishasura and Goddess Durga fought for nine days and nine nights and finally, on the tenth day, Goddess Durga emerged victorious by killing the buffalo-headed demon Mahishasura.
Now that you have read about the victory of Goddess Durga over Mahishasura who was buffalo-headed, another interesting fact emerges. In many parts of India, the animal is sacrificed to commemorate the victory.
On the ninth day of Navratri, people all over worship their livelihood and instruments of work. On this day, known popularly as Ayudha Puja in South India, one can see computers and software books being worshipped along with vehicles and machinery.
The dates on which Navratri falls each year are set as per the Hindu lunar calendar. The festival traditionally commences on Pratipada, which is the first day of the lunar month of Ashwin that falls in September or October. When Navratri ends, the festival of Dussehra follows almost immediately.
In many parts of North and West India, Navratri is celebrated with the popular event of Ram Lila (dramatic folk enactment of Lord Rama's life) and it culminates in Dussehra when huge effigies of Ravana are burnt. This symbolizes the victory of Lord Ram over Ravana.
According to legend, the Gods granted Goddess Durga a period of nine days to visit her mother once a year. This festival is said to celebrate the happiness of the mother and daughter meeting each other.
Navratri is not just celebrating a festival. Kids should understand that it is much bigger - it is an occasion to learn about the rich culture, customs, and traditions of our wonderful country. The nine days of Navratri give ample opportunity for parents and kids to bond, rest, rejuvenate and celebrate.