The 'Golu' or the display of dolls is an integral part of Navratri celebrations in South India. This Navratri, add a personal touch to your celebrations by making these easy golu dolls with your kids!
'Bommai Kolu' (Tamil), 'Bombe Habba' (Kannada), or 'Bommala Koluvu' (Telugu) is the display of dolls and figurines during Navratri. This tradition is believed to have originated in South India and is mainly followed in Tamil Nadu, Andhra Pradesh and Karnataka. On the first day of Navratri, people build a rack of odd-numbered shelves or steps. These steps or 'padis' are then adorned with figurines of varying sizes, with the deities usually on the topmost step. The dolls are arranged to represent scenes from life or from the mythological puranas - like a village scene, a royal court scene, a wedding procession, miniature kitchen utensils and anything your imagination allows.
There are many stories showcasing Golu dolls' significance in the Navratri celebrations. It is believed that to promote desilting of irrigation canals, people were encouraged to make dolls from clay during this season, leading to the practice of Golu. Another story around the practice is that when Goddess Durga wanted to kill the demon Mahishasura, she sought help from the other gods. The Gods are believed to have transferred their powers to her, causing them to become statues. People put up their figurines every year to acknowledge their sacrifice.
These dolls are usually made by skilled artisans with clay, then painted and decorated. Proud owners of these dolls are known to keep them for years and pass it on to the next generation, painting and redecorating as the years go by. This year, you can make your own golu dolls! Yes, read on to learn how to make simple golu dolls at home with your kids. Whether you practice the tradition every year or wish to start this year, these handmade golu dolls will add a personal touch to your golu display.
Jyothi, a resident in Chennai talks about how Golu is a special part of their Navratri celebrations.
"Golu is an integral part of Navaratri celebrations in south India - especially Tamil Nadu. Dolls of gods and goddesses are arranged artistically over decorated makeshift 'steps'. Other dolls are also included. Apart from hand-me-down dolls, which are carefully preserved by every family through generations, it's also a custom to buy one new doll to add to the collection each year, before the golu is arranged. This year, a masked lady is the hot favourite golu doll in the market.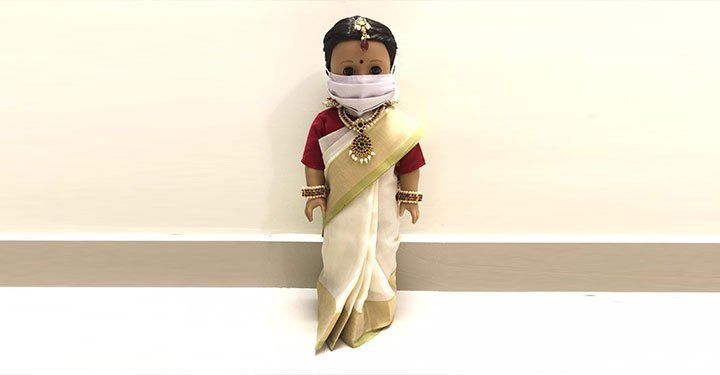 The dolls are offered prasad three times a day, and in the evenings, women visit each other's homes to exchange tamboolam (also called haldi/sindoor up north). A tamboolam is a set of auspicious things like kumkum, turmeric, gift items, coconut, bangles, steel vessels, etc. They sing songs to entertain the gods and goddesses, and also catch up with each other.
This year, though the pandemic been a dampener of sorts, it hasn't stopped households from enjoying Navaratri the traditional way!"
How to make Golu dolls with clay
This simple method requires clay, acrylic paint, a paintbrush, toothpicks, and little hands to mould the clay. Spend Navratri afternoons making these adorable figurines with your child and talk to them about the traditions of Navratri as you do so. Make any type of doll in any size or shape your kid likes and arrange them at home for a fully customized Golu!
How to make Tanjore dolls with a plastic ball
The traditional Tanjore doll is a bobblehead or a roly-poly doll made with terracotta. This video shows how you can make an easy Tanjore doll with a plastic ball and some glue. Make this fun round-bottomed doll with your child and get her help in decorating it. Have fun trying to knock it over before you add this to your golu collection.
Sharada Sriram reminisces about how she looked forward to the Navratri Golu as a child.
"As a kid, Navratri was exciting with people going about the arrangements for the festival. Setting up the golu was my favourite part, as I loved the way the whole family took part in it. Back in the day, there weren't any readymade stands, so we arranged big suitcases and boxes to make the 'padis'. I loved going out to buy the dcor and planning the placement of dolls with my cousins. We also repurposed old dolls from our grandmother's collection - one was the Krishna doll which we repainted and made it shine like new!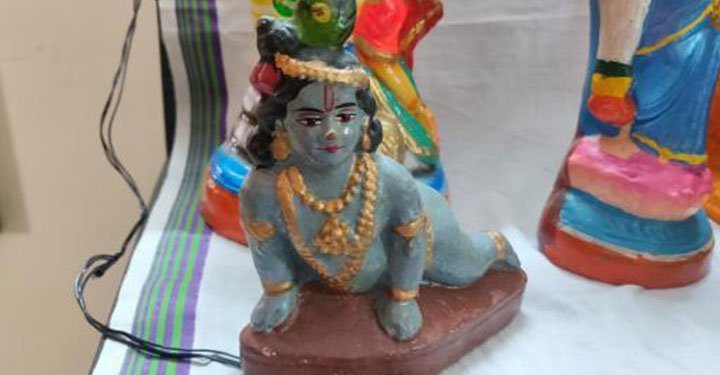 How to make dolls with coconut shells
This is probably the simplest art-from-trash doll you can make with your child. All you need are empty coconut shells and a few decorative items. A few minutes of work are all it takes to make these beautiful dolls. So, make as many as you can and decorate them differently. Nobody will know they are coconut shells and what's more, you can make new ones every year!
How to make dolls with plastic bottles
Got a few empty plastic bottles at home? Don't throw them away and put them to good use this Navratri to make amazing dolls for your golu collection. Choose bottles of different sizes to make the dolls so that you can have a variety of them. Ask your child to help you choose what each doll must look like, what ornaments they can wear, the color of their dresses and add as much detail as you can to make them look realistic.
"Navarathri/Dusshera is a very important festival, celebrated with grand fervour in Tamil Nadu. 10 days of festivity, poojas, offering to goddesses, hosting guests and much more. On Mahalaya Ammavasaya day, we start decorating the Golu with dolls. It is a practice to keep an odd number of steps for the Golu. First we keep the 'marapachi dolls' which are wooden couple dolls on the first step. Each year we buy a new doll and add it to the existing collection. Some dolls are also from the family heirloom. We invite the women from other families to our home and sing 'slogams' or songs of praise to the Goddesses Durga, Lakshmi and Saraswathi. We then offer each of them a 'thamboolam,' which is like a return gift, along with sundal (boiled chickpeas)." - Vijayalakshmi from Bangalore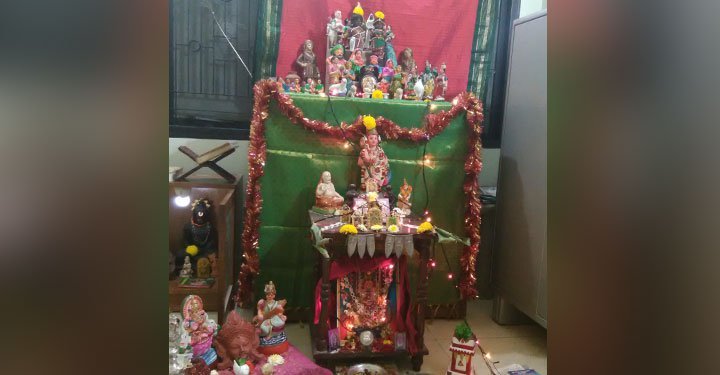 How to make kitchen setup for Golu using cardboard boxes
Take a step into a South Indian traditional kitchen as you make this golu display piece. Complete with the vessels and tools used a few years ago, this beautiful kitchen setup, made using cardboard boxes, will be a great addition to the golu. With the help of your child, design various scenes like this and include his ideas for a modern twist to your golu.
How to make Golu dolls with tissue paper
No time to run to the shop for basic items to make a golu doll? Just grab a box of tissues - no, not to wipe your tears, but to make beautifully detailed golu dolls. A piece of string and some tissues can do more wonders than an afternoon spent with messy plaster of paris. This video demonstrates how these two materials can be made into a lifelike model of a coconut seller. What a fun addition that would be!
Don't let the pandemic dampen the festive spirit this year and start making these special handmade golu dolls with your child. May your Navratri be filled with goodness and prosperity showered on you by deities from above!
Free Download: Dussehra (Navaratri) Special Activities for Kids