10 Ways To Involve Your Child In Diwali Festivities
Aruna Raghuram
7 Mins Read
Aruna Raghuram
Follow
Written For ParentCircle Website new design update
The beauty of Diwali is that it is about coming together as a family. So, spread light, laughter and joy and more important, celebrate the festival with your loved ones. We show you how.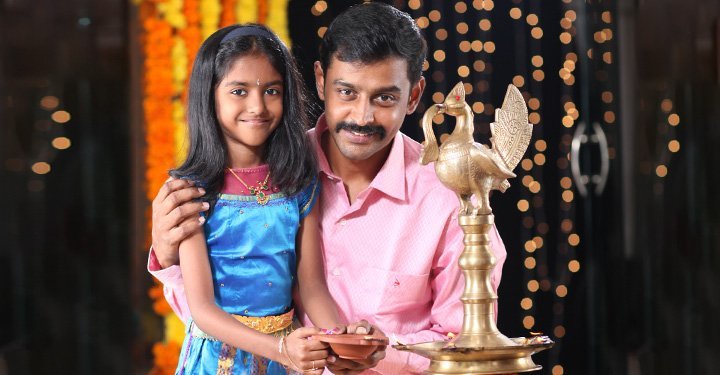 In a few days, our country will celebrate with fervour one of the biggest festivals - Diwali. The Festival of Lights, symbolising the triumph of good over evil, is an occasion for the entire family to come together and enjoy.
Diwali is also a spiritual and cultural event. It is about re-connecting and renewing the bonds of family and friendship. However, due to various reasons, including our changing family structure, we are moving away from our roots. In such a situation, it becomes the responsibility of you as parents, to ensure that children know about our traditions.
Involving your child in festival preparations is key to making him aware of its cultural significance. And, since most schools are closed during this time, the holidays give you the perfect opportunity to tell your child what Diwali stands for.
Here are a few things you can do to involve your child in the festivities:
Narrate stories about Diwali: Explain the significance of Diwali to your child by telling her the various stories associated with the festival - for example, the tale of Lord Rama's return to Ayodhya along with Sita or, the killing of the demon Narakasura by Lord Krishna and Satyabhama. There are many other legends around Diwali which make for interesting stories. If you are creatively inclined, you can also write and direct a play depicting these stories. Involve your child and her friends by asking them to play the various characters. This way, not only will children learn about the festival but also, get the opportunity to showcase their acting talent. If your child and her friends are not old enough, you could instead, create a puppet show around Diwali.
Clean the home: Legend has it that the people of Ayodhya cleaned and decorated their houses with lights to welcome Lord Rama and Sita. That's why cleanliness is integral to the festival. Ask your child to clean up his roomand help you with tidying the rest of the house. Assign age-appropriate tasks - dusting table tops, stacking up newspapers and books, arrange wardrobes and cuboards as well as organising kitchen shelves. However, if your child is allergic/sensitive to dust, ensure that you don't give him tasks that can aggravate his condition. Remember, children like being given responsibilities and try to do every task to the best of their ability. And, once he has finished, don't forget to praise him for the effort he put in.
Be charitable: While cleaning and tidying her room, your child may come across toys that she may have outgrown or does not use anymore. Encourage her to share such items with less privileged children you know. You could even visit an orphanage together and leave these items there. And why only toys? She can also give away clothes, books and stationery items. Another way of sharing with the less privileged is through NGOs. Many NGOs sell products like Diwali greeting cards, candles, diyas and various decorative items manufactured by local artisans or the underprivileged. Tell your child that by purchasing these products, she can support the disadvantaged sections of the society. Your child will learn valuable lessons in social consciousness, empathy and sensitivity from such actions.
Make greeting cards: A week before the festival, give your child paper and crayons (download images from the Internet to guide him) and ask him to make Diwali greeting cards for close friends and relatives. This is a wonderful way to bond with extended family and friends, especially those who are unable to visit you on Diwali day.
Decorate the home: Rangolis are associated with Diwali as these add to the beauty of this auspicious occasion. Give your child a paper stencil or a design downloaded from the Internet and soon she will be immersed in exploring her artistic side. To make the rangoli, your child can use organic colours, flour, coloured rice, different pulses, sand, turmeric, kumkum and flowers. Ensure that you don't give your child synthetic colours for the rangoli as these can cause allergies. Craft is a sure-fire way of nurturing your child's imagination, creativity and motor development. Encourage her to make paper lanterns or torans (door hangings) and hang them up on the front door to add to the festive atmosphere. To make paper lanterns, give her coloured sheets of paper, glue, scissors and sticky tape (or cello tape) with mirrors, pearls or sequins for decoration. To make torans, your child can cut, fold and string up coloured papers.
Make candles, paint lamps: Teens can be allowed to make candles under adult supervision. To avoid mishaps, ask your child to wear gloves while making candles. First, he should melt the paraffin wax in a bowl, then and add colour and a little perfume (or a few drops of aromatic essential oil). While the wax is melting, he can place a wick in the mould, and keep it ready. He can then pour the melted wax into Once the wax melts, your child can pour it into the mould. After the wax cools down and hardens, he can remove the candles from the mould. The candles can then be decorated with shells and sparkly glue. If you choose to light diyas, buy plain earthen lamps and get your child to paint them. He will get immense creative satisfaction from this activity. Plain lamps can also be decorated with mirrors, sequins and sparkly glue. For your child, using something he has made with his own hands will give him a feeling of accomplishment and pride.
Cook together: Diwali celebrations are incomplete without preparing special sweets and savouries. If your child is fond of cooking, you can teach her some simple recipes. Young children can also contribute in the kitchen by way of peeling cardamom or shaping laddoos. They could then help in storing all the goodies neatly in jars.
Invite guests/go on visits: Diwali is the time for friends and relatives to visit each other. When you have guests over, get your child to serve the sweets, savouries and dry fruits. This will enhance his social skills. As a family, you could even dress up in traditional clothes and plan a visit to a nearby temple.
Organise games and quizzes: Diwali is a time for finery and fun. So, use the festive spirit to organise a fancy dress competition involving children in your neighbourhood. They could dress up in bright colourful clothes. Or, you could conduct a Diwali-related quiz, give children a crossword puzzle to solve or have them play scrabble with Diwali as the theme. Another activity that your child would enjoy is a game that involves lighting the lamps. Hand her a candle and ask her to light as many diyas as possible within a given time. Do make sure that you or some other adult is present to supervise her.
Say no to crackers: Explain to your child how bursting crackers causes air and noise pollution and describe the harmful health effects on humans as well as the environment. Get your child to become more environment-conscious by asking him to work on a project with this theme, a few weeks before Diwali. However, if you wish to light a few crackers, keep it to the minimum and try to avoid noisy ones. Diwali can be fun without crackers!
Giving your child responsibilities and ensuring her involvement, will help her acquire valuable life skills. She will learn how to socialise, empathise, collaborate and cooperate with others, plan and organise events. This will also enhance her communication skills. More important, when your child contributes to the whole Diwali experience, you also bond better, as a family.