Unique and tasty Pongal recipes That Will Make The Festival A Memorable One
Priyanka G Mehta
7 Mins Read
Priyanka G Mehta
Follow
Written by Priyanka G Mehta and published on 11 January 2022.
What's the harvest season without a few festival-inspired dishes? These traditional recipes get a delicious makeover with a modern twist. Make them for your loved ones during the Pongal festivities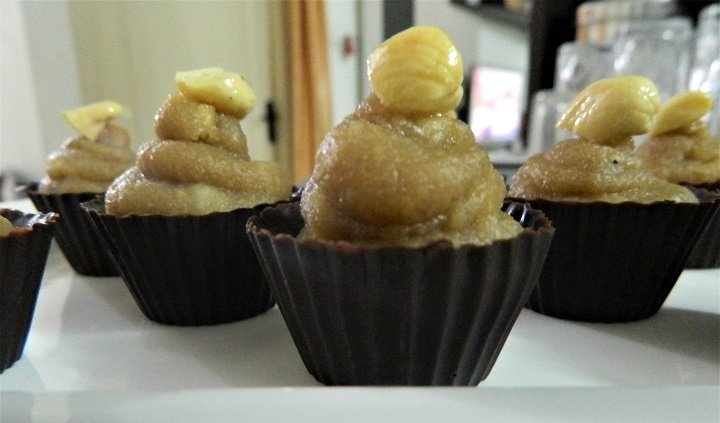 The beautiful festival of Pongal marks the end of the winter season and heralds the beginning of spring. It is celebrated in honour of the Sun-god, whose blessings are important for a flourishing harvest. The literal meaning of the word 'Pongal' is 'boiling rice with milk.'
Since this is a harvest festival, food plays a significant role in the celebrations, with different types of dishes being prepared on different days of the festival. Children love to take part in the festivities and parents should make it a point to educate their little ones about the significance of the festival.
There are several traditional Pongal recipes, but we have specially come up with some unique recipes that carry the tradition, but with a modern twist. Try these recipes to make your festival even more delightful:
Also read:
Know the 'Science' behind amazing Onam recipes
Vegan Pongal Frittata
Ingredients:
1cup rice
1 cup split yellow moong dal
1/2 cup chopped carrots
1/2 cup chopped French beans
1 cup green peas
1 cup grated coconut
1/3 cup thick coconut milk
2 tsp cumin seeds
1 tsp black pepper
Few curry leaves
8-10 cashew nuts
2 tbsp ghee
Salt to taste
Method: 
Wash rice and dal together thoroughly and keep aside
Heat a pressure cooker and add 1 tsp of ghee to it, add half the cumin seeds and let them crackle
Now, cook the rice and dal in the cooker with 1 cup of water, salt and crushed black pepper for up to two whistles.
In another pan, heat the rest of the ghee and add cumin seeds and curry leaves. When they crackle, add vegetables and let them cook for a few minutes covered
Add thick coconut milk, salt and pepper to taste to the veggies and mix well, let it cool a bit
Now mix the cooked rice and dal mixture with the cooked vegetables and pour into a prepared baking tray
Decorate with cashews and bake in a preheated oven at 200 degrees C for 20-22 minutes, until the top turns golden. Relish with your family.
Sweet Rava Pongal in Mini Chocolate Cups
Ingredients:
1 cup rava (semolina)
1 cup yellow moong dal
1 cup powdered jaggery
A handful of fried cashews
2 tbsp ghee
2 cups water
1/2 tsp cardamom powder
100 grams dark chocolate
Method: 
Melt the dark chocolate in the microwave in a safe bowl in short spurts of 20-20 seconds
Grease a few mini tart moulds (silicon ones serve the purpose well) with butter and pour melted chocolate into them, covering all sides evenly. Rotate the mould in such a way that the inside is fully coated with chocolate.
Freeze for an hour and then take out the chocolate cups from the mould carefully.
Meanwhile,

cook

 moong dal in the pressure cooker with a cup of water for 2 whistles. When cooked, mash well with a ladle and keep aside
Dry roast the rava in a pan until aromatic.
Add 1 cup water to it, stirring continuously so that no lumps are formed
Cook for two minutes and then add jaggery powder and mix well
Add cooked moong dal and combine well. Remove from heat and flavour it with cardamom powder. Let it cool
Now put this creamy pongal in a piping bag fitted with a round nozzle and pipe it into the chocolate cups
Decorate with fried cashews and serve
Pongal Kootu Veg Biryani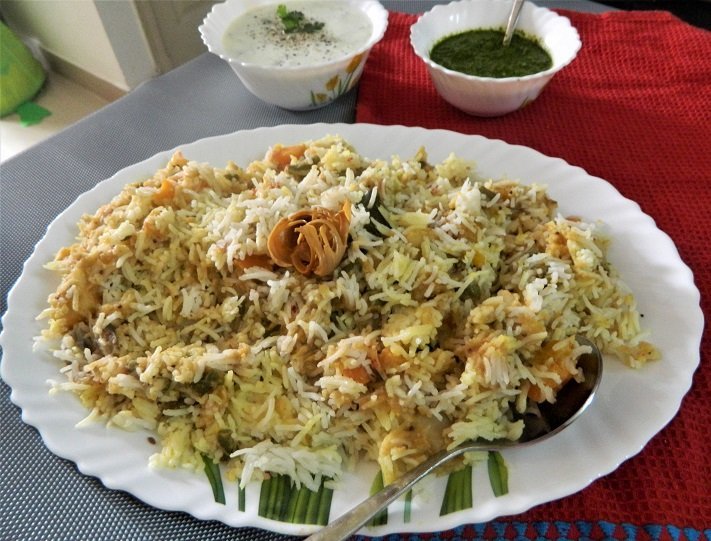 Ingredients:
1 tbsp tamarind pulp
1 cup toor dal
1 chopped potato
1 chopped carrot
Few chopped broad beans
Few chopped French beans
1 chopped sweet potato
100 grams pumpkin chopped
1 chopped ash gourd
2-4 dry red chillies
1 tbsp chana dal
2 tbsp coriander seeds
cup grated coconut
tsp fenugreek seeds
2 tbsp oil
1 tsp mustard seeds
A pinch of asafoetida
Few curry leaves
2 cups basmati rice
1 stick of cinnamon
2 dried bay leaves
1 tsp peppercorns
Few cloves
1-star anise
1 mace flower
Salt to taste
1 cup milk
Few strands of saffron
Method:
Tie cinnamon stick, dried bay leaves, peppercorns, cloves, star anise, mace flower in a small piece of muslin cloth and keep aside
Wash rice and cook with double the quantity of water, the spice pack and salt.
In a pressure cooker, cook washed toor dal and mash it well
Cook the chopped veggies separately with some water.
In a pan, heat 1 tsp of oil and add coriander seeds, chana dal, fenugreek seeds and two dry chillies. Fry these till the dal turns golden.
Add grated coconut and roast it till the coconut turns golden brown. Once cooled, grind the ingredients to a fine paste with little water
Add tamarind pulp, cooked toor dal, ground masala paste and salt to the vegetables and mix well. Cook for 4-5 minutes or till the water has evaporated.
In the remaining oil, fry red chillies, asafoetida, mustard seeds and curry leaves. Put this tempering over the prepared vegetable kootu
In a microwave-safe pot, layer the rice followed by the kootu and repeat a few times. Mix saffron with warm milk and pour it over the final layer of rice.
Close the lid of the pot and microwave for a minute. Serve hot.
Puran Poli Rose Buns
Ingredients:
1 cup flour
2 tbsp butter
1 tsp instant yeast
Salt to taste
Water for kneading the dough
1 tsp sugar
1 tsp ghee
1 cup split chana dal
1 cup grated jaggery
Few strands of saffron
A pinch of nutmeg powder
1 tsp cardamom powder
Method:
Take flour, salt, sugar and instant yeast in a bowl and mix well.
Knead this into a dough with little warm water for 3-4 minutes and then add soft butter to it. Knead for another 3-5 minutes.
Keep the dough covered in a warm place for an hour or until it doubles in size
Meanwhile, wash and boil chana dal. Drain and grind it coarsely
Heat ghee in a pan and add ground chana dal, jaggery, cardamom, saffron, and nutmeg and mix well
Cook for a few minutes until the mixture leaves the sides and forms a ball. Let it cool and then divide in eight equal portions. The puran mixture is ready
Once the dough has doubled, knock out the air from the dough and divide it into eight equal-sized balls.
Roll out each dough ball one by one and mark four diagonal slits, leaving the centre intact.
Put a portion of the puran mixture in the middle and overlap the strips of dough over the mixture in such a way that it forms a rose shape. Repeat the process with all the dough balls and the puran mixture.
Bake these in a preheated oven at 200 degrees C for 25-30 minutes. Brush some melted butter on top and serve hot.
Sakkarai Pongal with Crunchy Peanut Discs
Ingredients:
1 cup peanuts, coarsely ground
1 cup grated jaggery
1 cup rice
1/3 cup yellow moong dal
1 tsp cardamom powder
2 tbsp ghee
1 tbsp golden raisins
8-10 cashews, broken
Few dry coconut flakes
Method: 
In a pan, heat one cup of grated jaggery with 2 tbsp water. Cook for some time till jaggery is smooth but firm, and doesn't stick to the pan.
Add the ground peanuts and mix well
Pour this mixture into a greased plate and spread it carefully. It should be a thin and crispy layer. Mark disc shapes with a cookie cutter while it is getting set.
For the pongal, pressure cook the dal and rice together in adequate water for two whistles.
After cooking, let the pressure release naturally and then open the lid and mash the contents with a ladle.
In another pan, melt cup jaggery with some water and let it cook for a few minutes
Strain the jaggery syrup into the pan containing rice and dal, mix well and cook for a few minutes
Heat ghee in a pan and roast coconut, raisins and cashews in it. Add the cooked dal and rice mixture and mix this well, the pongal is ready
Serve the sweet dish in bowls and decorate with the peanut chikki.