6 Traditional recipes with mouth-watering twists that kids will love this Pongal
Siddiqha Naseem
7 Mins Read
Siddiqha Naseem
Follow
Written For ParentCircle Website new design update
India is rich in festive cuisine and no celebration is complete without a lavish spread. Here is Chef Harish's delightfully inventive take on traditional dishes to tempt you this harvest season!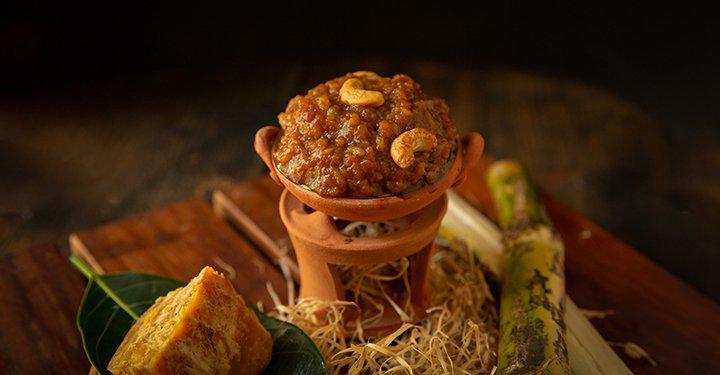 India is known for its diverse culture, rich heritage, festivals and of course, its lip-smacking food. And a festival such as Pongal, is the perfect time for families and friends to get together for a joyous celebration. Naturally, this is also when you get to prepare and share delectable sweets and savories that hold traditional significance.
The harvest festival of Pongal, has its very own festive cuisine. And yes, children love to gorge on sweets and chew sugarcane strips all day. So, are you scouring the Internet for some new recipes, that your little one will enjoy?
Well, your search ends here.  Popular Chennai-based Chef Harish Rao shares some of his very own innovative take on seasonal sweets thereby transforming traditional Pongal festive delicacies. Try these out and we guarantee happy smiles all around!
1. Sugarcane and quinoa pongal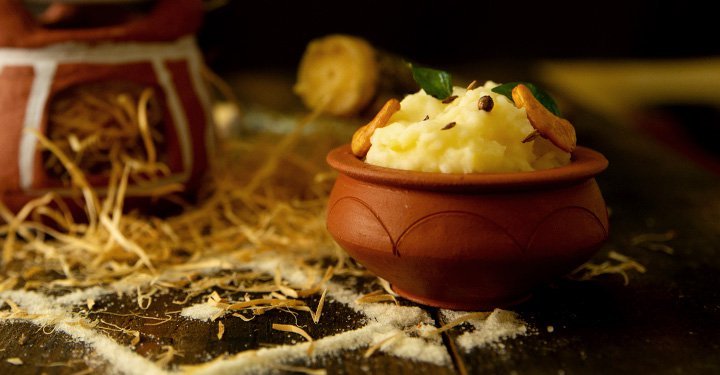 Ingredients:
1L milk
1/4 cup quinoa
3/4 cup coconut sugar
1/2 tsp saffron (powdered)
4 tbsp sugarcane juice
1/2 cup jaggery
  Method:
Boil milk in a heavy vessel.
Soak the quinoa in water for 15 mins, drain and keep ready.
Add quinoa to the boiling milk and cook on medium flame till reduced to nearly half.
Simmer, add sugarcane juice and jaggery, allow it to cook well and remove from flame.
Add saffron and mix thoroughly.
You can add more or less of sugar or quinoa, according to your preference.
Garnish with nuts and serve.
2. Sesame and date ladoo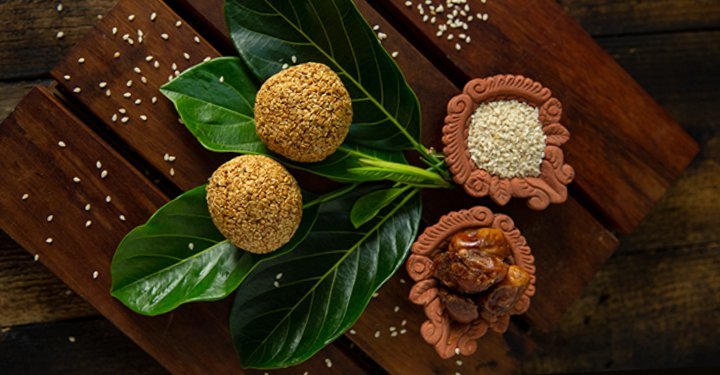 Ingredients:


500gm sesame seeds
500gm jaggery
200gm dates
2 tsp ghee
10gm cashews
10gm almonds
5gm cardamom powder
Method:
Clean the sesame seeds thoroughly
Chop cashews and almonds, place them in a separate bowl
Heat a heavy-bottomed pan or wok and on medium flame, add sesame seeds and stir continuously. Roast the seeds till light brown in color.
Place the roasted sesame seeds on a plate. Once cooled, grind coarsely in a mixer. (keep some roasted sesame seeds aside for binding the ladoos)
Pour 1 teaspoon of ghee in a pan and add jaggery to it.
Keeping the flame low, stir continuously until the jaggery melts completely, then turn off the flame.
Put the crushed and roasted sesame seeds in the melted jaggery and dates.
Add the chopped dates to the mixture and blend everything well.
Add chopped cashews, almonds and cardamom powder to this, mix everything well.
Transfer the mixture to a plate and let it cool down, but not completely.
Apply some ghee to your hands.
Take a little amount (about 1tbsp) of the mixture at a time (note that it must be still warm to make into ladoo).
Use the mixture to make round-shaped ladoos. Arrange them on a plate.
Then, roll each ladoo over the remaining roasted sesame seeds.
3. Sorghumboli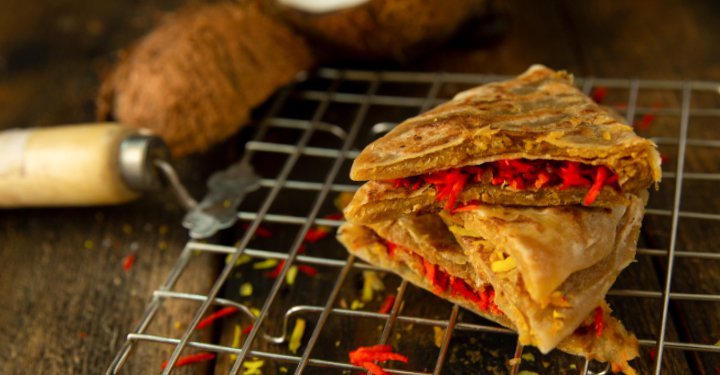 Ingredients:
For the dough
1 cup jowar flour (sorghum/cholam)
1/3 cup water
2 tbsp vegetable oil
For stuffing
3/4 cup fresh shredded coconut
1/4 cup water
1/2 tsp cardamom powder
3/4 cup jaggery
1/4 cup vegetable oil or ghee for frying the boli
Method:
Mix the vegetable oil, water and flour to make a sticky dough. Add some oil to the dough, cover and allow it to rest for an hour. Set aside.
Boil the jaggery with a little water (about 1/2 cup) till completely melted. Add fresh shredded coconut and cardamom powder.
Sauté till the mixture thickens. Set aside to cool.
Make this mixture into small lime-sized balls and set them aside on a plate.
Apply oil generously on your hands and take a small chunk of the sticky dough (you had set aside earlier), place it on wax paper. Start flattening the dough to form a thick circle.
Now, place one lime-sized ball in the middle of the flattened dough and cover it.
Apply oil to your hands and flatten that lime-sized stuffing ball with your hands by gently applying some pressure on it, till it is evenly spread out on the circle-shaped dough.
Repeat the process, until all the lime-sized stuffing balls are flattened on the sticky dough, in the same manner.
Set a griddle on medium flame and place the boli and sprinkle some oil or ghee. Cook for a minute on each side.
Set aside on a plate to cool.
4. Deep-fried boli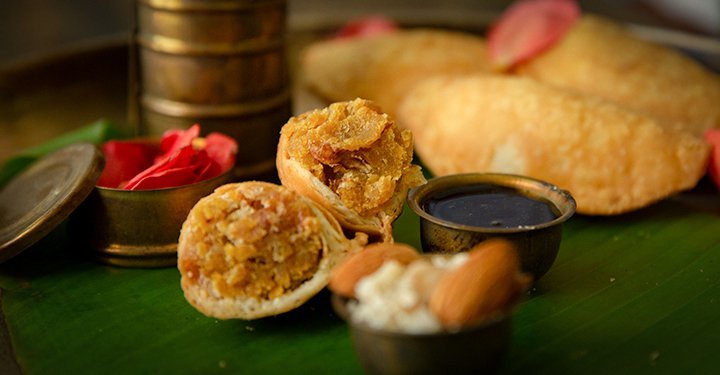 Ingredients:
For the dough
1 1/2 cup all-purpose flour (maida)
1/4 cup semolina (suji)
1 1/2 tbsp oil or ghee
A pinch of salt
For the stuffing
1/2 cup grated coconut
3/4 cup coconut sugar
1/4 cup cashew nuts
1 cup palm jaggery
10gm cardamom powder
4 tbsp Nutella
10ml oil
Method:
Roast the semolina, keep it aside.
Mix the oil, flour, semolina and water to make a sticky dough. Add some oil to the dough, cover and allow it to rest for an hour. Set aside.
Boil the jaggery with a little water (about 1/2 cup) till it completely melts. Add in the fresh shredded coconut, cardamom powder and coconut sugar.
Sauté till the mixture thickens. Set aside to cool.
Make into small lime-sized balls and set them aside on a plate.
Add Nutella to the mixture.
Now take the dough, knead it well and divide it into equal balls.
Using dusting flour, roll out a ball into a small poori-like shape.
Using a lid, press on the rolled-out dough and remove the excess dough. You will get a perfect circular shape. I used a lid 4 inches in diameter.
With this method, all the somas will be of the same size (somas is a popular and traditional snack of a crispy pastry case filled with sweet stuffing inside).
Place 2 to 2 1/2 tsp of the stuffing in the middle of the rolled-out dough. Now dip your finger in water and apply it on the edges of half a circle, so that the somas will stick well, and the stuffing will not come out while frying.
Now close and seal the edges well, by pressing it with your fingers. Using a fork, give a nice design to the somas.
Repeat the same process with the remaining dough.
Heat oil in a heavy-bottomed kadai. When the oil is hot, lower the flame to medium (to check if the oil is hot, drop a small piece of dough into the oil, if it comes to the surface immediately, then the oil is hot enough to fry the somas).
Drop 2-3 somas (depending on the capacity of the kadai and quantity of oil used) and fry both sides until golden brown.
5. Kodo millet pongal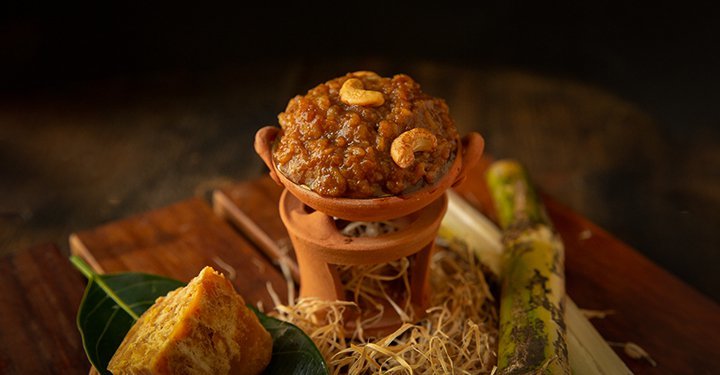 Ingredients:
1 cup kodo millet
2 tbsp split green gram (moong dal)
2 1/4 water
Salt to taste
For the seasoning
1 tbsp oil
1-2 tsp ghee
1 tsp cumin seeds (jeera)
1 tsp whole black pepper
4-5 pcs of cashew nuts
1 tbsp finely-chopped mango ginger (a variety of ginger)
6-8 pcs curry leaves
Method:
Dry roast moong dal until it is hot to touch. You do not have to roast the millet.
Wash and pressure cook both dal and millets together with 2 1/4 cup of water and salt.
Wait for 4 whistles.
Once the pressure subsides, open the cooker and mix the contents well.
Heat oil in a kadai or pan, add cumin seeds, pepper and cashew nuts.
When the cumin seeds sizzle, add finely chopped ginger and curry leaves.
Pour it over the cooked millet and dal.
Cook the pongal on low heat for 3-4 minutes, add ghee. Switch off the flame.
Delicious and healthy kodo millet pongal is ready.
6. Biscoff ariselu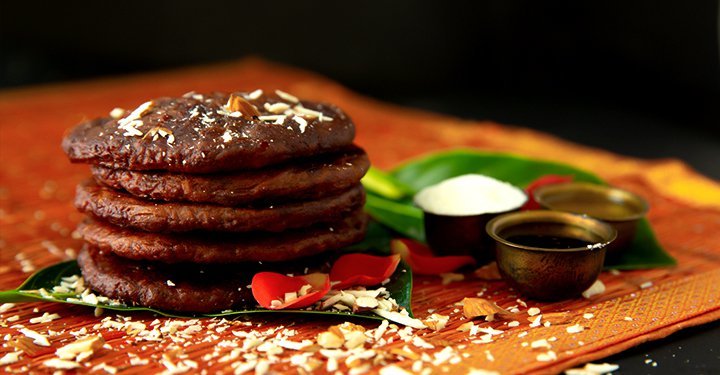 1 cup raw rice
2 tsp Biscoff spread (cookie spread)
1 tsp sesame seeds (til)
1 tsp poppy seeds (khuskhus)
3/4 cup jaggery
1cup water
1/3 tsp cardamom powder
1/2 tsp pepper crushed
Oil or ghee for deep frying
Method:
Add all the ingredients and make a soft dough, without adding any oil.
Once the dough is ready, fill it with the biscoff spread and close the opening.
Grease the butter paper (or a plastic sheet) with oil and take a small ball-sized dough.
Pat and flatten the dough to form a slightly thick disk of ariselu.
Peel butter paper off the ariselu gently, so it doesn't break apart.
Now deep fry in medium hot oil or ghee.
Fry on medium flame until one side is cooked well.
Keep adding some oil on top to cook evenly.
Now gently, turn over the ariselu and fry.
Fry until both the sides turn golden and slightly crisp.
Arrange on a plate, gently press the ariselu with a tissue to remove excess oil.
So, what are you waiting for? Celebrate this harvest festival with these mouth-watering sweets that are traditional and yet, so-different. Embrace the mingling of old and new tastes. And savor every delicious mouthful!