India, the world's largest democracy, is all set to celebrate its Independence Day. But how can we get our children involved in celebrating the occasion? Here are some fun-filled ways
As our nation gears up for Independence Day, have you thought about how you will commemorate the occasion? Of course, the day will see most of us filled with pride while watching the flag-hoisting ceremony and the much-awaited Independence Day Parade on television. But what do kids do?
You can make the day more interesting and memorable, both for yourselves and your children with some Independence Day activities. In fact, this is a great time to teach them the importance of freedom — something we all take for granted now. Tell them how India attained independence after years of struggle. Use this opportunity to talk to your children about how it is important to stand up for your rights. And then, indulge in fun activities and interesting games on this theme. Give them a break from classroom learning and let them be creative. Take them outdoors so they can ask questions, think and discover for themselves. Get together as a family to celebrate this Independence Day.
When an informative activity or game is played to mark the day, children will enjoy and remember the occasion even more.
Here are some fun Independence Day activities for children of all age groups:
1. Independence Day re-enactment (10+ years)
There are various episodes of our freedom struggle that you can help your children enact. Make sure there is a lesson to be learned from each scene that they perform. For example, if you have a teenager at home, ask him to read out the famous speech that India's first prime minister Pandit Jawaharlal Nehru made after India attained independence. Or, you can tell your children to perform scenes from Mahatma Gandhi's Dandi March.
2. Learn about freedom fighters (6-9 years)
To make the day come alive, why not choose five great freedom fighters and tell your children interesting stories about them. Make sure you include anecdotes about how they stood up for the country and helped in the fight for India's independence from the British Raj. For primary school children, parents can prepare a small presentation with the image of a freedom fighter and the struggles he had to go through. If your child is familiar with using a computer, ask him to look up lesser-known facts about freedom fighters for this presentation.
3. Fancy dress ideas (3-5 years)
Who does not love dressing up as their favorite character? Children are no different. It will be fun to dress your child in costume as an Indian soldier or her favorite freedom fighter. Let it not be a competition but a platform for your children to step into the shoes of these important historical figures and learn something about India's freedom struggle. You can even make this a group activity and organize it for the children in your community.
4. Outdoor game to play (6-9 years)
Organize a fun outdoor game and call it India vs Britain. You will have to split the children into two groups, Team India and Team Britain.
The Game: You will need three stones; each stone should be of a different color. The first stone should be saffron, the second, white and the third, green. This is to make the stones resemble the Indian flag. Before the game commences, the stones should be scattered widely on the ground. Members of Team India have to collect the stones and stack them one below the other in the order of saffron-white-green, just like the Indian flag. Team Britain should try to stop Team India from doing this.

Rules: Members of Team Britain will chase the player holding one of the three stones and if they touch or catch the player, then she is out of the game. The rest of the team will then try to finish the game. If Team India is able to assemble the stones in the right order, they win. If Team Britain succeeds in getting everyone in Team India out, they win.
5. DIY flag-making (5-7 years)
A simple do-it-yourself Indian flag-making activity can be super entertaining and educative. But let your children do everything themselves so that they learn and have fun too. You can be there to guide and assist them, in the process.
Materials required:
White chart paper, scale, pencil, eraser, watercolors or crayons, kid-friendly scissors, glue and a stick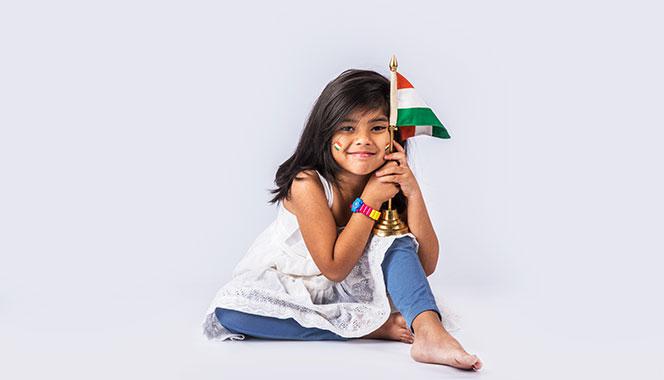 How to make:
Take a color print-out of the Indian flag as a reference so that the kids know what they are making.
Step 1: First, help the kids draw the Indian flag on chart paper using the scale, pencil (keep the eraser handy).
Step 2: Children love colors, so get them to shade in the right colors on the flag. Tell them the significance of the colors used in the Indian flag. Give a bold outline using a sketch or a marker. If you want to give this a creative spin, use or stick dry pulses/leaves/flowers/wool, etc. on the flag for the appropriate color).
Step 3: Cut out the flag. Glue one end of the flag around the tip of the stick. Your DIY flag is ready.
Independence Day is a wonderful opportunity to talk about the importance of freedom and the rights we enjoy every single day. It is also a time for fun-filled activities, to make the occasion come alive for your children. These will make your kids more creative, while also teaching them the power of unity and the importance of standing up for themselves.