"Our son proudly calls himself an Indian first and loves celebrating all festivals"
Team ParentCircle
3 Mins Read
Team ParentCircle
Follow
ParentCircle empowers parents to raise successful children through holistic parenting.
The joy of celebration doubles when our children join in the festivities. Divya Dhanesh shares how they celebrate the Onam, the harvest festival from Kerala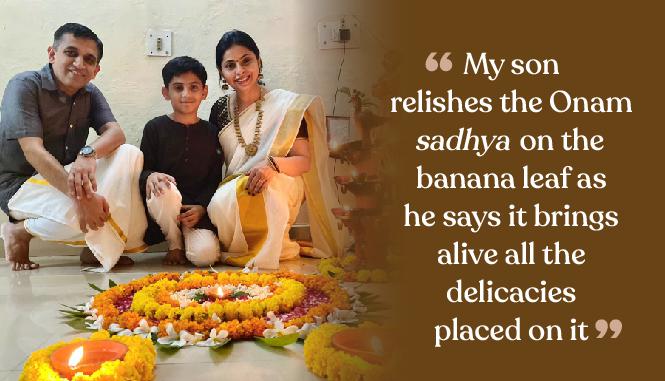 "The aromatic Onam sadhya (traditional Onam feast) and the beautifully designed Pookalam (flower arrangement) mark the arrival of Onam in many Malayali households across the globe. It's believed that King Mahabali comes down to visit his people from 'pathalam' (King Mahabali's netherworld) and hence an elaborate flower arrangement and feasts are laid out in homes to welcome him. 
I am a Malayali married to a Maharashtrian. My husband and I wholeheartedly love each other's culture and traditions. We have our parents to thank for this outlook because they have always taught us to embrace the goodness around us without any boundaries in our minds and hearts. When we welcomed our son Abhinav 10 years ago, as parents we consciously wanted to pass on this legacy to our son too. I feel immense joy when our son proudly says 'India' when asked where he is from, and loves celebrating all festivals with equal gusto. 
Like it is for all Malayalis, Onam holds a special place in my heart. Having been born and brought up in Mumbai, we always had to celebrate Onam away from Kerala. Since the months of August and September were always busy due to our academic commitments, we rarely got to visit Kerala during Onam. However, that never dampened our spirits as a family. Almost 50 members of the extended family would unfailingly gather every year to celebrate Onam in all its glory. Memories of merriment with cousins and the aroma of the sadhya amidst laughter and conversations still remain fresh in my mind.  
My husband is in the Armed Forces and it is yet another place where one gets to see the cohesive spirit of our country. A few years back, I joined my husband in Kochi when he was there for a course. It was the perfect time, right in the midst of the Onam festivities, and we got a chance to witness the festival in all its splendour. Kerala dons its most beautiful look at this time of the year and the fervour and excitement in the air for the 10-day-long festival is unmatched.  
Making the Pookalam and the Onam sadhya still remains a huge draw at home during the Onam celebrations and we all try and contribute to it. Our son, Abhinav loves visiting the market with me to pick flowers in all shapes, sizes, and colors and makes the Pookalam in his favorite geometrical designs. The next best part about Onam according to him is bringing out all the shiny brass lamps to adorn the house. Yet another thing he loves is relishing the feast on the banana leaf, which he says brings alive all the different colored delicacies that are placed on it. It gives me a lot of joy that he enjoys our traditions and festivals.
We are now posted in Delhi but our zeal for celebrating Onam hasn't died down. Every year, a few families gather to celebrate this festival with all our extended friends from different parts of the country making it a fun and wholesome experience. Onam still remains the most looked-forward-to time of the year for us as a family, no matter which part of the country we are posted in."
By Divya Dhanesh
(As told to Monali Bordoloi)