A little tweak to your Diwali celebrations can make a huge difference for your family and the planet. Here are five ideas to help you make the festival safe and environment-friendly for everyone
Diwali is a time for togetherness and joy. And to share our happiness, this is a festival that we all want to celebrate with pomp and grandeur. But, do you know that it can be a nightmare for those who suffer from asthma? Post-Diwali, there are increased cases of respiratory diseases as the air quality goes down considerably. In fact, people suffer from breathing problems even days after Diwali, as pollutants from firecrackers clog the air. Worse, the resulting noise pollution also takes a toll.
Impact of Diwali on the environment
A study entitled 'The impact assessment of Diwali fireworks emissions on the air quality of a tropical urban site, Hyderabad, India, during three consecutive years', published in the Environmental Monitoring and Assessment in 2015 notes that ambient air quality deteriorated considerably after Diwali celebrations owing to the burning of firecrackers. The Ozone concentration showed an average increase of 57% while the nitrogen oxide and black carbon in the atmosphere increased almost three times, compared to a normal day.
It is not just the environment that is affected, even infants and the elderly find it difficult to adjust to the high decibel levels of firecrackers. Not to mention the plight of pets. Most animals and birds experience trauma during the loud celebrations.
It is not too difficult to live a sustainable life and celebrate in a more eco-conscious manner, say Deepak and Deepika Durai, who run a creative space in Bengaluru. Deepak says, "We should all adopt an eco-friendly way of life and Diwali is the perfect occasion to kickstart that. There are many small ways in which you can bring back tradition, culture, and sensitivity in our day-to-day life."
If you want to make a change and celebrate Diwali differently, now is the right time. To help you in your mission to make Diwali greener, here are five eco-friendly ways you can adopt.
Here are our suggestions to celebrate Diwali differently this year:
1. Say no to crackers
The best thing you can do for the environment this Diwali is to pledge not to burst firecrackers. Firecrackers pollute the air we breathe, raise noise levels, and can also lead to serious burns and loss of vision if not handled properly. Hence, limit your purchases of firecrackers. This way, you can cut down on both noise and air pollution. Moreover, discarded and burnt crackers add to litter and dirty the surroundings. This Diwali, make a difference with your decision to shun firecrackers.
2. Go for bio-degradable rangoli
Do you go all out with elaborate rangoli patterns for Diwali? You can make a change here as well instead of using synthetic rangoli powder, use grains, rice flour, or flowers to make intricate patterns this Diwali. By doing so, you are also being sensitive to the needs of ants and other tiny living creatures they get to feed on these food-based designs, later!
"We should all adopt an eco-friendly way of life and Diwali is the perfect occasion to kickstart that. There are many small ways in which you can bring back tradition, culture, and sensitivity in our day-to-day life" - Deepak

3. Give sensible gifts
Are you tired of seeing sweet boxes everywhere in the run-up to Diwali? You are not alone, we all get sugar-laden sweets for Diwali often made with inferior ingredients. Most of the goodies we get as Diwali gifts are of no use either and add to the clutter. This Diwali, think before gifting family and friends. Instead of sweet boxes, gift potted plans, ethnic or terracotta jewelry, organic food items, etc. Buy what you know the recipient will use and appreciate.
4. Do away with gift-wrapping
Do you wrap gifts in bright-colored synthetic gift papers for Diwali? Make a difference this year. First, do away with elaborate packaging and wrap your gifts in newspapers, instead. Plastic packaging and wrapping paper harm the environment and add to the non-biodegradable trash around us. Instead of glittery or shimmery wrapping, a hand-written card or note will add a personal touch to your gifts.
5. Go green with decorations
Make a few changes in the way you decorate your home this Diwali. Instead of going on a shopping spree to buy cheap home decor items, try making some on your own or buy a few quality pieces to adorn your home. You can make your home festive-ready with colorful toran (decorative door hangings). Don't go overboard with electric lighting - simple traditional diyas look more elegant and lend a subtle beauty to the atmosphere.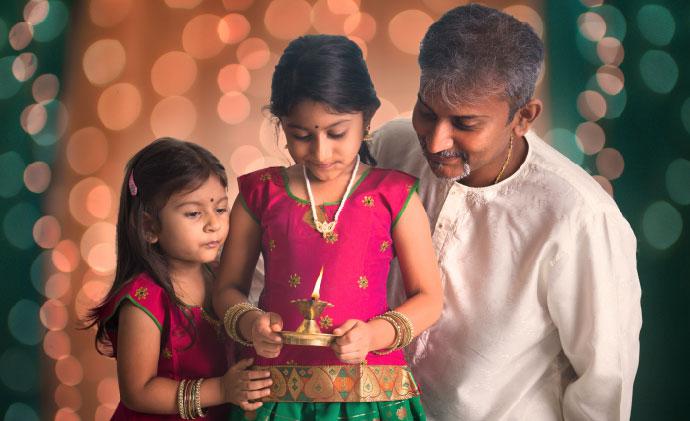 Here are a few other ideas to make your celebrations more sensitive towards the environment:
Make paper lanterns at home along with your child
Decorate your house with locally available flowers like marigold
Light diyas with used cooking oil to save fuel
Give away old clothes and things you no longer use to the needy
Make your own Diwali sweets at home
Replace sweets with dried fruits as Diwali gifts
Deepika Durai observes that it is definitely possible to celebrate Diwali responsibly. And it is important to do so, especially because our children learn from us, she points out. "Children are our future. The onus of teaching them to care for the environment lies with us. Show them the way and watch how children happily adopt an eco-friendly way of life," she adds.
Diwali is special for every family. Add your own unique way of celebrating this beautiful festival of lights. Happy Diwali!