How to Inculcate Good Study Habits in Your Teen
Hannah S Mathew
8 Mins Read
Good study habits are a sure-fire way of optimising a teenager's learning ability. So, parents must arm themselves with all they need to know to help their wards develop these winning habits.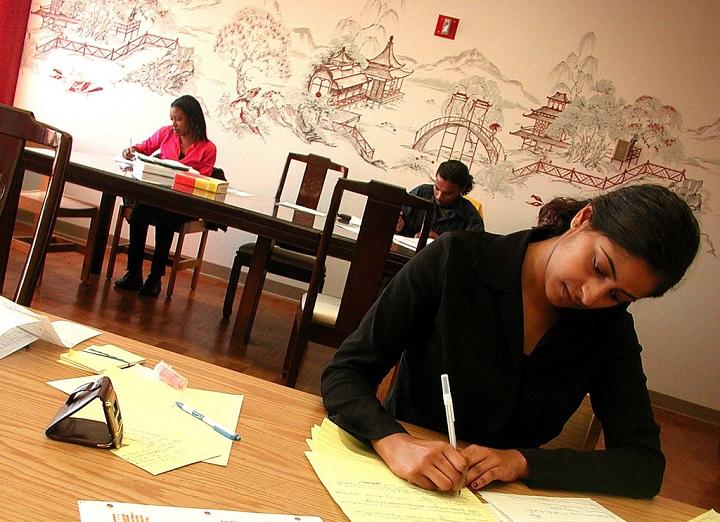 If your teenager is in high school, or will be in high school soon, her study habits would already have caught your attention. It is a well-known fact that effective study techniques can radically change the way a child studies, and boost her grades. So, developing effective study strategies will give your child a huge advantage. But, like any other habit, inculcating a new study habit also requires unlearning the old methods, and focussed and conscious effort toward making changes.
Parental guidance is central to this transition and you need to know how to go about with it. Here are some recommendations that may prove useful for you and your teen as both of you make an effort towards a better study strategy.
Also read: Top 20 Good Habits To Teach Your Kids
Bear the mindset of a champion
Be optimistic: Setting an example and desisting from making negative statements can encourage your teen to start thinking positively. The principal of an international school in Trivandrum has devised a unique way for her students to stay positive. She often makes them declare the following aloud: "If I think I can do it, if I dream I can do it, then I will do it."

Plan the future: Discuss with your child what she would like to study in college and analyse the various courses together. This will enable her to develop a forward-looking attitude and view her school-work as a stepping stone to the vocation of her choice.

Say 'no' to distractions: Turn off television and other entertainment media during study time. Get rid of distractions in the study area. Amisha Patel, a homeschooling mom in Chennai, turns on a Wi-Fi and mobile jammer when it's time for her children to study.

Never postpone or delay: Putting things off till the last minute only adds to the difficulty of completing the task. Your teen needs to foresee unexpected delays and avoid procrastination at all costs.

Know the syllabus: It is important for your child to understand the requirements of the syllabus. Ensure he knows all the details of what he will be tested on. Don't wait for bad grades; instead, gather all the information right at the beginning of the academic session.

Practise active listening and reading: These will assist your child in staying attentive in the class and understand the lessons better.

Organise for progress
Designate a study area: Ensure that stationery, text books and reference materials are at hand in the study area. The place must be well lit and quiet. Ritu Daga, mother of two class-topper teenage boys, from Chennai, swears by her large dining table and mobile stationery cart. That's where her sons are during study time; it also helps her to keep a tab on what they are doing.

Follow a timetable: Scheduling becomes a breeze when your ward learns this. It will help him track his assignments, remain abreast of project deadlines and manage his study time. Put up the timetable in a prominent spot in the study area and review it with him at the start and finish of each day.

Set reminders: Timers and other apps can also help your child with the organising process.

Encourage note-taking: This requires attentive listening and good judgment. It will make her focus more on what is being taught, and understand what is important and what isn't.

Pack in advance: A great way to be ready for the next school day is to get your teen to pack his school bag the night before. Doing this will prevent him from leaving behind his school supplies at home.

Test-taking is an art
Being aware: To tackle question papers effectively, your child requires an understanding of which questions or topics she is most confident about.

Being thorough: Familiarity with the test formats reduces anxiety.

Practising well: Taking mock tests at home will improve your child's time-management skills. Sanala Mohan, a successful home tutor in Chennai, says that time-management is her secret weapon which helps all her students perform well in tests at school.

Minor yet significant
It's important for your child to clarify doubts in the class. Your rapport with the teacher will aid the process.

Small and structured study groups can be a great blessing to your teen. Maya Suresh, a class ten student of Chennai Public School, says that discussing assignments and group studies are the best ways of understanding difficult topics.

If your child is weak in certain subjects, you can take the help of a private tutor.

Now that you know that getting good grades is just a matter of good planning and not magic, go ahead and guide your teen towards becoming a topper. Also, remember that these aren't just skills needed in school but in life as well.
About the expert:
Written by Hannah S Mathew on 01 November 2016.
Hannah S Mathew is a freelance teacher, trainer and certified diagnostic counsellor.
Join our Circles to share, discuss and learn from fellow parents and experts!
Looking for expert tips and interesting articles on parenting? Subscribe now to our magazine. Connect with us on Facebook | Twitter | Instagram | YouTube