Diwali is not just the festival of lights nor is it all about catching the new movies! This Diwali, let's go old school and enjoy the festival with family. After all, it is the festival of togetherness
Times are changing, but what has certainly not changed is the essence of being together as a family and celebrating the festival that is close to our hearts. The grand festival fills our homes with light, love and laughter.
It is that time of the year when the young and old come together; there's respect in the air and of course, great lessons. To understand why there are certain traditions associated with Diwali, we talk to Swami Mahamedhananda, the editor of Vedanta Kesari, a magazine published by the Ramakrishna Mutt. Read on to get your share of his words of wisdom.
Lighting the Inner Lamp
Swami Mahamedhananda
As in any other festival, strengthening cultural and spiritual roots is the main purpose of Diwali. This strengthening cannot be achieved in one day. Therefore, besides lighting lamps in the house, elders should take the lead to light the inner lamp in all family members. This Diwali,
the whole family can sit together and begin reading the epics, The Ramayana or The Mahabharata. They can even read about the lives of saints like Alwars and Nayanmars. This reading should be continued even after Diwali, twice or thrice a week. This will strengthen family bonding and bestow key cultural values in our children.
Being sensitive to the needs of others and our environment is an important value that we need to bring in to our observance of Diwali. Every city, town and village in India still has a large number of people who cannot afford to celebrate this festival with new dresses and special food. Wont it be wonderful if people who can afford it, buy clothes and prepare special dishes for the needy in their locality, or for the children in orphanages, or for the elderly in old-age homes? Bursting crackers has become a status symbol today. Can all the families in the neighborhood come together and burst the crackers in a field? Cleaning the litter then becomes easy. Also, the poor in the locality can be invited to participate in the cracker spectacle.
Diwali is an opportunity for all family members to come together and strengthen their bonds with joyful experiences. Lets make this Diwali a big family celebration, not just including the members of our extended family, but also those who are underprivileged. Lets make them happy and derive our happiness from it. Lets celebrate #FamiliDiwali.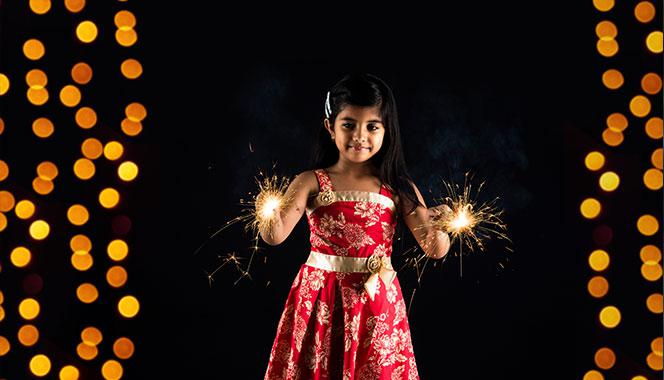 The 5 Days of Diwali
The festival of Diwali is celebrated over five days. There are many stories, reasons and rituals that surround this celebration. Lets look at them.
Day 1 - Dhanteras (Day of fortune)
The first day, called Dhanteras, is spent worshipping Goddess Lakshmi, the Goddess of wealth. It is also marked as Yamadeepdaan - a day observed for Lord Yama, the God of death. It is said that the son of King Hima was destined to die on this day. However, the prayers and devotion of his wife impressed Lord Yama, who allowed the prince to live his life. On this day, people light lamps for the ancestors of their family. They also float lamps down a river or in a pond. In South India, this day is known as Asweyuja Bahula Thrayodasi. Purchasing gold, silver or new utensils on this day is considered auspicious.
Day 2 - Naraka Chaturdashi (day of knowledge)
This day is called Narakchaturdashi. The celebration is believed to be aimed at escaping hell by propitiating Lord Yama, the God of hell. It is also said to be the day when Lord Krishna killed the demon king Narakasura. On this day, you wake up early at dawn and take an oil bath, cleansing your body thoroughly in preparation of cleansing your mind and soul. People pray to Lord Yama to forgive them for their sins and light a lamp to Naraka (Hell). After this, rows of lamps are lit, illuminating every part of the house. The streets and temples are also lit up.
The core idea of the festival is the victory of good over evil, and of knowledge over ignorance.
Day 3 - Diwali (Day of light)
The third day is Amavasya, or new moon day, considered to be the darkest of the year. This is the most important day of the celebration. Prayers are offered to Lord Ganesha and Goddess Lakshmi. On this day too, people take an oil bath. In Bengal, Goddess Kali is worshipped throughout the night. Hence, this day is also called Kali Puja Day. In many parts of the country, traders close old accounts and begin new ones. They invite their friends, customers and business alliances, and offer them sweets and betel leaves. This is also considered as the day when Lord Rama rescued Sita from Lanka. Kashmiri Pandits celebrate this day as Sukhsuptika, which means sleep with happiness. In Gujarat, this day is called Badhausar. It is believed that Goddess Lakshmi shall visit all the homes that are brightly lit on this day.
Jains celebrate this day as Deva Diwali. It is the day when Lord Mahavira attained Nirvana. They light up their homes with bright lamps and read scriptures in praise of Lord Mahavira. Diwali also coincides with Bandi Chhor Divas, a festival of Sikhs. Guru Hargobind, the sixth Guru of the Sikhs, who was held as a prisoner by Emperor Jehangir, was freed from the Gwalior Fort along with 52 prisoners, on this day. It is therefore celebrated as a day of freedom by the Sikhs. Sindhis also celebrate Diwali as Diyari, performing Lakshmi Puja and lighting lamps.
Day 4 - Govardhan Puja ( Rituals Of Annakut)
In north India, the fourth day is widely celebrated as Govardhan Puja. It is believed that Lord Krishna protected the people of Mathura from the fury of Lord Indra who poured heavy rains and thunderstorms. Lord Krishna then lifted up the little hill Govardhan, giving shelter to all life forms of the village underneath it. Lord Indra finally relented. In western India, this day marks the New Year and is celebrated as Bestu Varas.
Day 5 - Bhai Dooj (Day of love between siblings)
The fifth and last day of Diwali is called Bhai Dooj. On this day, sisters invite their brothers for a lavish meal. They apply tilak on the brothers forehead and pray for their well-being.
As parents, it is your responsibility to teach your children the cultural and spiritual significance of Diwali. The core idea of the festival is the victory of good over evil, and of knowledge over ignorance. Let this festival of lights instill the values of oneness and selflessness in our children and help them grow up enlightened.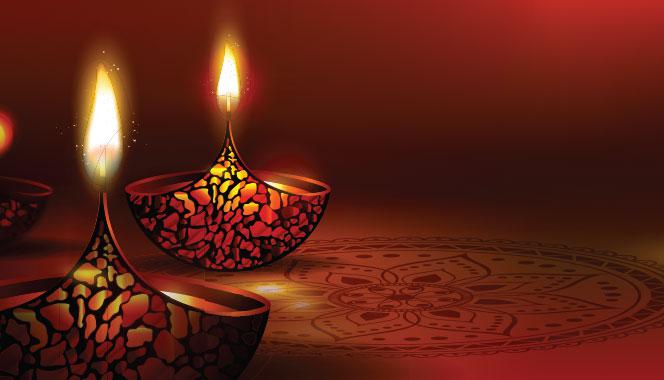 Questions from children to Swamiji
Swami Mahamedhananda answers a few questions from children on why and how Diwali should be celebrated. Read on for interesting insights:
Q Why should I wake up early on Diwali? Why cant I wake up late? What will happen if I do so?
A. On festival days, we have an oil bath. It will clean your skin, tone up your muscles, and cool your head and body. You will feel fresh and happy. If you wake up late on Diwali day, how can your mother give you this wonderful oil bath and also prepare those nice dishes for you?
Q Is it okay if I don't burst crackers? I dont like to cause pollution. My grandma says I should burst one customarily. Should I really do so?
A. Small crackers crack away dullness, but loud ones crack the brain. The Diwali festival is about lights. So, light some oil lamps, and just for grandmas sake, burst one small cracker!
Q How can there be so many reasons for one festival? Which one is true?
A. There are so many reasons to love your father and mother, and there are so many ways to show your love. Similarly, there can be many reasons for celebrating the festival. More reasons, more celebratory joy!
Q I love oil bath, but I hate applying Shikakai on my head. My mom insists on it every Diwali. Is there a reason or is she simply following a custom?
A. Shikakai removes excessive oil from your hair, gives vitamins for healthy hair growth, and is free from the harmful chemicals found in shampoos. So, when mom applies it on your head, just shut your eyes hard for a few minutes!
Q Why do we have to clean our home for Diwali?
Because you do not clean it thoroughly every day! Your house is an extension of you. When you want to have an oil bath and wear a new pair of dress for Diwali, shouldn't your house also be dusted and washed? So, clean the cobwebs in nooks and corners, send the cockroaches out, hang new curtains on windows and doors, and give your house a happy day! When you and your house are clean, God will happily come home!
Q What is the significance of lighting lamps?
Oil lamps, candles, and electric lights drive out darkness and brighten your home. These lights remind us to light the lamp of knowledge inside us and destroy the darkness called ignorance. On Diwali day, light the lamps and pray to God for knowledge and goodness.
Q My grandfather passed away last year, so we are not supposed to celebrate Diwali. Why is that? Why shouldn't we?
In olden days, when people were not so busy, they would mourn the death of near and dear ones for a long time. They will not be in a mood to celebrate a festival like Diwali which is full of joy and fun. But, you can observe Diwali with special prayers for your grandfather. Wont he be happy to see you happy?
Q Why should I wear a new dress on Diwali? I have no complaints, but I want to know why.
Our ancestors would not buy new dress whenever they wished, the way we do today. They had just what was necessary and took good care of it. Only on festival days would they buy and wear new dresses. Thus, the dress also got linked to a sacred celebration. Fresh after an oil bath, wont it be wonderful if you also wear new clothes?
Q My dog is so scared of the crackers. Why would God want me to burst crackers then?
God has not asked us to burst crackers. It is just an ancient practice. Keep your dog indoors and just light the lamps.