Sweets, savories, new dresses, and crackers - Diwali is not only about these. There's a bigger joy waiting for you - family reunions and togetherness.
My fondest memory of Diwali is spending a beautiful day with my family at my grandparents' home. That was almost 15 years ago. Things have changed over the years. Today, as a 30-something-year-old, I am faced with time constraints and logistical issues when it comes to celebrating the Festival of Lights. It has become difficult to get together on Diwali. At least, the happy memories of my childhood Diwali celebrations remain. That keeps me going. If you connect with my story, you'll know why it is important to give your child happy memories involving celebrations with your near and dear ones.
History is full of stories where cities would come together as a family on this very auspicious day to celebrate the victory of good over evil.
Lord Rama killed the evil king Ravana. People of Ayodhya celebrated the death of Ravana and hailed the return of Rama after his exile of 14 years, by lighting clay diyas and bursting crackers.
Lord Krishna defeated the demon Narakasura. Amrutha Venkataramani, Balvikas guru and storyteller, says, "Narakasura, the evil rakshasa was the son of the Goddess of Earth. When Narakasura was about to die, he realized his mistake. So, he wanted people to celebrate his death."
Lord Vishnu in his Vamana avatar banished the demon king Bali to rule the nether world to pacify the devas. Considering Bali's devotion and generosity, he granted him a boon to come back to earth and celebrate with his people for one day every year.
Non-Hindu communities such as the Jains and Sikhs also celebrate Diwali. In Jainism, the festival signifies the spiritual awakening of Lord Mahavira. In Sikhism, Guru Hargobind, the sixth Sikh guru, was freed from imprisonment on this day.
"Diwali is a celebration of the victory of good over evil.  Diwali is a great time to remind ourselves of these stories. As a community, it is important to celebrate as a larger group. In North India, people burn the effigies of Ravana. They come together to do this and share the joy," says Aparna Samuel Balasundaram, psychotherapist and founder of www.lifeskillsexperts.com
It's all about the family
Families that celebrate together, stay together. It is important for families to come together on a festive occasion like Diwali because it:
Gives an identity to a family since each family has traditions of its own.
Provides ample time for love, joy, laughter, humor, fun, excitement, reverence, and sharing.
Shows celebrations are best shared with loved ones.
Unites family members through fun and sharing.
Helps renew family ties.
Gives an opportunity to introduce new members to the family.
Provides grandparents an opportunity to share traditions, narrate stories, explain the family's unique cultural and religious beliefs and practices.
Helps elders pass on family heritage, artifacts, and heirlooms to the younger ones, thereby helping the little ones trace their family tree and its roots.
Helps build community life. Visits to relatives' homes, meeting neighbors and friends help your child develop a social life.
Arundhati Swamy, counselor, and Head, Parent Engagement Programmes, ParentCircle, says, "Celebrations are wonderful ways in which our deep physical, social and psychological needs are met. The extraordinary things we do add meaning to our life. Apart from fun, excitement, and warm memories, celebrations link us to the culture and traditions of people from the past and the present. They help us to seamlessly transmit family values and find our place in the circle of life. Coming together to celebrate a festive occasion reinforces family relationships, provides ample opportunities for bonding, and nourishes emotional attachments."
Happy memories become positive inner resources that help to calm the mind - they release the feel-good chemicals in the brain. Creating happy memories helps your child remember the good times more than the bad ones. They help your child perceive the world with optimism. They also open his mind to new possibilities and experiences, thereby enhancing his creativity and enabling him to be more helpful.
"We come together to celebrate because children are able to look at the larger picture of a family other than just mom, dad, herself, and her sibling," says Aparna.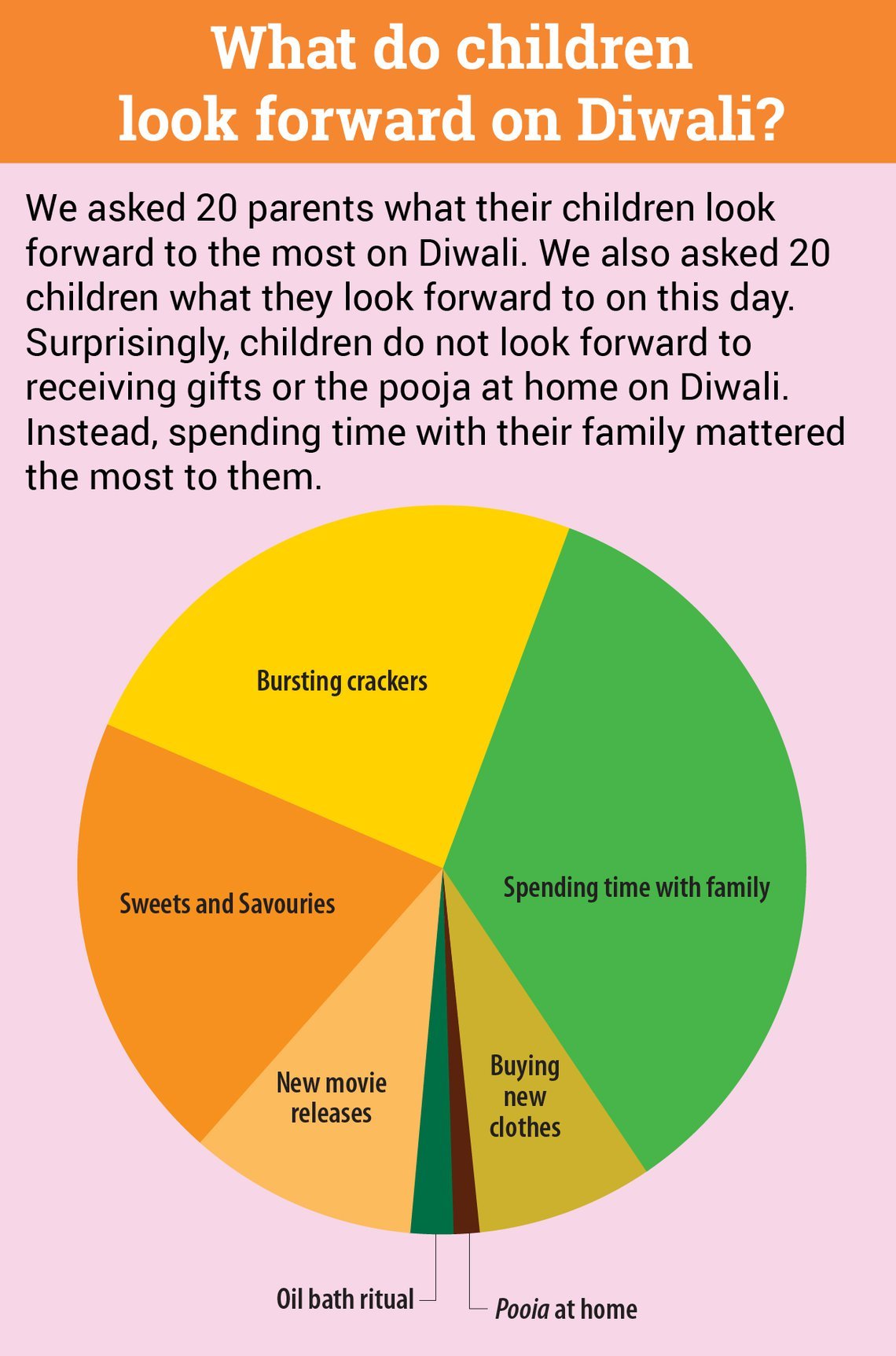 Children speak
I love decorating my house with lights and flowers. I don't help my mom in the kitchen. My dad and I clean the house together instead.
- Anirudh, 10 years old, Hyderabad
Our family takes Diwali very seriously. We plan how to celebrate the festival well in advance. My father's brothers and their families also come home and we celebrate Diwali with our neighbors. In our apartment complex, we have a party where all of us have fun playing games and winning prizes. I always ask my father to buy electronic gadgets on Diwali since they will be on sale during the festive season.
- Prashanti, 18 years old, Cuttack
We meet our extended family during Diwali. We have an oil bath early in the morning followed by a delicious lunch made by the elders. In the evening, the eldest person in the family does Lakshmi pooja while the rest of us sit and pray. My cousins crack jokes or pull my leg when I don't understand what's happening during the pooja. Later, we light diyas and burst crackers. Diwali is a memorable day for me. I look forward to it every year.
- Priyanka, 16 years old, Mumbai
Here are 10 ideas to help you get your family together and have a good time
Family times are the best times
We agree that planning or attending a family reunion, especially in today's world can be tiresome. But, a little effort can go a long way in creating memories for a lifetime.
1. Follow your family's traditions together: When everyone comes together, following traditions becomes enjoyable. It is okay if you are not able to spend Diwali with your extended family. Bring your first family together.
"Instead of buying sweets, even if you are making one kind of sweet for Diwali, make it with your child. While you are making sweets, you can talk to her about what Diwali is and why it is celebrated. So, this is a great storytelling and bonding time with your child as well," says Aparna. "Involve younger children in artwork like making a rangoli outside. It doesn't have to be perfect, but it must be meaningful. When you are doing pooja at home, involve your child in the process of setting it up. This is more inclusive," she adds. "Give your child small tasks to do and appreciate him once he completes them."
Traditional practices help initiate conversations and discussions. Your child will begin to express his thoughts and emotions. This, in turn, leads to healthy debates and negotiations. Remember to be patient when your child asks questions.
2. Plan a mini-vacation: Travelling during Diwali is a great idea to bond. You don't need to travel abroad to enjoy this break. A quick family getaway to a nearby hill station or a mini-vacation to an unexplored destination in another state will be ideal. This way, you and your loved ones are away from the city and crowd. If your extended family is spread all over the country, then plan to meet at a common destination.
"Travelling is one the best ways to create a good rapport with your near and dear ones, especially your child. Children hardly get time to spend with parents who work. Taking a break and visiting different destinations with your child creates feel-good memories for your child. He also learns life skills from real-time experiences," says Jayanth Sharma, co-founder, and CEO of Toehold, a travel and photography company.
3. Celebrate Diwali in another city or country: Plan a trip with your family to Varanasi to celebrate the festival of lights. You can start your day by taking a bath in one of the Ganga ghats. You can also visit a place like Amritsar and view the spectacular Golden Temple decorated with lights. And yes, Diwali is celebrated in Singapore, Sri Lanka, Malaysia, Indonesia, Fiji, and several other countries with the same fervor. Give your child a camera to explore and see Diwali through her eyes. Remind her not to take pictures of other worshippers or people without their permission.
4. Host a potluck party: Preparing food for a get-together can be an arduous task. While catering is an option, why not try hosting a potluck party? Ask other families to prepare and bring a dish that is special to them. Plan the spread in such a way that there is a good mix of starters, main course, and desserts. This way, you'll not only have a variety of dishes, but your child will also get an opportunity to experiment with food.
5. Play games: Elders in the family enjoy playing card games during Diwali. Instead, use the time to involve the children to create and play some innovative games. Antakshari is a popular game played by families when they get together. How about tweaking the game a little? Sing songs starting with the names of family members or sing and dance at the same time.
You can also bring back traditional games you played during your childhood. Organize a fun fashion show at home. Cheer and encourage the models.
If it is difficult for your family to catch up during the day, then plan a fun night for children and adults alike. Have a karaoke or a dance session at home. You can practice a choreographed dance routine with your child and perform in front of other family members.
6. Color coordinate and have fun photo sessions: Plan your outfit with the rest of the family members and if possible, with the extended family too. Ask your child to pick a color and plan your outfits accordingly. Colour-coordinating your outfits is not only fun but also makes for great pictures. Set up a photo booth at home with battery-operated diyas, string lights, and flowers, and pose away! Selfies, portraits, candid pictures - click them all!
7. Meet at a restaurant to try a Diwali-inspired menu: Most of the restaurants in your city will host a special Diwali brunch, lunch, or dinner. Make reservations in advance if you plan to go as a large group. Follow the sumptuous lunch by going to a child-friendly movie that has been released for Diwali.
8. Visit the elders in your family: "My grandmother lives in Pune and she finds it difficult to travel due to her health conditions. Ten years ago, my entire family visited her during Diwali. My children and I had fun playing carrom and UNO with my grandmother. It was an enjoyable day," recalls Ramesh from Chennai. Sounds like a good idea? It's your chance to help your child create happy memories with her 'favorite' elders.
9. Contribute to a cause: Choose a cause or an organization close to your heart and discuss it with your family. Spend at least a part of the Diwali day serving others.
"Use the festival as an opportunity to share. Give back to those who do not have as much as you. This is a great opportunity for a family to go to an orphanage or a shelter home and serve them instead of just giving money. This also helps your child build a sense of gratitude," says Aparna.
10. Have a live video session with family abroad: While it is relatively easy to get everyone from various parts of India together, it takes a lot of planning and time for relatives abroad to plan a trip to India. So, why not have a live video session with them? Wish them on the multiple video calling options available today. Let your child show off his new dress to them and also tell them how he is celebrating Diwali. He will get an opportunity to understand how the Festival of Lights is celebrated abroad.
Things you must not do on Diwali
Do not:
 Force your child to study on Diwali. Festivals are meant to be celebrated. Let your child play, watch a movie and have some fun with the rest of the family on the day.
 Get stressed and caught up in the facade. "Sometimes, festivals can cause more stress than happiness. You start thinking about what to wear, shopping, and tidying up the house. You also get caught up in rituals that you forget the very essence of celebration, which is to be with each other and enjoy each other's company. That is something you should be careful about as parents," insists Aparna.
 Get into the fast-forward mode. Rangoli pattern cut-outs, sweets, and savories - almost everything is readily available in the market. As a result, we do not make an effort to do things from scratch. Hence, children lose out on the experience of a real celebration. "Everything is a fast-forwarding mode for us. This applies to our festivals and celebrations as well. Diwali is treated as just another day and there is no planning around it," says Aparna.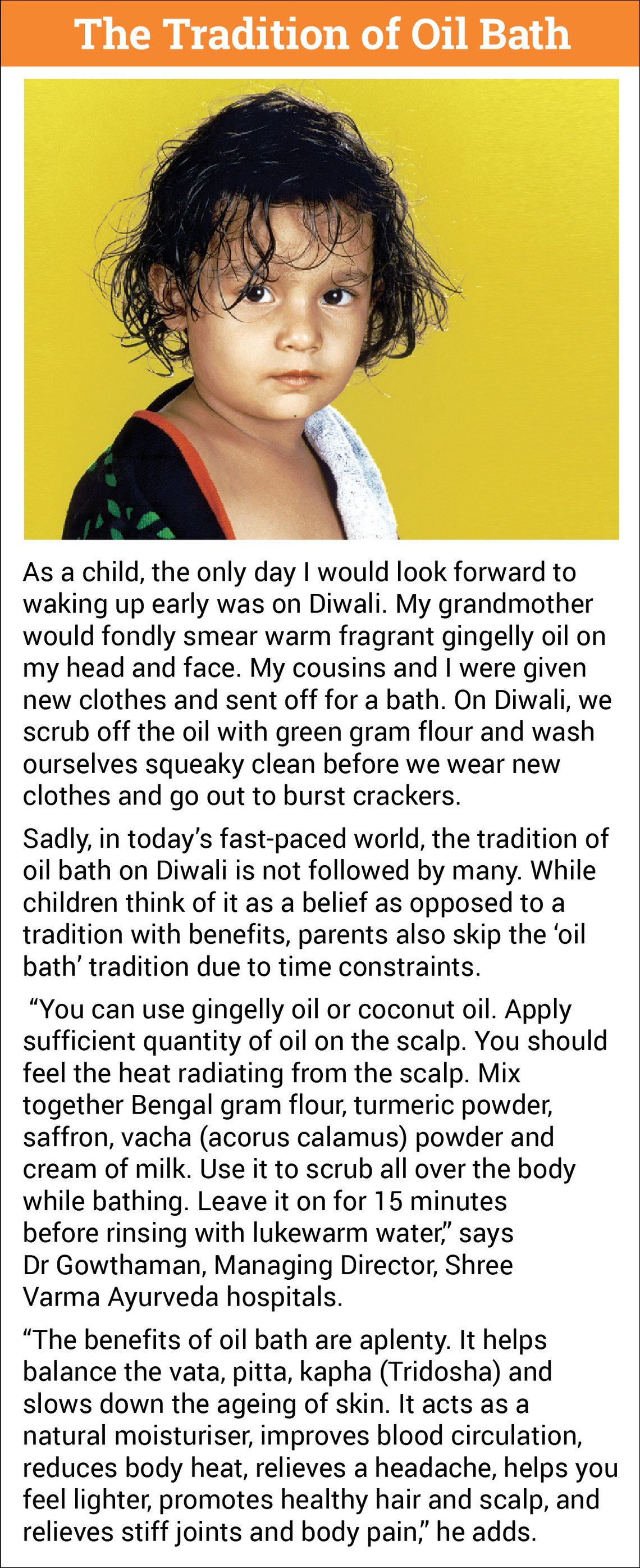 Parent speak
On Diwali, we try to stay together as a family. We eat more sweets than usual and burst a lot of crackers. We wear new clothes and also give new clothes to the needy. We do not receive gifts from relatives. My children do not help around the house voluntarily but they help when we request them.
- Meena, Chennai
Nothing much has changed with respect to rituals on Diwali except for the timings since we live abroad. My two-year-old daughter looks forward to tasting the little bits and pieces of sweets we give her. Although she is too young to help now, I'm sure she will be excited about the festival and help out as she grows older.
- Ramani, Melbourne
I travel to my native place to visit my parents during Diwali. I meet my older sister there as well. We greet each other and then exchange sweets. On the third day, which is the most important day of Diwali for us, we perform Lakshmi pooja. So, our extended family comes to my parents' home for the event. My children are usually very excited and help decorate the house. They look forward to the oil bath ritual since I've explained the history behind it to them.
- Prasad, Bangalore
Just as the people of a kingdom came together to celebrate, it is important we come together as a family to celebrate Diwali. Enjoy the festival rather than stressing out on the planning and preparation. Diwali is about creating happy and positive memories. So, go ahead, give your child plenty of great memories to carry forward!