Wondering how to make this New Year's eve more special? Here are some easy exotic recipes that come with the delightful, crunchy twist of walnuts. Bon Appetit!
Who doesn't love the crunchy texture of walnuts in their salads and desserts...
Well! For all those nutty lovers out there, we have gone a little extra to welcome the New Year. Here are some mouthwatering main course dishes that will taste delightfully different.
Walnuts have a satisfying crunch, a smooth creamy taste and loads of nutrition, making it the perfect ingredient to your make holiday celebrations special. A powerhouse of nutrients, walnuts are an excellent source of omega-3 fatty acid (2.5 grams of ALA/28 gm), antioxidants and fibre. Known for its deep nutty flavour, unsurprisingly, children love walnuts!
So to ring in this New Year, here are a few classic recipes with the added crunch of walnuts. Relish these with your family and friends!
1. Chicken in walnut sauce with sautd red rice and bimi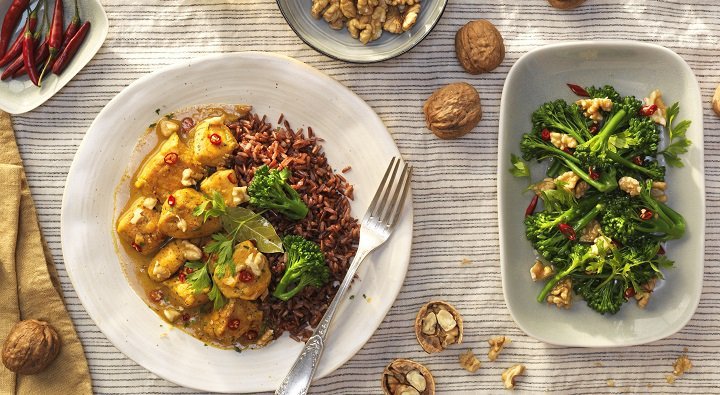 Ingredients
800g skinless chicken cut into pieces

1 large onion

6 garlic cloves

1 glass Montilla wine

4 strands saffron

250ml chicken broth

2 bay leaves

2 fresh chillies

40 ml extra virgin olive oil

60g walnuts

A pinch of salt

Black pepper

200g bimi

200g red rice

Method
1. Boil the red rice in salted water for 40 minutes. Then, remove and drain.
2. Wash the bimi and cut each piece into two. Boil in salted water for 2 minutes, remove and drain.
3. Season the chicken pieces and brown in a pan with 2 tablespoons of olive oil. Take out and set aside.
4. Peel and chop the garlic and onion. Cut the chilli into thin slices.
5. Crush the walnuts into fine powder.
6. In the same casserole, saute the onion and chopped garlic over medium heat for 5 minutes, add the saffron, stir.
7. Add the golden chicken pieces. Add the wine, chicken broth and bay leaves, and simmer for 30 minutes. Add the slices of chilli and powdered walnuts. Mix well and cook for 45 more minutes. Let stand 15 minutes before serving.
8. Saut the red rice with the bimi in a very hot pan with olive oil, season and serve with the hot chicken stew.
2. Smoky walnut, parsnip and pear soup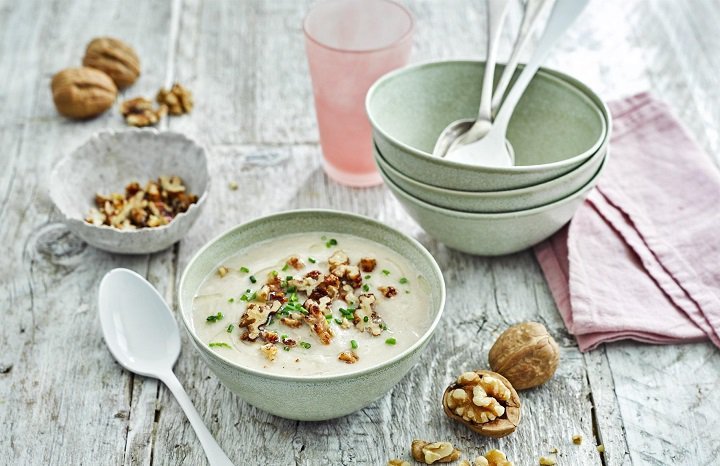 Ingredients
For the soup
500g parsnip, roughly chopped

1 tbsp olive oil

4 sprigs thyme

Salt and pepper

1 white onion, finely chopped

1 tbsp butter

2 pears, peeled, cored and roughly chopped

800ml vegetable stock

600ml milk

75g walnuts, ground in the food processor

For the smoky walnuts
2 tsp maple syrup

1 tsp smoked paprika

2 tsp soy sauce

50g walnuts

1 tbsp chopped chives and a drizzle of walnut oil to garnish

Method
1. Preheat the oven to 180C. Place the parsnips onto a baking tray and drizzle with the olive oil. Sprinkle over the thyme, season and toss everything together. Roast in the oven for 25-30 minutes until golden brown.
2. Meanwhile, make the smoky walnuts. Whisk together the maple syrup, paprika and soy sauce and drizzle over the 50g of walnuts, tossing to coat. Place onto a small baking tray and roast in the oven for 8-10 minutes. Leave to cool before chopping roughly.
3. Next, place the onion and butter into a large saucepan over medium heat and saut until soft and translucent. Add the pear and continue cooking for a further 8-10 minutes.
4. Add the parsnip and vegetable stock to the saucepan and continue cooking for a further 15 minutes with the lid on. Add the milk and blitz until smooth and silky. Stir in the ground walnuts and adjust the seasoning to taste.
5. Ladle the soup into bowls, then sprinkle with the smoky walnuts and chopped chives, adding a final drizzle of walnut oil to serve.
3. Walnut and lemon parsley spaghetti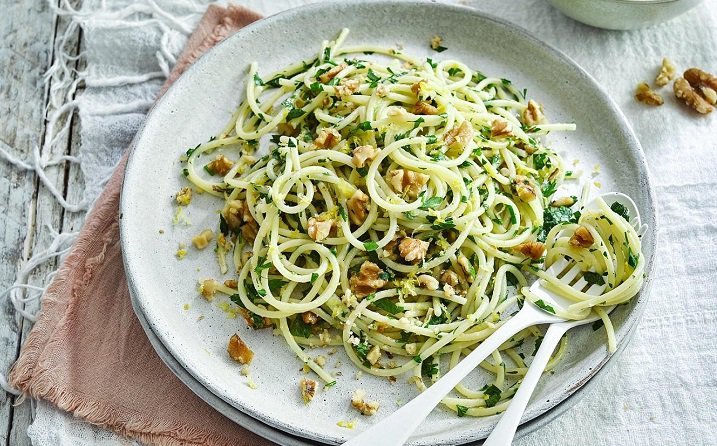 Ingredients
160g spaghetti

3 garlic cloves, minced

3 tbsp olive oil

100g walnuts, toasted and finely chopped

50g flat leaf parsley, finely chopped

Zest of 1 lemon and juice of half a lemon

Salt and pepper

Method
1. Cook the spaghetti as per the packet instructions.
2. Using a medium-sized non-stick frying pan, saut the garlic in the olive oil over medium heat for 1-2 mins until fragrant and soft.
3. Drain the pasta and add to the pan, then stir in the walnuts, parsley, zest and lemon juice.
4. Season to taste with salt and black pepper to serve.
What are you waiting for? Try out these simple yet scrumptious delicacies to make your New Year's eve an amazing one.
Exclusive recipes from celebrity chef Sabyasachi Gorai.
Looking for expert tips and interesting articles on parenting? Subscribe now to our magazine. Connect with us on Facebook | Twitter | Instagram | YouTube