The delightful time of Diwali is right around the corner! It's time to dazzle your home with some beautiful decorations. How about making them yourself this year? Here are some fun DIY ideas to try!
Diwali the festival of lights is just around the corner and with it comes your favourite traditions. Lit diyas, new clothes, colourful fireworks, freshly-made snacks are all time-honoured traditions.
This Diwali why not make it more personal and special, by creating some new traditions with your children and doing some fun Diwali crafts with them?
After all, decorating your home is an integral part of making Diwali special. Not only does it set the tone for the festive season but it brings families together. What better way to make Diwali extra special this time than by getting your kids to help make some of the creative elements for your home?
Creating something simple but beautiful will not only help you bond as a family but will add that extra personal and festive touch to your home! Your children are sure to cherish the family time together for years to come.
Here are some simple crafts that require minimal materials, are eco-friendly or upcycled, and that which will transform your house into a home!
Paper lanterns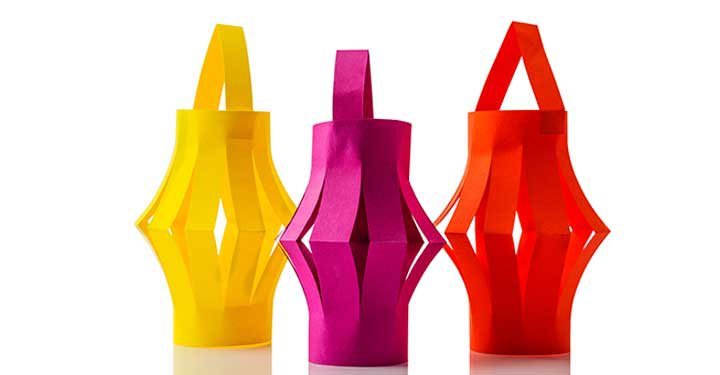 One of the easiest and prettiest crafts to do you cant really go wrong with a paper lantern. Dont let its simplicity fool you as you will enjoy creating these lanterns with your kids!
Materials required
Two sheets of colored paper (choose festive colors)
Scissors
Stapler
Colored tape
Glue
Method
Step 1: Choose two contrasting colors like orange and yellow or gold and red.
Step 2: Fold the sheet you would like to form the outside of the lantern in half. Start from the fold and cut it into strips, leaving some space towards the top.
Step 3: Apply glue to the second sheet and paste your cut sheet onto it at an angle. Cut the excess paper off and save it for later.
Step 4: Apply glue along the edge, roll your sheet of paper and bring it together to form a lantern. Staple it along the edges to hold it firmly in place.
Step 5: Add some glitter tape towards the top and bottom of the lantern to dress it up.
Step 6: Use the extra piece of paper to form a handle, glue it to the top.
Step 7: Place your LED candle inside and you are all set.
Pulses and grains rangoli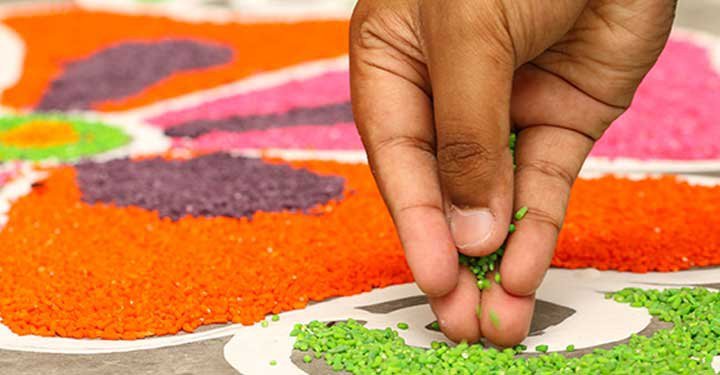 Rangolis are a wonderful Diwali tradition. Why not mix it up this time and use staple Indian foods to create a work of art. Not only can you use this as a teaching lesson for your child on the different kind of pulses and grains but you are sure to have something unique at the entrance welcoming everyone into your home.
Materials required
Rice
Wheat
Kidney Beans (Rajma)
Chickpeas (Chana)
Mung Beans (Green gram)
Pink Lentils
Rangoli design template
Method
Step 1: Choose an easy rangoli template that you would like to work on with your child.
Step 2: Select the pulses and grains that you would like to incorporate into the design.
Step 3: Mark an outline for your child.
Step 4: You and your child can fill in the spaces with colorful variations of pulses to give it different textures and boundaries.
Step 5: Make sure that its neat and ready to welcome guests into your home.
Hand-painted diyas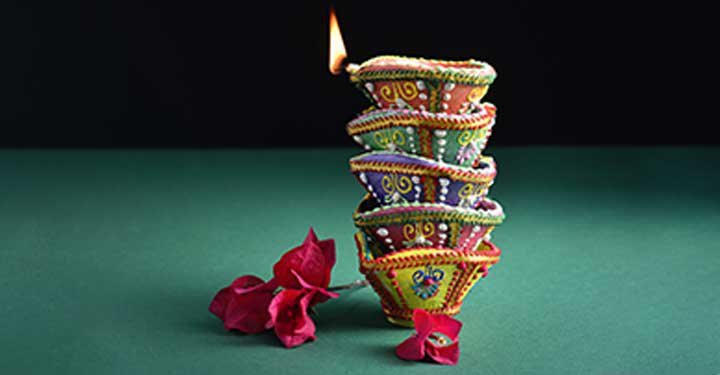 Clay diyas are quintessentially intertwined with Diwali. Adding a twist of color to them will be an enjoyable activity for you and your child.
Materials required
Clay diyas
Acrylic paints
Paintbrush
Decorative stones
Decorative stickers
Glue
Tea light or LED light
Method
Step 1: Let your child paint a base color of their choice.
Step 2: Use a marker to create a pattern for your child based on their age.
Step 3: Let them create patterns inside the diya using different materials like a paintbrush, earbud or toothpick.
Step 4: Add the decorative stickers to the rim of the diya. If they are loose stones, use some glue to stick them to the edges.
Step 5: Leave it out to dry in the sun. Once ready place your tea light candle or LED light inside the diya and place it at the entrance of your home.
Marigold garland with pom-poms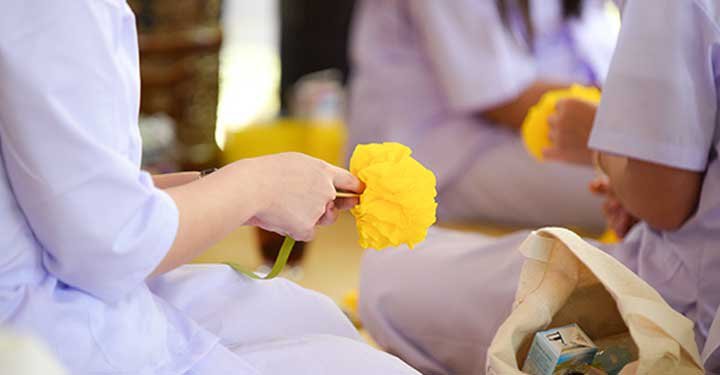 Marigolds are considered one of the most auspicious flowers and mark new beginnings. What better way to incorporate this gorgeous flower into your decor than hand making your own marigold flowers with your young one.
Materials required
Waterproof book wrap (yellow) or crepe paper yellow or orange
Ruler
Scissor
Sketch pen
Circular shaped object
Stapler
String
Long Needle
Method
Step 1: Unravel the book wrap, measure 12 inches or 30 centimeters. Fold it and get a total of 24 inches. Cut the sheet.
Step 2: Turn the sheet along the fold and measure 12 inches on both sides Fold your big sheet six to eight times till it forms a small square.
Step 3: Use any circular object to draw a circle on the sheet. At the center of the circle staple twice to form an X to hold the sheet together. Form how many ever circles you would like based on the number of flowers you would like to string together.
Step 4: Divide the paper into equal halves on either side. Once you are done, start scrunching the sheet up into a petal shape from either side. Spread them evenly to make it look like a flower. Repeat this step till all the sheets of paper are completed. You will have a perfect marigold pompom flower.
Step 5: Create as many as you would like for maximum effect. Use them as a decorative item in a bowl of water or use a thread and needle to string them together to form a garland that you can hear near the doorway.
Upcycled lantern
Getting rid of plastic is a mammoth task, so transforming this pollutant into something gorgeous and utilitarian is definitely something you should try.
Materials required
Plastic bottle
Marker pen
Scissors
Glue gun
Glitter ribbon
Cutter
Half Pearls or bindis
Old CD
Glitter sheets
Twine
LED tealight
Method
Step 1: Take an old plastic bottle. Mark it from below the neck of the bottle and just above the base of the bottle. Cut it to form a cylinder.
Step 2: Glue on two rows of shimmering ribbon to the top and bottom of the cylinder. Start cutting the plastic equidistantly with a cutter, use the second ribbon as your guiding line. Cut all the way from the second bottom line to the second top line with a scissor.
Step 3: Press the bottle outwards and make sure that it is cut properly. Press it downwards to form a lantern shape.
Step 4: Paste your half pearls or shimmering bindis all along each cut line. This will give it a festive look.
Step 5: Measure out the size of an old CD and cut a glitter sheet of paper of your choice. Paste the glitter paper onto the CD. Use a bright red twine to cover the edges.
Step 6: Paste the jar onto the base with the glitter side up. Place your LED tealight inside. You can use this as a centerpiece for any table at home.
Bangle votive candle holders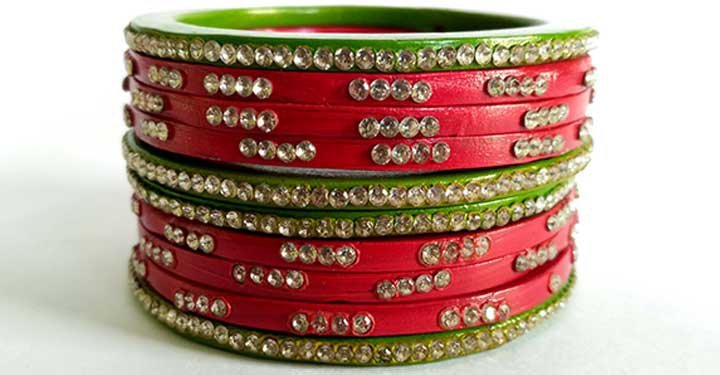 Embellished bangles are sure to add a touch of glamour to your home with their vibrant colors.
Materials required
Old bangles
Coaster
Tube of Glue
Tea light candle or LED candle
Method
Step 1: Pick any old bangles that you have at home and sort them into a color combination that you would like.
Step 2: Squeeze a tiny drop of glue in four places on the bangle and stack the bangles one by one. Repeat this step till you have a votive holder at the desired height.
Step 3: Place a tea light candle or LED light at the center and light up the corner of any room.
So this Diwali while enjoying old traditions, try and create some new ones with your children so that they will have memories to cherish for a lifetime.