With Corona forcing families to stay indoors, work from home seems to be the option for most parents. Find out the challenges and effective ways of balancing both home and work.
Work from home - three words that have become increasingly popular in the 21st century. And, with the coronavirus pandemic, working from home offers the perfect way to practise social distancing, stay productive and prevent the spread of COVID-19.
But, is it easy to balance the best of both worlds?
Reading the experience of this work-from-home mother can give you a valuable insight into how to make the transition smoothly and make the most of a work-from-home opportunity.
So, here goes the work-from-home mom...
The urban dictionary defines a work-from-home mom as a woman who is capable of taking care of children, home, husband and a job. She is defined as being strong and confident, and as someone who can handle anything that comes her way. In short, a mom who works from home is almost considered a superwoman!
But is everything as rosy as it seems for those who want to make a 'virtual career' out of home? Is it easy to balance the best of both worlds? I have been a work-from-home mom for the past 17 years. When I introduce myself as one, the reactions around me vary. I've had moms come up to me and remark with envy, 'Wow! You seem to have it all'. Then, there are others who smile at me with a pinch of sarcasm and a silent whisper which probably says, 'She must be so desperate that she has no other go'.
Working from home is the new-age reality
A study by Harvard Business Review suggests that in order to raise productivity, more employees should be allowed to work from home. The survey conducted in 2014, also concluded that people who worked from home are less likely to quit their jobs and were considered happier than their office-going counterparts. Interesting, isn't it?
In my career spanning 16 years, I've been on both sides - the rat race that involves running to work in the morning and rushing back home late in the evening; the crazy dance that comes with sitting long hours on the computer at my dining table with a baby on my lap and a kindergartener in tow. In my opinion, each option has its pros and cons. But, what would I prefer at the end of the day? The choice is a no-brainer. It would be to work from home as it gives me the flexibility to be with my child while continuing to pursue my interests.
Are you up for it?
It's never easy to move from a 9-to-5 job to a work-from-home environment. To help you make an informed decision, the analysis below lists out the strengths, weaknesses, opportunities and threats (SWOT) of working from home.
Do
Seek help from a family member or a friend to help with children if you are feeling overwhelmed or, if you have an important deadline ahead.

Utilise your child's nap times/school hours to the fullest.

Take conscious five-minute breaks by simply stretching or doing nothing after every hour of hard work.?

Don't
Leave your laptop or work files where your little one can access them with ease.

Entertain people who drop by for a chat or call to catch up during your work hours.

Be tempted to do other 'important' chores during work hours.
SWOT
Strengths
Enjoy the flexibility of choosing work hours

Be there for your child at every step of her life

Save time and money spent on commuting to work

Make time to pursue hobbies

Schedule vacations at your convenience

Embrace more privacy since you are in your most comfortable environment

Use the option to personalise your workstation and surroundings

Weaknesses
Sticking to deadlines

Planning and following a set work schedule

Lack of motivation to get into work mode when in the comfort of home

Limited access to important work-related files due to security reasons

Unstructured work environment - lack of team support, interactions and proper work flow

Lack of regular employee benefits

Interruptions and distractions while working

Opportunities
Freelance writing and editing

Online tutoring

Medical transcription

Affiliate marketing

Catering and baking

Nutritionist

Tutoring

Craft, art, dance and music classes

Soft skills training

Fitness training

Human resource management

Commercial business

Real estate and insurance agency

Modelling

Anything under the sun!

Threats
Difficult to stay up-to-date with industry trends

Mismanagement of everyday tasks like paying bills, raising invoices, processing mails

Irregular work opportunity and income

Infrastructure costs borne by self

Lack of engagement with professional community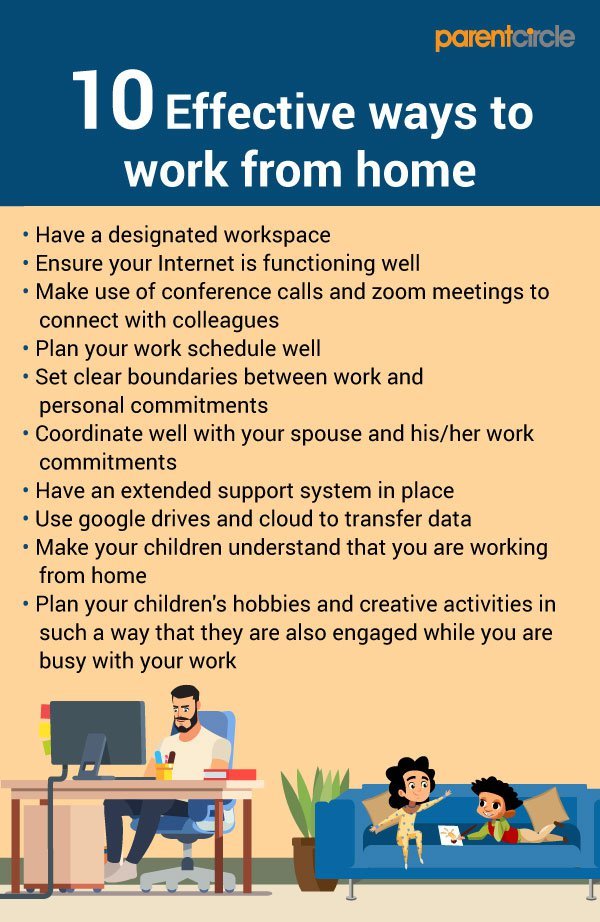 So, how to work from home amidst the bedlam?
Here are 8 tips to help you keep your sanity and get work done:
1) Organise your day and set goals:
Organisation is the secret to successfully working from home. Plan your day the night before. Write own every little thing that needs to get done for yourself, children and the household. Divide the number of hours accordingly. Be realistic and make sure you accomplish your goals before you hit the sack.
2) Delegate and distribute work:
Work-from-home moms may be 'expected to do it all' since we are at home and have plenty of time to spare, but that isn't the case. Husbands, older children and other family members need to pitch in and do household chores to allow us work-from-home moms some free time.
3) Design your work hours:
While scheduling the day, design your work hours into chunks of time where you can work uninterrupted - ideally, when energy levels are high. This may include either working early in the day or late at night.
4) Dress for the role:
You may not need to invest in a whole lot of work clothes or make-up when you work from home, but if you make an effort to dress up, you will see yourself having a more productive day than when you lounge around in your pyjamas. When mom has her work clothes on, she means business!
5) Set clear boundaries:
Let your family members, especially the little ones, know that even if you are physically there, you are busy when you sit down in front of your laptop and would not like to be disturbed. Minimise distractions by taking care of their basic needs before you sit down to work. Teach them hand signals in case they need you in an emergency when you are in between a phone call or a meeting.
6) Stay focused:
Checking personal social media accounts does not count as work even though it is done from your laptop. You can download apps that block these sites for a limited period in case you get easily sidetracked. Schedule your household chores around your working hours.
7) Create a play corner:
Put together little toys, books, activities and snacks for your child before you sit down to work. Bring these out only during work hours so your child can associate these with mom's work time. Your child should be gradually taught to entertain herself quietly while you work. A little desk and chair beside you where your little one can also pretend to 'work' is a good idea.
8) Remember the reason:
Tell yourself that it's okay when things don't go as planned. See where changes can be made in order to lessen the stress and explore ways to make it work.
'Me' Time
The problem with work-from-home is that often, you don't get a break. You are always working, either taking care of your family or, handling work-related issues. So, here are some ways to beat the blues and practise some self-love:
Schedule a coffee with a friend or co-worker at least once a week for some adult interaction and exchange of ideas.

Plan your weekends and public holidays just like anyone else. Work on your hobbies and enjoy life.

Put your children to bed early even if they protest and throw tantrums. Being child-free for even an hour a day will help you re-energise and regroup.
Being your own boss and making your own rules feels good. And that's what work from home offers. Make it happen with the above tips and tricks in place. At the end of the day, you can blissfully pat yourself on the back for you are indeed the superwoman as defined by the urban dictionary!
See also: 7 Ways to be Effective When Working from Home and 10 Eternal Struggles of Working Moms
Looking for expert tips and interesting articles on parenting? Subscribe now to our magazine. Connect with us on Facebook | Twitter | Instagram | YouTube