Art from waste is an interesting way to recycle and reuse items that end up in a bin. Here are some ideas on how to make art and craft pieces from waste material lying around at home!
We have all heard about recycling, but how many of us actually practice it in our day-to-day lives? Only a few would answer affirmatively. Polythene bags, plastic bottles, newspapers, empty cans, wrappers and packing cartons are the most common items that go into the bin. But trash and waste materials can be put to better use, as I found out. Yes, you can make art and craft from waste materials!
One morning, several years ago, I couldn't find a vase to put flowers in. That's when a n empty plastic bottle caught my attention. I cut the top part neatly and used it as a vase. It occurred to me that this was one way of reclaiming trash and saving nature. It disheartens me to see plastic bottles floating in the sea, littering public places or even, in the refrigerators of some homes.
I have always had a passion for art. I became aware of the spectrum on the glittering surface of the white plastic bottles. The plastic bottles resemble glass and glass paints work well on them. I took to this 'art' possibility with great fervor.
Today, making art and craft from waste materials is more than just a hobby for me; it has become a cause.
I convert all kinds of trash into things of beauty. I preserve waste materials such as plastic bags and bottles, newspapers, milk packets, egg cartons, all types of packing material, vegetable and fruit peels, dry leaves and flowers, toy wrappers, cosmetic cans and sweet boxes - you name it and I have it!
The next time you are about to dump plastic bottles, bag or even, newspapers, pause and think: can you recycle them? Look at the practical ideas listed here. You may also scour the Internet for plenty of do-it-yourself (DIY) art from waste activities. And what's more? These are great craft ideas for kids.
Waste material craft ideas
1. Plastic bottle craftwork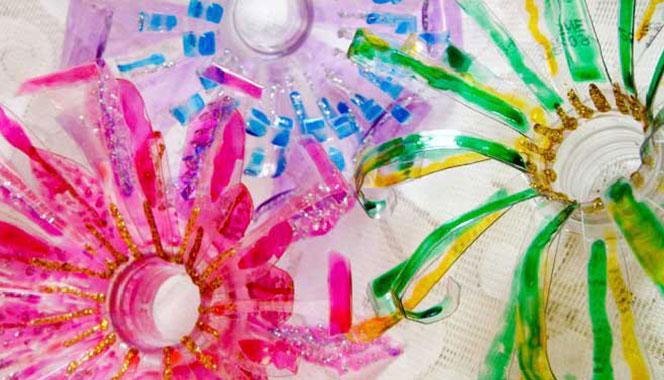 Art from waste ideas that can be applied to plastic bottles. Turn plastic bottles into beautiful works of art like flower pots, vases and flowers.
2. Plastic bottle jewelry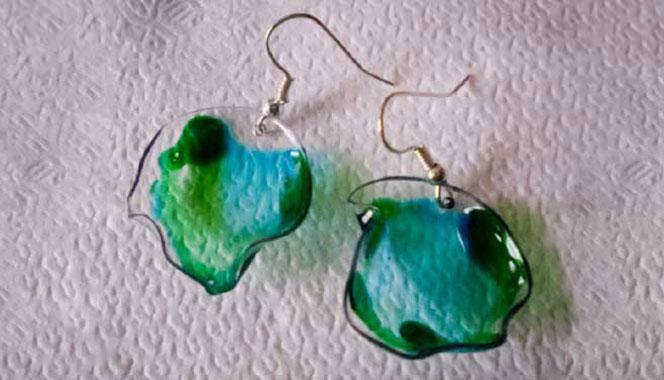 Make fashionable earrings and bangles using plastic bottles. Cut out the shapes of leaves, flowers or stars from plastic bottles and make them more colorful by adding designs using glass paints.
3. Eggshell art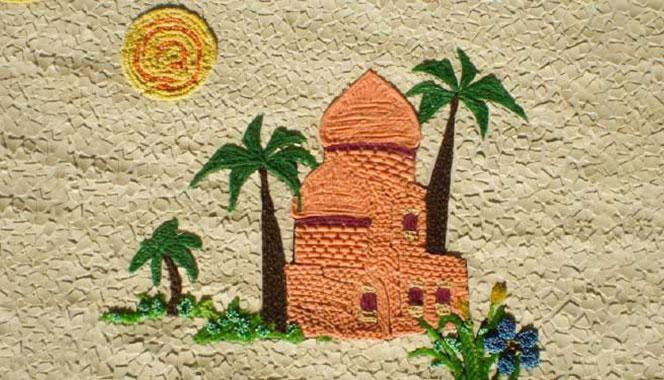 A mosaic art piece made from eggshells and clay dough. On a handmade paper base, the central picture (in this case, a monument, trees, flowers and sun) is made from clay dough and pasted with glue, piece by piece. Eggshells are then stuck (with glue) all around the picture.
4. Art with CDs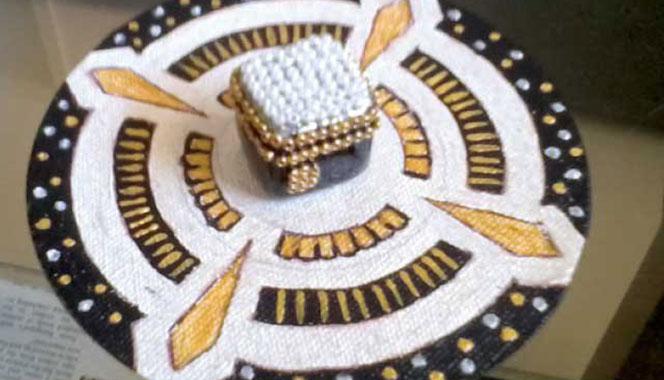 Discarded CDs can be turned into various artworks. Here is an old CD painted with acrylic paints and polymer clay, Kabaa placed in the center, decorated with glitter and beads.
5. Cardboard box crafts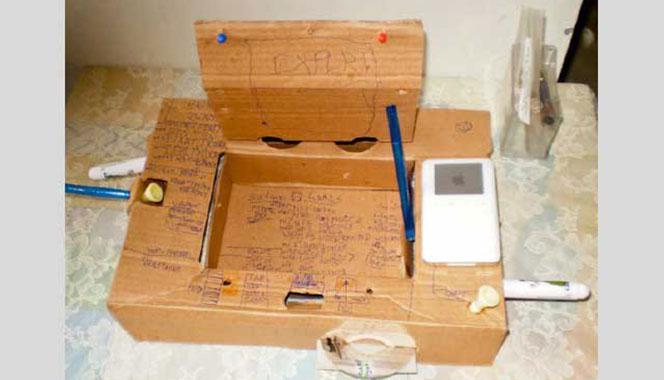 Make toy gadgets out of packing material/boxes. (This is a laptop made by my son Zayd. He calls it Gamebox 2).
6. Newspaper craft and artwork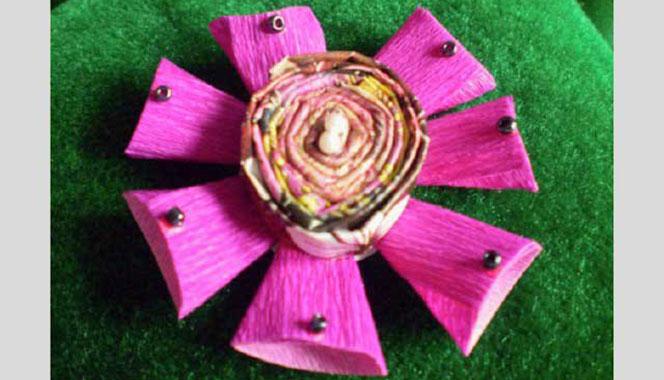 Design colorful brooches, mats and keychains using paper. Newspaper rolled into the shape below, with wooden beads on a thread sewn through the newspaper coil.
7. Bottle birdfeeder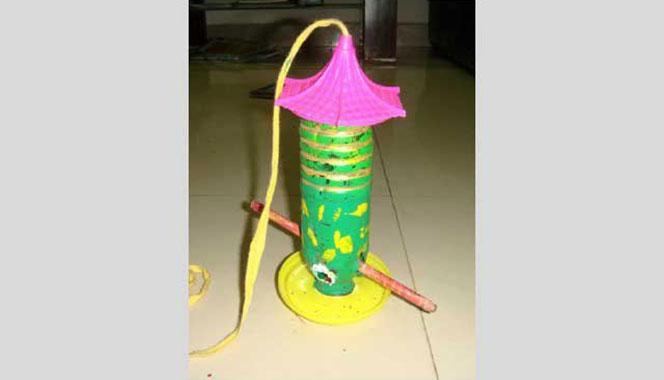 Hang bottles on your lawn or balcony like a birdfeeder. You can be creative and design your birdfeeders artistically using acrylic paint and craft add-ons such as sequins and beads.
8. Pencil shaving craftwork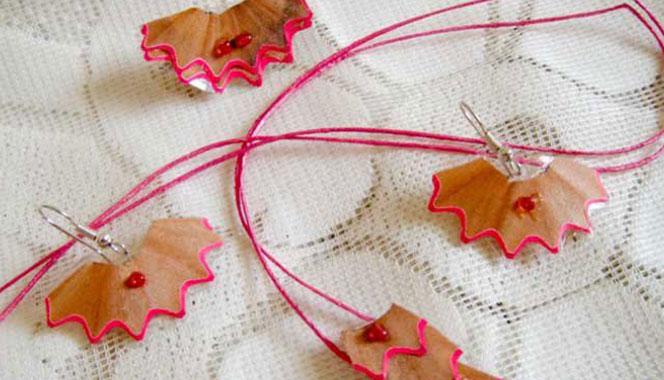 Pencil shavings can be pasted onto plastic bottles and cups to decorate them. (No paint applied. Earring hoops, a safety pin, and just some thread used).
9. Paperweight ideas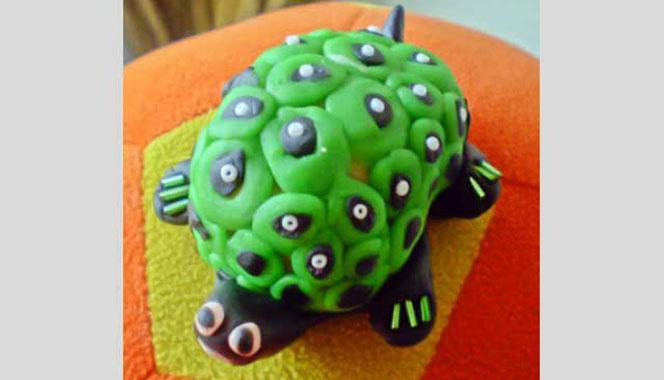 A bit fat pebble turned into a tortoise paperweight. Clay and beads used to cover and decorate it. Good brands of clay dough last longer. Heat and humidity affect these pieces but if preserved well, last for more than two years.
10. Clay painting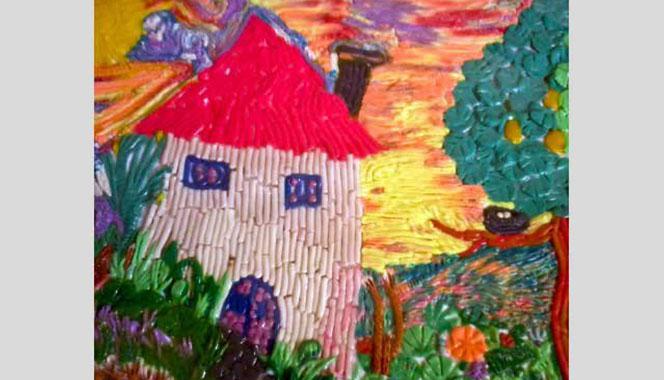 A picture made out of clay. After applying glue on a sheet of handmade paper, clay shapes were pasted (stretched my imagination to fill in the details).
11. Beautiful scenery from trash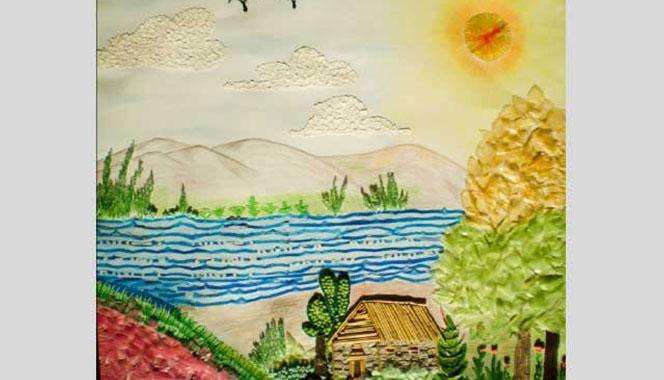 A collage made from eggshell clouds, a plastic bottle sun, plastic bag trees, fruit packing, thatched house from hay and egg cartons, plastic bottle and clay bushes, milk packet grass, pencil-shaded hills and sky.
12. Newspaper flower vase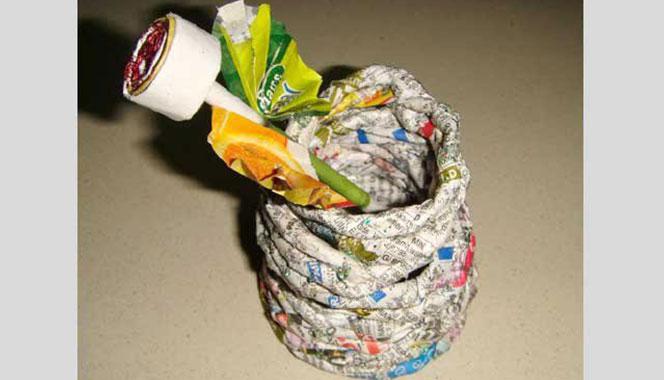 A flower vase made out of newspaper. Twirl thick newspaper strips and glue them up with Fevicol to make the vase nice and sturdy. The flower you see is also a rolled-up piece of newspaper.
13. Plastic carry bag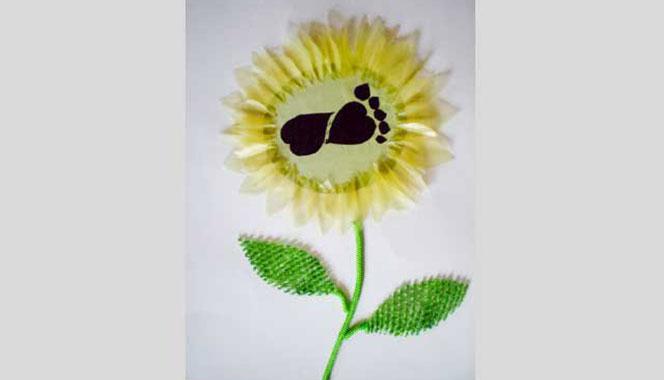 Plastic carry bag with a sunflower and carbon footprint design. A yellow-colored polybag cut into petals, stuck into an old magazine page cut into a round shape. Thread for the stem and fruit-packing material for leaves and painted with acrylic paint. Feet cut and stuck from black paper or black polybag.
14. Toys from trash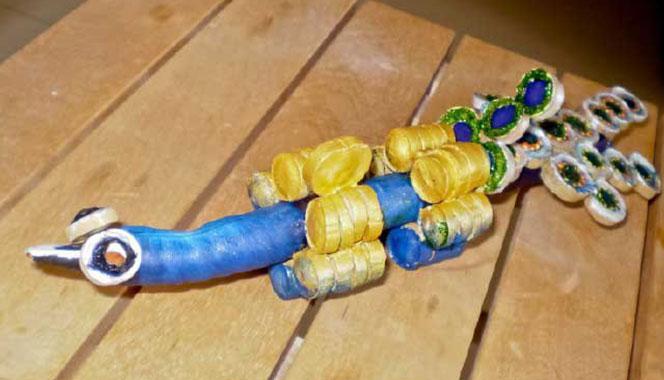 A peacock-shaped seedpod rattle (acrylic paints used to color the seedpods).
Like these, you can make a plethora of home decor and utility items. Brighten up your kitchen with colorful patterns on the cabinets, pots, jars, shelves and windows, using plastic bottle art. Make your own paper tote bags and say no to plastic bags. Give a 3D look to a picture by using plastic pet bottle caps. Make arty and craft pieces using throwaway items lying around the house. Let your creativity free rein!
There is so much you can do with trash. Let's all join together to save our planet. Let's recycle and reuse!
The hazards of plastic
Plastic bags, if not disposed of properly, end up in the drainage system resulting in the blocking of drains, thus bringing about an unhygienic environment and causing water-borne diseases.
Recycled/colored plastic bags contain certain chemicals, which can leach into the ground and contaminate soil and sub-soil water.
Plastic bags with leftover food get mixed up in garbage dumps. This can be extremely harmful to cows, dogs and other animals, who live on our streets.
As plastics are non-biodegradable, they can form an impervious layer and arrest the recharging of groundwater aquifers.
Turtles that consume plastic found in the seas, often choke and die. This is happening to other sea creatures too.
Plastic contains chemicals that can harm human health, especially when used in containers for food or water.
Plastic bottles are made of fossil fuels, hence their production results in greenhouse gas emissions the main culprit in man-made global warming.
Recycle art
Reuse or recycle plastic bottles in the following ways:
In gardening: The lower half of a plastic bottle can be cut out and used to sow seeds and grow saplings until they are ready for transfer into the soil. You can also use a large perforated bottle to water plants in your garden.
As toys: Collect and paint similar-sized bottles in bright colors. And lo, behold, you get a set of colorful skittles for rounds of bowling! My sons also make boats and whales out of bottles. Believe me, it's a wonderful water game!
As artwork: Cut and paint plastic bottles using glass colors and fill your home with flowers, vases, wall hangings and paintings.
So, what are you waiting for? Go on and collect those waste products lying around your house and create something splendid out of them. Involve your child with small activities and instill in them, a love for nature and the art of recycling.