We take you on an exciting journey to all the places associated with the mathematical genius Srinivasa Ramanujan and learn a few interesting things about this beautiful mind and the dedication with which he lived his life
The life of Srinivasa Ramanujan, the great Indian Mathematician, was one who lived in deeds and not in years. In his short lifespan of 32 years, Ramanujan managed to leave behind a legacy of a vast body of formulations and theorems, that have immensely contributed to the subject, earning him international acclaim in the field of Mathematics.
A few places spread across Kumbakonam and Chennai (then Madras) in Tamil Nadu have preserved their connection to this beautiful mind.
What better way to teach life lessons to children than by taking them on a trip to places associated with the revered genius. Join us on a tour of these little-known places.
Srinivasa Ramanujan International Monument, Kumbakonam: Ramanujan's ancestral home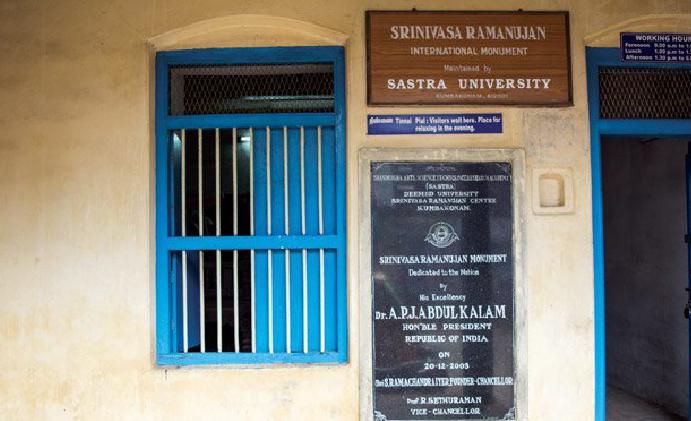 Born in Erode in 1887, Ramanujan was brought to the temple town of Kumbakonam by his parents when he was just a year old. Here, he spent his childhood and the early days of his youth. The house he lived in, which is just a stone's throw away from the Sarangapani temple, is now a museum with the status of an international monument, maintained by the deemed SASTRA (Shanmugha Arts, Science, Technology and Research Academy) University.
Step inside this ancestral property and you are sure to be overwhelmed by a sense of mysticism, an attribute that has often been assigned to Ramanujan's brand of Mathematics. A collection of old photographs and copies of theorems scribbled by him gives you a glimpse into the events from his life. The cot he slept on can still be found in one of the rooms. As you spend more time here, you cannot help but be touched by a haunting sense of time unchanged and the presence of a pure mathematical spirit.
How to get there: Kumbakonam is located about 300 km from Chennai and can be reached by rail or road. You can easily walk the distance from both the railway station and the bus terminus to Ramanujan's ancestral home.
Town Higher School Secondary School, Kumbakonam: The Alma Mater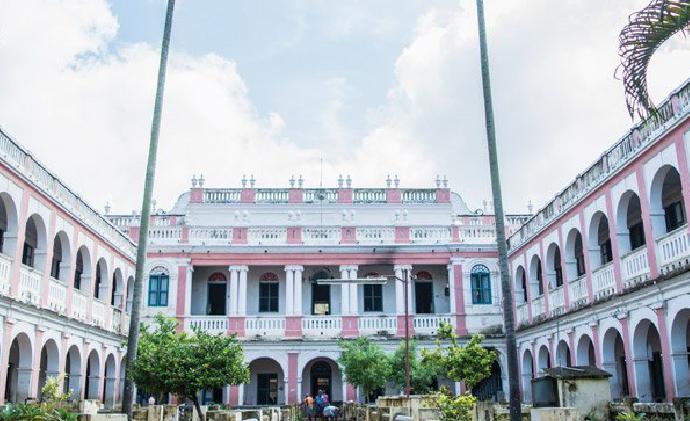 After completing his primary schooling at Kangayan Primary School, Ramanujan enrolled at the Town Higher Secondary School in 1898. It was here that his Mathematical acumen began to take shape.
It is now popular history that when he was here, he laid his hands on a book called Synopsis of Elementary Results in Pure Mathematics by G S Carr in 1903. That was a watershed moment in the life of the genius, for it opened his line of thinking in the direction of original Mathematical theorization. He began to explore Mathematics by himself.
He passed out from the school in 1904 with distinction. The 152-year-old institution remains one of the leading schools of this quaint town.
How to get there: The school is located less than a km from Ramanujan's ancestral home.
Pachaiyappas College, Shenoy Nagar, Chennai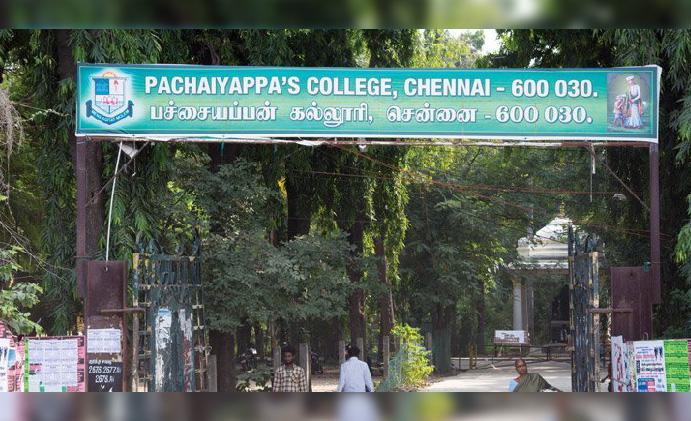 In 1906, Ramanujan came to Madras (now Chennai) to find a foothold in life. He joined Pachaiyappas college in Shenoy Nagar to gain a Fellow of Arts degree. But he didn't do well in his studies and failed in all the subjects except Mathematics.
Even in the subject he loved, he is said to have passed with low marks. This is believed to have been due to his passion and obsession with only those areas of the subject that interested him. Due to poor results, he had to drop out of college.
How to get there: Pachaiyyapas college, one of the oldest in the city, is a well-known educational institution and is famous for its sprawling campus. It is located 6.9 km from the Chennai Central Railway station.
Gautamasrama, Triplicane, Chennai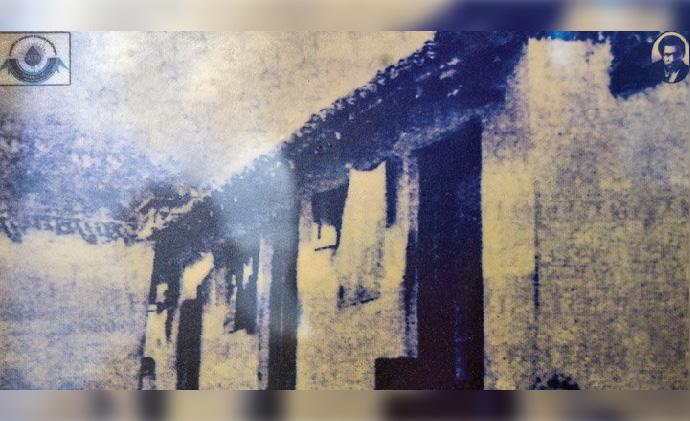 The next destination on this Mathematical trail is Triplicane in Chennai. Near the famous Arulmigu Sri Parthasarathy Swamy temple in Triplicane, a house named Gautamasrama, has history written all over it.
One of the many connections of this 146-year-old building is the wing that was rented by Ramanujan, where he stayed with his family after marrying Janaki Ammal in 1909. While he stayed here, Ramanujan worked out his theorems day in and day out, using not paper and pen, but a slate and chalk.
Despite the poverty that he faced and other difficulties, several events took place in his life here, which established him as one of the greatest mathematical minds of the world.
The most significant of them was the spotting of his talents by the famous English mathematician G H Hardy, who invited him to London. This laid the foundation for Ramanujan's recognition in the international arena.
How to get there: The house is located around 4 km from the Chennai Central Railway Station.

Ramanujan Museum and Math Education Centre, Royapuram, Chennai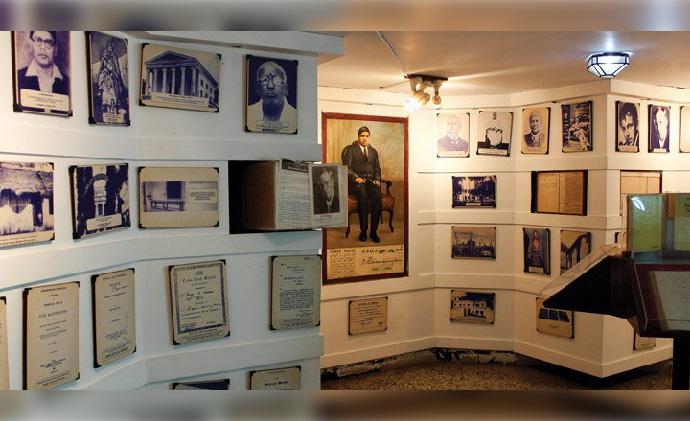 To complete the trip, your next destination is the Ramanujan Museum and Math Education Centre, in Royapuram, Chennai. Here again, you get a chance to catch up with the Mathematician's life through a collection of books, photographs and exhibits.
The center houses an auditorium and a library. Regular workshops and classes are conducted for children of all age groups based on specific concepts in Mathematics. The center has been playing an active role in promoting innovations in the Math curriculum and the concept of a Mathematics lab to help children learn the subject with greater zeal.
How to get there: The museum is located 5.6 km from Chennai Central railway station.
Now, let's look at some amazing lessons from the life and times of the legend.
Traits your child can learn from Ramanujan's life:
1. Resilience: Srinivasa Ramanujan had to cross many hurdles on his way to success. There was a time when he faced abject poverty and didn't have money to buy a pen and paper. While pursuing higher studies in Chennai, he failed to make a mark in any subject other than Maths and was, therefore, unable to complete his course. He also suffered from poor health. However, none of these difficulties prevented Ramanujan from pursuing his passion relentlessly.
2. Originality and passion: Ramanujan's life clearly exhibits his passion for exploring the subject rather than just learning what was taught. He pursued his own research on the subject with complete dedication till the very last day of his life. He wrote letters to G H Hardy in 1920, the year he died, even when he was seriously ill, describing complex Mathematical concepts. Such was his love for the subject!
3. Faith and spirituality: "An equation for me has no meaning unless it represents a thought of God." These words by Ramanujan show that he attributed a lot of his early success to faith in God and many of his observers also stated how he exhibited great tolerance and spiritual leanings.
4. Smart thinking: One example of this trait is that since Ramanujan could not afford to buy a lot of paper, he would do most of his work and proofs on his slate, and then transfer just the results to paper.
5. Rich legacy: Hardy went on to live 27 years after Ramanujan's premature death, but when Hardy was interviewed several years after Ramanujan's death and was asked what his greatest contribution was, he said, "My discovery of Ramanujan".
Success is not just about getting great grades or making it big in life; it is about pursuing your true passion, come what may. Ramanujan's life story is the perfect example.