Festive Treats With A Healthy Twist For Kids
Ruchira Ramanujam
5 Mins Read
Festivals are all about food and celebrations. This festive season, try these easy recipes to bring the wholesome goodness of earthy grains, nuts and seeds, and natural sweeteners to your table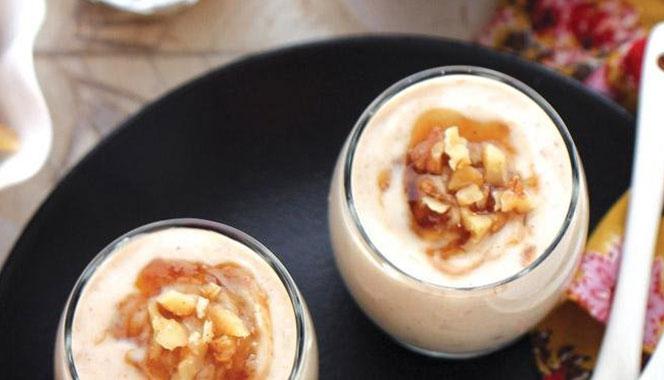 Apple pie shrikhand
Serves: 4
While most traditional Indian desserts will have you slaving over a hot stove for hours, shrikhand is a delicious exception. Cool, creamy, and loaded with milk proteins and calcium, this quick dessert is a busy moms savior. This recipe brings the lovely flavours of apple pie to take the simple shrikhand into a gourmet territory!
Ingredients
400g thick curd
1 apple
1 tbsp white/cooking butter
1 tsp ground cinnamon
A pinch of salt
½ cup brown sugar
2 tbsp chopped roasted walnuts
Method
Place a cheesecloth in a large sieve. and place the sieve over a bowl. Pour the curd into the cloth, cover and place in the refrigerator for about 3 to 4 hours or until most of the whey has drained away. The curd should be very thick.
Meanwhile, peel and finely chop the apple. Melt the butter in a small frying pan set over low heat. Add the apple, and cook until soft. Sprinkle in the cinnamon, salt and brown sugar. Allow the sugar to melt. Set aside to cool.
Transfer the hung curd to a bowl. Whisk until smooth.
Stir in the cooked apple and half of the walnuts. Taste and adjust the sweetness as needed.
Transfer the shrikhand to shot glasses or a serving dish and top with walnuts. Chill well and serve.
Oats, dry fruit and nut chivda
Serves: 4-5
Though desserts are usually the stars on most festive occasions, it is good to have a few spicy munchies around for those who don't have much of a sweet tooth. Try our Chivda which features whole grain and fibre-rich oats.
Ingredients
4 tbsp oil
1½ cup rolled or regular oats
2 tbsp peanuts
8-10 almonds
8-10 cashews, halved
2 tbsp raisins
2 tbsp dried cranberries
1 tsp mustard seeds
2 tbsp roasted chana dal
1 tbsp chopped dry coconut
2-3 red chillies
3-4 green chillies, slit length-wise
A pinch of hing (asafoetida)
2 sprigs curry leaves
Salt to taste
A large pinch of turmeric powder
1 tsp sambar powder
Method
Heat 2 tbsp oil in a medium kadai. Add the oats. Toss well on medium-low heat for about 15 minutes until brown and well roasted. Transfer to a bowl and set aside. (Deep-fry the oats for more crispness or toss with oil and roast in the oven at 180 degrees for about 10 to 15 minutes.)
Add more oil to the same kadai. Fry the peanuts, almonds and cashews individually, until crisp. Fry the raisins very briefly. Mix all the fried nuts, raisins and cranberries with the roasted oats. Set aside.
In the same kadai, add the remaining oil and mustard seeds. Once the mustard pops, add roasted chana dal, dry coconut (optional), red and green chillies, hing and curry leaves. Toss well till crisp. Add salt, turmeric powder and sambar powder. Add the oats mixture and toss everything together.
Allow it to cool completely before serving. Store leftovers in an airtight container and consume them within a week.
Baked, seeded nimkis
Serves: 6
Nimkis are super easy to make. They can be healthy too with a few tweaks to traditional recipes. Children will surely adore these pretty, whole-wheat, baked tidbits that come studded with a variety of nutritious seeds.
Ingredients
1 cup atta
1½ tsp baking powder
1 tsp salt
½ tsp coarsely ground pepper
60g soft butter
4-5 tbsp water or as required
¼ cup of mixed seeds like melon, sesame, sunflower, pumpkin and poppy
Method
Mix atta with baking powder, salt, pepper and butter until the mixture resembles breadcrumbs.
Add water, one tbsp at a time, to make a stiff dough.
Cover the dough with a damp kitchen napkin and let it rest for about 20 minutes. Preheat the oven to 180 degrees. Line a large baking tray with parchment paper, or use foil.
Divide the dough into four parts and roll out each piece evenly to thickness. Brush the dough lightly with water using a pastry brush. Sprinkle the seeds all over, gently pressing them into the dough with the rolling pin.
Cut the dough into diamonds. Carefully place each piece on the baking sheet about half an inch apart.
Bake the nimkis for about 15 minutes or until brown on both sides. Allow them to rest for five minutes. Place on a wire rack to cool completely. Store in an airtight box.
Millet and cashew-milk kheer
Serves: 4
Vegan and gluten-free are much more than trending buzzwords. Even if you don't follow these diets, it is a good idea to try some of these dishes with their varied ingredients and innovative cooking methods. This kheer, made with millet and rich cashew milk is chockful of goodness and a perfect treat for the festive occasion.
Ingredients
¾ cup raw cashews
2 tbsp whole millets (any variety)
A pinch of saffron
¼ tsp cardamom powder
½ cup organic jaggery powder or sugar
1 tsp coconut oil
2 tbsp raisins
1-2 tbsp slivered almonds
Method
To make the cashew milk: Put the cashews in a bowl and add cool water. Soak it for 5-6 hours or overnight. Drain and rinse the cashews. Now place them in a mixer and add 1 cup of water. Blend until very smooth.
Wash and drain the millets. Boil cup water in a pan and add the millets. Cover the pan tightly and cook on low heat until the water is absorbed and the millets are tender.
Now add the cashew milk to the millets and stir well.
Remove a tablespoon of the cashew milk from the pan into a small bowl and soak the saffron in it.
Simmer the kheer on low heat for about 10 minutes, stirring often.
Whisk the cardamom powder and jaggery into the kheer, and simmer for a minute. Stir in the soaked saffron.
After this, heat the coconut oil in a small tadka pan and lightly fry the almonds. Stir in the raisins and take the pan off the heat. Add to the kheer.
Serve the kheer, piping hot or chilled.