Watching India pull off a spectacular win in the last match of the recent India-Australia Test cricket series made me think how that game has some great life lessons for all of us, including children
Ever since I got married to my cricket-loving husband, I have been drawn, willy-nilly, to the sport. Now, with my kids (son and daughter) following in their father's footsteps, it was inevitable that their squeals of excitement late afternoon, a little more than a week ago, would draw me to the television room to watch what was happening. And there they were-11 youngsters giving it their all when everyone had written off Team India. Between claps and screams of excitement mingled with shouts of frustration, all three gave me the latest update-the beleaguered Indian cricketers, playing without their acerbic captain, Virat Kohli, had apparently been trolled, hit, hurt, booed, sledged and whatnot, leading to this moment in the final Test match. A match everyone assumed India will lose, given the mental and physical conditions of the players.
Quite into it now, I quickly read up online on what was happening, even as the match played out on the telly. The Border-Gavaskar Trophy, a Test cricket series, is played between India and Australia, and this time, India toured Australia for two months to play three One Day Internationals (ODIs), three T20 and four Test matches. Kohli captained the ODI and the T20 series and the first Test, but he missed the last three Tests, as he returned home to his wife, actress Anushka, who was due to deliver their first child in January (paternity leave issues also cropped up!). So, Ajinkya Rahane was made the Test captain for the last three matches.
Now, usually, socio-political issues are kept out of sports arenas, but this sporting event was different! One thing led to another, and a seemingly captain-less team began to have performance issues. The team was consistently trolled, sledged and critiqued, and bodyline bowling left many in the team injured. Plus, after the Indian team collapsed to a low score of 36 all out in the first Test, the players were deemed unfit to win. Imagine the team's stress levels! And yet, here was the team, fighting to win the fourth Test and the series as well! "What fortitude!" I exclaimed. "But how did all this not affect them?" countered my daughter. Right there, as the 11 young boys pulled off a historic series win-a first at this ground, the Gabba, since 1988 (I was quickly informed by my son)-I thought, "This match has so many hidden life lessons for my kids, and even for me and my hubby!"
As the trio trooped into the kitchen for a round of hot chocolate ("We'll bring you some," I was told), I sat back to think. I wanted to give my kids some valuable life lessons before the euphoria faded! Here's the list, with a gist of what we discussed with them that afternoon:
Be resilient in the face of adversity
"Poor marks or poor runs, it's not the end of the world." This is how Sachin Tendulkar puts it in a tweet. Couldn't agree more! Resilience is the word here. A shockingly poor performance in the first Test, ravaged by injuries, unfriendly environment-Team India had reasons enough to cave in. But instead of throwing in the towel, the team bounced back from an almost hopeless situation.
Keywords for kids: Resolve. Determination. Go-for-it attitude. (As a parent, all I told our kids is to be determined to finish what they start, and that they'll learn to win after that.)
You can lose a battle and yet win the war
All out for 36 runs in a Test match and low score in the first-term exams-same thing. There will be many setbacks in life. You'll face disappointments at various stages in life. The key is to not lose hope or give up-this is for parents, too. As I keep repeating, you are the first role models for your children. Show them what matters eventually is your tenacity and capacity to recover quickly from setbacks. Just like the Indian team, which accepted the initial losses (maybe the players even had a meltdown in the dressing room, which is quite okay, you know!) and focused on winning the next game (read as "bad times don't last").
Keywords for kids: Resilience. Fighting spirit. Never-give-up attitude. (Note: Learn to bounce back, I told my kids. It's okay to cry over failure, feel bad and even sulk for a day. After that, get up, dust yourselves and get back to getting the job done!)
Don't let bullies intimidate you
When the Indian team lost the first Test, the experts out there wrote the team off. None of the seniors were in the team, they pointed out. And this newbie bunch of hurt players can do nothing, claimed former Australian players. Critics predicted a 4-0 win for the Aussies, taunted the Indian team. Jasprit Bumrah and Mohammed Siraj were subjected to racial slurs and indecent gestures by the spectators at the stadium in Sydney. But our players stayed calm, undeterred by bullies, and played on to finally win the series for India 2-1. School can be tough for some kids, but as parents, we can help our kids face their fears and focus on learning, instead of worrying about grades.
Keywords for kids: Courage. Grit. Focus. (Note: If your child is being bullied in school, don't sweep it under the carpet. Help him open up to you about it, talk it out calmly, and see if the teacher needs to be involved.)
So what if the odds are against you? Rise up to the challenge
No star captain. No star players. No Virat Kohli and Shikhar Dhawan. Mentally stressed, bullied. Physically hurt. Young, unsure what to do. "India just can't win!" This was the situation before the final Test match between India and Australia. For most of the young players, this was the biggest match of their fledgling career. But Washington Sundar, Shardul Thakur, Mohammed Siraj, Shubman Gill, Rishabh Pant and Mayank Agarwal rose up to the challenge, and proved everyone wrong. These young cricketers sent out a message to everyone: Never back down! As a parent, talk to your child about this historic win, emphasize on how the team that was looked down upon lifted the trophy that day because THE PLAYERS BELIEVED IN THEMSELVES! And so, nothing could stop them from winning.
Keywords for kids: Face the challenge. Believe in yourself. You can do it! (Note: As parents, self-belief is the best thing we can give our kids. Just letting them know that they can cross any hurdle, climb any mountain no matter how high, if they so will to.)
Choose your hero wisely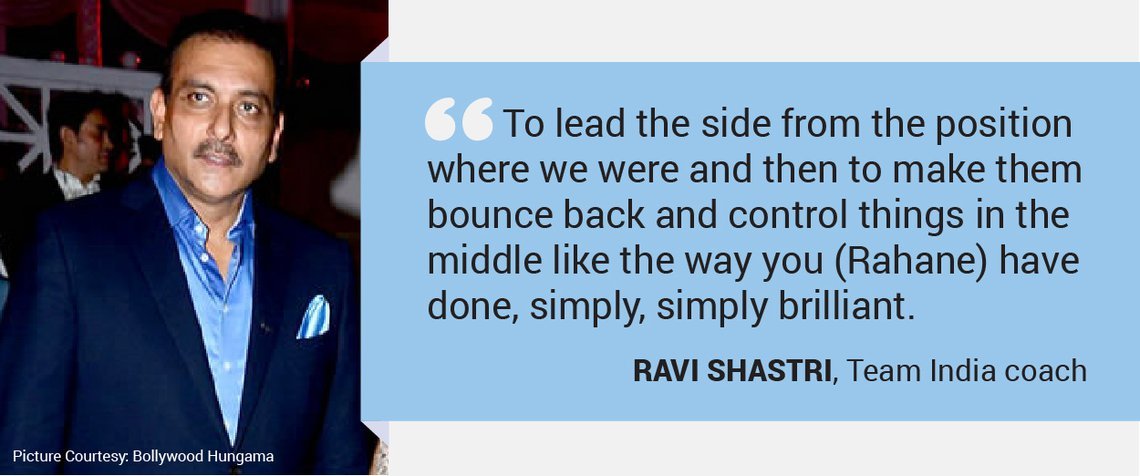 A parent to fast-growing teens, I have always wondered what kind of role models they are following these days. Social media and skewed news are thrusting them into a world full of Kim Kardashians, Eminems and superhero characters that don't even exist in real life (Iron Man, Spider-Man and the like). I mean, why them alone-even I am a fan of Aquaman! But what message are we sending out to the kids? I'd like my kids to choose their role models wisely. Someone who'd help them develop their leadership skills. Someone rooted to the real lives we lead. Someone with the qualities of Ajinkya Rahane-the captain who replaced Virat Kohli to lead India to a sensational win. He was under tremendous pressure and yet, looking at him, you'd have thought he was out for an evening stroll. I was surprised to learn my daughter could tell me five things that skipper Rahane did right that day: "He didn't scream or do drama," "He remained calm, and looked undisturbed by all the booing," "He egged his team on to just play on, clapping and applauding them when no one else did," "Just looking at him, so composed, the team must have felt strong and confident," and "He chipped in with everything he could as a teammate." Well, she had both of us wondering if she was giving us a hint there!

Keywords for kids: Leadership skills. Role model. Who's your hero? (Have a chat with your child to find out who his or her idol is and see if they can point out what they like about the person.)
Teamwork matters
It was teamwork that led Team India, the underdog, to an incredible win. The camaraderie among the team members, their reliance on each other, and their belief that they could together win the Test series were visible to all. It was a whole new dynamic team. Commentators said time and again how it's an extremely difficult task for a newly shuffled team to gel well and work together in a short time. But the players' single-minded pursuit of victory brought them together that day, and the team emerged victorious! All the players contributed equally- it's teamwork that really won India the trophy Down Under. I think as parents, it's important to inculcate the value of teamwork in our children. In our fiercely competitive world, the focus is always on the individual-you should score better than your classmates, you should come first, you, you ... However, great success comes when you are able to work together as a team. The right teammates give you the strength to move mountains that you never can on your own.
Keywords for kids: Teamwork. Contribution. Looking at the larger picture. (After that game, we now plan something we can do together as a "family" team, and each person performs a task to help us "win".)
Dream big. You make your own destiny
There's no dearth of inspiration in this ragtag bunch of new players in the team! If you want to inspire your child, tell her about Shardul Thakur, and how he overcame a lot of economic and social hurdles to play for Team India-his dream since childhood. Hailing from the Wadval community, which is traditionally engaged in agriculture, Shardul always dreamt of playing cricket. I read that as a child, he'd travel from his village Palghar to Borivali, Mumbai (a three-hour journey), every day to play cricket for his school. I thought more of his parents after reading this-I kept thinking how they encouraged their kid to go all out for what he is passionate about despite all the hardships.
Keywords for kids: Passion. Dream big. Follow your heart. (Again, be the role models here. When your kids see you following your passion, giving it your all, they will automatically learn to do the same.)
Apart from being a historic win for the country, this match has many learning opportunities for all of us. So, spend an evening with your child re-watching the match highlights. While you enjoy the thrill and excitement of the game, remember to talk to her about all the life lessons that she can learn from Team India!

Also read:
12 Amazing Facts About Cricket That Will Surprise You
Why Every Child Needs To Play Sports: John Gloster

About the author:

Written by Jyothi Prabhakar on January 22, 2021.
The author is a journalist, writer and the managing editor at ParentCircle.

Join our Circles to share, discuss and learn from fellow parents and experts!
Looking for expert tips and interesting articles on parenting? Subscribe now to our magazine. Connect with us on Facebook | Twitter | Instagram | YouTube