Possible risks a child might face in the neighborhood and ways to protect them when they are out
Karishma Jangid
5 Mins Read
Karishma Jangid
Follow
Written For ParentCircle Website new design update
Bombarded by media reports of dangers lurking around children, it is natural for parents to feel nervous about the safety of their little ones. Being aware, alert, and proactive can minimize risks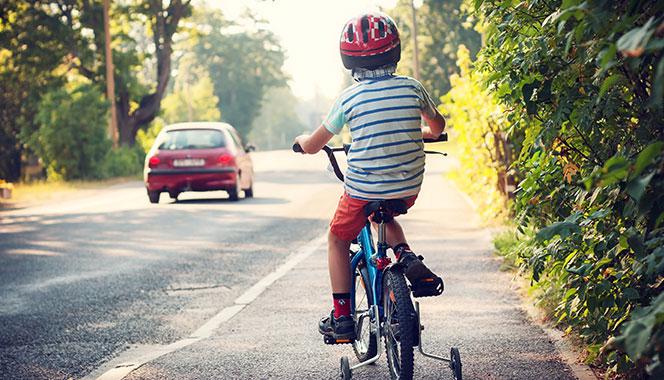 As your precious child grows and takes his first steps into the outside world, eager to explore and experience, your heart swells with pride. But you also worry, consciously or subconsciously, about the dangers that he will be exposed to. The immediate neighborhood is the first area your child will come into contact with. What seemed safe and familiar to you suddenly becomes full of unseen dangers. No, you are not really being paranoid. Danger can hide behind familiar things. What you need to do is to be aware of possible problems, be alert to your own instincts and those of your child, and prepare her to meet challenges sensibly and effectively.
Let us look at the neighborhood itself first. By definition, the neighborhood is the area surrounding your house. Not all neighborhoods are the same. There are different ways to classify the area we live in. It can be a city or town, rural or urban, a posh locality, or a slum. Also, it could be isolated or crowded, or even one or the other at different times. Your child can come to harm in all of them.
What are the risks a child faces in your neighborhood?
Dangers exist in all types of localities. They range from simple to serious. Here's a list of possible risks:
Traffic: Your child may know traffic safety rules in theory. But real-life situations are often unexpected a ball flying out into the road in the path of an oncoming car, for instance.
Playgrounds: These are meant to be fun places, but accidents can happen. A fall from a jungle gym or a disagreement over a turn at the swing which turns into a fistfight are only two possibilities.
Bullying: There are children of all ages and backgrounds in every neighborhood. Some of them could browbeat and bully others, making the weaker children scared and insecure.
Sexual harassment: You think you know everyone in your neighborhood. But you may not realize that people you meet every day are capable of sexually harassing your child. Also, understand that girls are not the only victims of sexual harassment. It can happen to boys too.
Kidnapping: According to UNICEF, nearly 40,000 children are abducted every year in India. The kidnapping could be for various reasons, ranging from ransom to personal vendetta. Crime can happen anywhere.
There are different figures for the rate of crimes in different kinds of neighborhoods. But by being aware and alert, you can equip your child to take care of himself. Here are some practical safety tips to instill in your child:
Knowing the neighborhood: Make the child familiar with her immediate vicinity and the people living there.
Setting boundaries: Mark out limits in your area, and tell your child repeatedly that he is not to go beyond them. This gives him freedom but within limits.
Memorizing details: Teach your child important phone numbers and addresses, so that she can contact you herself, or give the details to a responsible adult in an emergency.
You can protect your children by taking action on other levels too. You can help them:
Identify risks: A child should be able to identify when she is in danger. For that, she should know where the danger lies. So talk to your child about the various risks she can face in her neighborhood, from traffic accidents to kidnapping.
Assess danger: Discuss deviant behavior with your children, so that they can spot the signs and be on their guard. This includes stalking, staring in a way that makes them uncomfortable, and inappropriate touching.
Learn coping strategies:
Teach your children about safe touch and unsafe touch with respect to sexual harassment.
Teach them the correct names of their body parts, including their private parts, so that they can refer to them in generally understandable terms if they have to report an incident to responsible adults. (This also conveys the message that there is nothing shameful about mentioning these parts or incidents related to them).
Teach your child the Shout, Run, Tell routine if they are faced with sexual abuse or harassment, they should shout NO, run away from the place, and tell a responsible adult.
Teach your children self-defense skills. Also, ensure that they carry simple deterrents like pepper sprays if they feel threatened, or they have to go to places that you consider unsafe. Show them how, in an emergency, even a set of keys or a pencil can be used effectively.
And now for some safety tips for parents:
Maintain healthy bonds: As adults, it is our responsibility to create and maintain a safe environment for every child. Establish healthy relationships within your own home, and with your neighbors. Make sure that all children in your neighborhood, not only your own, can count on you for help if needed.
Pay attention to your child: The biggest mistake a parent can make is not hearing a child out, or not taking her seriously when she expresses some misgiving or anxiety. At times, children may hesitate to confide in a parent. So watch out for signs that she is being bullied or harassed in any way.
Know that there's no shame: If you find that your child is being sexually harassed, understand that there's no shame in it, either for yourself or your child. There is no need to hide it, worrying about what others will say. It is your duty to report the matter, and help your child to handle the issue confidently.
Educate the boys: Sexual harassment is not something that pertains to only one gender. It is the duty of every parent to educate their children, both boys and girls, about the issue, and how it is the responsibility of every individual to see that it is eliminated.
Do unto others: Instil in your children the principle that they should behave to others just as they would like others to behave with them. So, they should not bully or harass others. They should be alert to problems, even for others, and help and support those in danger.
As parents, our every action (or inaction) inspires our children. Let us make sure we set good examples by being courageous and responsible.