Are You Prepared To Talk To Your Teen About Porn?
Vritti Gulati
7 Mins Read
Vritti Gulati
Follow
author parentcircle author parentcircle author parentcircle author parentcircle author parentcircle author parentcircle
Does your teen keep her digital device away or turn it off when she sees you? Chances are, she is watching something explicit. Read on to understand how you should talk to your teen about porn.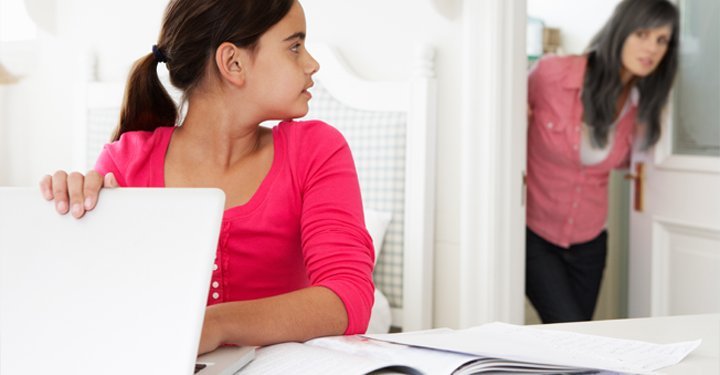 Until a few years ago, it was not easy to access porn. But, the situation has changed with the advent of handheld digital devices and the Internet. Nowadays, anyone with access to technology can easily lay their hand on porn or explicit material.
As children step into teenage and undergo physical and mental changes, they also become curious about sex. A teen's urge to watch porn is often the result of either this curiosity or peer pressure.
Therefore, it is important for parents to step in at the right time to help teenagers form healthy ideas about sex and its importance in relationships. But sometimes, even though parents understand the need to talk to their children, they have no clue how to begin the conversation and carry it forward. The following tips will give you insights on how to broach the subject and have a dialogue:
Remain calm: Prepare yourself in advance so that you are in the right frame of mind for an open conversation. Remember that the tone of voice and the words used during a conversation has a profound effect on the listener. So, use a neutral tone and adopt a nonjudgmental approach. Convey to your teen that he should not feel ashamed about opening up because you are there to listen to whatever he has to say and clear his doubts. One of the ways of breaking the ice would be to ask your teen what motivated him to watch porn.

Differentiate fantasy from reality: Don't be surprised if your teen confesses to you that he has been watching porn. In fact, you should use the opportunity to help your child understand that the acts depicted in pornography are devoid of feelings and emotions. Pornography is far removed from real life, where physical relations serve to convey a sense of affection and intimacy.

Explain the dangers: Although watching porn may seem harmless, tell your teen that it can become a habit which he may find difficult to regulate later. Also, tell him that regularly watching porn may desensitise him. As a result, he may begin relying increasingly on porn to feel stimulated. This fact has been hypothesised in the study titled, 'Brain Structure and Functional Connectivity Associated With Pornography Consumption' by Khn and Gallinat. The study published in JAMA Psychiatry (2014) states, "...the frequent brain activation caused by pornography exposure might lead to wearing and downregulation of the underlying brain structure, as well as function, and a higher need for external stimulation of the reward system and a tendency to search for novel and more extreme sexual material."

Educate about dangers of online pornography: While the Internet can help your teen do well in academics by supporting her learning, it is also where she is most likely to search for porn. In the process, she can become a target of online child predators. When your child visits chatrooms or various websites in search of porn, she could draw the attention of a predator who may then begin grooming her. The predator may share pornographic material and try to convince your child that adults having sex with children is normal. So, make your child understand that searching for porn online can endanger her safety.

Make your child feel loved: Giving your child a pat on his back or a hug, can work wonders. It will make him feel loved and cared for. A child who shares a close bond with his parents is at lower risk of going astray. Remember, you can't stop your child from making friends but you can foster an open and supportive relationship where he shares everything with you.

Parenting a teen can be difficult. But, with a little change in the way you relate to your child, you can help her navigate this phase in a healthy manner. Keep in mind that it is also important to monitor Internet usage. And, if you feel that your child's interest in pornography is affecting her life, seek professional help at the earliest.
Vritti Gulati is part of Safecity's #WritersMovement.
Looking for expert tips and interesting articles on parenting? Subscribe now to our magazine. Connect with us on Facebook | Twitter | Instagram | YouTube