If your child has been diagnosed with a learning disability, you need to find the right school to support their special educational needs, to maximize their learning potential and to prepare them for the future
The teacher asks Shitij to come to the blackboard to solve a math problem. On his way to the blackboard, Shitij, who struggles with dyscalculia and low self-confidence, punches a classmate without provocation. The teacher punishes Shitij. She doesn't realize that his behavior was probably precipitated by his fear that he wouldn't be able to solve the problem and would be embarrassed in front of his classmates. He, therefore, prefers to deal with his teacher's anger (and the subsequent punishment), rather than face the humiliation of not knowing how to solve the math problem.
In dealing with a child with any learning disability (LD), it's important for you, as a parent, to remember that any child would prefer to be viewed as disruptive or disobedient than incompetent or incapable. Thus, it's up to you to avoid labeling (or even perceiving) the child with LD as "dumb."
It's also important to understand that most children with LD are just as intelligent as their peers, but their brains are simply wired differently for learning. They need to be taught in ways that are best tailored to how they process information.
When children with LD receive help early, it significantly improves their chances to learn strategies that will help them succeed in school. Studies have found that among children with dyslexia, a majority of those who do not receive help by Grade 3 will struggle with reading throughout their life. But if these children receive help by Grade 1, almost all of them will achieve age-appropriate reading ability. Let's examine how you could help your child with LD access this help by choosing the right school.
Choosing your child's school
As a parent of a child with LD, you need to find the right school for your child. Depending on the severity of your child's difficulties, you could choose between a mainstream school that offers inclusive education, or a special school for children with special learning needs. Let's understand more about these two school options for your child:
Special school refers to a learning space where children with similar kinds of disabilities study together. If your child's difficulties are severe, you could opt for a special school. Depending on your child's progress, you could switch to an inclusive or mainstream school, if necessary.
Inclusive school is defined as a learning space where both children with and without learning disabilities study in the same class. The objective is to make classrooms equitable for all students despite their differences. If a child has mild to moderate difficulties, an inclusive school is the best option.
When evaluating a mainstream school for your child with LD, ask the following questions:
Is the school staff trained to work with conditions like LD? Are they willing to support these children? Speak not only to the principal and school staff but also to parents of other students with LD to assess the sensitivity of the school.
Does the school have special education support, such as remedial teachers, counselors and psychologists on board? If not, does it have tie-ups for easy referral to occupational therapists, sensory and integration therapists, and speech and language therapists?
If the school does have special educators, does it have the capacity to provide remedial instruction? (See below for details.)
Is the school open to discussion about the child's current level of performance, the child's needs and their progress? Does it keep the parents involved in the child's academic journey?
How is the teacher-student ratio? It should ideally be 1:5 or a maximum of 1:10.
What is a remedial teaching program?
A remedial teaching program (RTP) provides learning support to students with LD. It entails adapting the school curriculum and teaching strategies to suit the unique requirements of each student with LD. Whether the student is in an inclusive classroom or in a special education setting, the focus is on specific and individualized remedial instruction for the student who is struggling with learning.
The flowchart below demonstrates the process of development and delivery of an RTP.
Understanding remedial teaching strategies
As a parent of a child with a learning disability, it's important for you to understand some of the key strategies used to help a child with a learning disability succeed in school.
1. Individualized Education Plan (IEP)
An IEP is a planning tool and written record, tailor-made for each student with a learning disability. It takes into account the following:
Information on LD assessment results
Relevant medical/health information
Accommodations required
Special education and related services
Assessment of strategies used in a student's progress
Life skills or vocational skills required (if the student is 14 years or above)
Monitoring the IEP is an ongoing process, and changes are made as often as required. The school should collaborate with the parents in developing an IEP for a student with a learning disability.
2. Accommodations
These are some alterations that can be made in the learning environment to help students with LD take in information and communicate back their learning. These could include:
Classroom alterations (seating the child in the front row, providing a space with minimal distractions)
Classwork or homework alterations (individualizing the assignments; alterations in the length of assignment, quantity or due date)
Timing adjustments (allowing frequent breaks, extending allotted time for a test)
Examination alterations (oral examinations, help in reading the question papers, allowance for spelling errors)
It's important to understand that accommodations don't constitute an unfair advantage to students, as these students are graded in the same way as the other students in the class. In fact, if timely accommodations are not made, students could be labeled, which in turn leads to stigma and causes a serious dent to their self-confidence and academic achievement.
3. Modifications
These are the changes in the delivery, content, or instructional level of the subject matter or tests. Unlike accommodations, modifications to content may change or lower expectations. This tends to create different standards for children with LD from others in the same class. For example, a Grade 5 child with LD may still be working on addition and subtraction (of Grade 2 level), because he isn't ready to learn fractions and decimals.
4. Peer Support Programs (PSPs)
More suitable for students of higher grades, PSPs entails training students who perform better in a particular subject to guide those facing difficulty in a subject. This could take the form of self-study sessions, group teaching, or study sessions outside the classroom. A PSP not only helps students with LD in their areas of difficulty but also helps their peers develop crucial communication and interpersonal skills.
Accommodations by CBSE
The following concessions are provided by the Central Board of Secondary Education (CBSE) for students diagnosed with LD in India:
Provision of a scribe
25% additional time for completion of the examination paper
Oral tests along with written tests up to class 9, and promotion based on the average of both
Exemption from second and third languages
Flexibility in choosing subjects
Standards of arithmetic are relaxed as per the level of the child
Permission to use calculators
Exemption from diagrams, charts and graphs
Direction errors in geography and other subjects to be ignored
The question paper will be read out to students with dyslexia, and they are exempted from spelling errors and writing answers in detail.
Questions to keep in mind while evaluating a school's RTP
Step 1: Has your child with LD been assessed?
Assessment includes a thorough evaluation of the child's learning style, learning needs, strengths and interests.
Step 2: Have the goals and expectations been chalked out?
The goals to be achieved and specific expectations for the current academic year of the child with LD are formulated after Step 1. In this process, the student's current level of achievement should also be taken into account.
It's also important to provide ample opportunities for independent and well-designed exercises for more intensive practice—a key way to help a student achieve their learning goals. This helps foster a sense of achievement in the child, and makes it easier for them to advance further in their learning. For example, while giving homework, emphasis could be laid on the application of the concept taught in class. If the addition of two-digit numbers has been mastered, homework could include instructing the child to take a shopping list and asking them to add the prices of all the items purchased.
Step 3: Have curriculum adaptations been made?
Curriculum adaptations help accommodate the learning characteristics and requirements of students with LD. A common example of such an adaptation is classifying textbook content as core and noncore, in line with the teaching objectives and the student's ability. Core content involves in-depth learning and application of topics considered basic and important. For example, in arithmetic, knowledge of multiplication and division is considered core because it's important for use in everyday life. On the other hand, noncore content is that which is not essential for everyday living, such as trigonometry. Noncore content can be streamlined or selectively taken up for learning.
Step 4: Do teachers make adaptations in teaching strategies and materials?
Theory-heavy teaching, which is devoid of application, doesn't work with students with LD. Instead, teachers should look to diversify teaching activities to enable the students to participate actively during the learning process. For example, discussions, oral reporting, games, oral quizzes, role play, field trips and experiments may help enhance a student's interest in learning and stimulate their thinking.
Using appropriate teaching aids and materials can help consolidate a student's learning. Examples include use of models, figures, concrete objects, number cards, word cards, sand tray, or audiovisual equipment.
A well-designed learning environment is also crucial, especially to capture a student's attention and facilitate learning. A pleasant, comfortable and stimulating teaching environment will help support remedial teaching. For example, setting up a self-learning corner, book nook, toy corner, science corner, learning resources corner, or stationery corner. Seating arrangements could be flexible to meet the specific teaching purpose of each activity—students can be organized in a circle, pairs or rows.
EXPERT TAKE
ParentCircle spoke to Hamsa Sriram, a special educator at a school in Chennai. Excerpts from the interview:
Q. How does a special educator help a child diagnosed with a learning disability, such as dyslexia or dyscalculia?
A. As special educators, this is what we do:
First assess a student's ability, their strengths, their weaknesses, their needs. Then we put together an individualized education plan (IEP) for the child
Focus on the learning rather than curriculum, which is crucial
Give the child successful experiences to motivate them to learn and cooperate further
Modify the curriculum without lowering the standards, and create a learning space where the child feels safe and competent
Provide special accommodations during exams, like time extension or reading out questions
Work closely with teachers, parents and therapists to help speed up learning
Q. You mentioned an individualized education plan (IEP). How is it helpful?
A. An IEP is a blueprint that sets the goals to be achieved by the child in different academic areas and other extracurricular activities in the school environment. The plan is designed to ensure that a child's needs are met and the child will have a great experience at school. It is not a usual practice in most schools, but awareness is increasing, so one can expect positive results.
Q. How common are remedial teaching programs (RTPs) for children with LDs in India?
A. Currently, RTP is not very common in Indian schools. But it's picking up. There are many institutions working on spreading awareness and setting up teacher training programs all over India. Now, a new concept is evolving: Instead of creating special educators, teachers are given training on how to handle children with LDs in a regular classroom setup.
Communicating with your child's school
Let us look at some things you can say to your child's teacher(s), and how you can say them better: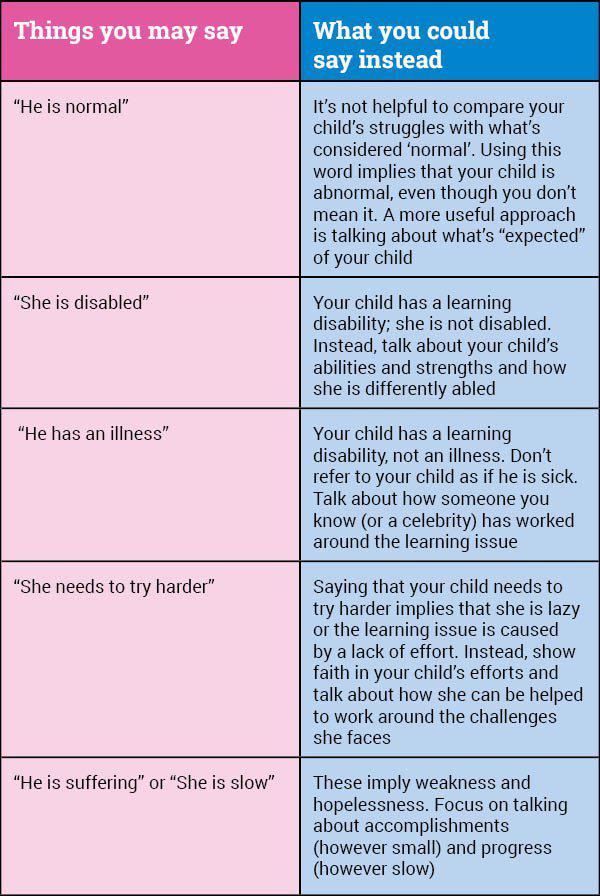 Patience, respect and a willingness to aid learning are the best tools for helping children with LDs. Investing all your time and energy in the school to help your child with a learning disability is unlikely to solve the issues. Schools, after all, form only one part of the solution. Your attitude toward your child and your involvement in supporting your child are equally important in helping your child deal with their learning challenges and become successful in life.
In a nutshell
As the parent of a child with a learning disability, you need to find the right school for your child. Depending on the severity of your child's difficulties, you could choose between a mainstream school that offers inclusive education, or a special school for children with special learning needs.
A remedial teaching program (RTP) aims to provide learning support to students with LDs. It entails adapting the school curriculum and teaching strategies to suit the unique requirements of a child with a learning disability.
An RTP includes assessing the student, formulating goals and expectations, making curriculum adaptations, and modifying teaching strategies and materials.
Be mindful of the words you use to talk about your child to their school.
What you can do right away
For your child with a learning disability, collaborate with their school in formulating an individualized education plan (IEP).
Speak to your child's school about offering accommodations to your child, based on your child's unique strengths and challenges.