Ten minutes of fun after an hour of hard study can make a huge difference to your child's exam preparation. If you are looking for some top stress-buster ideas, you are at the right place. Read on
As the days draw closer to the annual board exams, stress levels start rising higher and higher a common scenario in most households. From charting timetables to setting hourly goals, teens literally go into an overdrive of preparation. Parents too feel the pressure and are often seen trying to do their bit with frequent checks on the children, whipping up healthy meals, giving motivational talks and what not!
In the middle of the heightened hectivity, what is conveniently forgotten is the importance of mini-breaks. It's time we all take a deep breath, literally! Get your child to take a break between hours of studying. Trust us, it helps enormously. In this article, we share some interesting stress-buster ideas for the ongoing exam season. Sit back and relax!
Why breaks are mandatory
A 2011 study conducted at the University of Illinois concluded that anyone doing a task for a long time will tend to lose focus and performance, thereby impacting the effectiveness of the task at hand.
The authors explain the significance of small diversions or breaks by illustrating how they can improve a person's ability to focus on a task for a prolonged period of time. A break refreshes the mind and allows your child to look at a problem from a fresh perspective. Whether he likes to go for a walk or listen to music to unwind, encourage him to take short breaks to avoid mental fatigue. And this is particularly important during the exam season.
How long is an effective break?
While every child is different, what is common is the need for a break from time to time. Research indicates that the amount of break required during study hours depends on the level of focus and study pattern of the child. The span of attention while studying varies from child to child. While some children may have an attention span of a mere 20 minutes, others may be able to stay focused for more than a couple of hours.
It's important to understand your teen's study pattern and attention span, so you can help him decide when he needs a break during study hours. Your child might need a 10-minute break after a couple of hours of studying, or a 5-minute break after every hour. Begin by making sure he understands his pattern of study and plan the breaks so he gets a healthy balance of breaks and study time.
Tips for effective breaks
Let your child decide how often he might need a break between study hours and for how long – short breaks at closer intervals or longer ones after a few hours of studying (whatever works best for him as per his study pattern)
Plan stress buster activities your teen can do by herself or with you during these breaks (scroll below for refreshing ideas)
Make sure the activities are not distracting or over-stimulating, as your child may find it difficult to get back to focusing on her work post the break
When using gadgets during his breaks, make sure your child keeps track of time spent and doesn't continue using gadgets beyond his break time
Stress buster ideas for short breaks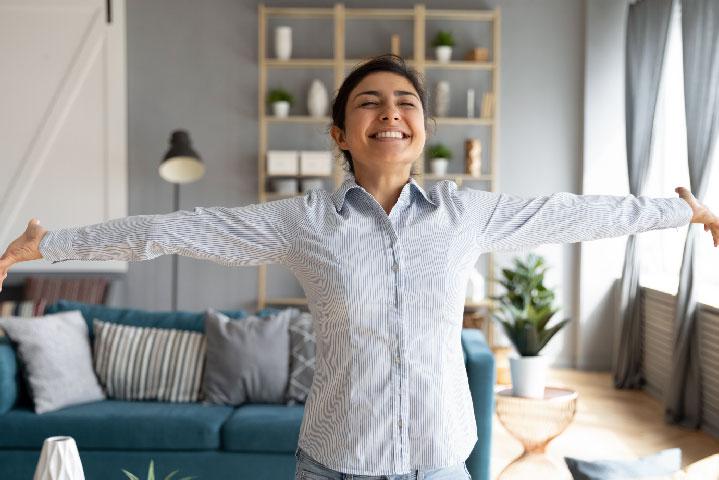 Here, we look at study breaks that are less than 10 minutes long. These activities are just like a quick retreat that can rejuvenate your child for the next session of intense learning. Here we go:
1. A lot can happen over a cuppa
Teenagers love a cup of hot chocolate any day. Brew a hot cup of your teen's favorite beverage, decorate it creatively and get her to jump at the sight of it. Give it to her and let her relax or daydream! Join her for a light chat if she's up for it.
2. What's your music?
Music is one of the best ways to soothe a soul and relax a mind. Ask your teen to put on his headphones and listen to his favorite music. Some kids prefer calming music while some may prefer pop music, so let your teen enjoy his playlist and before getting back to his books energized.
3. Fruit it up
Get your teen to pick his favorite fruits. Get him to help you chop them up and make a fruit salad. Top it with dates, custard and a drizzle of honey and let your teen enjoy a bowl full of goodness.
4. Move-n-groove
If your teen likes to dance, let her groove to her favorite song when she needs a break. A couple of moves can improve her blood circulation and keep the brain active! This will be a blessing for those children who like to move around frequently!
5. Stretch those muscles
Urge your teen to do a two to five-minute stretch between sessions, either at his study table or while standing up. This will help improve his blood circulation.
6. Step out
Ask your teen to step out of her room, into the garden or the balcony and relax. Walking around for some time or spending time with her pet, will help her refresh.
7. Just breathe
Teens tend to get overstressed, especially during last-minute revisions. Together, practice a few breathing exercises to help your child relax. Taking slow, deep breaths increases the blood flow to the brain and it will help your child be more focused when he gets back to studying.
8. Laugh out loud
Laughing out loud can rejuvenate the brain. Take a break and talk about anything under the sun, other than exams or studies. Share a few jokes to tickle the funny bone. Also, check if your child wants to have a quick light-hearted chat with his friends for a refreshing break.
Stress buster ideas for long(er) breaks
Your teen needs a break after long hours of study. Here are some de-stress activities you can suggest for him to refresh his mind in under 30 minutes.
1. A refreshing game
No couch potatoes, please. We all do not like seeing our children stick to gadgets. Instead encourage your child to play a quick game of basketball, cricket, football or badminton with you or his friends. A sporting activity will keep your child in good physical shape during the exams, which is just as important as mental strength. Remember, exams are not just about the mind, they are about body, mind and soul.
2. Following one's heart
If your teen is involved in activities like dance, music or skating, let him practice this at home for some time. If he is into sports, urge him to run around the block, practice dribbling or kick a football. Doing such activities can be refreshing for your child. Do not stop any activity and dampen the spirit. Rather, regulate it and keep the spirits high.
3. Let's scream for ice cream
Nothing feels more rewarding than a scoop of your child's favorite ice cream. Offer to take your teen out for a treat after his schedule of revision, or after dinner.
4. Calling all bookworms
Get your child to flip through a few pages of a light read, such as a magazine or a newspaper, when she needs a break from her syllabus. Reading expands your child's imagination. One big rule here the book should be a fun and light read and should not exercise your child's brain too much or stimulate her emotions.
5. The power of a power nap
Remember what you love doing when sitting in that bus or cab on your way back from work? The power of a power nap can never be underscored. It is the same for children too. If your teen needs a nap during his study break, gladly let him sleep a bit! A power nap for a few minutes between study hours can refresh his brain.
6. A breath of fresh air
Remember the good old terrace walk when you were a child? Nothing could ever beat the idea of breathing in some fresh air on the terrace. When your child feels like taking a break, encourage him to go outside for a walk. The outdoors will do him good after sitting at his desk all day!
7. Bake a cake
Get your teen to whip up her favorite cake or a fresh batch of cookies when she needs a break. Taking her mind off studies for a while can definitely help, especially when it ends in a sweet treat!
8. Good old board games
Never store away the good old family board games just because the exam season is underway. Family board games are a great way to refresh your teen's mind. Let him try his luck at some classics like carrom, Ludo, Pictionary or a round of cards. A few minutes of play can help him de-stress.
So, go on, give your child the break he deserves after hours of study with these activities. Help him face the exams with confidence and keep the exam blues at bay! ParentCircle wishes all children the very best in their exams this year!