Running out of ideas to keep your kids engaged during the winter holidays? Worry no more! Here are some fun family Christmas games to turn boring days festive!
Katy loved everything about Christmas – the Christmas tree, the decorations that dad put up at home, the fairy lights, the sumptuous Christmas dinner, the carols and hot chocolate. Christmas was also the time when she didn't have to go to school and could play all day. She would have fun playing with her friends, reading a book or doing a fun activity, but would also sometimes run out of things to do. So her mom handed her a book of Christmas games that she used to play from, as a kid with her family. Katy chose a couple of fun games from the book and the family had a great time playing together!
Christmas is indeed a favorite time of the year for kids and adults alike. The holiday mood is in the air and some days you just need a break from taking the kids out on parties, play dates and parks. We know you've been using all the tricks up your sleeve to keep the kids busy and out of trouble during the winter break.
So, we took a few pages out of Katy's book to help you keep the spirit of the season alive in the family.
1. Snowman stack and hit
Do you wanna build a snowman? All you need for this game are some paper cups, colored paper and crayons or sketch pens. Get your kids to paint the paper cups white and let them decorate them like snowmen. Stack them vertically like a tapering tower and hit them with rolled-up white socks (pretend they are snowballs). You can also turn this into a bowling game by using tissue boxes to make bigger snowmen.
2. Christmas charades
Add a Christmas twist to this classic game of dumb charades by guessing objects, movies and carols associated with Christmas. Split everyone into two teams and write down common Christmas terms. You can write down candy canes, Jingle Bells, Hark the Herald, Santa's sleigh, Home Alone movie and more. One member from each team has to act out and get his team members to guess the word or phrase that the other team gives him. Add a special gift for the team that wins.
3. Santa limbo
This is a great game for both adults and kids. Set up two poles wide apart in the room and fix a limbo stick at a starting height (about 3 feet or so). Ask participants to stuff a pillow under their shirts to make it look like a Santa belly and ask them to walk under the limbo stick, without touching it. Slightly lower the stick after everyone has tried once and keep lowering till there is one winner. Fits of laughter guaranteed!
4. Christmas memory game
Print two each of eight Christmas images like Christmas tree, Santas hat, elves, mistletoe, etc., and place them on a table, face down. Ask your kids to pick one and remember what card they picked. They must then try to find a match, within 30 seconds. Play until a predetermined score is reached by someone.
5. Draw a Christmas tree no peeking
Line up the players and hand them a paper plate and sketch pen. Ask them to hold the paper plate on their heads and try to draw a Christmas tree atop it. Keep a timer and see who drew the picture close enough! The kids will love the scribbles and have fun talking about what the drawings turned out to be like!
6. Place the nose on Rudolph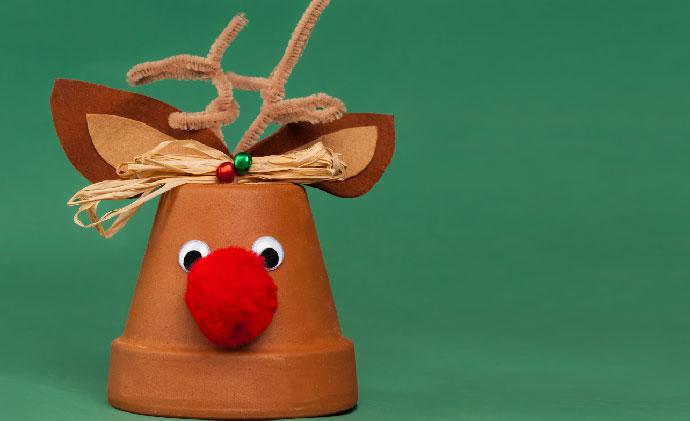 Stick a picture of the famous red-nosed reindeer, Rudolph on a wall. Roll up red socks or cotton balls and try pinning the nose exactly at the right spot on Rudolph's face. An interesting twist you will need to do this blindfolded! Direct the players or confuse them to have a hilarious afternoon as they try to pin it all over the wall!
7. Scavenger hunt
Make a list of Christmas things around the house during Christmas and write them on cards. Split into teams of two or three or go solo, trying to find all the objects on the cards assigned to you. Make sure you award the team who find everything on their list with candies or cakes!
8. Guess what's in Santa's hat
Fill up a large Santa hat with Christmas objects or small gifts. Tie the mouth and pass it around to the players. Let them feel the hat from the outside and guess the objects. At the end of a round, hand out the objects, each person guessed right, as a little Christmas present!
9. Ring the Reindeer's antlers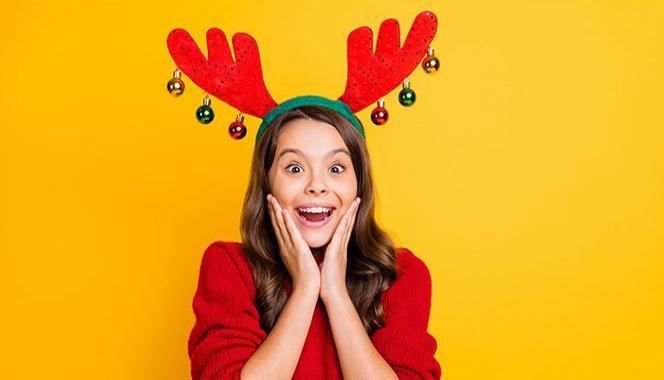 Get a reindeer headband and put it on one of the players. The other players must line up to throw rings onto the antlers. Each person gets three chances to throw and the person who manages to get three rings onto the antlers wins! Take turns to be the reindeer for more fun!
10. Who am I – Christmas version
For this fun take on a classic game, print 32 cards with Christmas or holiday characters that your kids know and adore. They can be Elsa, Anna, or Olaf from Frozen, Grinch, Santa Claus, an angel, Gingerbread man, elves or one of Santa's reindeers. To play the game, sit in a circle and make each player wear an elastic band around their head. Each player has to pick a card without seeing it and tuck it into the elastic band so everyone can see each other's cards but not their own. Take turns to ask the other players questions about the character on your card and try to guess who it is!
11. Find Santa's helpers
Hide elf toys around the house and ask your kids to find them in under a minute! The player who gets the maximum number of elves will get a present. Limit the playing area to one or two rooms to avoid a mess!
12. Jingle bell toss
Take small paper cups and color them red or green. Let your kids help you with this. After the paint dries, stick 10 to 12 cups, base down on two cardboard sheets or canvas. Make two such boards and place them on the floor, directly across each other, and several feet away. Get a few jingle bells from your Christmas ornaments and take turns to throw them into the cups on the other side! Prop the cardboard at an angle if you want to increase the level of difficulty.
13. Naughty or Nice
Take two bowls and place them on stands on one side of the room, a good distance away from each other one reading Nice and the other Naughty. Keep an assortment of red and green balls in another bowl across the room. Kids can take turns to put the red balls in the Naughty bowl and green ones in the Nice bowl, one at time, by picking them up in their mouth. The player who does this in the shortest time wins!
14. A to Z of Christmas
This game works great for a group! Gather the whole family and give them a task they need to collect objects around the house related to Christmas, for every letter of the alphabet! For example, they can bring an angel toy for A, bells for B, candy canes for C and so on. They can split into teams as well to collect the most objects in time!
15. Storytelling
You can never go wrong with this! Gather the kids and start by asking what story they like. Pick a story and start with the first line. Each kid must continue the next line, after repeating the first line. This goes on till the last kid completes the whole story! This will make the kids gather around the Christmas tree for a fun story-filled afternoon!
So, put on your game face and rock the Christmas season with these games, which will bring your family closer! No more boring holidays for your kids this winter. Get started with your favorite game today! Merry Christmas to you all!