5 delicious dessert recipes to make for your father this Father's Day
Divya Lodha
6 Mins Read
Divya Lodha
Follow
Written For ParentCircle Website new design update
Planning to impress your dad on his special day? Indulge his sweet tooth with these delectable treats and you are sure to win some brownie points!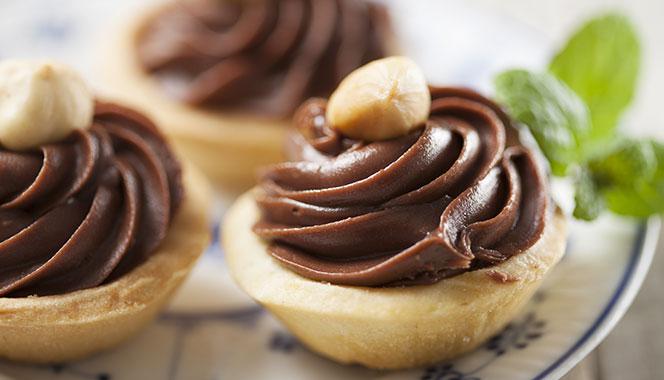 There is nothing like spoiling good old Dad with a lot of love and some seriously sinful treats. Ditch the perfumes, ties and shaving kits. Instead, surprise your father with some homemade desserts that are not too difficult to make, but will surely melt his heart.
Your father might say that he wants to cut down on desserts this year, but a little bit of indulgence is fine. So, here are five interesting recipes to try.
1.Chocolate tarts
Ingredients
For tart shells
1 1/4 cups (180 g) all-purpose flour
1/2 cup (55 g) powdered sugar
1/4 teaspoon salt
1/2 cup (115 g) cold butter, cut into small cubes
1 large egg
1/2 teaspoon vanilla extract, optional
For ganache
200 g dark chocolate
200 g cream
Method
For tart shells
Blend flour, sugar and salt in a food processor for a few seconds, until combined.
Add butter and pulse, until the mixture becomes crumbly and resembles a coarse meal, about 15 pulses.
Add egg and vanilla extract and keep pulsing until the dough is no longer dry and starts to clump together, about 10-15 seconds.
It should be crumbly and not form a ball of dough.
Turn dough onto a lightly floured surface and form into a ball. It should come together easily without being sticky.
Flatten the ball slightly with your hands to form a thick disc. Wrap with plastic wrap and refrigerate for at least 1 hour.
If you don't want to use the dough right away, you can refrigerate it for up to 3 days, or freeze it for up to a month and then thaw it overnight in the fridge.
Take the dough out of the fridge and let it sit on the counter for a few minutes to soften slightly for easy rolling.
On a lightly floured surface, roll the dough out into an 11-inch circle, then place gently on a small tart mold.
Brush away any excess flour on the surface. With a sharp knife, trim the edges of the pastry to fit the tart pan.
Cover pan with plastic wrap and place in the freezer until firm, about 30 minutes. Frozen dough is less prone to shrinking while baking.
Preheat oven to 190°C and place pan in the center.
Bake for 20 minutes with some weights on the dough.
Remove the weights and bake for about 10 minutes longer, until golden brown and dry.
Transfer to a wire rack and let cool completely.
For the ganache

Melt chocolate and cream together in the microwave until well combined and melted.
Mix it well and let it cool down.
Take a star nozzle in a piping bag and fill it with the set ganache.
Pipe the rosette on top of the shells.
2. Chocolate mustache cake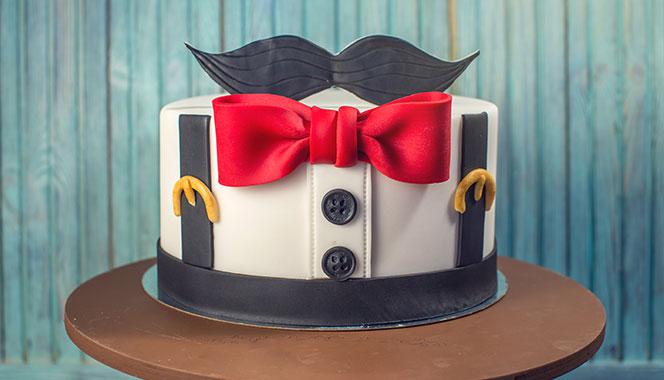 Ingredients
For the sponge cake
1 3/4 cup all-purpose flour
4 tbsp cocoa powder
2 tsp baking powder
1 tsp baking soda
100 g butter
400 g condensed milk
1 1/2 tsp vanilla essence
1 cup milk
1 tbsp instant coffee powder
1 tbsp vinegar
For frosting
300 g dark chocolate
300 g fresh cream
30 g butter
Method
Preheat oven to 180°C.
Grease a baking tray. Dust with flour. Keep aside.
In a bowl, take plain flour, cocoa powder, baking powder, baking soda and salt. Mix well.
In another bowl, take butter and beat well until soft.
To this, add condensed milk and combine well.
Add vanilla essence. Add milk and flour in batches. Keep whisking to avoid lump formation. Add instant coffee powder, mix well.
Finally, add vinegar and mix quickly.
Pour the prepared cake mixture into a greased tray and cook for 35-40 minutes or until a toothpick inserted comes out clean.
Place it on a wire rank and allow it to cool.
For the frosting
Melt the dark chocolate on a double boiler or the microwave.
Combine with the butter and fresh cream until smooth.
Once the cake cools, remove it from the cake tin. Add the desired amount of frosting on top to decorate it.
For the mustache
You can add a mustache to make it an apt Father's Day cake. Search for a mustache silhouette online and print out the image. Cut out the mustache.
Roll out black fondant (you can buy this from baking supply stores) into about five mm thickness, place the printout on the rolled-out fondant and cut out the shape using a sharp blade. Leave the fondant to dry for about 30 minutes before cutting out the shape. This will give you clean lines.
Using a fondant wheel, make wavy lines on the fondant mustache. Making the lines on the mustache before removing the excess fondant will ensure it does not lose shape.
Leave the mustache to dry again before placing it on your cake.
3. Peanut butter cookies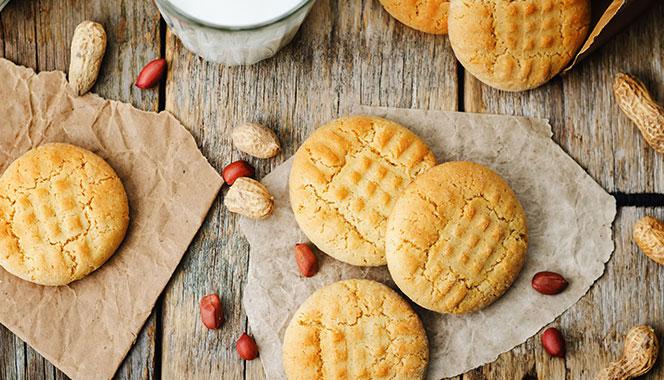 Ingredients

250 g all-purpose flour
220 g castor sugar
1 tsp vanilla essence
170 g soft unsalted butter
4 g baking soda
1/4 tsp salt
85 g peanut butter
Method
Preheat the oven to 170°C. Line a baking sheet with foil and spray with oil or apply butter on it.
Take flour, salt, baking soda in a bowl and mix well. Set aside.
Take butter in a mixing bowl, add sugar and vanilla and beat until creamy.
Add peanut butter to it.
Now add in the flour mixture and combine well.
Put the mixture in a piping bag and pipe adequate amounts onto the baking sheet.
Bake for 18 minutes. Take the sheet out of the oven and let the cookies cool.
Store in an airtight container.
4. Blueberry muffins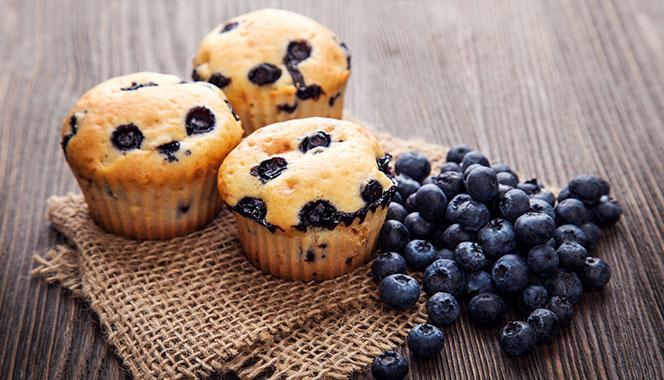 Ingredients
100 g unsalted butter softened, plus 1 tbsp melted butter, for greasing
140 g golden caster sugar
2 large eggs
140 g natural yogurt
1 tsp vanilla extract
2 tbsp milk
250 g plain flour
2 tsp baking powder
1 tsp baking soda
125 g fresh blueberries (or use frozen)
Method
Beat the butter and caster sugar together until pale and fluffy.
Add the eggs and beat for 1 min, then mix in the yogurt, vanilla extract and milk.
Combine the flour, baking powder and baking soda in a bowl with 1/4 tsp fine salt, then tip this into the wet ingredients and stir in.
Finally, fold in the blueberries and divide the mixture between the muffin holes.
Bake for 5 mins at 190°C, then reduce oven to 175°C and bake for 15-18 mins more until risen and golden, and a cocktail stick inserted into the center comes out clean.
Cool in the muffin tin for 10 mins, then carefully lift out onto a wire rack for further cooling.
These muffins will keep for 3-4 days in an airtight container.
5. Vanilla cupcakes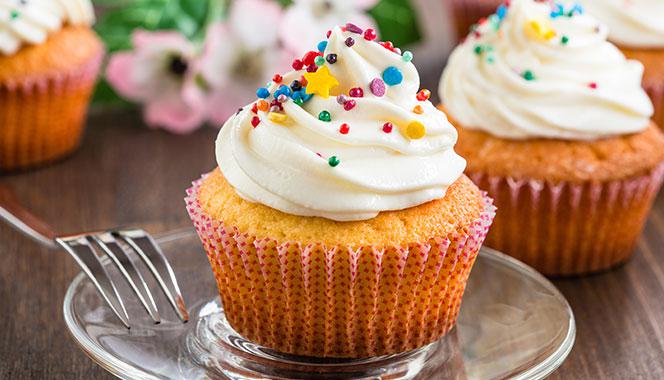 Ingredients
1/4 cup salted butter, softened
1/4 cup vegetable oil
3/4 cup sugar
cup buttermilk, room temperature
2 large eggs
2 tsp vanilla extract
1 3/4 cups all-purpose flour
2 tsp baking powder
1/4 tsp salt
Method
Line a muffin tin with cupcake liners. Preheat oven to 165°C.
In a large mixing bowl, use a hand mixer to cream the butter, vegetable oil and sugar together until light and fluffy. Add in buttermilk, eggs, and vanilla extract and beat until combined.
Add in flour, baking powder and salt, and mix until just combined. Be sure to scrape the sides and bottom of the bowl to make sure everything gets mixed in.
Fill each cupcake liner half full. Bake at 165°C for 15-18 minutes, until a toothpick inserted into the center comes out clean.
Remove cupcakes from tin and transfer to a wire rack to cool completely before frosting with your favorite frosting.