It's all about being smart this Diwali! Here are some tips for a great online shopping experience this season. Also, use social media well to celebrate the festival in the best possible way
Festivals are a great time for bonding with family and friends. And Diwali is no exception. This is the time to prepare sweets and other delicacies together, get your home festival-ready and not to mention, shop for new clothes and gifts, for yourself and your loved ones.
Today, however, the shopping experience itself has changed. Look at the front and back pages of newspapers, for instance. These are filled with offers galore, this festive season. And most pertain to online sales that seem to come with the most attractive discounts. In fact, till recently, festive purchases meant making a visit to a popular shopping area or your local mall. But now it can be done with just a swipe of your phone, or tablet, within the comfort of your home. Diwali dhamaka has taken on a whole new meaning now!
Like we said before, online shopping has become the norm today, making your shopping experience quick, convenient, and affordable. The best part is that you don't have to deal with jostling crowds and you also save on fuel and parking charges. However, it is good to be cautious while shopping online, no matter how attractive and lucrative the offers may seem.
So, here are a few tips to make the best use of a digital Diwali before you go overboard shopping online!
Products you can get good deals on during the festival season
Electronics 
Laptops, tablets, mobile phones, and other electronic gadgets like headphones, speakers, and printers are some of the best things to buy online. You can find some really good bargains at this time, and the deals are usually much better than what regular stores offer.
Home appliances
Items like grinders, mixers, water purifiers, induction stoves, and toasters are often sold for great bargains. Bigger appliances like microwave ovens, refrigerators, washing machines, televisions, air-conditioners, and home theatre systems are also sold at competitive prices. Often, you can even exchange your old appliance, getting a better price on the new product.
Utensils
Non-stick pots and pans, storage boxes, lunch boxes, water bottles, coffee mugs, and other kitchen utensils are common items that can be bought at online sales.
Clothes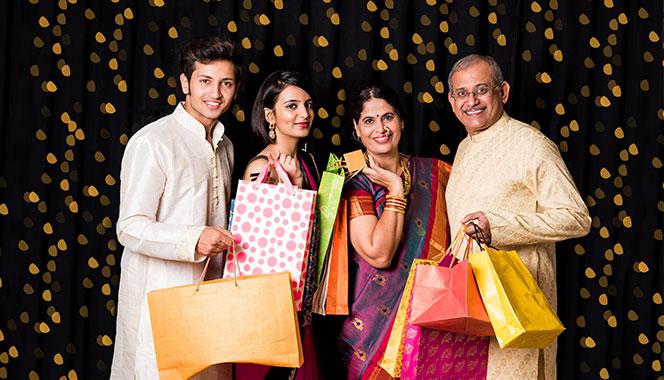 The festive season is a great time to shop for clothes as big discounts are offered on most branded apparel. Besides, regular stores can only stock limited designs and sizes. So, if you are looking for a design in a particular size, you are more likely to find it online. Make sure to check the size charts available on the website to ensure you order the right size.
Personal grooming products
Razors, trimmers, hairdryers, hair straighteners, and accessories like make-up brushes and curlers are also items that are discounted online. Often there are also very attractive offers on personal care products including body lotions, moisturizers, soaps, and shampoos.
Toys and accessories
You often find great deals online for children's toys and baby care items like diapers, feeding bottles, and sterilizers from reputed brands. These products are otherwise quite expensive.
Be careful when you buy these products online
Make-up
Colors and shades might appear different on screen than in real life. Search with specific details like product code or name.
Furniture and furnishings
It is difficult to judge the comfort, quality, and color of furniture as well as furnishings like upholstery and curtains, online. You may also be charged extra for shipping, in the case of heavy or large pieces of furniture. Do check the online retailer's return policies beforehand, in case your item arrives damaged.
Linen bedding
While huge discounts are offered on linen products, it is important to check details such as the size and quality of material before buying items like towels, bedsheets, or quilts.
Mattresses
Since most of the sellers do not offer returns or refunds for mattresses, make sure that you order one in the right size and level of comfort.
Designer bags
If you find popular designer bags being sold at rock-bottom prices, chances are that they are knock-offs or fake, so read reviews carefully before buying.
Shoes
Measure the length of your foot and use the size chart provided to get the right shoe size. Remember that sizes can either be in  Indian, American, or European standards.
Jewelry and watches
When buying expensive jewelry online, make sure the site is owned by a reputed jeweler, who can vouch for the purity and quality of the product. For branded watches and jewelry, ensure that the seller has a certificate of authenticity.
Items on flash sale
When fast-selling products are offered on a surprise sale or discount, check that the items are really being sold at a discount or, at their actual price.
How to save money through online shopping
Check for prices and discounts
These fluctuate throughout the year, and you are most likely to get the best discounts during the festive season. So, if you are looking to make an expensive purchase, it is worthwhile waiting for festival sales when you are sure to get a good deal. Keep in mind that you can check out the interest-free equated monthly installment (EMI) options available on most sites. This way you don't have to pay the whole amount when you buy the product.
Shopping sites also offer additional discounts on certain credit or debit cards. Look for the promo or coupon code in order to get additional discounts. Although a marketing tool, you can use cashback offers to accumulate credit that, in turn, can be used for later purchases. Always check for extra charges, fees, or taxes (handling charges, delivery charges, or convenience fees) before you place an order.
Choose secure sites to shop 
Only purchase from popular and reputed websites with a good number of reviews. New online shopping sites are cropping up every day, so make sure to choose trusted ones. Don't be swayed by cheap prices alone. Check that the website address begins with HTTPS as this indicates that the site is secure and that it is safe to provide your personal information and card details. It is also advisable to make sure that the site has a responsive and reliable customer service department. This is helpful when you have any difficulties with the product or if you wish to return it, later.
Look for service and warranty 
Check for a warranty on expensive products. Sometimes for a little extra, you can purchase an extended warranty or an annual maintenance contract for a product. Check the return policy for any product you buy. In case you want to return it, you should be able to do so without losing any money. Also, make sure to keep all your invoices and other product-related documents for future reference or, in case you wish to return the product.
Social media for a digital Diwali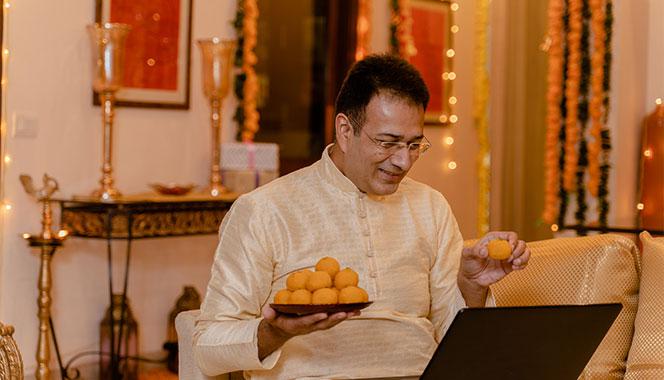 Social media has become an integral part of our daily lives, so it is quite natural to use these platforms to celebrate Diwali too. Here are a few ways in which you can digitalize your Diwali festivities!
E-invites: If you are hosting celebrations, get creative and design your invites using simple applications. Send out the invitations to your friends and family via these platforms.
Online events: Create an event online through social media platforms, and ask family members to RSVP to the virtual celebrations.
Hashtags: To make things more interesting, create a fun hashtag for the festival celebrations. This way all your guests can share and view photos or videos of the event online.
Community events: Use social media websites to get a gist of the festive events being organized in your locality or city. This will help you choose the ones you would like to attend. This is also a great way to network with people from the community and celebrate festivals together.
We hope you have a pleasant experience shopping online this Diwali. Do keep these essential tips in mind and shop smart. After all, it is real money that you are spending in the virtual world! Similarly, use your social media platforms wisely. Share the joy. Spread the light.