Do you rarely get to sit down and have a meal with your family? Here's why you should make family dinners a tradition
When Danielle Mascarenhas, a young mom in Bengaluru makes dinner, she always gets her children to help. So, three-year-old Sara peels garlic while seven-year-old Nikhil cuts veggies and greens for mom. Their father Rohan, sets the table and helps clean up, or takes turns to cook. Getting dinner ready makes the children feel all grown up. It is something they really look forward to. But what is more important is that the Mascarenhas couple is giving their children valuable life lessons they see their parents sharing chores; they see love, mutual respect, and care.
Here are a few reasons why family dinners are important:
1. Ideal time of the day
Given the busy pace of life today, dinner is literally the only occasion when the entire family is at home, at the same time. Hence, it is the ideal time to unwind, relax and enjoy each other's company.
According to a 2014 report by the American College of Pediatricians:

Family meals are powerful for many reasons. They impact all our senses - the sight, touch, taste, and smell of food, and even listening to the family conversation. Family meals offer the opportunity to spend time together, reconnect after a busy day, communicate with and listen to each other, share values and ideas, and solve problems.
Sometimes, it may require juggling schedules and some advance planning, but it is essential that the entire family comes together for dinner.
2. A chance to bond and bolster

Mumbai-based pediatric nutritionist Dr. Neha Sanwalka Rungta stresses that family dinners are a way to connect and build healthy relationships. With both parents working in many households, children often don't get quality time to spend with or, know their parents better. If at least one meal a day is had together, it's great for the parent-child relationship, she stresses. Also, dinners don't just help you bond better, they are also good for the soul.
According to The Family Dinner Project (FDP), a nonprofit organization that operates out of Harvard University in the US:

Sharing a fun family meal is good for the spirit, brain, and health of the family. Family dinners are linked to better academic performance, higher self-esteem, and a greater sense of resilience, in children.
For instance, the conversation around a shared meal can help increase children's vocabulary, broaden their general knowledge and, improve their social skills.
3. Time for new experiences

You could use the family dinner as an opportunity and an occasion to convert your fussy eater into a happy eater. Dr. Rungta says this is when you should get your children to try new foods as well. She suggests that parents can use family dinners as a time to introduce their children to new tastes. A child is more likely to eat new food, like avocado, if he sees his parents eating the same.
"When children see their parents eating all sorts of foods at the family dinner, they are more likely to choose those foods for themselves. After all, children learn best by example."
Besides, a family dinner is a great way to teach children table etiquette - tell them it is not okay to throw food down, spit food out or, be wasteful. Children can also learn to sit still and not bang cutlery on the table.
4. Focus on cuisine and culture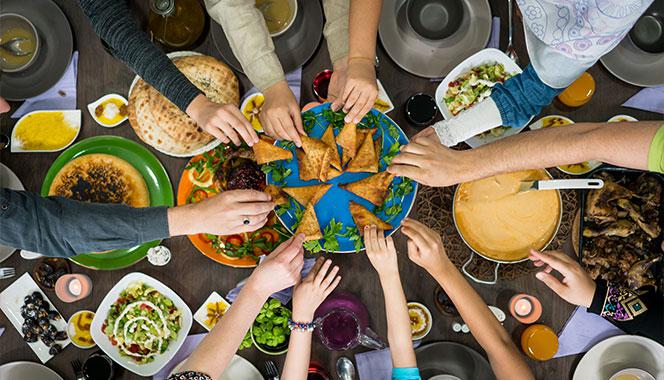 Family dinners are also a great way to expose your children to traditional family recipes and foods. Dinner could be the opportune time to get your child to sample grandma's special pepper rasam or, her sinfully delicious methi-aloo-parathas made with a special family recipe.
Psychiatrist Dr. Anjali Chhabria, who runs Mindtemple in Mumbai, states that the family dinner can teach children about the staple cuisine that has been prepared in the family for generations.
"In today's world of modern, fusion or molecular cooking, family dinners are the only source of learning about the specialty of their own homes."
Dr. Rungta, on her part, believes that parents should also use family dinners as an occasion to talk about the importance of food, share stories about how food is grown in various parts and also, teach children traditions about food. She says that this will make children curious to explore more food options and thereby eat better.
5. Preparation for real life

Culinary expert and food consultant Rushina Munshaw Ghildiyal, who runs APB Cook Studio in Mumbai, says preparing and planning meals together are wonderful life lessons for children and parents. She feels all children must know or be taught how to cook and safely handle knives, ladles, and kitchen gadgets. These are underrated but essential life skills. For, if children know how to cut, chop and cook, they will always be able to take care of themselves when they grow up, she points out.
"The special Sunday biryani, Nani ka rajma chawal, or Papa wali mutton curry - it is these special family dishes that build memories and create a sense of belonging."
Ghildiyal and her family do weekend cookouts to bond. She says that they prefer staying at home and cooking together, rather than going to malls.
6. Eating healthier together
Not only is the preparation of a family meal a good time to connect, but eating homemade food together also makes you healthier.
According to Dr. Rungta, studies show that children who eat at family dinners tend to choose more fruits and vegetables and less soda and fried foods. This indicates that children eat healthier at family dinners, she points out. Family dinners are also associated with lower BMI and lower metabolic risk in children and parents alike, which may be attributed to lesser consumption of calorie-dense food and better food choices when eating with family, she observes.
7. Opportunity to bond with teens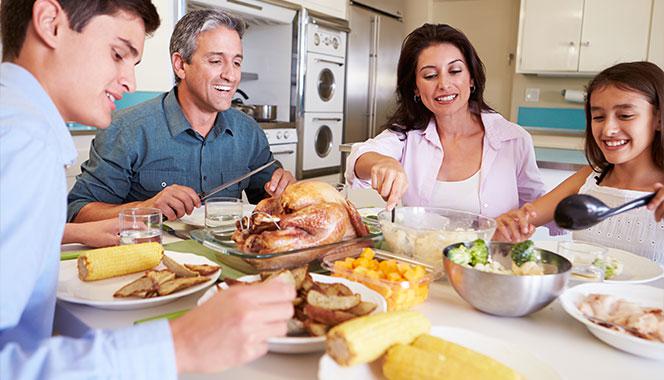 A family meal assumes even more significance if you have an adolescent at home. It can help bridge the gap between you and your moody teen.
Bengaluru-based psychologist Dr. Sulata Shenoy points out that the family that eats together stays together.
"A family meal like dinner, helps parents to observe their children, be aware of any stress in their lives - as revealed by their dress, mannerisms, speech, and appetite. This will give parents an opportunity to later express their concerns with the child privately."
Family dinners also promote healthy food and portion choices in addition to increasing social-emotional bonding between family members. Ensure that dinner times are pleasant and non-controversial. Even if your teen chooses to remain silent during the meal, make it a point to be observant and open to communication.
8. Time for a digital detox

Having a family meal together is, of course, a positive development. But it is anything but beneficial if both parent and child spend the entire meal staring at a smartphone, digital device, or the television.
A 2017 study in the journal Child Development states,

If you are focused on your smartphone during a family activity such as mealtime, it affects your child negatively. When parents are distracted by technology, children display more behavioral problems, including tantrums, hyperactivity, whining, and over-sensitivity.
So, it is vital that you put down your smartphone and, get your children off devices as well. Instead of focusing on work emails or social media, or allowing your child to play games, make dinner the time for face-to-face conversations.
Of course, it may not be possible to have family dinners every night. Then, make this a tradition one night every week. Or ensure that everyone gets together for shared dinners on the weekends. Doing so will make you and your family immensely richer and healthier, in body, mind, and soul.