Decorating your kid's room can be a fun, yet creatively demanding task for parents. To help you out, here are some great design ideas to make your child's bedroom a creative and cheerful space
With an unlimited color palette and a plethora of furnishing options, available at the click of a mouse, decorating your kids' room is no longer a guessing game. So, if you want to re-design your child's room, there are several options to choose from. Of course, with so many options come several questions like 'What color do I pick?' 'Is the bed too small?' 'How much is too much?' or 'Box up the balcony or leave it open?' To help you with some of the answers we give you some delightful and pocket-friendly decor ideas to transform your child's room from ordinary to well, extraordinary!
These ten elements on your checklist are all you need while designing your child's space.
1. Color me fun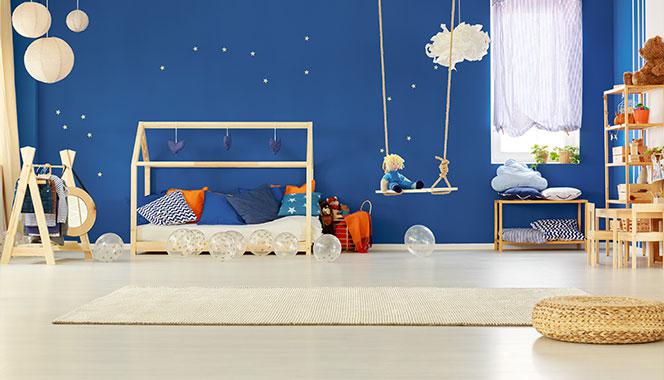 First things first — the right color. It does not mean you pick blue for your boy and pink for your girl. The color of the walls also affects how spacious the room appears to be and how well it can disperse light. Make sure your child likes the color.
Wallpaper is a good alternative to consider. It gives more room for you to experiment and is easy to change frequently. Talking about options, Pavithra Ravichandran, architect and independent consultant says, "Scribble paints made by well-known brands are also available in the market. These give the children the freedom to scribble as much as they wish on the wall, leaving the parents carefree. It just takes a wipe to get rid of the scribbling. Alternatively, chalkboard paint can also be used for the same purpose."
2. Floored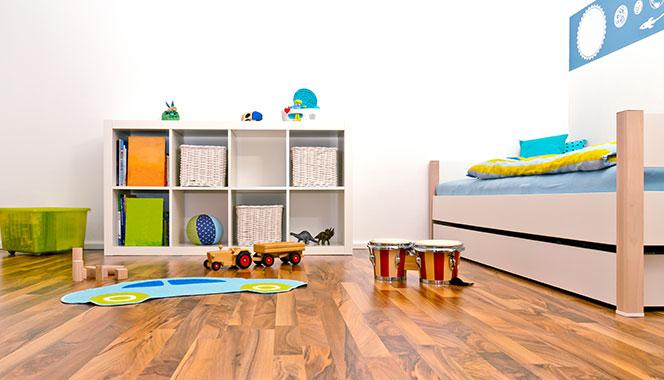 Experiment as much as you want with the floors. But make sure your child is comfortable with your choice. Carpets, wood panels, an endless array of tiling options — there's a lot to choose from. Carpets are a great way to bring coziness and luxury to the room. For younger children, there's the added benefit of cushioned falls. Wooden floors make for an elegant, comfortable set-up. Tiles let you continue the theme of the room.
3. Leave a light on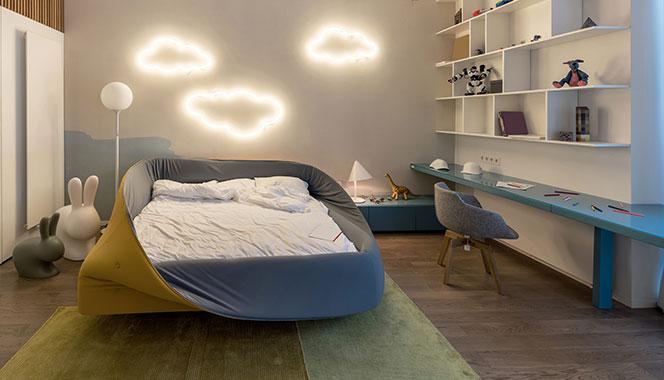 According to Ravichandran, parents should try to bring in as much natural light and ventilation as possible. Don't go for the single bright light deal. Customize light fixtures in different areas of the room based on its purpose — a good white light for the work desk, mellow yellow at the bedside, a shaded lamp by the couch, and a night light for snooze time.
4. Bed and beyond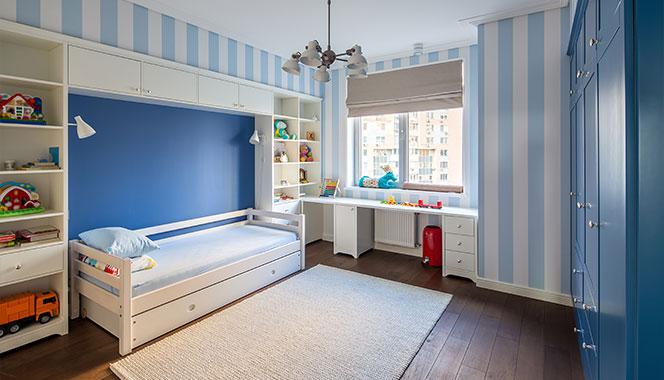 Four posters, canopy, convertible, and bunk beds. There's no dearth of choice when it comes to selecting the right bed for your child. Invest in a quality piece of furniture that's bound to last through the years rather than a cheap knock-off/assembly piece. Make sure all furniture in the room is child-friendly — no sharp corners, firmly grounded, chemical-free.
5. Bathroom basics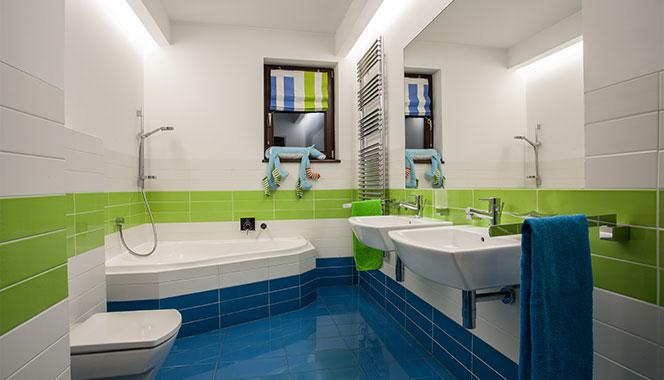 Thumb rule: all essentials should be easily accessible. Make sure the cupboards, counters, and basin are placed in a way that's convenient for the child and accessible. Make sure the flooring is safe and non-slippery. Accessorize the bathroom with funky yet safe tiles, creative fixtures, and themed fittings to make it more fun.
6. Work essentials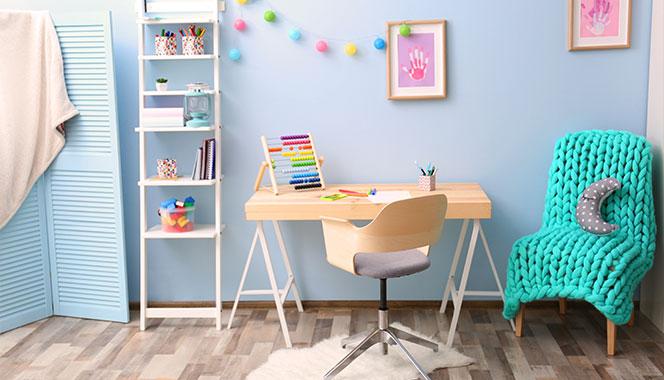 Efficiency is the key here. Keep the work corner simple, uncluttered, and easy to maneuver. Naturally, increase the workspace as the child gets older. Make sure it meets your child's work requirements. His workstation should have the provision for his hobbies. Make sure to create space for his musical instruments or sports equipment.
"A display area is a must. It can be in the form of pin-up or magnet boards or strings with clips. These make the room livelier and more personalized." - Pavithra Ravichandran, architect, and independent consultant

7. No play?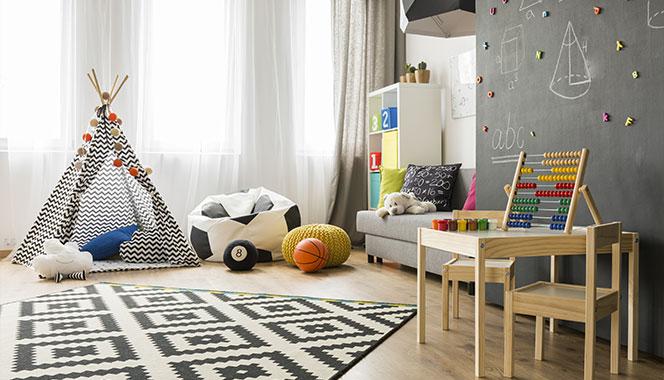 Build in a lounging zone in the room. For younger children, a playpen would be the ideal deal. Older children can indulge in a TV or game console. A comfortable couch always works. Pavithra Ravichandran says, "Levels in rooms are a major attraction for children. If height permits, go in for a mezzanine level in the children's room, which can act as a play or study area. This will help you create zones with variation in the same room."
8. Be wise, personalize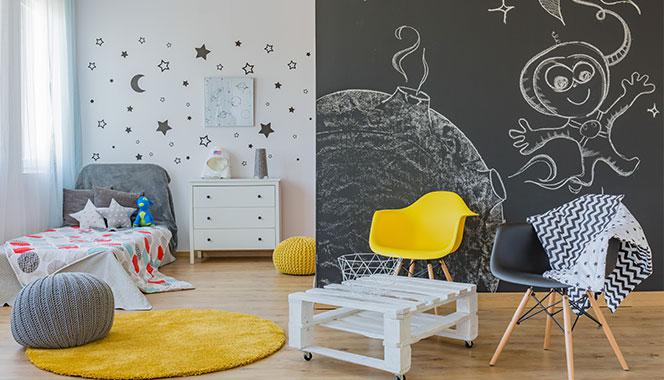 Your child's room doubles up like her own personal haven. So, let it be an extension of her personality. If your child loves to read, put more thought into building her a reading nook. If she likes open spaces, think floor-to-ceiling windows or a spacious balcony. Add accessories that reflect her interests and passions – Harry Potter-themed blankets, Yin-Yang-styled work corners, and more. Ravichandran adds, "A display area is a must. It can be in the form of pin-up or magnet boards or strings with clips. These will make the room look lively."
9. Storage solutions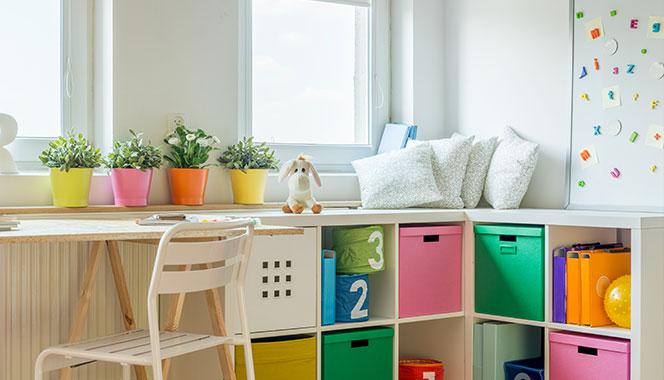 Maximize storage space to avoid clutter. "Use the space below the bed to stow away rarely used things. Build bookshelves in the space behind doors or under staircases," suggests Ravichandran. Again, make things easily accessible for the child. Invest in a good closet with enough hanging space and built-in shelves. Baskets and cartons for everyday things will come in handy too, making the place tidier and more organized.
10. Safety measures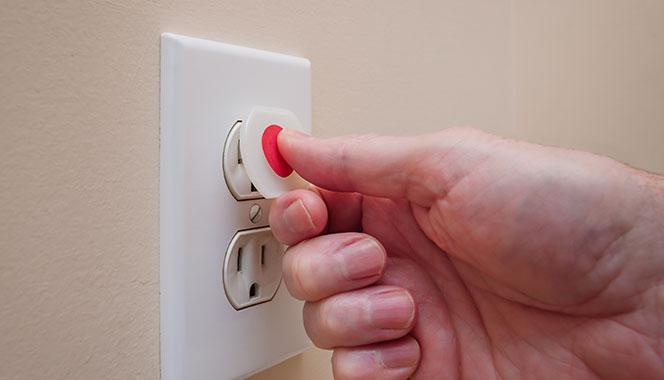 As with everything else associated with children, childproofing the room must be a top priority. Use eco-friendly paints that are low on VOC (volatile organic compound), pick natural linen or cotton materials for throws and blankets, avoid vinyl shades. If there's a balcony in the room, make sure the enclosure is of the appropriate height. Mezzanine levels are tricky to monitor safety; hence, be extra careful when you plan one in your child's room.
Newborn baby room decor ideas
Bringing the newborn baby home is an exciting time for parents as well as siblings. Naturally, you will want to deck up the baby's room in a manner that is conducive to her sleep and comfort. But keep in mind that your baby will grow up soon. Hence be prudent and choose a baby room design that is minimal as well as scalable to match your baby's demands as he grows up. Here are some baby room decoration ideas: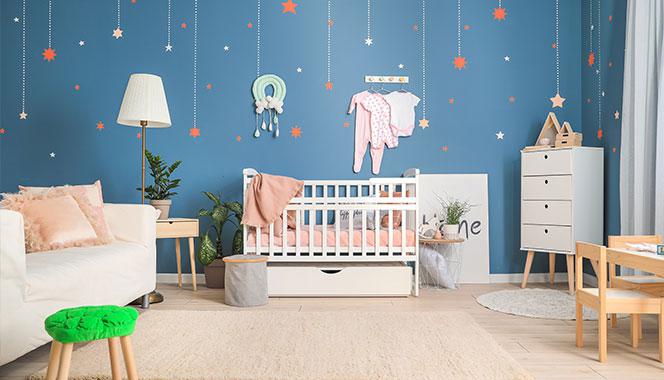 Cozy colors: Color your baby's room with soft colors such as light pink, yellow, blue, or green to give an overall relaxing feel. The colors you choose should have a calming effect on the baby to help him sleep.
Decorate the ceiling: Give your baby something delightful to look at while in the crib. Hang some decorative items from the ceiling which are attractive and bright in color. Also adorning the ceiling with stickers that glow in the dark is a good idea.
Baby cradle: Cribs or baby cots are available in different shapes and sizes. Your baby will spend a lot of time in the crib initially. Choose one that is safe and sturdy and has a firm mattress. A rocking model is a great choice to help your baby sleep.
Baby room furniture: Add some furniture like a small bed or rocking chair for you to relax and feed your baby. A small changing table will come in handy when you need to change the baby's diapers and clothing.
Avoid clutter: Things strewn around the place can be a nuisance especially when you are walking around carrying your baby. A large basket is essential to store items such as stuffed toys and clothes. Place a small closet in the room to store all other essential items.
You don't really need a hefty budget to give your little darling's room a makeover. With some creativity and imagination, you can create a functional space for your child and also avoid unnecessary expenditure.