Winning the Scripps National Spelling Bee held in the US has become a routine affair for Indian-American kids. Let us analyse the reasons behind this..
'Dream come true: Indian-American Ananya Vinay wins US National Spelling Bee' - The Hindustan Times, 2 June 2017
'Two Indian-Americans joint winners of US Spelling Bee championship' - The Times of India, 27 May 2016
'Indian-American teens emerge co-champions in National Spelling Bee competition' - The Indian Express, 29 May 2015
These are some of the headlines that appeared across both national and international media in the last few years.
Although the champions were different each time, the reports below the news were almost similar. In fact, reading the headlines may also have made a lot of readers experience a sense of dj vu. Why so? All these headlines reported an event that just didn't happen for the first time the year it was reported. In fact, the same has been happening since 2008. For the past 10 years, only Indian kids have been winning the Scripps National Spelling Bee championship held in the US.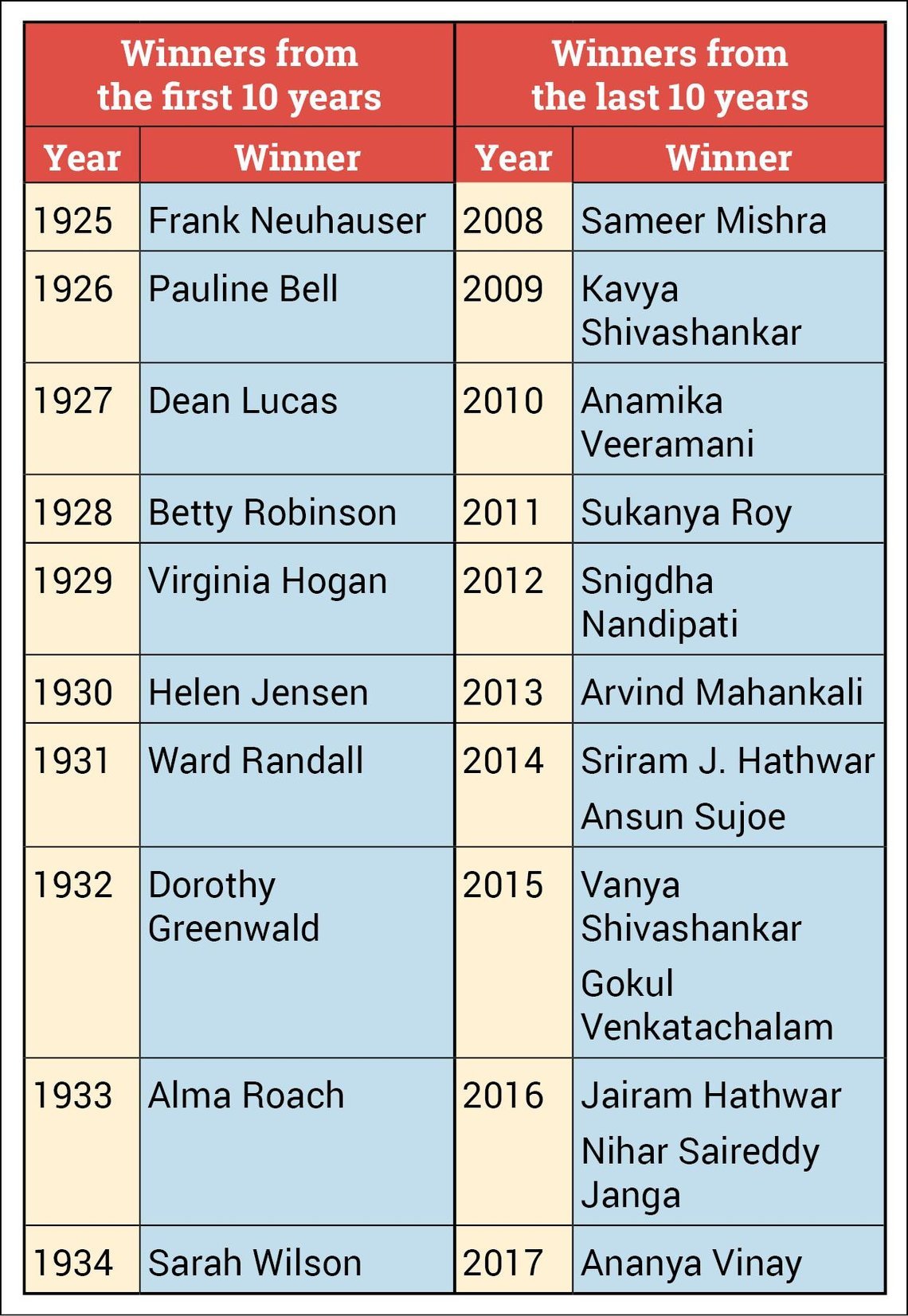 While this winning streak is certainly a matter of pride for Indians, it has also become the subject of an interesting debate: 'Why do Indian-American kids do so well in spelling contests?'
Let's look at some of the reasons that various analysts ascribe this incredible phenomenon to:
1. Hard work: With its large population and fewer resources, it is always the best who taste success. Every generation of Indian children learn this fact early on in their lives. With this focus on success, Indian parents are willing to push their children to the limit, or even beyond. The article, 'Why Indian-Americans dominate spelling bees', by Ananya Bhattacharyya in Al Jazeera (4 June 2015) sums up this fact very well. In her article she says, "In an overly populated, largely poor country, those who succeed tend to be bright and extremely hard working. Some parents push their children in ways that would be inconceivable in the US." She further says that, while Indian students spend long hours studying in schools and attending tuition classes, they also put in extra hours during the evenings and weekends. This rigorous routine goes on for years without breaks or holidays.
This is reflected in what Narayan Janga, father of Nihar Saireddy Janga told MyStatesman after his son won the championship in 2016. According to him-
This is like a dream come true for the Janga family. His mom, his sister and Nihar, they have been working so hard on this for many years.
2. Discipline: As far as studies are concerned, most Indian parents believe in the adage, 'Discipline is the key to success'. They make their children believe in this maxim right from a very young age. This goes a long way in keeping the children focussed on studies and away from distractions like going to movies, spending leisure time with friends and so on. Discipline plays a critical role when preparing for competitions like the spelling bee, as those intending to compete need to spend hours reading through dictionaries and various other reference materials.
3. Educated parents: Indians attach a lot of importance to their child's education, which they see as a stepping stone to a successful career and upward social mobility. This fact is reflected in the members of the Indian community settled in various parts of the world, including the US. However, becoming successful does not satiate an Indian's appetite for success. In fact, Indian parents want their children to do one better than they themselves did. So, they take a keen interest in their children's education. This plays a major role in the success of Indian children. The fact was also alluded to by Washington Post in its article, 'Indian Americans dominate the National Spelling Bee. Why should they take abuse on social media for it?' (25 May 2015). In the article, Shalini Shankar, an anthropology professor at Northwestern University says, "You don't see lots of spelling bee winners who are the children of assembly line workers or cabdrivers, even if they're South Asian." She further says, "You see children of doctors, you see children of engineers."
4. Strong community involvement: The Indian community's penchant for educating children has led to the setting up of organisations that support this cause. Some of these organisations, like the North South Foundation, conduct their own spelling bees, primarily for children of Indian and South Asian communities. Participating in these contests helps Indian kids get the right exposure and become habituated, which goes a long way in preparing them for the big event.

Dr Louisa Moats, teacher, psychologist, researcher and author, told the Daily Mail Online -
The Indian-American community set the championship in their sights about 15 years ago - I remember because one of their leaders called me at my home and asked me how they should go about studying. I believe the families and the community view this activity as fun, healthy, and valuable for its own sake.
5. Having a liking for brain sports: Indians have a long history of participating in intellectual contests like debates, chess and so on. Because of this historical inclination towards brain sports, even the present-day Indian parents encourage their children to participate in academic events. And, not only do they encourage their children, but they are also willing to invest considerable amount of time and resources to train and prepare them.

Srinivas, father of Arvind Mahankali, winner of the 2013 edition of the chanpionship, told The Telegraph -
At home, my dad used to chant Telugu poems from forward to backward and backward to forward, that kind of thing. So language affinity, we value language a lot. And I love language, I love English.
While all these are important factors in the success of Indian kids in spelling bees, there are many others that have also played a significant role. Some of them are, the system of rote learning, the perspective that an individual can acquire newer cognitive abilities, and the belief that one can become better with practice.