Keen to give your child some structure through the unscheduled summer weeks? Summer camps can be your best bet to help you strike that balance. Here's why
Summer is around the corner and so are those endless hours of fun and uninterrupted play for children. However, it's also a time when you may soon be bugged by the phrase: I'm bored coming from your children. How can you ensure your child has meaningful fun during the vacation? Are summer camps your best bet? How can you make the right choice when it comes to a summer camp? Continue reading for a complete perspective.
Why Send Your Child to a Summer Camp?
To be Engaged: With the nuclear family system on the rise sharply, thanks to both parents working, summer camps have become a utility rather than an option. For such families, popular options for a child's summer vacation include:
Sending him to a relatives place
Planning a long vacation as a family
Summer camps
The ultimate choice is determined by how much these elements engage your child as well as the time at your disposal. But, it sure will keep your child engaged for the summer.
To be unplugged: Free time can mean so much fun. But soon, the long unscheduled days can leave your child clueless. We live in a world where screens can easily take over a child's time and mind. There will be repeated requests for video games and TV shows, and sibling fights can become unmanageable. Therefore, scheduled summer camps can give you the opportunity to limit screen time.
To learn new skills: Your child steps out of his comfort zone and learns new skills during summer classes. Be it practical life skills or specialized training, summer camps provide that perfect opportunity.
To explore interests: If your child is passionate about a field, she can use summer classes or camps as a springboard to explore it further. For instance, if your child shows excitement each time you pull out your camera, she can now dedicate two full weeks to photography and figure out if she wants to pursue this as a future career option.
To experience Independence: In the absence of hovering parents, children display a greater sense of responsibility, especially, when they participate in overnight camps. Your child will even surprise you with his resourcefulness and wisdom.
To make new friends: Your child ends up making new friends within a short span a huge step in becoming more confident socially. And there's no discounting the memories that are created. Camps are places where life-long friendships and lasting memories are made.
How to Choose the Right Summer Camp
Choosing the right camp for your child is more important than simply signing up for one. There are several factors at play here, from the cost of the camp to the activities offered. Here are our top pointers to help you choose one:
Child's Interest
- Understand your child's interest
- Research various camps based on their interest and present some best options to them
Safety
- Have a one-on-one conversation with the camp organizers. Observe their attitude towards children
- Find out if the staff has been subject to all the necessary security checks
- Talk to other parents whose kids have already participated in the same camp
Budget
- Choose a camp that fits your bill. Do not be under the illusion that expensive equates to safer and better.
- Summer camps need not drain your bank balance. Trust your instincts and look for more substance than style
Based on type (Day, Sleep-over, or special camp)
Day Camps
- Day camps are the best places for children to get accustomed to the idea of summer
- They help your child learns about being part of a community and understands the art of coping with the temporary separation.
- They are a great start for parents who need some coaching with separation skills, as well.
Sleep-over camps
- If you are a parent of an older child you might want to consider overnight camps
- There isn't a fixed age when a child is ready for sleep-over camps however, conventional wisdom suggests that children in the age group of 9-12 years are like to be ready to spend a few nights away from mom and dad.
The ultimate 'Fun' purpose
- Ensure your child has enough opportunities to have fun. Camps need not be all about growing your child's IQ. After all, everything needn't be about academic achievement.
Studies have shown that children are becoming less social and less conversational because of the influence of the digital world. Summer camps can help kids appreciate nature and kindle a sense of imagination that is often lost in a world of gadgets. Parents need to encourage their children because this is a great step toward a child's independence.
You need to find out about the camp organizers' training, credibility, child protection policy, and safety measures. Being a big name alone doesn't guarantee safety. Find out about their experience and track record. Don't be hesitant to ask relevant questions about measures in place in case of an emergency," Says Rajshekar Murthy, Founder-Director of The Fishermen Trust, which has been running outdoor camps for more than 12 years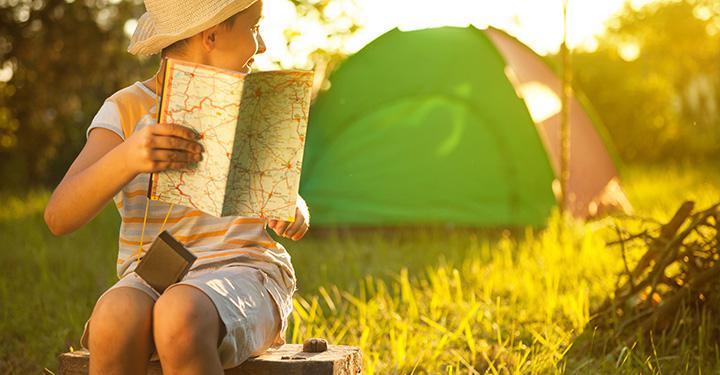 Importance of free play
Summer is the ideal time to allow kids to be kids without the pressure of school or studies. Children need free play to develop their imagination and creativity. Several studies indicate that unstructured outdoor time where children play with each other helps in strengthening their core, apart from improving their thinking, behavioral and physical abilities. According to the authors of a study titled, Less-structured time in children's daily lives predicts self-directed executive functioning, 2014, when children spend more time in less-structured activities, they develop a sense of intrinsic motivation and are more self-directed. So, allow your child to have plenty of unguided, unstructured playtime as well.
What Parents Say
"I would love to send my son to a summer camp. He is in class 6 and this is the first summer vacation after I've started working. My mother might come down or I might send him to my relative's place in Mumbai. But, given an option, summer camp does sound like an ideal choice since he will get to have fun and explore something new," Smriti - Bangalore
"My son is nine years old and has already made plans for his vacation. He plans out his year at the start of every academic year, marking holidays and making plans. He wants to visit his aunt in Kerala this summer," Akash - Kolkata
"If there is a learning opportunity (not academic-wise), yes. Be it a day camp or overnight," Sathiya - Chennai
"Anything to get her off the TV and computer! Directing her energy in a productive way is what I look for," Mahalakshmi - Mumbai
What Children Say
"I'm now a big girl. I want to do my own things. I don't want to go to summer camps and have someone tell me what to do and when. I want to go to my grandma's," says Eesha age 9 from Bangalore
"Holidays are a time to have fun and relax. I would like to travel or spend time at home. But, if there is a camp that really interests me - like something to do with robotics or circuits, I would not mind going for that," says Chaithanya age 12 from Delhi
"I think my mom just wants to find ways to keep me off the TV. All I want to do is relax. If my friends and I plan to go for some classes together, then maybe I"ll think about it," says Vriddhi age 13 from Coimbatore
"I've been to camps and workshops since I was nine years old. I think my mom is the best at picking the rights camps. The first was an overnight yoga and fitness summer camp where I learned to make my own bed, wash my own clothes for the first time! From then on, I have attended theatre workshops, life-skill camps, media workshops, and more. I'm now in class 12 and can't wait to hop out of exams and jump into a 3-day camp that I've signed up for before all the higher study hustle begins," says Vishitha age17 from Chennai
With a little research, you're bound to find the happy spot where your budget and your child's interests coincide.
If there are no options that capture your child's imagination, you can still do plenty of day trips to the zoo, museum, planetarium, libraries, or parks. There is learning all around us. Summer is a great season to explore and learn with your child. Goodbye boredom!