Do you let your daughter play a team sport? If yes, feel proud to read this interview. If not, be ready to change your mindset. We talk to Mithali Raj, the torchbearer of womens cricket in India
Sachin Tendulkar was all of 19 when he stunned the world with a sensational Test century at one of the most difficult cricketing venues, WACA in Perth, Australia. Mithali Raj was all of 19, too, when she stunned the world by breaking the World Record for the highest individual Test score, by scoring 214 at Taunton, England. That's not the only common trait of Indian cricket's two legends. They've been great ambassadors of Indian sport for years and often ensured India's flag kept flying high at venues world over.
Although women's cricket in India often gets overshadowed by the vastly popular men in blue, dedicated souls like Mithali are doing their bit to ensure some kind of parity. The 34-year-old swashbuckling batswoman, who is a role model for many young girls wanting to take up outdoor and team sport, has amassed 6000 ODI runs in 183 matches. We spoke to this trailblazer from Hyderabad, who has charted her own path to become one of the most successful sportspersons in India. She took time off her busy schedule to talk exclusively to ParentCircle, on many issues including the role parents need to play to support daughters.
Q: You made your international debut as a 16-year-old in 1999. It has been 16 years of cricket already. Tired?
A: Not at all. I am still young. I am just 34 (she laughs) and feel I have some distance to travel. The 2017 World Cup is clearly on my radar. After the disappointment of the last World Cup, I am very keen to make amends. I want to win the 2017 World Cup. That's the big dream I am chasing now.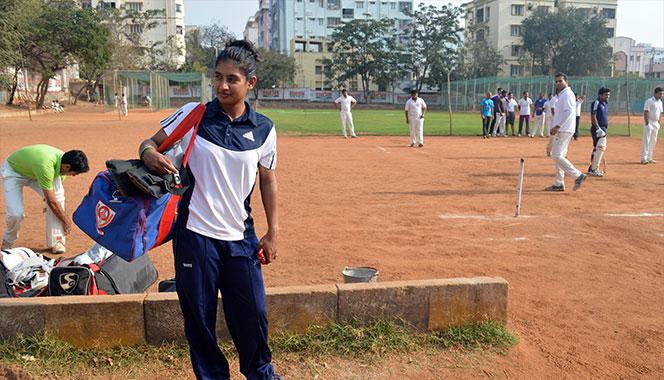 Q: Tell us about your early days as a cricketer
A: It was a hard ride in the early days. We rarely played matches and there weren't set calendars. Facilities were very poor and we faced the biggest challenge of maintaining momentum. There were large gaps between tournaments/series and that really hurt our performances. Most importantly, there was no money at all in women's cricket. We used to pay for things from our pocket. It was tough being a woman cricketer.
Q: Have they changed in recent times?
A: Yes, of course. Things have changed dramatically in recent years ever since the BCCI has taken over women's cricket. Our approach today is a very professional one.
As a player, I have progressed a lot. As a team, we are getting up there with the very best in terms of fitness. We were always a great side with natural talent, but today, Indian women's cricket is also a very fit bunch of cricketers. We get access to facilities at the National Cricket Academy (NCA) in Bangalore and get to train with top-class cricketers. We only hope this also translates into more support from spectators and media.
Q: How do you keep yourself motivated?
A: It's always a challenge. For me, motivation must come naturally. There are times when I fade away and feel down. That's when I need to push myself very hard. Goals keep me motivated.
Q: You won the Padma Shri in 2015. Did it come as a surprise that you defeated Virat Kohli, who was also in the race?
A: Yeah, it definitely came as a surprise, but I consider myself very fortunate that I was recommended by the BCCI for this very prestigious award. I almost gave up when I knew even Virat was in the race. But yes, it feels great. It has been a long career for me thus far and if I am being recognized for my contributions to Indian women's cricket, it certainly is a special feeling.
Q: Did that award come as a shot in the arm for women's cricket in India?
A: In many ways, yes. Women's cricket seriously suffers from a lack of recognition. We really struggle in the face of men's cricket. We need more people to support women's cricket. Only then will there be more girls taking to the sport. In a nutshell, the future of women's cricket depends on the present.
Q: Why do you think this is happening? Is it a problem to do with the mindset of parents that they don't send girls to cricket?
A: If you had asked me this question about 10 years ago, my answer would have been an emphatic yes. Things are changing now. Parents are increasingly keen to send their girl children to sport, but they want to send them to individual sporting disciplines like tennis, badminton and chess. They are not willing to send them to team events. The perception is that individual events get faster and better coverage.
Q: But, you were lucky in that sense.
A: My parents supported me a lot. I remember when I was a child, I faced resistance from some of my close relatives and my grandparents too. They were not very keen on having a girl go out and play in team sports in fairly hot and humid weather. But my parents stood by me, encouraged me and played a big role in my success. I should also credit my school for the kind of support they extended. Without academic support, the journey gets that much harder. I was lucky to have a great school.
Q: Do you meditate? How do you relax?
A: Sleep, sleep and more sleep (laughs). That's the best thing to do, isn't it? You don't worry about anything when you are fast asleep and that's the best way to unwind.
Q: You meet cricketers from other parts of the world and you also travel a lot. Do you find it easier or more difficult to cope with different cultures?
A: We try to embrace different cultures, and when cricketers from abroad visit India, they too try doing that. They like the warmth of the Indian people, the hospitality here and the overall mood. We feel the same when we travel. Having said that, we usually have tight schedules when we travel and hardly ever get time to go out and mingle.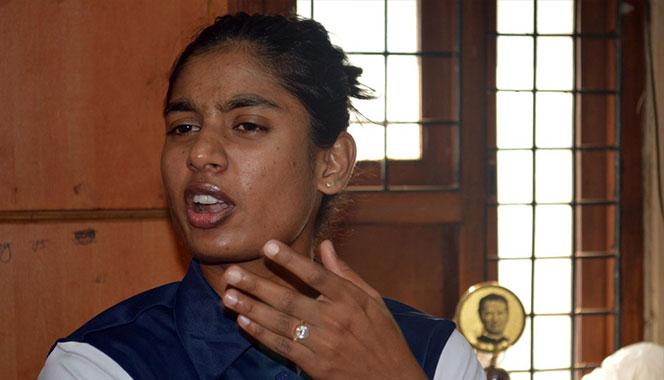 Q: Do you feel homesick?
A: Not particularly homesick, but you do miss being home during long trips abroad. While at home, you have your parents and mentors to look up to during moments of crisis. But, when abroad, you are all by yourself. One of the biggest lessons I have learned in life is to support myself. There will be bad patches when you need to understand the need to fight back. Only when you believe in yourself will you be able to stand tall.
Q: You're a role model for all young girls wanting to play competitive sport.
A: Am I (laughs)? I'd only say one thing - Nothing substitutes hard work. You need to make sacrifices to get to your goals. Nothing comes easy in life. It only gets harder when you are chasing success. Give it your best shot. And yes, I'd recommend joining team sports. There's nothing better to improve your personality. You get to learn so many things when you are in a team.
Q: Finally, what's your message to all the parents out there?
A: Parents need to be forthcoming and open-minded. If your daughters want to do something, give them space and allow them to pursue their dreams. Women's empowerment has to start at home.
Mithali Raj Quick Facts
In August 2002 (6 months after her Test debut), Mithali breaks the World Record for the highest individual score, by scoring 214 against England in Taunton. That record was surpassed by Pakistan's Kiran Baluch, who scored 242 against the West Indies, in 2004
In 2003, Mithali won the Arjuna Award
In 2005, Mithali powered India to its first-ever World Cup final where they lost to Australia
In 2013, Mithali surged to the World No.1 ranking in ODI cricket rankings released by the ICC
In 2015, Mithali won the Padma Shri Award
In 2017, surpasses Charlotte Edwards to become the worlds leading ODI run-getter