Valentine's Day treats: Exclusive recipes by Chef Ranveer Brar to make the day special for loved ones
Team ParentCircle
4 Mins Read
Valentine's Day is here! How about making the day extra special by whipping up special treats for your spouse? Get your child to help and make it a truly wonderful surprise!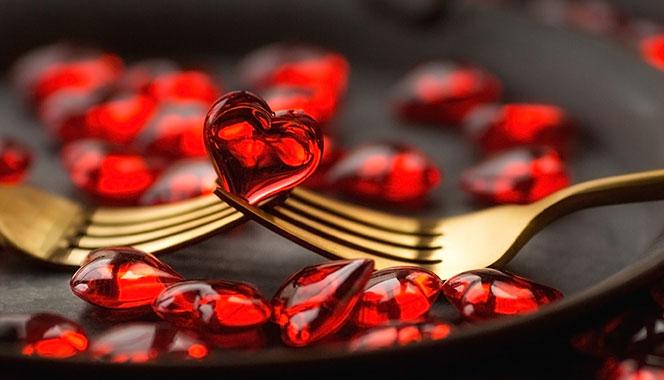 If you are planning to celebrate Valentine's Day this year with a whole lot of love and an extra special spread, you're in the right place! To sweeten up your Valentine's Day celebration, we bring you exclusive dishes by Chef Ranveer Brar, celebrity chef, TV show host, judge and food stylist. Of course, you may need to toil a bit in the kitchen to make these treats, but why not get your child to help out?
Trust us, when you see the smile on your spouse's face, it will be all worth it. So, what can you make with a sprinkling of heady cinnamon, large helpings of juicy apples and utterly luscious chocolate? Scroll down, to find out!
1. Apple lasagna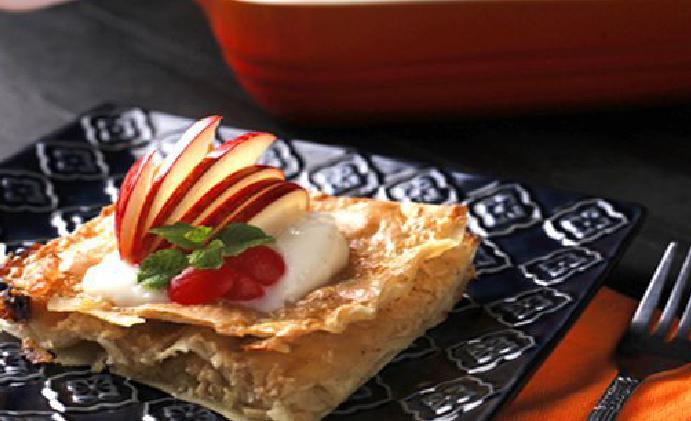 Preparation time: 20 minutes
Cooking time: 25 minutes
Serves: 2
Equipment needed: A pan, mixing bowl, spatula, baking dish and oven.
Ingredients:
3-4 soaked lasagna sheets
2 tbsp brown sugar
For the apple mixture:
4 red apples
1 tbsp butter
3 tsp powdered sugar
1/2 cup rolled oats
For the cheese mixture:
1 cup cheddar cheese
1/2 cup brown sugar
1 cup ricotta cheese
1/2 tsp cinnamon powder
1/2 tsp nutmeg powder
For the garnish:
1 tbsp ricotta cheese
1 red apple
Twigs of mint leaves
Method:
To prepare the apple mixture, start with slicing a de-seeded red apple.
On a pan, add butter, red apple slices, powdered sugar and rolled oats. Toss until the apple slices soften.
Close the pan with the lid.
To prepare the cheese mixture, in a bowl add cheddar cheese, brown sugar, ricotta cheese, cinnamon powder, nutmeg powder and mix well.
To make layers, grease the baking dish with butter.
Place the soaked lasagna sheets on the dish and then make a layer of cheese mixture.
Then place the prepared red apples. Sprinkle brown sugar over this. Make similar layers.
Bake at 170°C for 20 minutes.
Slice another red apple into wedges.
Garnish the apple lasagna with apple wedges, mint leaves and egg-shaped ricotta cheese.
2. Chilli chocolate mousse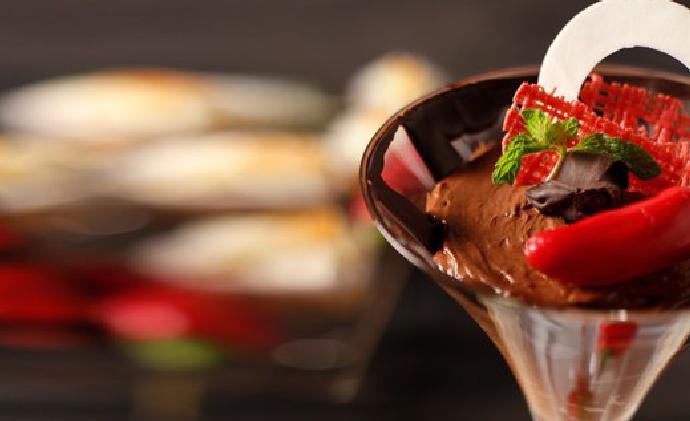 Preparation time: 10 minutes
Cooking time: 30 minutes
Serves: 4
Ingredients:
100ml milk
150ml cream
10g fresh basil leaves
1/2 tsp chili flakes
6 egg yolks
100g sugar
220g milk chocolate
90ml extra virgin olive oil
250ml heavy whipping cream
Method:
Heat the milk and cream in a non-stick pan and bring to a boil.
Remove from heat and add the basil leaves. Let soak for 15 minutes.
Boil again and pass through a sieve. Add chili flakes and set aside.
Place the egg yolks in a mixing bowl. Add sugar and beat together till creamy yellow.
Pour the creamed yolks slowly over the basil-infused milk.
Stir well and heat again till the mixture begins to thicken slightly.
Do not boil or it will curdle. This is the basic custard.
Remove the custard from the heat and slowly add the grated chocolate and olive oil.
Mix well and cool.
Once the mixture is cooled, gently fold in the heavy cream and whip to form soft peaks. Place in the refrigerator for one hour to chill and serve.
3. Apple pie paratha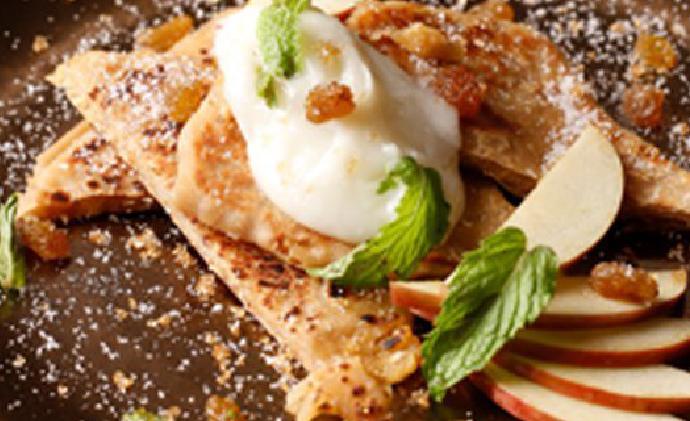 Preparation time: 15 minutes
Cooking time: 5 minutes
Serves: 2
Ingredients:
For the filling:
4 apples, peeled
3 tbsp brown sugar
1/4 tsp cinnamon powder
1/4 tsp ginger, grated
1 tbsp honey
A handful of raisins
1/2 a lime
For the paratha:
400g whole wheat dough
3-4 tbsp olive oil
To garnish:
Icing sugar, as required
Fresh mint leaves, as required
Apple wedges, as required
Method:
For the filling, chop the apples into thin slices and set them aside.
Add the apple slices to a small pan with the brown sugar, cinnamon powder, ginger, honey and sultanas.
Finely grate the zest (peel) of half a lime and then, squeeze out a little lime juice over the apples.
Toss to mix and place the pan on medium-low heat.
Simmer gently for 5-7 minutes or, till the apples are tender.
Remove from heat and allow to cool completely.
For the paratha, divide the prepared dough into medium-sized portions.
Roll out the dough into triangles. Stuff each with a little bit of the prepared mixture, gather the edges together and shape into equal-sized balls. Then, roll out into parathas.
Cook on a non-stick pan using olive oil.
Garnish with icing sugar, mint leaves and apple wedges.
Serve hot.
So, pick one of these special recipes and well, surprise your spouse! What's more, these recipes with their child-pleasing ingredients such as cheese and apples, are a beautiful combination of sinfully delicious and delightfully healthy. Mark this Valentine's Day by spending quality time together and savor these absolutely divine treats. Enjoy the day with your loved ones!