What Parents And Children Must Know To Keep Safe When Using Education Technology
Dr Debarati Halder
5 Mins Read
Dr Debarati Halder
Follow
Written For ParentCircle Website new design update
Do you make extensive use of education technology to help your child with learning? Being aware of its perils and pitfalls will help you keep your child safe online.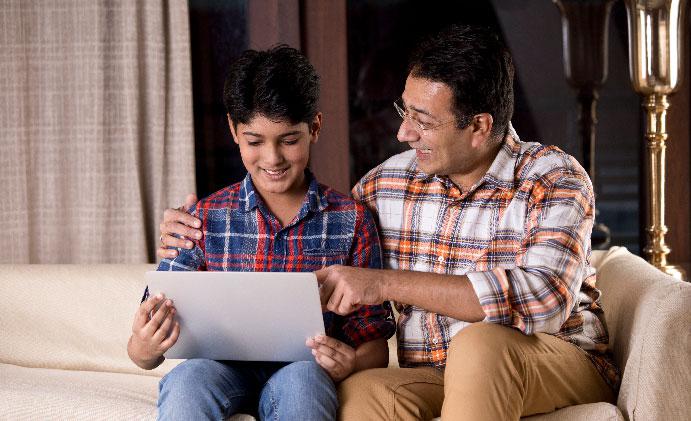 In preparation for a new academic year schools roll out their admission/ promotion/transfer processes, and students get ready to go into a new class or school. I have a few friends and colleagues whose young children are gearing up to experience a new school in Pre-KG or Class 1. A few parents are waiting for their young ones to reach the higher classes, to change to a new school.
A change in learning methodology
Over the years, the method of studying has changed. Students and parents have become more dependent on education technology rather than on the textbooks and reference books prescribed by the Boards of Education Boards and the schools. Education technology is a thriving stream of automated learning systems which help to promote learning mechanisms for young and adult students. Online content is created for easy understanding and learning of subjects. The content is uploaded on different websites from where parents and students can access it.
Edtech - a boon for students, teachers and parents
In many ways, edtech enables parents and teachers to help  students to learn quickly and easily:
the content creators and producers may use innovative teaching and learning mechanisms to make learning joyful and engaging for young students.
the content may provide easy experimental mechanisms which are created with the help of different software using artificial intelligence.
a young student who may not have the opportunity to witness it in real life may get to see, with a click of the mouse, the transformation of a caterpillar into a butterfly.
similarly, if a student is poor in mathematics, he can access online content which could help him understand how to solve the problem. He may also be provided with options for learning something more than textbook-prescribed maths problems.
The upside of education technology
Education technology helps students develop language skills by explaining the meaning of sentences in a pictorial mode, by teaching them how to pronounce words and use language appropriately.
Education technology is a boon for parents living in remote areas where they may not find good tutors for children who need extra help with learning.
Several schools recommend education technology for easy learning. They provide curated links to websites which the students can access either from home or the school.
Students are asked to prepare projects based on such content, which is also helpful for students who wish to prepare for national and international level competitions.
Several schools and education technology companies encourage the uploading of the best content prepared by students who have won competitions. It is indeed a matter of pride for parents to see their children's write-ups, reviews, etc., uploaded by schools or education technology companies, and promoted as reading material.
And now, the downside of edtech
Education technology is by no means risk-free. Like any other digital technology platform or content, educational content is also open to the risk of unauthorized access by third parties, of the content being modified, or of data being leaked.
Better safe than sorry - take the necessary precautions
It is important that you and your child follow certain safeguards while accessing any educational content online:
Always look for HTTPS in the address of a website before clicking on it. S stands for a secure site. As you and your child may access websites often, make sure that you are accessing secure sites and not malicious ones.
Several education technology sites may ask for your phone number or email id or other personal details or those of your child. Some of these edtech companies may use the information for future marketing purposes. It is better not to reveal your phone numbers and email ids unless these are trusted and reputed websites. One can never tell whether personal details like phone numbers or email ids will land on unwanted platforms.
Do not upload either your photograph or that of your child on such sites, even if these sites have been prescribed by the schools. At a recent seminar, we had a long discussion on how children are being trafficked through online platforms, and how the images of children are traveling from one port to another for malicious purposes. It is, therefore, always better to protect digital identity, especially images.
As a parent, you need to be extra careful about giving digital devices to your child, especially your pre-teen who may not be aware of digital ethics while using education technologies. Content in biology may pull up unwanted adult sites, including certain YouTube videos which are only meant for adult viewing.
Be aware that email ids may be traced from such content (in case such websites need user ids and passwords for accessing the content, and these may be generated through email ids) for phishing or lottery scam or job scam purposes which may specifically target teens who are on the verge of finishing school.
Education technology is growing in India and is here to stay, with both its positive and negative aspects. So make sure you are aware of the downsides, even as you and your children prepare to benefit from the upsides of using educational technology.