Missing the neat office desk, friendly banters and coffee breaks at work? It is okay to miss your office during the lockdown, say these parents! Well, what do you miss about your workplace?
The only change happening these days is the extension of our nationwide lockdown every few weeks. While some of us are still trying to settle down into a routine, for many of us, a routine hardly helps us get through a day. Parents working from home have their hands full with office work, kids, online classes, conference calls, laundry, dishes, and whatnot. To top all this, most of our colleagues now know our kids, thanks to the number of times they burst into the room unannounced during video calls. It is on days like these that we miss going to the office!
Looking back, we did not value the happiness of undisturbed calls at our workplace, quick chats with colleagues, or team meetings back then, but now we do. Even the drive to work in the rush hour traffic, which we did not enjoy, has become something we look forward to now. While we are getting the much-needed family time we always wanted, nothing can replace sitting in your comfortable chair at work, sipping on coffee and getting work done! We talked to a few parents who are handling work from home during the lockdown, and we were surprised to hear what they missed about going to work! Scroll down and see for yourself!
I miss the personal connection with my team
"I definitely miss going to work. I have been working from home during lockdown and I miss the personal connection with my team, lunch breaks with my friends and the friendly chat with colleagues. I also feel like I work all day when I am at home, unlike the fixed time I used to work when going to the office. I do have more time with my family and kids now as I do not spend time on commute.
I would prefer to work from home for two or three days a week, but I would like to go to my office for the rest of the week. Being in the IT industry I did work from home even after office hours, but they were mostly scheduled calls. Now everyone is reachable at any time, so we have to work when required. I do try sticking to a schedule and allot time for work and family. My work hours are more flexible now and I am doing good so far", says Derick Godwin.
Work got done faster at the office for me
"I used to go to the office only for two to three days in a week, but I still miss going to work. Catching up with the team and syncing up was better then. I also miss dressing up to go to work, and all the team meetings and customer visits. I feel work got done quicker when we talked face-to-face. It was also easier to implement projects for customers when we met them in person, as we could create a rapport with them. Resolving customer conflicts was also easier in person than over the phone.
On some days I did work after coming home. Having to work from home all day is really tough, but as this is the new norm I am trying to adjust to it. I complete my household chores before my daily morning meetings and try to schedule other meetings such that I have time to spend with my daughter Aura during her online classes and other activities that we plan together. When she plays or sleeps, I try to catch up on my work." - Maria Auxilia.
I loved driving to work and handling the team
"The first thing I miss about going to work is the work environment and the team. I feel work used to get done much easier and faster when I was handling my team in person. I also miss the drive to work with the wind on my face and music in my ears.
We have clients from all over the world, mainly from the USA and Canada, so it is part of my job to work even during their daylight hours when required. At first, this was difficult, but seeing my son stay up till 1 am anyway, I thought why not. When at work, if I had a bit of free time, I would just take a break and get back to work. Being at home now, I get to spend that time with my son, Raphael. We now play many new games together indoors. I finally get to spend more time with my family, which adds more meaning to our lives each day", says J Samuel Jebaraj.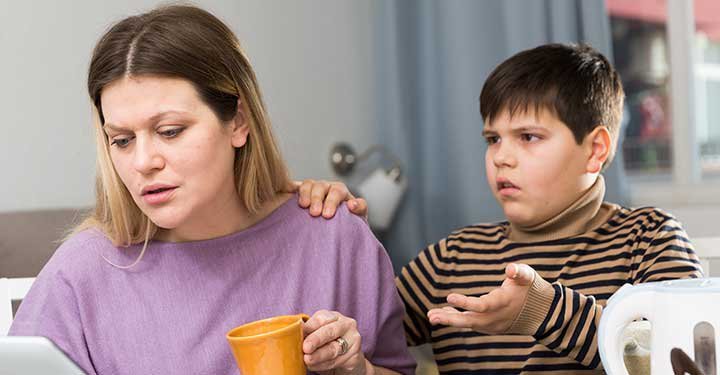 I used to multitask on the way to work
"Yes, I miss going to my office. I used to catch up on my mails, grocery lists, social media and more during my commute to work. Now, I have to take out time to do those. I miss my team, which is a mix of different types of people. Every day someone has a story to share during coffee breaks! Yeah, I miss those moments the most.
When I was going to work, I never brought any work home. I made sure all my work was done for the day before I started, so that I could give my undivided attention to my son when I got home. During the lockdown, it seems like I am working all day from home! My eyes are on work, but my ears are attentively listening to even the slightest sounds of my toddler. I would definitely pick working from the office any day" - Devisalini Sivaraj.
I miss the structured days at work
"When in the office, my days used to be structured. I would start my day at 10 am and have a stand-up at 10:30 am. Lunch was between 2 to 3 pm. After that there was more work and I would call it a day by 6:30 pm, so I could reach home by 7:30 or 8 pm. The rest of my time was for my family. Now, I do not really follow a schedule. The lockdown has seen me wake up and sleep with my laptop at odd times. I wake up around 6 or 7 am, look for my laptop and settle down for work. Sometimes I go without having lunch if I need to complete a task and then drag work calls to late evenings. I have been able to complete my daily targets, even though I work at my leisure.
It is like two sides of a coin on one side you get so much family time and on the other you are able to brainstorm with your team or go on the floor to speak with the people and get back to work. I cannot do any of these at home. Work privacy is something I appreciate and need, which I never seem to get at home. It is difficult as I have my zoom meetings and being a recruiter, I have to speak to so many candidates but the best part this lockdown has taught me is to embrace it. My son pops up in zoom video calls often. The candidates have families too, so they totally understand the environment at home. It is beautiful how each one has empathy for the other and learnt to live with it", says Jerryd Peter Marian Danny.
At work, I was more focused
"I used to look forward to going to work. I enjoyed my large office space, which provided a relaxed work environment. Working from home now, I miss my colleagues, taking snack breaks with them and chatting. At the workplace, looking at everyone working around me, I was focused and motivated to work. At home, there are many distractions and I find it difficult to concentrate on work.
Fortunately, I have flexible working hours and a good boss. My family also takes care of my daughter when I have to work or have to attend meetings after work hours. I used to work at home after coming from work once my daughter goes to bed. During the lockdown, I am spending quality time with her" -Kirthika C.
Well, looks like we are all missing our workplace, after all, each for a different reason. As you continue working from home during the lockdown, remember that you are staying safe and keeping your family safe too. And while you do, it is okay to miss your office!