A year after the first lockdown was announced, we speak to working mothers from various fields about their journeys during this challenging time
This week last year, a countrywide lockdown was imposed by the central government to prevent the spread of the COVID-19 pandemic. All establishments, including schools, were shut down, public transport was suspended, and everyone was instructed to stay indoors. Offices were closed and employees were asked to work from home. We were in the middle of a global crisis. It has been a challenging year since then, to say the least.
Today, while the situation has improved, our lives are still very different from how they were pre-pandemic. The work-from-home situation, which initially seemed like a stopgap measure, continues to be the norm for many. People around the world have had to juggle their priorities to adjust to the "new normal." It wasn't an easy transition for working parents, especially mothers, who suddenly had to wedge their office into their home. It was also a time of learning to adapt, finding new strengths, and gaining new perspectives.
So, what were the challenges, what are the takeaways, how do working mothers cope, and what lies ahead for them? Read on to find out.
Coping with the initial stages of the lockdown
"In the beginning, it felt reassuring that everyone would be working from home, be safe, and not be exposed to the coronavirus. Since most of our team members have parents or young children living with them, it made us feel better about the situation when we started working from home. I have an office at home and it was easy. However, it was very difficult to set boundaries between work and home life. My daughters had to switch from school to online learning. 
As far as work was concerned, we had preempted the scenario and started dry runs with different teams from March 16, 2020. We had set up processes where everyone got used to calendaring all the meetings and scheduling calls for team catch-ups. It also gave us a chance to check for any challenges the team would face in case of a lockdown. We used collaborative tools aggressively, and that proved very helpful.
We have tons of groups on Slack, our messaging tool, where we also share fun photos, thoughts and ideas. A lot of work discussions happen there, and even across teams, we got a chance to connect.
I think it's important for us to stay connected, more so in such times. While we were working from home, we hosted an event called Fun Fridays every week, where everyone in the office would come together on Zoom to take part in a fun activity. This helped ensure that we didn't lose the office camaraderie and that everyone got a chance to interact with each other." 
- Malika Sadani, Founder and CEO, The Moms Co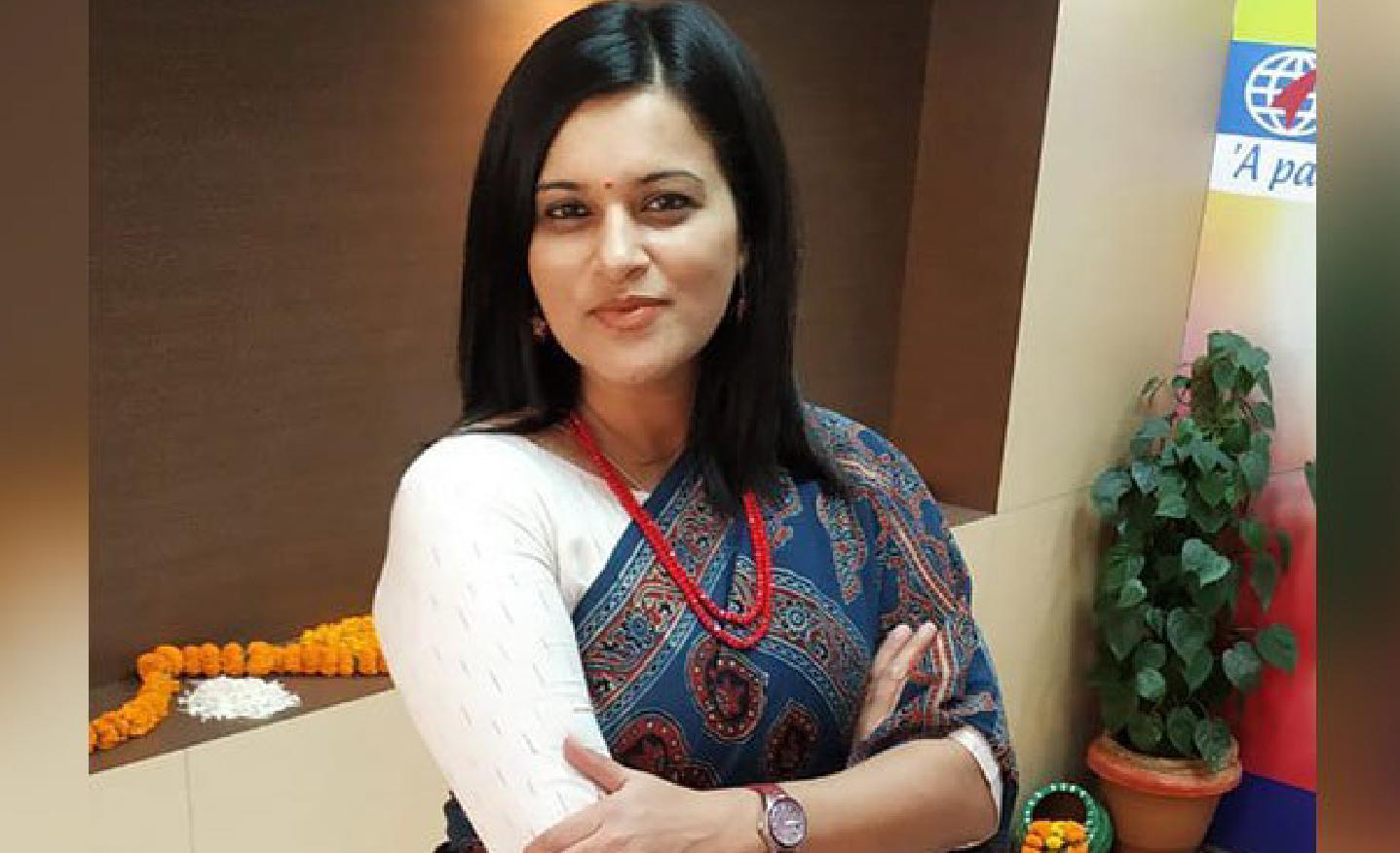 Aarti Laxmanan
"Working in the manufacturing industry, my work profile often demands face-to-face meetings and facility visits, hence embracing work from home was definitely a challenging task. Initially, our schedules went haywire and the added responsibilities of household chores and my children's online school only added to the strain. Gradually, we started working as a team at home -distributing work and helping each other to create the environment and space (quite literally!) to make working from home more effective." 
- Aarti Laxmanan, Head of Corporate Communications, UFlex
"I've been working from home since the lockdown. It's been hard to work this way, overseeing projects online and not having actual meetings. However, it allowed me to take the bull by the horns and make the most of the situation that we were thrown into. Also, I must admit that not having to commute during rush-hour traffic was a blessing!
My family consists of me, my daughter, my three dogs, and three cats, and all of us were under complete lockdown at our residence. I treasure the time spent at home-it enabled me to cook my desired recipes, spend time chatting to my friends and pamper my pets. It has additionally given me time to play games with my girl and teach her about different aspects of life.
This lockdown has also nourished the author in me. I got generous time to write and read up on my favorite subjects. It also permitted me to invest more energy in doing yoga. I created a sacred space in my home and have been using that to meditate. In fact, my whole family has gotten into it now. And, last but not least, it gave me the chance to sleep to my heart's content!
Socially, the lockdown did not impact me very much as I am a home bird-I usually cook at home and rarely go out. Emotionally, I've not felt the strain because I enjoy solitude. I created a small garden at home and currently dedicate ample time to growing my own organic vegetables. I also have a chicken and we never run out of eggs at home. The sole issue we faced during the lockdown was getting fresh milk, I wish I had a cow! The biggest takeaway from the pandemic is the realization that we need to make sustainable changes to our lifestyle and thought process." 
- Dr Malini Saba, Founder and Chairman, Saba Group and Anannke Foundation
"Honestly, before the lockdown, I never considered working from home as a practical practice. Of course, I'd heard about remote working but wasn't aware of its possibilities for my work. Once I started working from home, I enjoyed the experience. I was able to be at home and give generous time to my work. Prior to remote working, a lot of my productive time would be spent on the commute to my office or workshop venues."
 - Kanchan Rai, Emotional and Mental Well-Being Coach and Founder of Let Us Talk
Adapting to change as a family
"My husband, Mohit, also happens to be the co-founder of our company. As such, it was important for us to align our calendars so that one of us was always around to help our daughters with their online classes and manage the household chores. My daughters are 6 and 9 years old, and I must say they were quick to adapt to the unprecedented situation. They were not allowed to go to school or meet their friends, but they managed to make the best of the situation."
- Malika Sadani
"All of us shared equal responsibilities at home, from caregiving to cleaning to cooking. Realizing her mom and dad's work commitments, my 7-year-old daughter often helped her 5-year-old sister with online classes. 
As a family, we realized that it's important to make the most of the time with the resources that we have at home. We would also enjoy family time during the weekends, doing some fun activities together-making dog shelters, cooking (who didn't!), watching movies, and inventing indoor games. We even scripted, directed, and acted in our own play." 
- Aarti Laxmanan
"The pandemic took a toll on almost everyone's mental and physical well-being. But the situation was far more difficult for single parents, who not only had to deal with financial, physical and emotional uncertainties but also grapple with loneliness. 
Like all schools around the world, my daughter's school had shut down to reduce the spread of COVID-19. But classes weren't canceled; she had her own video conference calls with teachers, had constant demands for printouts of daily work, and needed to be motivated.
My daughter realized she needed to be a 'big kid' and occupy herself with her own activities. She set up a schedule with an assortment of exercises, for example, mealtimes, physical and innovative play, art, assisting with housework, and learning activities. This really helped me to be an effective work-from-home mother and fulfill my personal and professional responsibilities." 
- Dr Malini Saba
"We are a family of four: Me, my husband, and my two kids. My husband was a workaholic before the lockdown. He used to travel for 20-25 days for work. Because of the lockdown, we got a lot of family time. Of course, the office was functioning remotely, but since everything was at an initial stage, there were no rigid deadlines or targets and even the kids didn't have anything major, curriculum-wise. It was only because of working from home that my family could spend so much time together, which otherwise was not possible since all of us were scattered in various places."
- Kanchan Rai
What will an ideal work-life look like post-pandemic?
"Work from home had its own set of challenges. At the office, I have an open-door policy where my colleagues can walk in any time to speak with me. However, while working from home, we had to block time off on calendars to discuss everything and anything. Our teams have a lot of dependencies and since a lot of decisions are taken on the spot, we had to find new ways to connect and keep the flow of information going. Personally speaking, I prefer going to the office and working from there compared with working from home. We have a young, vibrant team at The Moms Co and I enjoy interacting with them every day." 
- Malika Sadani
"While working from home offered us flexible schedules, one also ended up working for longer hours than in our pre-pandemic days. Our work time seeped into our personal time and there was often a lack of discipline and respect for each other's time. Personally, I was happy to return to the office for work and that definitely helped me handle my schedules more efficiently. Even though I was hesitant to step out at first, it was reassuring to witness heightened levels of hygiene and safety precautions implemented across all our facilities. It helped allay my fears, not that we let our guard down at any point in time." 
- Aarti Laxmanan
"It really depends on each one's personality, as working from home is very different from working in an office environment. Some adjust well to it and are happy with being self-disciplined with their time. I've discovered that to be a viable work-at-home individual, you need to learn best work-from-home practices, such as setting available times, having a devoted office space, dodging home-related interruptions, and dressing as though you were going to an office. This helps keep your mind sharp and focused.
I'm working from home today and it's not a simple accomplishment. I woke up, got dressed, cranked my PC, and made myself available to work. It's occasionally hard to stay on track with countless interruptions and distractions around. It's not for everybody ... Some do it more effectively than others."
- Dr Malini Saba
"I'm still working from home and like everyone else, I, too, had to figure out a streamlined process. However, given the fact it's been a year now, remote working has become a part and parcel of my life. I've realized that working remotely does not thwart productivity, which is why working from home will be my preference, even in the long run." 
- Kanchan Rai